Many octane-blooded enthusiasts I've met grew up one way or the other: they like cars, or they like motorcycles. Once in a blue moon, the two fandoms seem to cross over in their hearts and minds. When they do, there's often a clear bias towards the one they originally began. But my old man raised me to be different. I was brought up to embrace both as one whole, tools used in the pursuit of freedom and thrills.
My dirt bike days as a tot have long passed. But now my old man has spurred me along into joining him in returning to two wheels, mentoring me in on-road riding and quietly awaiting my first street bike purchase to accompany my four-wheeled fixations. It's the start of an exciting return to form for me, but one met with a lukewarm and even mildly negative reception from a few close car enthusiast friends and family members.
"Aren't we all on the same side damn side," I'd often think. Their reservations are valid for a few reasons, but it's criminal to act so dismissively and pretend the lines between the two worlds aren't heavily blurred.
Car people should be bike people too! We shouldn't bar ourselves from such experiences out of fear or a mere unwillingness to learn something new. Variety is the spice of life that makes it worth savoring, especially when the two hobbies in question are actually far closer to being in the same wheelhouse than you think.
Cars and motorcycles aren't so different beneath the skin.
Superbikes and supercars, V-twins and V8s, ricers and squids. They represent two sides of the same coin. And don't you dare say otherwise! The Lamborghini-Ducati and Honda-Also-Honda tag-team duos will beg to differ. So why the divide between the fandoms? Sure, safety and practicality are the obvious answers, but is that all there is to argue about?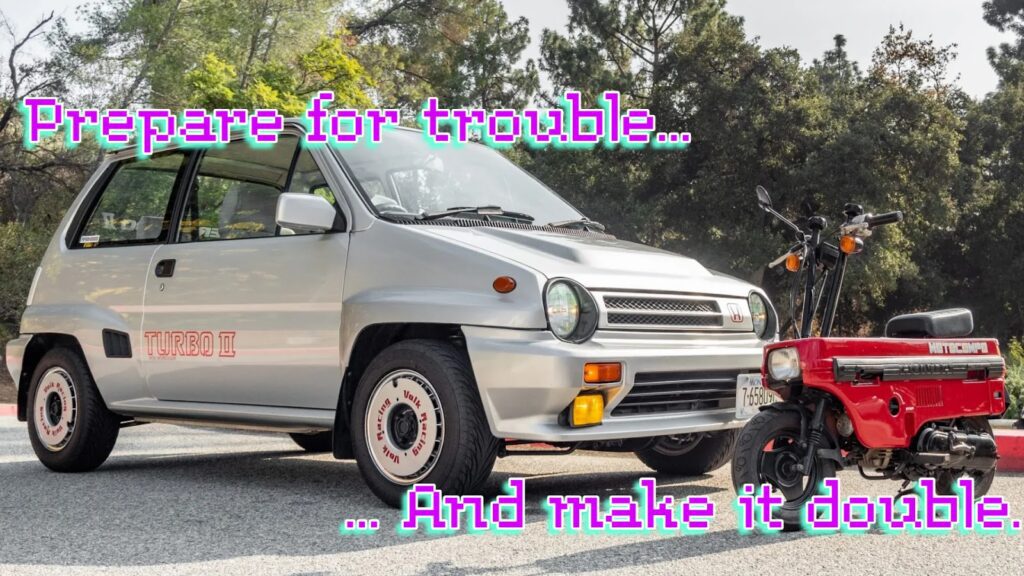 The rival kingdoms have their stark contrasts, but they're more alike than the average cynic gives them credit for. And I mean shockingly similar, culturally and technologically. Both share deep-rooted passions for motorsports, often using competition to develop their most coveted halo models and to improve their more athletic variants. Both have their fair share of heroic superstar drivers and riders while suffering from reputation-tarnishing delinquents. And both tell vivid tales of their development over histories that culminate in the most innovative technological advancements, even if one of the factions is a bit of a late bloomer.
Guess which one.
Motorcycles and cars are technologically aligned.
Like cars, many modern bikes have multi-way adjustable traction and stability controls, anti-lock brakes, electronic dampening, and all sorts of goodies that have been pouring into cars since the 1970s. Expectedly, these ensure maximum performance benefits for motorcycles while enhancing safety and rider comfort. In a way, the push to make bikes faster, more comfortable, and more capable has ironically made them easier and safer to ride (in the hands of the well-versed, of course).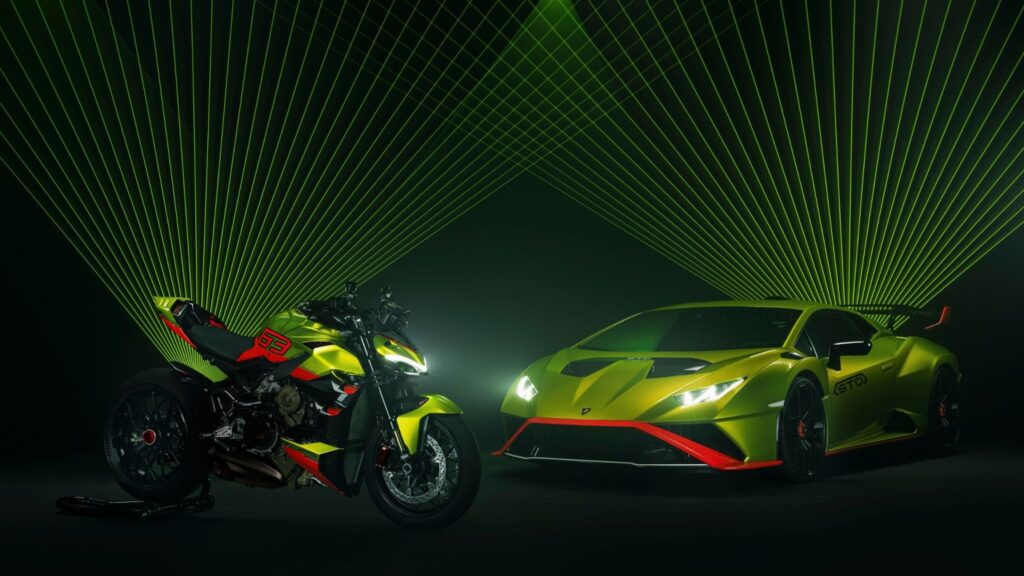 Okay, let it be written here and now that I am not responsible for any ego-related oopsie-daisies after reading this. Please forward all motorcycle accident-related complaints to Acceleramota's supreme emperor chancellor, Gabe Carey.
Phew, dodged a bullet there.
While water cooling has become commonplace for performance and commuters alike, air-cooled motorcycles are still prominent in some cruisers and modern-retro bikes for cost-effectiveness and that obvious dose of nostalgia like a Volkswagen Beetle or air-cooled 911. Handlebar steering dampers, similar to vibration dampeners in steering columns, iron out harsh road impacts in a bike's steering, further improving safety and comfort. You can even waltz into a Harley dealer and throw a leg over a fleet of baggers with enough cargo capacity to shame small hatchbacks and built-in stereos worthy of blasting "Act a Fool" as you chug down Seven Mile Bridge.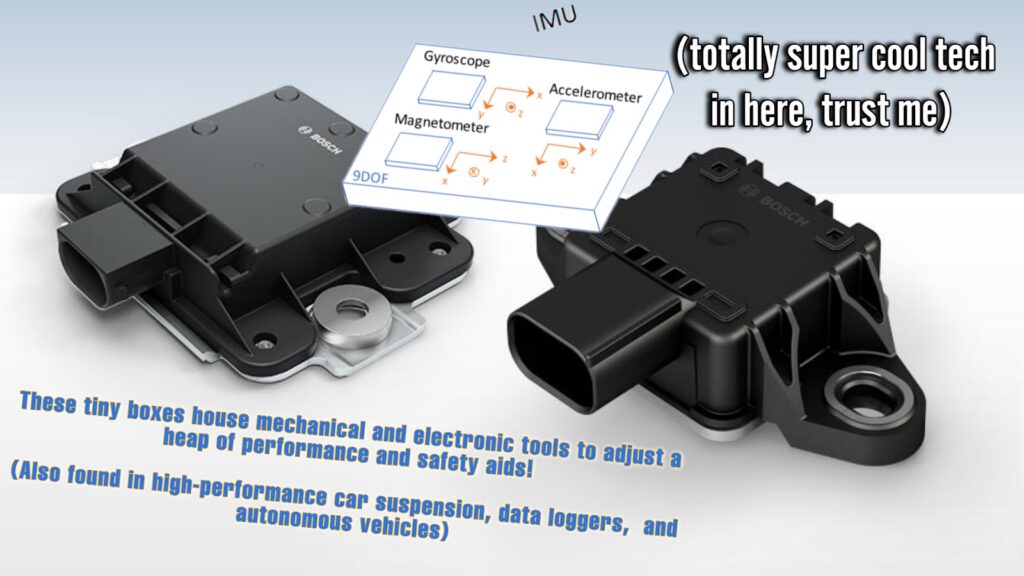 One trick bit of tech found in sports and superbikes is an inertial measurement unit or IMU. This part-mechanical, part-electronic system acts as another brain within a motorcycle, taking in telemetry from various gyroscopes and accelerometers within its casing and using the information to adjust parameters in the bike. After calculating for variables such as pitch, squat, acceleration, and lean angles, the IMU can tweak the responsiveness and behavior of traction and stability control, wheelie control, ABS, and adjustable suspension. In cars, IMUs have been used in autonomous cars to help adapt to their environments, as well as in adaptive suspension systems and data loggers.
Perhaps current BMW motorcycles are the best examples of tech sharing, as their latest models now utilize a carry-over iDrive unit from their cars as the infotainment and digital gauge display. Get that. Now we have bikes sharing head units with cars. Heck, we have bikes with head units! It's a part-bin move in the best way possible.
Motorcycles are often technologically late to the party.
Before we get lost in the sauce, it's worth noting that technology seems to move at a glacial pace with motorcycles compared to cars. We'll touch on some possible reasons why later. Bikes may pride themselves on IMUs or wheelie control, but that's all they have to brag about now.
Proof? The first car with modern ABS was the 1978 Mercedes-Benz S-Class, versus the BMW K100, the first bike to flaunt ABS in 1988. First to fuel injection was the two-stroke Goliath GP700 Sport in 1952, while the first for four-stroke cars was the Mercedes 300SL, both beating the 1980 Kawasaki KZ1000H by longer than I've been breathing. As for stability control, the first cars to field this ass-saver are caught in a rough tie between the 1995 Mercedes S600 and the Toyota Crown Majesta, although the Merc technically beat the Crown Majesta to sales by a few months. However, what was the first bike to reach that finish line? The 2014 KTM 1190 Adventure. Motorcycles ventured into a new realm of safety tech roughly around the same time Top Gear went to Patagonia. Wowza.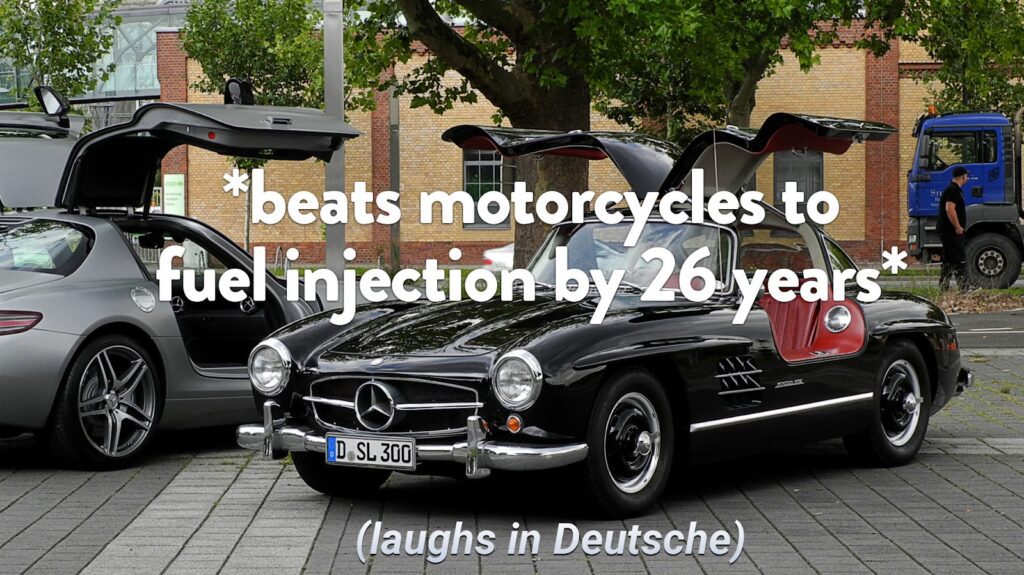 Here's a biggie for you. Take variable valve timing, a staple of modern engines for its economical and performance benefits. Ubiquitous in cars, it arrived in Japanese motorcycles with Honda's rudimentary REV system of the 1980s before evolving into the CB400's HYPER VTEC in 1999 – "VTEC just kicked in, yo," yes, that VTEC. As revered as its automotive counterpart, this style of valvetrain has slowly trickled into the mainstream. And like forming stalagmites, it still keeps trickling. And trickling. And trickling some more.
Today, it remains an uncommon novelty in the most advanced motorcycles. In 2017, Motorcyclist christened it "the next frontier in motorcycle engine technology," while a Visordown feature from 2018 claimed it was "the new must-have tech."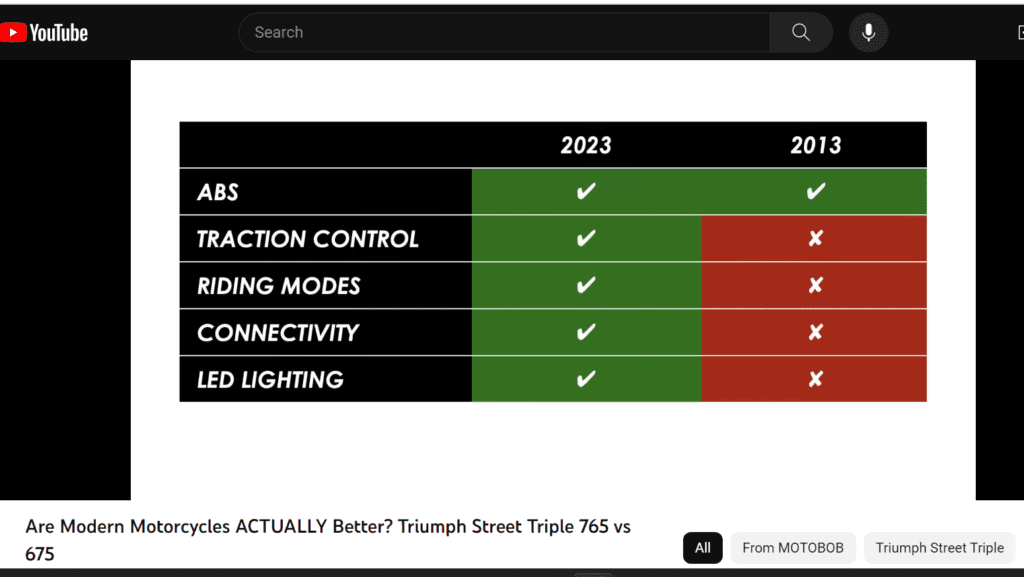 How cars and motorcycles forge their best metal through racing
Regardless of the rate of development, car and bike folks agree the grand crucible of motorsports always improves the breed. Or so the brochures and press reveals say. And like the tale of the second car rolling off the assembly line, racing will forever be inevitable as long as there's a second bike. And race, they shall.
Numerous leagues have spawned over the decades to satiate hungry crowds and itching riders. From on-road or off, from the treacherous rallies to iconic road courses, the same hunt for glory, innovation, and adrenaline that spurred automakers over the years fan the flames of competition among motorcyclists, too.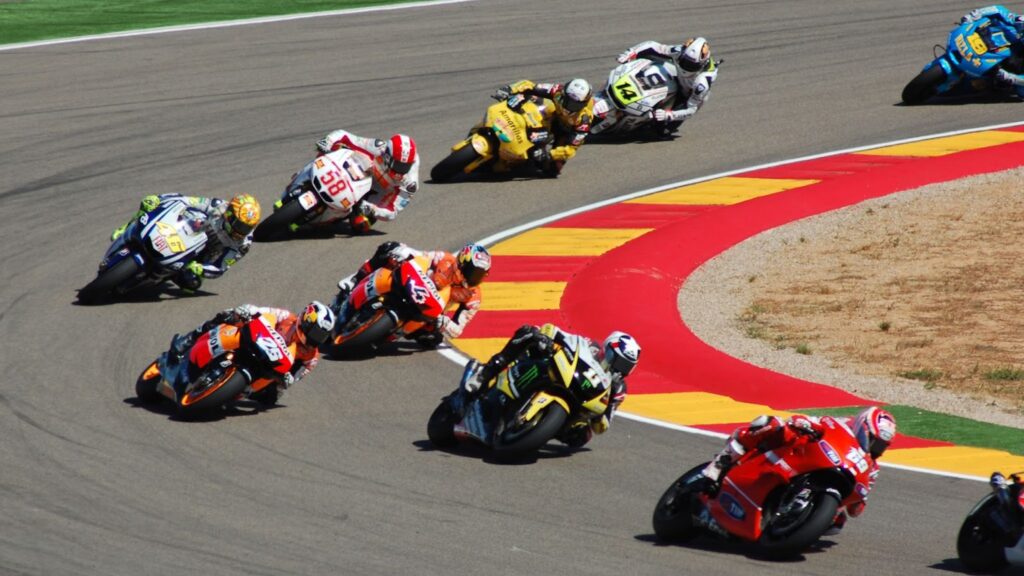 MotoGP is just diet Formula 1. Four-wheel evangelists have IMSA and World Endurance Championship, while their two-wheel counterparts proudly endorse AMA Superbikes and the Superbike World Championship. Both cults share routes that snake up Pikes Peak and over the sands of Dakar and the Baja 1000. Race-ready Husqvarna Enduro 701 or Aprilia Tuareg 660, anyone?
Homologation specials exist in this realm as they do for rally fans, for motorcyclists who insist they need 230-horsepower, 400-pound rocket sleds for their errand runs. Did anyone see the recently unveiled Ducati Panigale V4R? It's on this planet Earth for the same reason as the Toyota GR Yaris, Lancia Delta Integrale, or the BMW E30 M3. And that hypercar slayer is hardly a scratch on the surface of race-bred road bikes.
Honda stirred equal parts controversy and astonishment over its tear-jerkingly expensive RCV213-S. It was an ultra-light and razor-sharp superbike, born to be a roadgoing sibling to Marc Marquez's championship-winning MotoGP bike. And, although not homologation specials, the BMW S 1000 RR and even rowdier M 1000 RR continue to draw inspiration from the circuit, with new front winglets and further refinement to their already impressive suite of adjustable and adaptive electronics. Bet you've never seen wings on a bike before, let alone motorcycles with drift modes, yet here we are. Supermotos and some naked bikes can pull the same trick, essentially disabling rear ABS to allow riders to skid the back tire and help rotate around tight bends like rally cars would.
And I don't care who your favorite F1 driver is. You have to admit that some of this motorcycle racing stuff is badass beyond comprehension, amplified by the fact the only thing between the riders and potential disaster, afforded in spades by the Bugatti-rivaling power-to-weight ratios between their legs, is their Power Ranger cosplay. For this reason, one can argue motorcycle racing takes far more nerve than any automotive equivalent.
Bracing for an uncertain future on four wheels and two
Unfortunately, time cares not for your silly little racing pedigree or silly little brand cache. One way or another, our oversized toys must adapt to an ever-changing world. Purists can view change as heresy. Or, if you're the sensible type, you can view it as an opportunity to see how the two factions grow together in ways that put Malaise-era engineers to shame.
First and foremost, they already face increasingly stringent emissions regulations, in case anyone somehow forgot those were a thing. Cars have always faced this challenge in the aftermath of the Clean Air Act, leading to the birth of catalytic converters in the early-to-mid 1970s. Since then, cars have been more constricted than ever before, but thankfully, the ingenuity of auto engineers outpaced this bondage, leading to today's cars being the cleanest yet highest performing they've ever been.
Particulate filters be damned. The driver's cars of today can haul! Time travel back in any recent Ford Fiesta ST and blow the doors right off bitter Old Man Enzo Ferrari's face.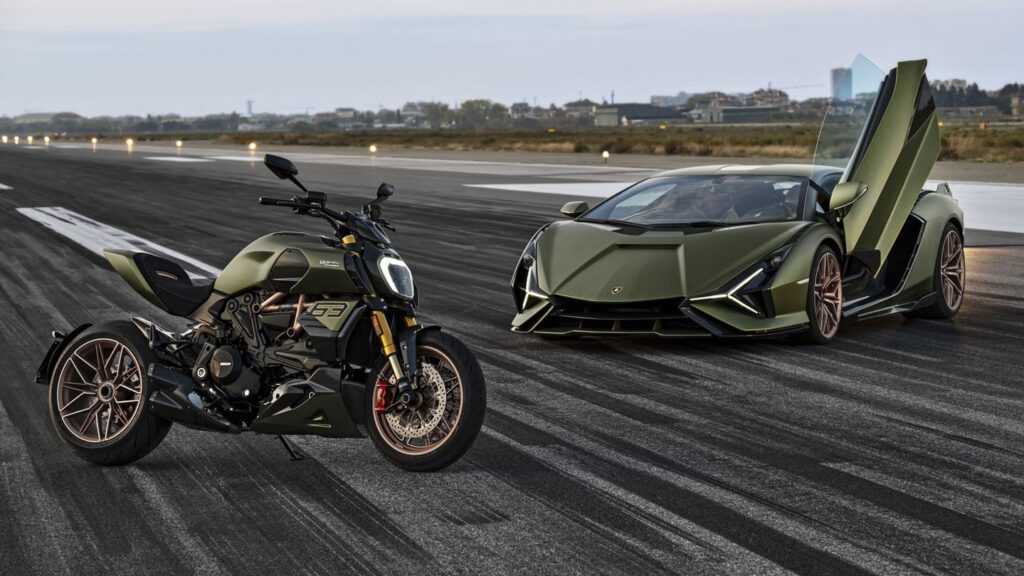 Motorcycles share in this struggle. The now-two-year-old Euro 5 emissions forced manufacturers to create greener powerplants with more catalytic converters, despite motorcycles making up a single-digit percent of registered vehicles globally. Some bikes had to undergo re-tuning to play nice with their new implants, often gaining little to no power, with the European market even dropping a few models until subsequent variants could be brought into compliance.
Ponder that. Reworking your vehicle's powertrain outside mid-cycle refreshes or new model releases just to reel it into compliance. The only recent case I can think of on four wheels is the S550-generation Ford Mustang, which saw re-tuning for 2022 that cost its Coyote V8 ten measly ponies. Not that anyone would feel that loss in a 460-horsepower car, but the fact it happened pissed off many keyboard drag racers.
A decades-old mission, emission strangulations have always been just another obstacle for engineers to tackle. It's not as perplexing as the current crop of electrified motorcycles, which has taken many interesting turns in the pursuit of modernizing an entire industry of niche transportation.
Motorcycles follow suit in electrifying their evolution.
Yes, electric bikes exist, and they take many forms, from cutesy scooters to off-road adventurers and sports bikes. If you really want to get technical, those fun and terrifyingly quick e-bikes from motorcycle and auto manufacturers are taking the market by storm with a level of everyday practicality that threatens the domain of scooters. Even Rivian is hopping aboard. Because of course they are.
Cough, I'll take two.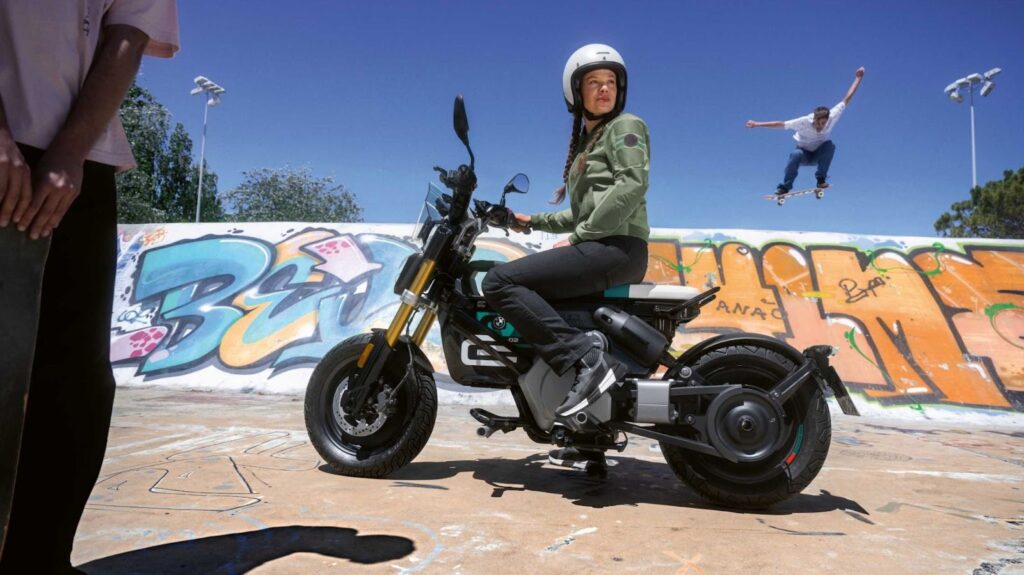 The two-wheels-plus-battery combo is steadily gaining traction as the call for combustion-free metropolises grows louder, and although bikes aren't currently affected, who's to say they soon won't be? A simple, eco-conscious, and practicality-minded audience encourages their development. It's not too dissimilar from how the same demands from consumers and legislative bodies have thrust EVs and plug-in hybrids of all shapes into the spotlights of auto shows.
As of writing, the most recent entry into the fray is BMW's fascinatingly quirky "urban mobility" bike, the CE 02. This dorky yet radical halfway house between a scooter and motorcycle harnesses the power of an 11-kW, air-cooled motor to jolt out 40.5 pound-feet of twist over 56 miles. BMW Motorrad even bullshitted its own dorky-yet-radical classification: an eParkourer. Er, on second thought, that's just dorky. But tell me this little bean isn't perfect for a rip beneath the city lights of Night City or through Watch Dogs: Legion-era London.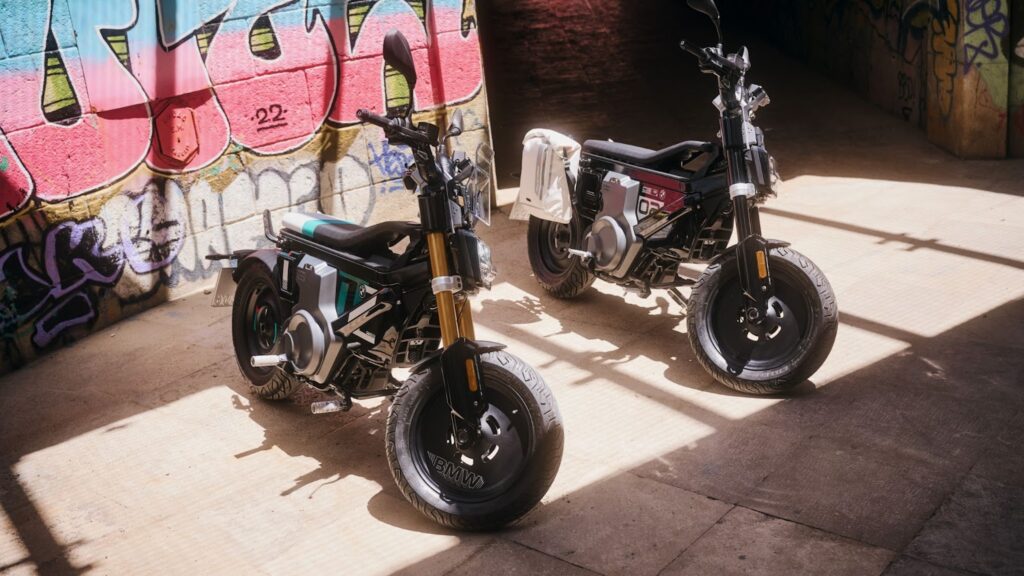 Conversely, if the CE 02 doesn't butter your biscuits, consider the Zero SR/S, an all-electric sports bike from what is essentially two-wheeled Tesla minus the painfully overinflated brand ego. I bet a 187-mile city range and a 17.3 kWh battery feeding a 110-horsepower, 140-pound-foot motor sounds more like your speed. Literally. The SR/S is an exciting addition to Zero's line of electric motorcycles, aimed at combining efficient urban mobility with the fun, sporting nature of the ICE bikes it both honors and contends with.
Urbanites and green freaks may find a lot to love about this wave of electrified motorcycles but know they lag far behind the EV development in cars, much like the rest of motorcycle technology. Relative to cars, electric motorcycles are a rarity, and even more so with the pretty much unheard-of hybrid bikes. Where Lucids and Rivians steal headlines from one another, electric bikes are often lost in the sea of fire-breathing superbikes and ultra-stylish modern retros whose waves crash strong at the behest of eclectic audiences who primarily view motorcycles as fashion items or toys, not commuters.
This disparity between the two industries' progress on EVs is evident in the sluggish charge rates of such diminutive battery packs, which can take one to two hours to charge at 2.3 kW to 12 kW. Compare that to Porche Taycans and the Tesla Model S, which can fast charge their far larger battery packs to 80% or more in 30 minutes or less.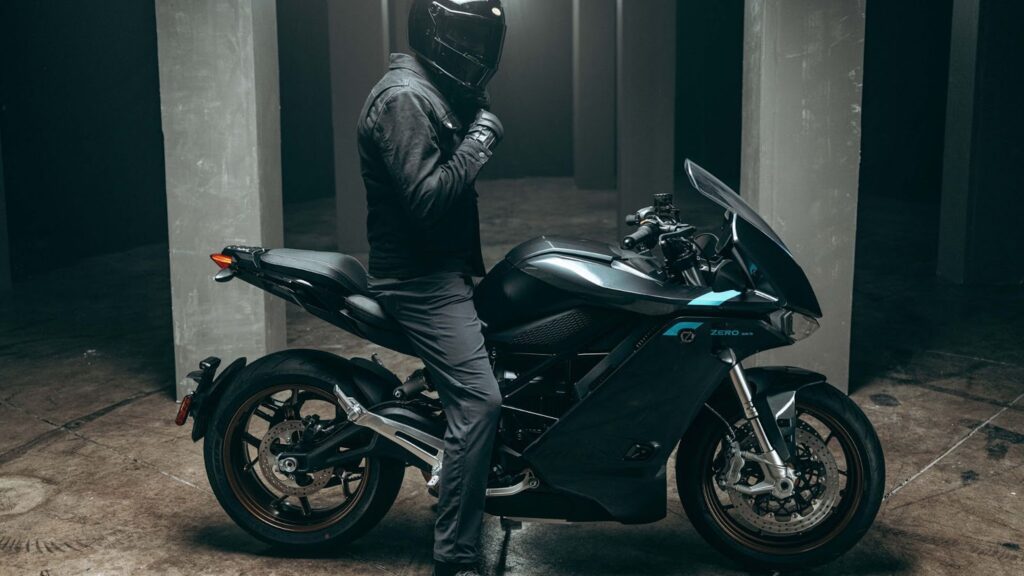 Bikes comprise a smaller industry for a smaller pool of hobbyists.
From slow charging to lagging decades behind to introduce basic safety concessions such as ABS and stability control. Why such a slow poke? It's as if the whole industry is limping around on horse tranquilizers and Everclear.
Well. There are plenty of valid reasons.
One culprit could be the smaller profit margins of this niche segment, with roughly $75.6 billion in worldwide 2022 revenue versus the global auto industry's $2.9 trillion that same year, possibly hampering the ability to advance their technology at the same pace. Bikes aren't as expensive to produce, but when catering to a comparatively minuscule customer base, at least in the West, every fraction of a cent counts.
Additionally, safety legislation lags as much as the tech itself, meaning manufacturers are not always legally obliged to include such systems, even if they can afford to. For instance, you can still buy bottom-rung models without ABS or traction control, items modern cars wouldn't be caught dead without. And ongoing efforts to mandate such basic kit on all bikes, regardless of the bike's intended purpose or classification, have been met with resistance from the purist types.
Another reason could be, and apologies for getting anecdotal here, an apparent lack of interest and even backlash from a culture that mostly sees motorcycles as instruments of enjoyment first, semi-practical transportation second. Once again, I state that this is a niche customer base that primarily views bikes as trinkets and accessories.
It's funny, though. As car enthusiasts, we've been similarly resistant to such things as electric power steering and automatic transmissions over the years, with varying degrees of validity to our annoyance, depending on how well a manufacturer executed a controversial move. All the more proof that we're all the same breed of adrenaline-hunting, adventure-seeking, financially irresponsible, stubborn, and overgrown children called hobbyists.
The Two Machines: a cultural peek at bikes and cars.
Once upon a time, in an elementary school far, far away, I was told a short story about two adventurous frogs who felt trapped in their home cities in Japan. They left their hometowns of Osaka and Kyoto, embarking towards each other's city to pursue exciting and radically alien experiences. In a swift dose of revelation and character development, they were disappointed yet enlightened to see how the two concrete jungles mirrored one another, learning a lesson about how people from all over can be spitting images of each other beneath the skin.
As the technology in cars and motorcycles reflects one another, so does the culture. I can spin this section off into its own story of how the passionate participants of each group mold their experiences into something unique yet clearly connected, not only in technology or sport but in spirit. We love the same things, hate the same things, and partake in the same high-octane shenanigans with folks we wouldn't have otherwise met if it weren't for our shared passions.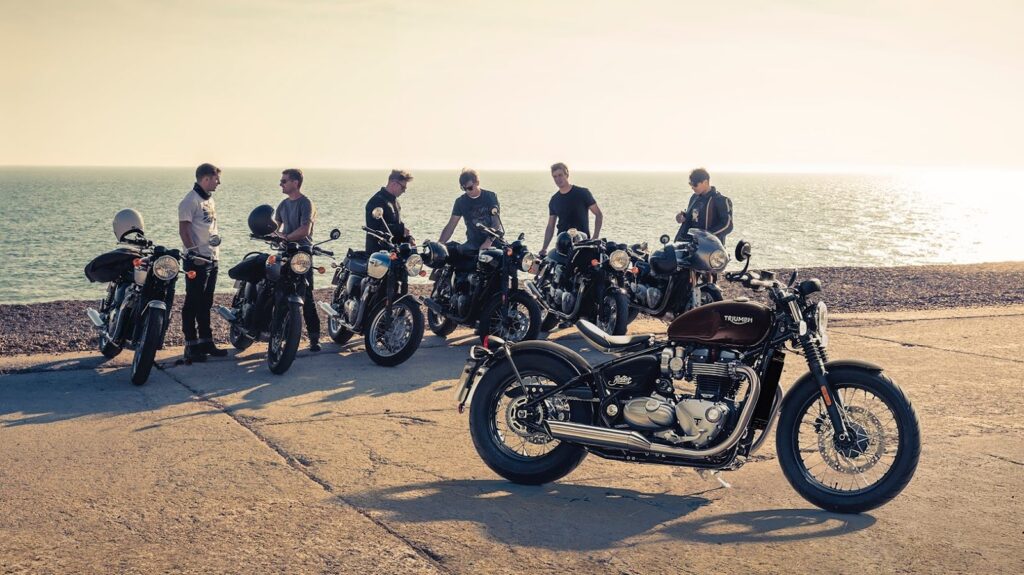 Brutish muscle cars complement Harleys and Indians. Your typical Ferrari guy in full Prancing Horse attire at Cars N' Coffee is no different from the knight in leather armor parking their Ducati or MV Agusta at the same Cars N' Coffee to preach how awesome their brand is and how their new model is the fastest damn thing on Earth. Or, on second thought, maybe those folks are more like Corvette people. And the nostalgic types, in their quest for driving purity at the helm of Lotuses or Miatas, will lose their ever-living shit when they see what Triumph and Royal Enfield have been up to.
I've met motorcyclists who've only ever cared about spec sheet drag racing and going balls to the wall everywhere they go, akin to boastful street racers I've encountered. There are the casual Sunday cruisers and those who simply enjoy their machines for the sensation of driving. And there are the show-offy speed freaks who think it's their God-given right to redline everywhere they go. And don't you raise an eyebrow at me. You know exactly what kinds of people these are, cars and bikes alike. No matter the faction, there are always those who enjoy the tranquility to be had and those who revel in chaos.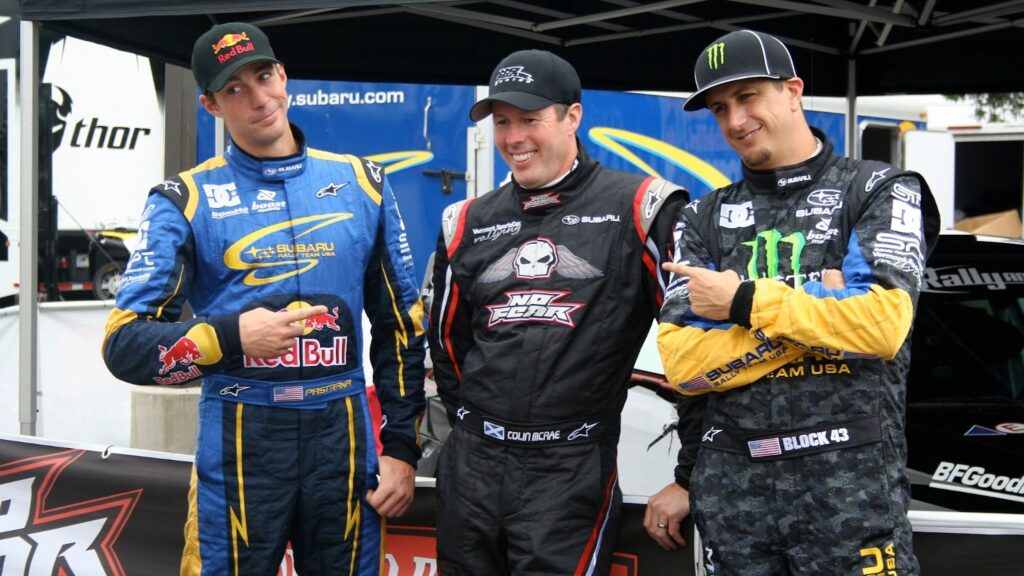 As motorsports unite the two hobbies on the twisties of Pikes Peak, Laguna Seca, and beyond, so does an all-star roster of heroes behind both machines. Car enthusiasts idolize celebrities such as Michael Schumacher, Ken Block, and Travis Pastrana, just as motorcyclists adore Valentino Rossi, Ricky Carmichael, and… oh hey, Travis Pastrana! Look at that.
If you look at the two groups long enough, you start to see their reflections of each other, no matter what they ride or drive.
Even my old boss at The Drive is entranced by all things two-wheeled, bringing motorcycle reviews to the site and using adventure bikes and dual sports to scratch his itch for touring nature's most secluded routes. No trucks or rally cars necessary, although I'm sure he'd greatly welcome them, just as I'd invite any gearhead to cross that blurry line toward motorcycling.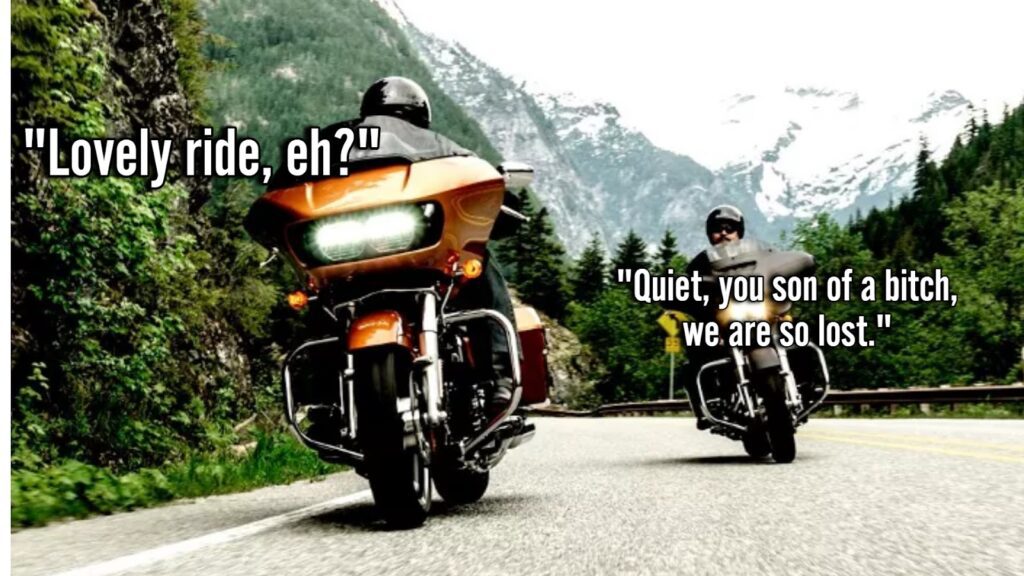 How a car enthusiast can integrate motorcycles into their life
There's not much to say here without considering how subjective this can be. Everyone's tastes are different. Everyone's lives are different. If you're a gearhead looking to add two more wheels to the stable, buy the bike that best suits your needs and skill level, and be honest with yourself. None of that bullshit pretending you'll grow into that liter-class superbike the YouTube hypebeasts insisted you buy.
If you love highway expeditions to faraway lands with the sky as your headliner and the wind in your visor, hop on a bagger or sports tourer and aim for the horizon. Perhaps you're an adrenaline junkie. Sports bike. Bam, easy. Or maybe you're a budding junkie with much to learn. 400 cc sports bike. Bam, even easier. If you want a more concrete and well-rounded answer, allow me to suggest middle-weight naked bikes. Often a Goldilocks choice, they can fulfill a wide spectrum of needs, from touring to sporty riding and even some mild track work, without being woefully overpowered, overweight, or uncomfortably hunched over in their riding position.
Just as there's a car for everyone, there's a bike for everyone as long as you're real with yourself and what you want or need. Who knows? That next bike may even come included with your new Bring-a-Trailer buy.
Motorists and motorcyclists: one and the same, now and always.
Yes. Motorcycles are safer and more sophisticated than ever. Some unique entrants are brilliant solutions to an urban commuter's dilemma, while others were bred to do battle on the race track, all within a more-than-attainable price range. But I also get it. Motorcycles are still relatively impractical for many Westerners outside crowded metropolises, and their tech moves at a snail's pace, taking decades to catch up to that of cars. Not to mention the constant threat of danger motorcyclists face every time they embark on public roads. I understand why some car enthusiasts may continue to keep their distance, whether out of worry or disdain.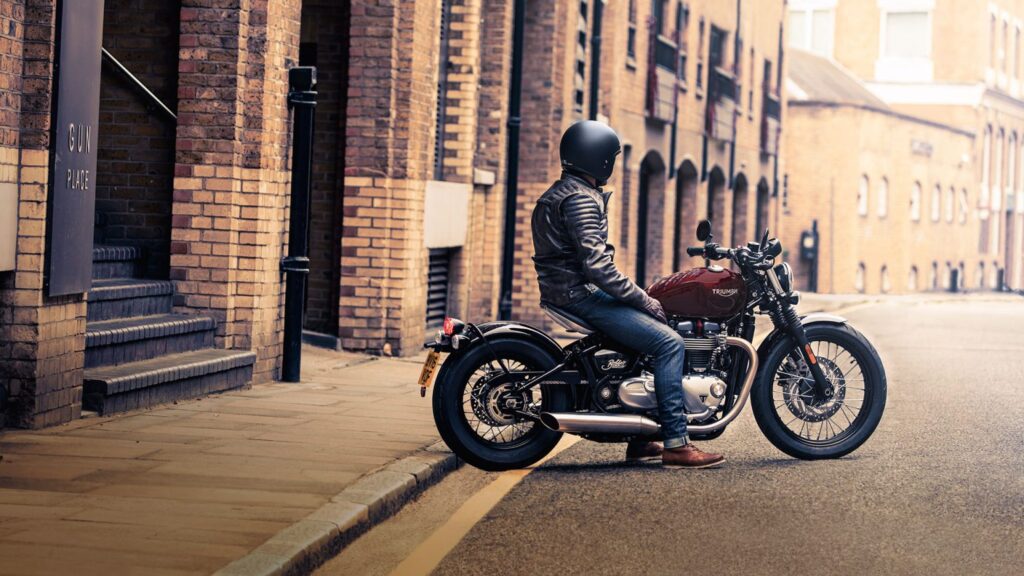 At the same time, why bother missing the chance to have this new experience under your belt, especially since it's so close to our realm of understanding? That's all motorcycling was. It always has been. It always will be. Whatever tickles your funny bone in the automotive world, I promise there's an equivalent on two wheels. To anyone with a keen interest in bikes but who has been on the fence, I hope I've pushed you to the other side. And to those who've never liked motorcycling, at least give it a shred of respect for all it stands for and all it accomplished.
I know some friends and family who still have their reservations about motorcycling. They often ask why I'm so enamored with it or why I wish to throw a leg over a bike of my own someday. To which I question why I haven't done it sooner.