Formula 1 fans, strap in! Fat Bear Week is upon us! Wait, what?
It's a magical time of year when the brown bears of Katmai National Park in Alaska roam free to finish their final bulk up for winter. Since 2012, a live cam from Explore.org has given the world insight into the beauty and wonder of the national park and these fantastic beasts. It stays up 24 hours a day and is nestled near one of the premier fishing spots for the bears.
Fat Bear Week (yes, that is very much a thing) became a spectacular byproduct of this innocent happening. It's a celebration of these bears' resiliency and tenacity against the elements and each other. Much in the way you would fill out your March Madness bracket, eight bears make the final cut and are voted on each day from October 4 to October 10. The victor is announced and crowned on Fat Bear Tuesday. Don't worry. There is still plenty of time to vote.
Now, you might ask, "Sheilah, what does this have to do with F1?" Thank you for asking. I love Fat Bear Week, and I love F1. Once I read the bears' descriptions, I couldn't unsee many of the drivers within them. It's also extremely likely Max Verstappen will win his third World Championship this weekend. So I say let's celebrate all winners, be they Ursus arctos or Homo sapiens.
747 "Colbert" / Max Verstappen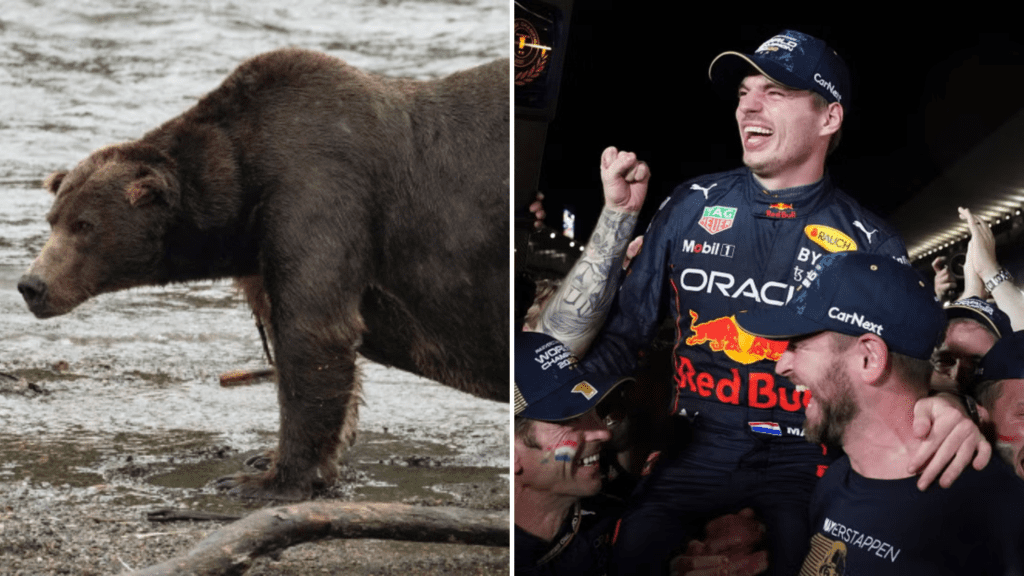 Colbert is a bear who popped onto the scene with vibrancy and salmon-catching accuracy, which is truly a form of art. Max Verstappen crashed onto the F1 scene with brash ambition as well. After a few altercations with hardened veterans, he honed his skills and turned onto a very successful path. He is also a two-time champion, though Max will be a three-time champ after Sunday. If you think about it, they both have over 20 years of experience in their perspectives fields of bearing and driving. Max basically started carting at three. So, yes. That pans out. The parallels here are scary.
480 "Otis" / Fernando Alonso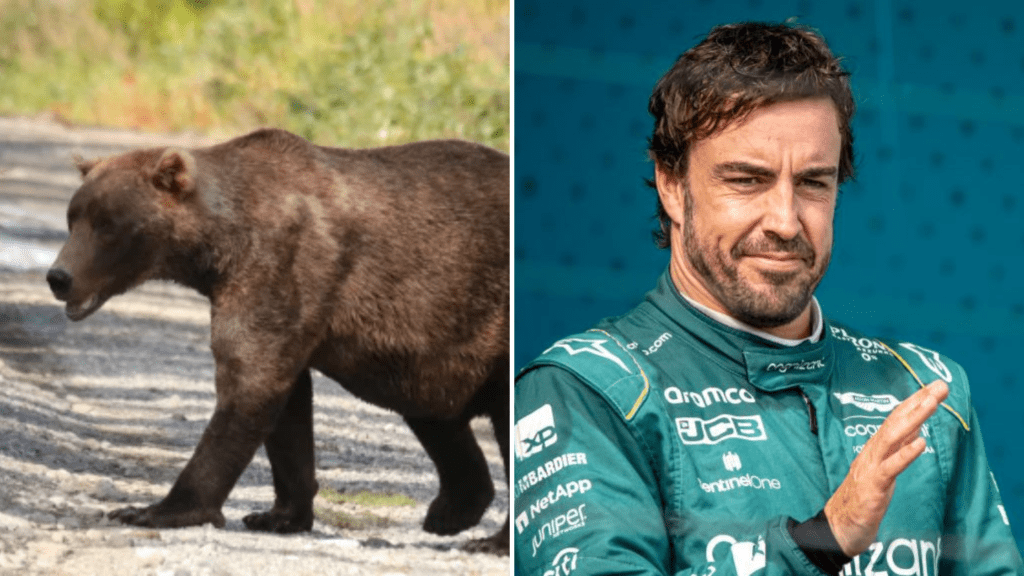 Otis is a grizzled (ha, get it?) old veteran spending his days fattening up and basking in the fruits of his labors from over the years. With four titles under his bulky belt, he's always a threat to knock a youngin' off their perch. And just because Otis is now mostly toothless, that doesn't make him any less fierce. Fernando Alonso, now in his 22nd year of F1 racing, has two World Championships and over 100 podiums. He's still got that dog, uh, I mean, bear in him. Never one to be counted out, we have seen a kinder, gentler Fernando this year at Aston Martin as he has taken Lance Stroll under his wing. Fernando is the most amazing driver and person ever, please don't Google anything about him before 2023 and just believe me!
32 "Chunk" / Valtteri Bottas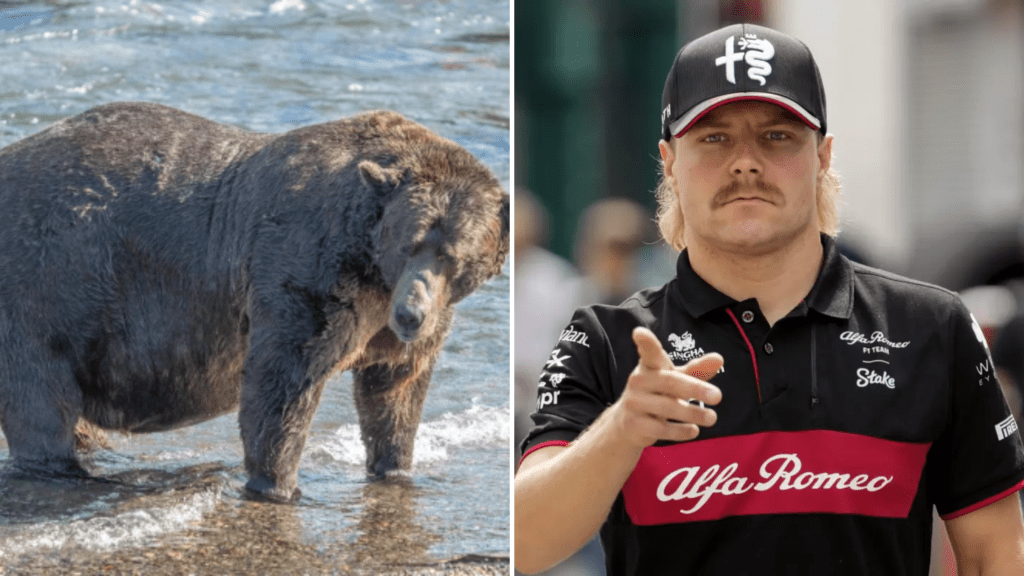 Chunk has been a regular fixture and a familiar face for Fat Bear Week. He has yet to be an overall Champion, but he has gotten dang close. Each year, Chunk is an impressive presence known for his big fluffy head. He is also easy to pick out as he has a few battle scars from scraps he's been in over the years. My beautiful Finnish man, Valtteri Bottas, is the perfect driver to equate with Chunk. A lover of the outdoors and not one to be afraid of bearing it all, Valtteri is, too, an almost-champion. These days, he is known around the paddock for his dazzling helmet designs and the fabulous flowing mullet underneath.
128 "Grazer" / George Russell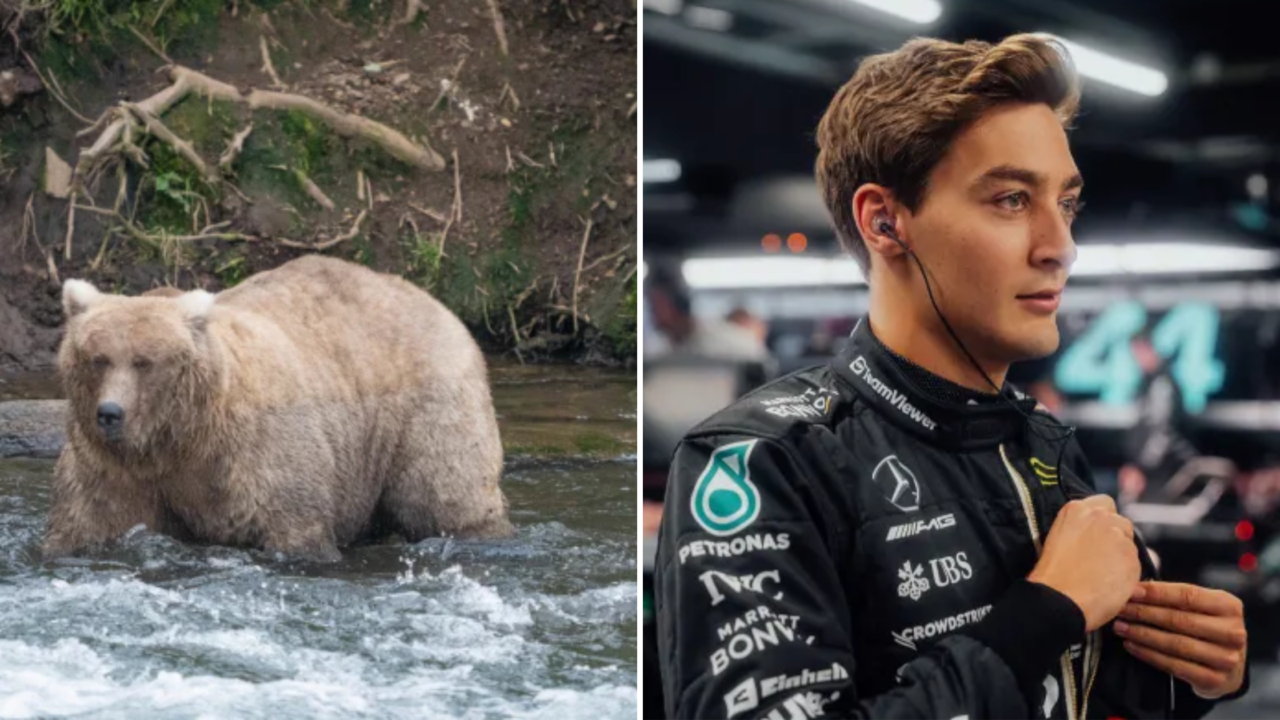 Grazer is a beloved fan favorite. She's got a soft, strong, and classy energy. She's also noted as being quite tall with lush blonde fur. She's also always in the conversation as a top finisher. I am a recent George Russell convert, and when I read this description of Grazer, I knew immediately. As one of the tallest drivers on the grid, his coif has become very iconic and the topic of many F1 TikToks. George radiates a stern but understanding parental vibe, complete with dad jokes. And if we are discussing posh posture, it's him.
284 "Electra" / Carlos Sainz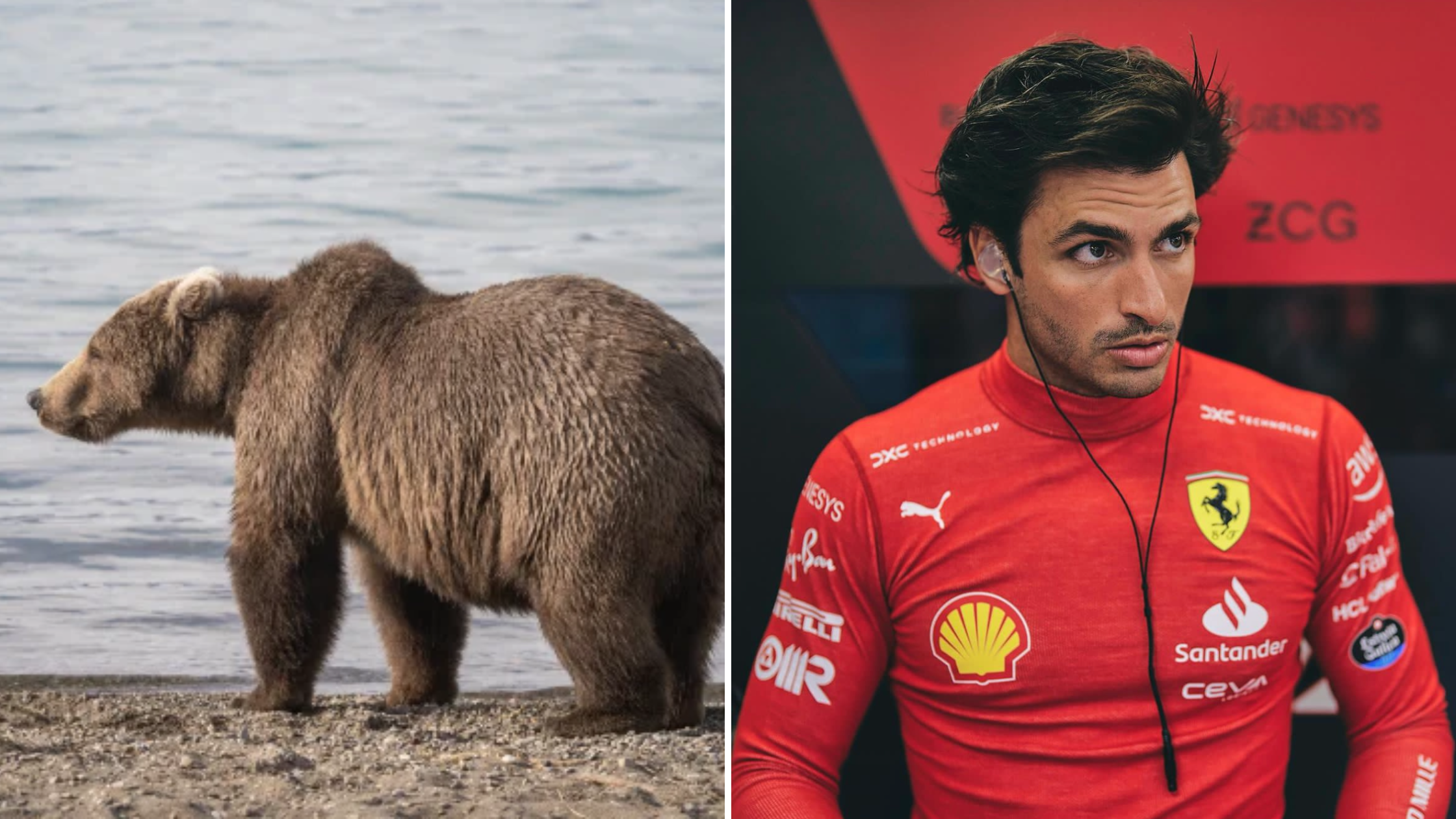 Electra is known for two things: her silky fur and her very distinct finishing technique. Called the "dash and grab," catching her in action is said to be a blessing unlike any other. A true beauty in both looks and skill. If you were thinking it would be a man in red, you are correct. Who has a mane that could mesmerize the whole paddock? Well, that has to be Carlos Sainz. Who has suave proficiency? The literal "Smooth Operator" himself. Carlos has had some tremendous overtakes in his career, and I believe he's the first to do so to Max.
806 "Junior" / Oscar Piastri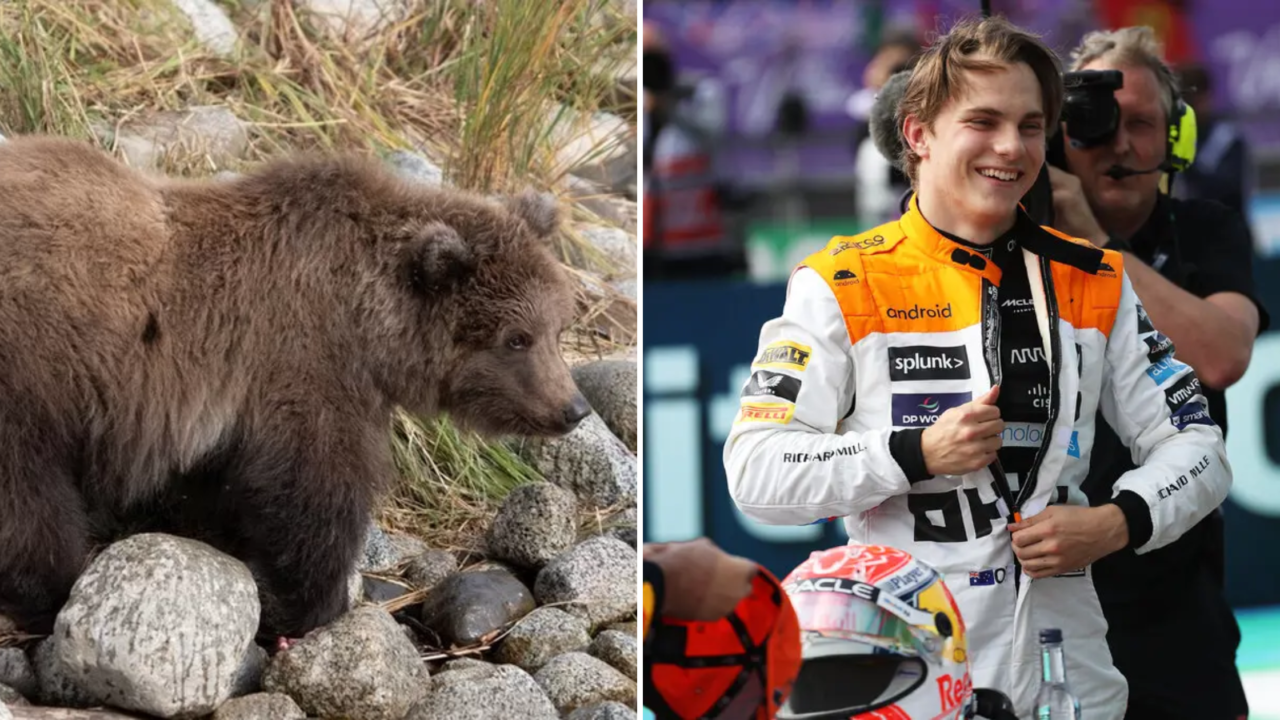 This bear is named as such because he is a former Junior Champ. Think of that as the F2 system of the Fat Bear world. This year, Junior has shown up braver and thicker than ever. He is definitely ready for the challenge ahead. Not afraid to take on any of the veterans, this young cub has earned his spot. Oscar is far and away the Rookie of the Year. He's already made it to the podium with an impressive first year. At the time of writing, he's thrust into the top ten in the Driver Standings and looks to finish this season very strong. If you aren't rooting for this Gen Z Aussie wunderkind, check to see if you have a heart.
Bear 402 / Lewis Hamilton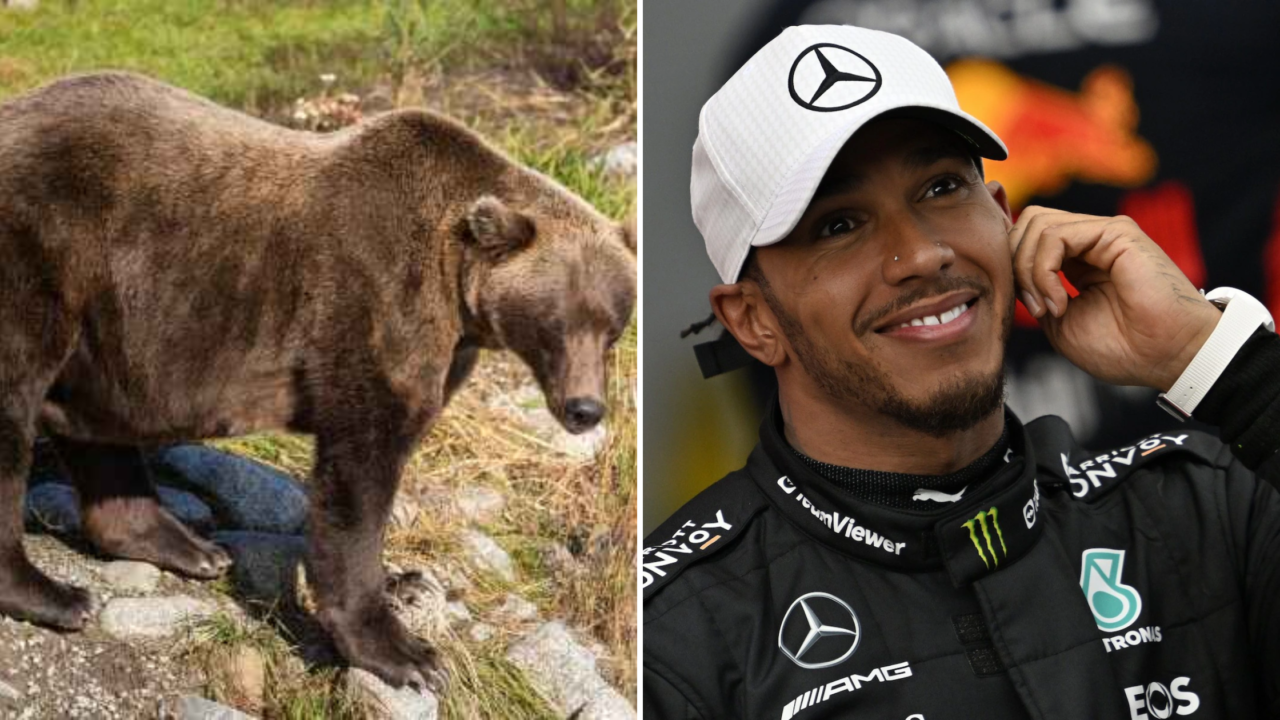 A nurturing mainstay around Brooks River, 402 is as protective as she is valiant. Easily recognizable, you can see her dashing around teaching her cubs and looking out for the next generation. She even had to successfully rescue one of her babies from a roaring river last summer. 402's got a heart of gold. Knowing how much Lewis Hilton has done to promote diversity for the next generation within Mercedes certainly aligns him with 402. But beyond his Mission 44 foundation promoting STEM programs for youngsters, he has also helped bring a new perspective to a rather stuffy F1 hierarchy. A man who stands out in the paddock for all the right reasons, Lewis has used his resources and platform for good.
If you are interested in catching the Qatar GP on Sunday, it will be on at a very reasonable 1 p.m. (EST) on ESPN in North America and, as always, on F1TV.