Gift-giving shouldn't be stressful. It's a fun time of year to shower our loved ones with presents we know they will appreciate. If you've got a car enthusiast to buy for, be they young or old, we've complied a list of unique toys to brighten their holiday. Car toys come in an array of categories but all are fun. I got to play with a few of these at this years Toy Fair in New York City back in October, so I can vouch for their awesomeness.
With the 2023 season closed, Max Verstappen remained Champion and Red Bull handily were in control all but one race this year. He's an amazing driver, you can't deny that. Even if you are a Max hater you have to admit he is the actual best. #SorryNotSorry. I got to see the first run of the new Red Bull and Mercedes Funko Pops at Toy Fair, and they are really that sweet in person. And of course you know I've got Valtteri in my living room.
LEGO is fun for all ages. I'm a big fan of these kits because it's a great activity to pass a rainy or snowy few days. You don't have to be a Ferrari fan to appreciate this model, but it doesn't hurt. It's only 261 pieces, but the detail is still pretty impeccable. LEGO is good like that. The classic Ferrari red and yellow color combo will pop anywhere you display this. Feel free to pretend the minifig is Mr. Smooth Operator himself, Carlos Sainz Jr.
Ages ago I got to collab with Jada on the diecast Fast & Furious line they released. It was glorious. They make really quality beautiful replicas. Of course, I kept Dom's Charger on my desk at work. This remote control version is just as awesome, maybe more so. If I had this one I would've been a menace driving it through the office. I love that these newer remotes are fully rechargeable by USB, although you do get batteries to start the action right away. The RC controller is hefty and durable, so no need to be gingerly with it. Sadly no Toretto is included.
Speaking of movies, we all can agree the only Transformers movie worth anything is Bumblebee. (Disclaimer: The actual best is the 1986 OG animated movie.) While this isn't an officially licensed Bumblebee, it's close enough. What makes this special is that it's a teaching set for you and young ones to enjoy. There are 560 high quality pieces and this can be a great bonding gift. Or can gift this to a fidgety kid as a projector to concentrate on for a few hours. Step-by-step instructions make it user friendly and the finished product looks killer either as flashy race car or noble Autobot.
Pato O'Ward is having a moment and has emerged as IndyCar's darling driver of 2023. Funny, young, adorable, and genuine. It's easy to understand how he became a fan favorite. Making close ties with their F1 McLaren family, he is now officially a reserve driver for them and we couldn't be happier. This is a great little gift for a Pato fan or McLaren Arrow IndyCar fan. We hope to see more successful races from him next season.
I got to see this set at Toy Fair and it is as beautiful and impressive as you'd think it would be. If you've got the space to set this up and keep it out, I would 100% do that. It looks stunning and is just as fun. There is something nostalgic about it as well, if you grew up with an older relative who always had one of these. Battle your friends and family with fast paced lane changes and smooth defensive moves. Lay the track for swerves, curves, crossovers, and nice long straight-aways. You can buy expansions and add up to six cars for a real competitive night. I found the controllers are exceptionally responsive and adaptive once you get going. This is an absolute slam dunk to have around for the holidays or any big gathering.
If you've ever wanted to build a model car but are intimated, Aoshima's sets are for you. They couldn't be easier. They take all the stress and time consuming nature of model building away. These kits are strangely relaxing and I've got a few of them. Aoshima has a ton of models to pick from, so if you find you love one you can create a whole series to show off. The instructions are in Japanese, but much like Ikea their are idiot-proof with pictures. I've never run into an issue getting a car put together, so I don't think you will either. I do recommend getting a basic tool set to help with the assembly of tiny parts.
I don't know if there's a part of me that will ever fall out of love with Hot Wheels. I'm sure for many of us they were a staple of our childhoods. Hours spent with siblings, friends, or on our own maneuvering these solid little metal cars all over the house and outdoors. Now, many are collectibles and make fantastic decorations for gearheads of all ages. Cars were always a things that brought my entire family together and in the Hot Wheels brand there is something for everyone.
Another thing I saw at Toy Fair! Well, not exactly this one. I got to see Go-Kart's Aston Martin version, which isn't out just yet. They wouldn't let me sit in it either. Rude, honestly. Something about them being made for kids and then me protesting that, "But I'm so little." Officially licensed a full charge will get your lil ones over an hour of cruising excitement. I'm sure your child is also the size of Lando Norris (and under 135 lbs.), they will fit comfortably in the cushioned seat. There are two speeds at five and eight mph so nothing truly dangerous for them to accelerate to. It's low to the ground for better control and would make a killer gift to unveil this holiday season.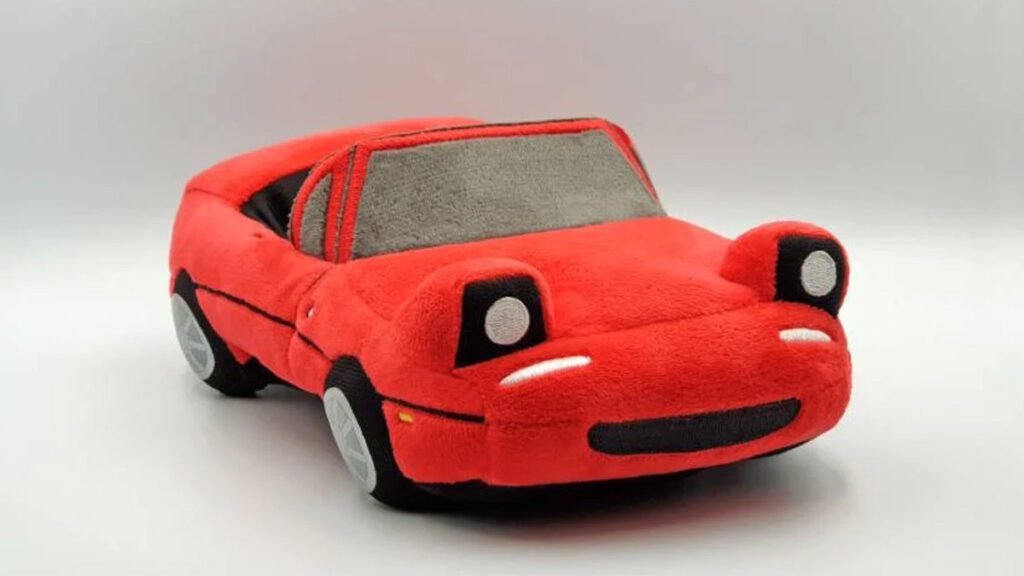 If you're looking for a gift for your Sheilah or a Mazda enthusiast might I director you to the cutest plushie that's ever existed. Yes, that is correct. The already adorable and endearing Mazda Miata can now be purchased as a cuddly stuffed animal. It's available in five colors to vibe with that of your giftee, but you can never go wrong with a fetching red if you can't decide.