For years, eco-friendly Hummer fans have been conflicted. How can one rectify the urge to protect Mother Nature with the overwhelming, primal need to climb into a military-grade gas guzzler? Waffle no more, because the 2024 Hummer EV SUV is finally available — if you already reserved one.
This sibling to the Hummer EV SUT pickup truck introduces a number of flashy new options, including an innovative feature where the Hummer EV SUV can be used to charge other EVs. This beefy, tactically-styled electric SUV boasts enough bells and whistles to justify the luxury price tag — like Hummer's proprietary "crab walk" tech, previously only available on the EV SUT.
The Great Recession of 2008 was a death knell for GMC's original run of Hummer vehicles, as the badge was retired in 2010. Gone are the days of Arnold Schwarzenegger pulling up to movie premieres in decommissioned military Humvees. As trucks and SUVs got bigger and bigger over the next decade, GMC saw a chance to bring the brand back as an all-electric, edgy competitor to the increasingly ubiquitous Land Rover. Joe Biden even got to test-drive one.
Will GMC's big bet on electrifying an SUV whose name became synonymous with excess and air pollution pay off? Let's see what makes the 2024 Hummer EV SUV stand out in an increasingly crowded field.
2024 Hummer EV SUV price and trim levels
🚦Get ready, set, full disclosure! Some of the links powering our posts contain affiliate links, which means we may earn a small commission if you decide to make a purchase, even if it's not from the page we linked. Affiliate links are not always an endorsement of the product. To really help us keep our headlights shining to make more content like this, subscribe to the Acceleramota newsletter.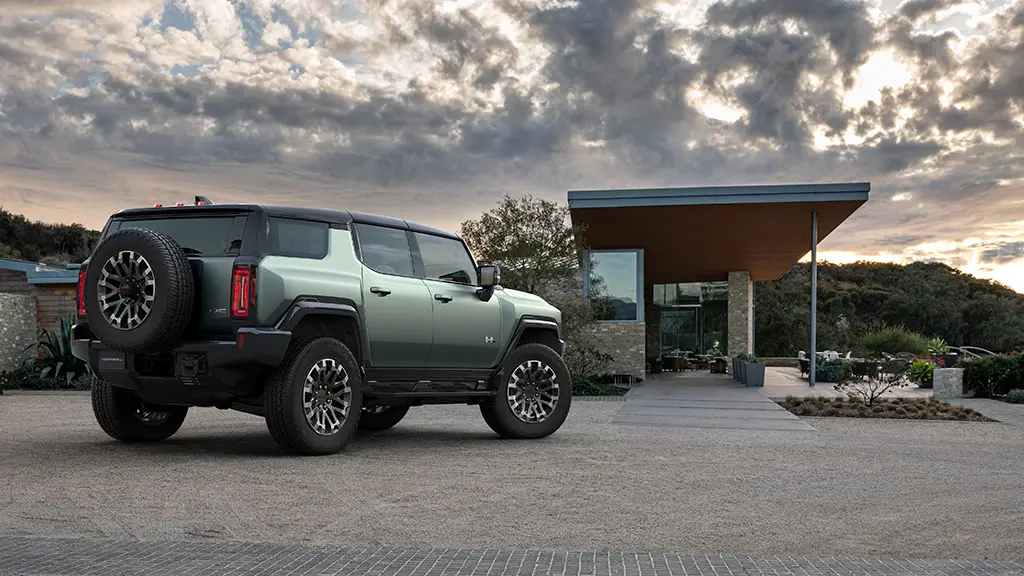 The 2024 Hummer SUV is available in four trim options, the EV2, the EV2X, the EV3X, and the Edition 1. The Edition 1 is limited to 1,000 and is already sold out. Waiting lists for all three regular trim options have been slammed since they were announced, so don't be surprised if you can't find one at your local GM dealership. Hummer owners have generally always been known for their patience.
2024 Hummer EV2 SUV
Starting Price: MSRP: $80,395 DFC: $1,995
EV2 standard features:

Super Cruise – GM's proprietary self-driving system
Adrenaline Mode – sends more power to the wheels, granting faster acceleration
Infinity Roof – removable panels and i-bar allowing an open-air driving experience
Surround Vision – a 14-camera system for safety and visibility
2024 Hummer EV2X SUV
Starting price: MSRP: $90,395 DFC: $1,995
EV2X standard features:

Longer Range – 800-volt DC fast-charging capability up to 300 kW for about 50 miles more range
4-Wheel Steer – for a tight turning radius and maneuverability on rough terrains
CrabWalk Mode – vehicle can move sideways, like a crab (for tight terrains or parallel parking)
Extract Mode – an air suspension system that allows the vehicle to be raised or lowered as needed
2024 Hummer EV3X SUV
Starting price: MSRP: $100,395 DFC: $1,995
EV3X standard features:

Ultium e4WD – a third motor, for more power.
Torque vectoring – intelligent 4WD to prevent slipping
Watts To Freedom mode – an immersive experience including sounds and haptic feedback
Available Power Station generator – charges almost anything, including other EVs
2024 Hummer EV SUV Edition 1
Starting price: MSRP: $105,595 DFC: $1,595
Edition 1 standard features:

One-Pedal Driving – deceleration begins when you take your foot off the pedal, charging the batteries
Terrain Mode – modified One-Pedal Driving for off-road terrains
Sky Panels – translucent Infinity Roof panels
2024 Hummer EV SUV exterior color options:
2024 Hummer EV SUV Edition 1 only

Moonshot Green Matte (green)
2024 Hummer EV SUV (late availability and some at additional cost)

Afterburner Tintcoat (orange)
Deep Aurora Metallic (dark bronze)
Interstellar White (white)
Meteorite Metallic (gray)
Supernova Metallic (dark blue)
Tide Metallic (ice blue)
Void Black (black)
2024 Hummer EV SUV interior color options:
Lunar Horizon (jet black/light gray)
Lunar Shadow (jet black/taupe)
Interior and tech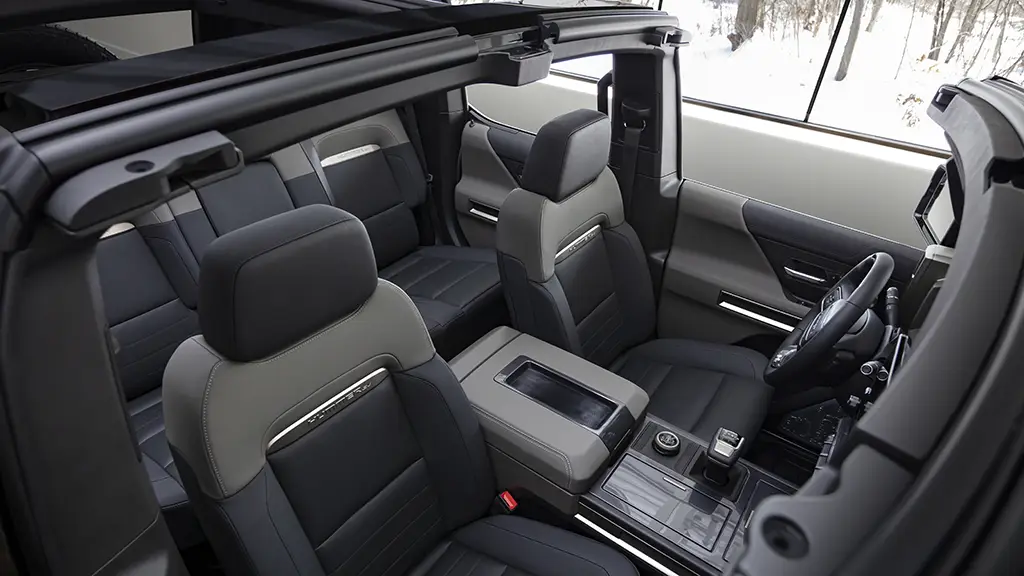 The Hummer EV SUV borrows much of its interior from the EV SUT's design. As you'd expect, it's cavernous and should offer plentiful legroom to your professional athlete friends. As with the EV SUT, the 2024 Hummer EV SUV features an Infinity Roof that is fully removable, including the i-bar — in case you live in a part of America that is not rotten with forest fire smoke during peak road trip season. You can even stash the roof panels in the spacious (11 cu ft.) "eTrunk."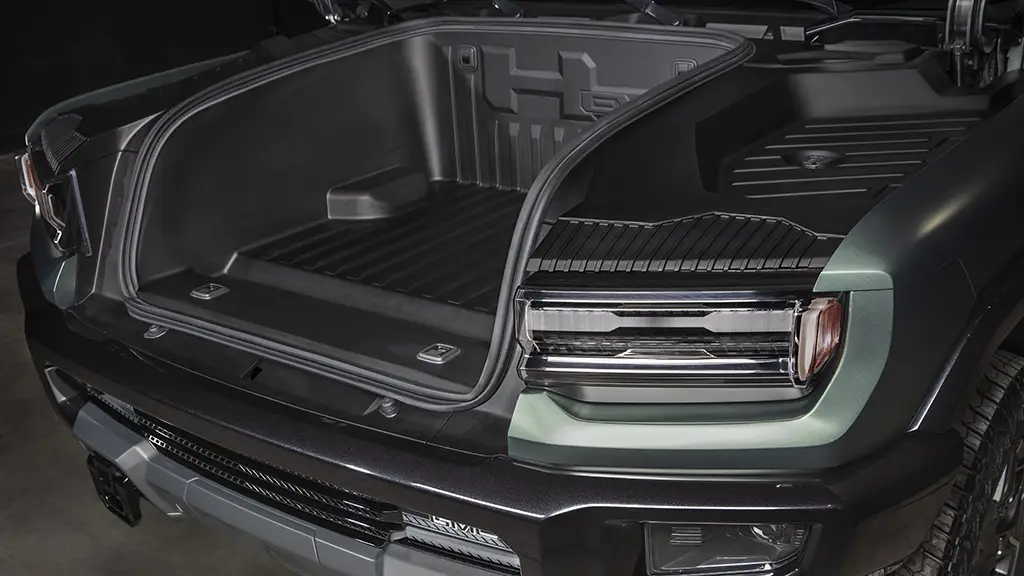 While the console features multiple large screens for infotainment and the driver's side dashboard, GMC has included a number of customizable physical buttons to control various aspects of the car — including a t-shaped shifter and rotary drive mode selector. This means 2024 Hummer EV SUV owners will have more controls at their fingertips, instead of hidden beneath an elaborate vehicle operating system.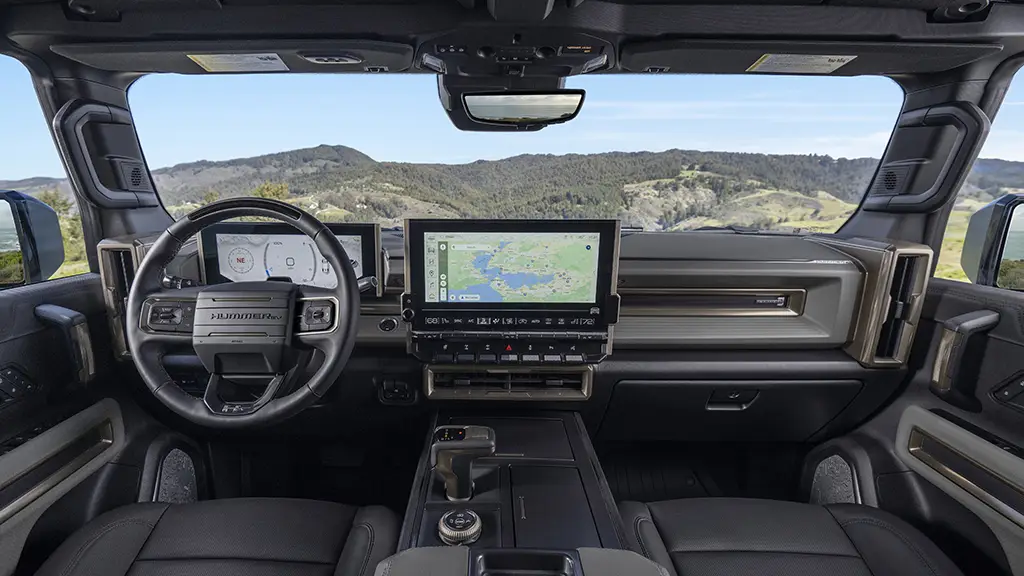 Regarding tech features, GMC touts the 2024 Hummer EV SUV's Super Cruise, which allows hands-free driving on over 200,000 miles of roads in the U.S. — including lane changes. Additionally, HD Surround Vision supplied by 14 cameras keeps you safe and aware of what's going on around you. The GMC press release also promises some 200 additional accessories that will be available to personalize your 2024 Hummer EV SUV.
Interior space
Seating capacity: 5
Front head room: 42.48″
Front leg room: 45.57″
Front shoulder room: 63.87″
Front hip room: 60.5″
Second row head room: 38.4″
Second row leg room: 39.0″
Second row shoulder room: 63.98″
Second row hip room: 60.2″
Exterior dimensions
Wheelbase: 126.69″
Length: 206.7″
Width, without mirrors: 86.46″
Height: 77.8″
Cargo area dimensions
Cargo space/area behind front row (with rear seat down): 81.8 cu ft.
Cargo space/area behind second row: 35.9 cu ft.
Tech features
13.4″ infotainment screen
12.3″ driver information center display
Integration with the myGMC app
In-vehicle energy app
Digital key
HD Surround Vision (14 cameras)
Off-road widgets
2024 Hummer EV SUV electric range and charging times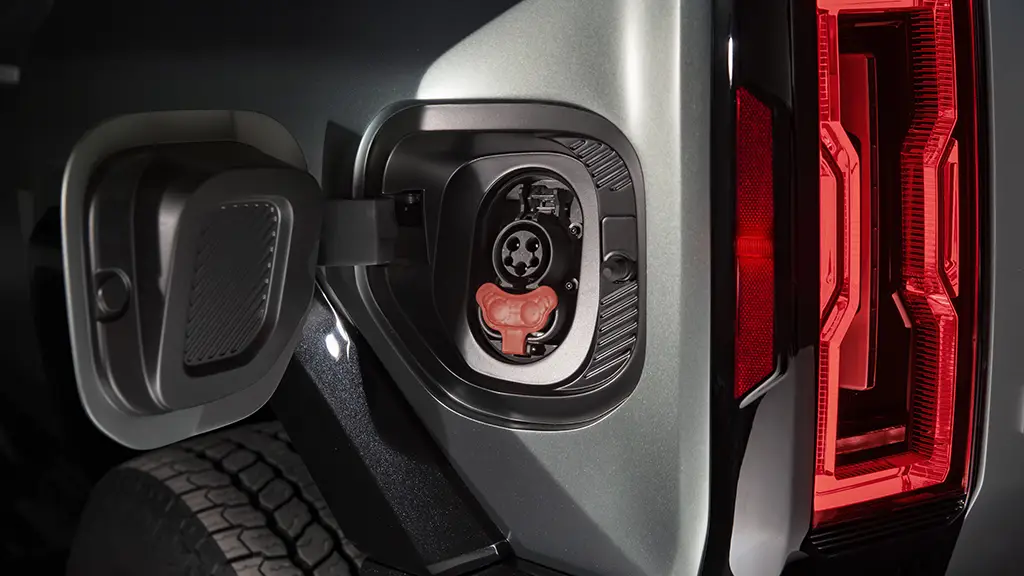 The Hummer EV SUV sets itself apart from the competition with its optional Power Station generator. Unlike Ford's F-150, which generates power from its internal combustion engine, the Hummer's Power Station is all electric and promises up to 25 amps (3.0 kW) for 120-volt power or 6.0 kW at 240 volts (for charging other EVs). This power-sharing feature might not get your pal's car all the way up to 100%, but in most cases, it should be more than enough to jumpstart a stranded electric vehicle.
2024 Hummer EV SUV battery info
Battery pack: liquid-cooled lithium-ion, 170.0 kWh
Onboard charger: 19.2 kW
Peak DC fast-charge rate: 300 kW
Estimated range: 314mi (EV3X trim)
DC fast charge time (10-90%): 128 minutes
Engine and performance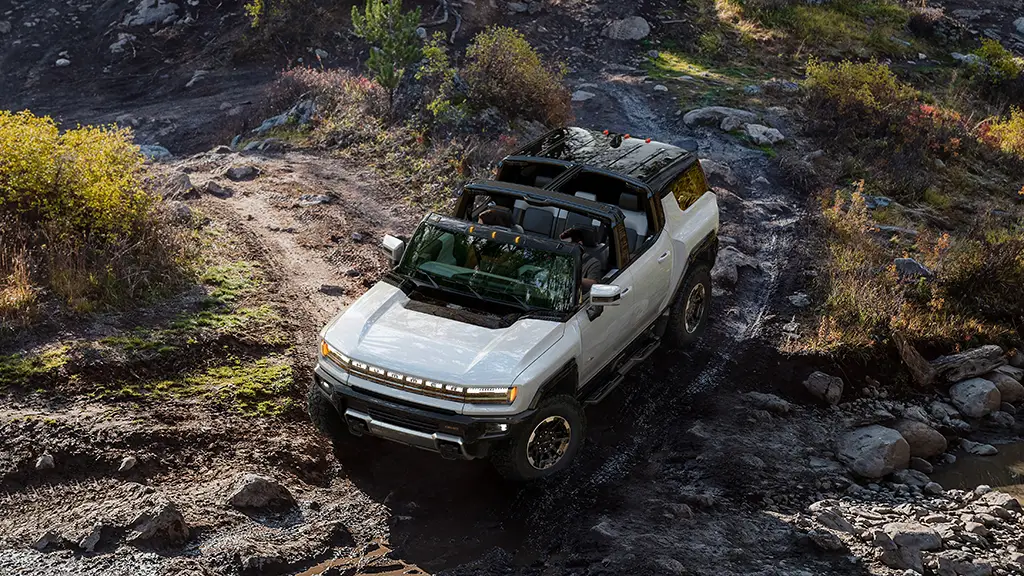 The Hummer EV SUV was built around GMC's top-of-the-line Ultium platform, a "flexible battery architecture" that according to the automaker is going to "change [your] life." This new approach to manufacturing and aligning batteries allows GMC to create EVs that apparently have "a near 50/50 weight distribution of the vehicle and a lower center of gravity, which together result in a vehicle that's sporty, responsive and allows for spirited driving."
2024 Hummer EV SUV powertrain info
Transmissions: direct-drive
Front motor: permanent-magnet synchronous AC
Rear motors: 2 permanent-magnet synchronous AC
Combined power: 830 hp
Combined torque: 1200 lb-ft
0-60 speed: 3.5 seconds (manufacturer claim)
Design changes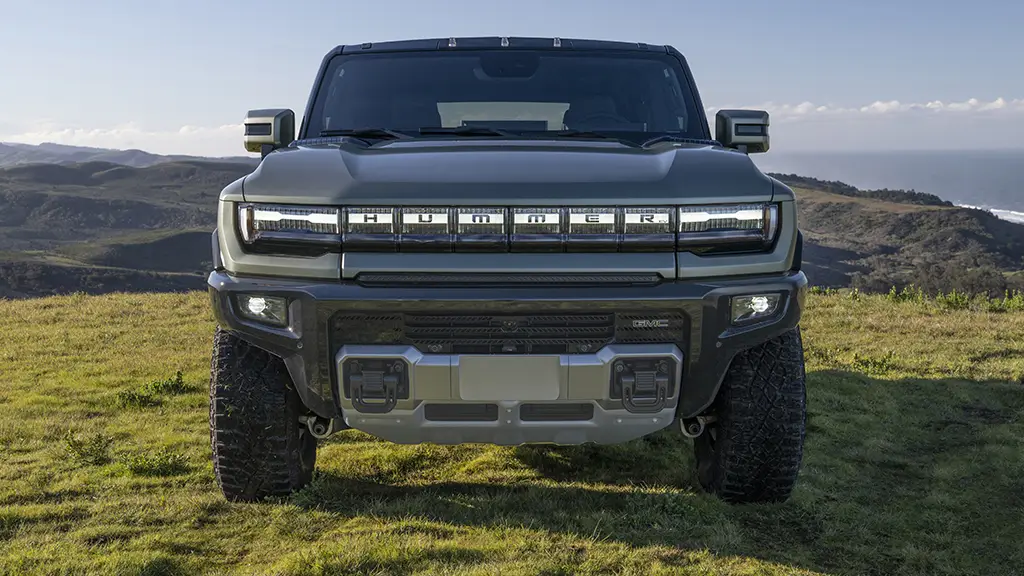 While the 2024 Hummer EV SUV shares a lot of design DNA with its SUT cousin, GMC went all out with the SUV-specific details. Electrified details on the badges and throughout the cabin help the future-forward design stand out. A power swing-out tailgate comes equipped with a full-sized spare and opens up to a massive cabin that allows for 81.8 cubic feet of space when the rear seats are folded down.
And if all of that doesn't sound quite big enough, the back door swings all the way open, granting you an unimpeded 48″ opening — perfect for tailgating, camping, and packing up everything to hit the road when debt collectors try to repossess your $100k SUV.
2024 Hummer EV SUV review round-up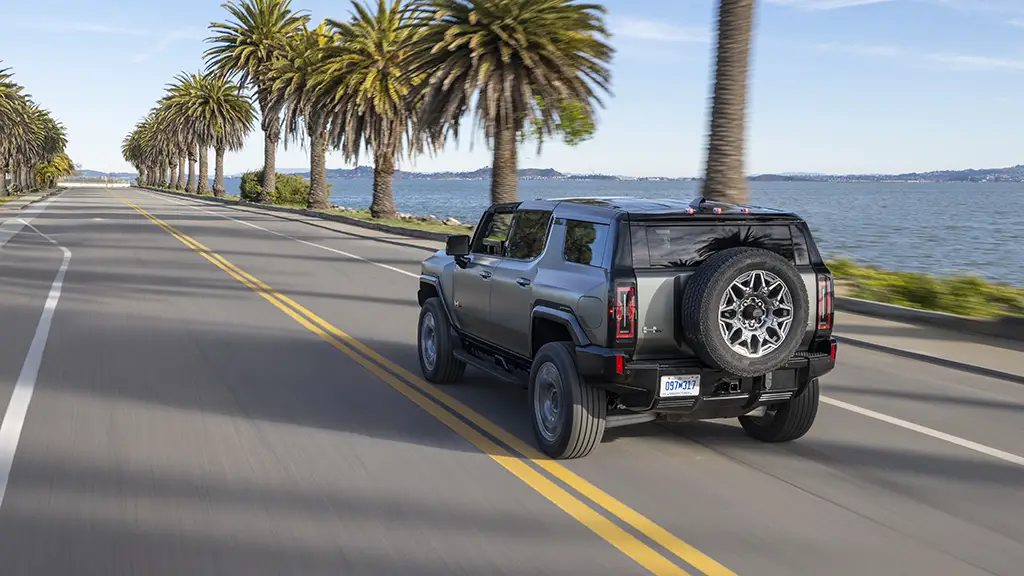 Reservations for the 2024 Hummer EV SUV are currently full, so it could be a while until the team here at Acceleramota gets our hands on one, so here's a quick round-up of some thoughts from around the world of automobile journalism.
The Hummer EV SUV defies a lot of expectations. It accelerates like a sports car, handles like it's thousands of pounds lighter, and charms with the improbability of it all. There's not much on-pavement grip, but it's capable off-road, and you'll never have to worry about sucking water into the intake. There's a lot of weight here, but there's also a lot of everything. Born of attitude and consequently full of attitude, the Hummer EV SUV left us thoroughly entertained.

Tony Quiroga – Car & Driver
The Hummer SUV is a riot on the road, but when pavement gives way to dirt, the real fun begins. With specs that rival Jeep's Wrangler Rubicon, the Hummer SUV boasts an approach angle of 49.6 degrees, a breakover angle of 34.4 degrees, and a departure angle of 45.6 degrees. (Removing the spare tire bumps departure angle up to 49.0 degrees.) It also has up to 16 inches of ground clearance and 13 inches of wheel travel, can climb an 18-inch vertical wall, and can ford up to 32 inches of water.

Jason Gonderman – Motor Trend
It shouldn't make any sense. But drive it for a couple of days and you realise being sensible is for other vehicles. The Hummer is about fun.

Top Gear
FAQs
When will the 2024 Hummer EV SUV be available?
The 2024 Hummer EV SUV has been rolling off the production line for a few months now, but it could be a while before you see one at a GMC lot. You can sign up to "stay in the know" on GMC's site but your best bet might be surreptitiously becoming best friends with someone who works at a dealership if you'd like to get your hands on one.
How many miles can the 2024 Hummer EV SUV drive on a single charge?
GMC's documentation says the 2024 Hummer EV SUV can travel about 314 miles on a single charge at the EV3X trim level. According to Car and Driver's testing, the 2024 Hummer EV SUV had a range of 250 miles at 75 mph.
Who makes the 2024 Hummer EV SUV?
The 2024 Hummer EV SUV is manufactured by GMC, a subsidiary of General Motors. General Motors has owned the Humvee (later Hummer) branding since 1998. The Hummer line was initially discontinued in 2010 after the anti-gas-guzzler backlash related to the Great Recession. In 2020, GMC announced that the nameplate would be returning, rebranding Hummer as a line of electric super trucks.