"It's not you, it's me," and "You've changed, Prius," are phrases Toyota's long-running fuel-saving car would hear if it could have human-like relationships. The car got a significant overhaul for 2023, which brought a striking styling update, improved powertrain and performance, and better tech across the board. Looking at the new and improved 2023 Prius, it's a little frustrating that Toyota could have given us this car years ago, but we'll have to settle for better late or never. 
Toyota offers the 2023 Prius as a traditional hybrid electric vehicle (HEV) or as a plug-in hybrid electric vehicle (PHEV). The PHEV variant, called the Prius Prime, has been a mainstay in the Prius lineup since it was first introduced in 2012. While it does have to be routinely connected to a charger, the 2023 Prius Prime delivers higher performance and up to 44 miles of purely electric range. In either case, depending on the configuration, the car brings up to 57 mpg in the city and 56 mpg on the highway when the engine and electric motor are both in use.
The 2024 Prius hasn't hit the streets yet, but we expect minor updates to the line, including a potential high-performance variant. Toyota made enough improvements to the car's powertrain and styling that it's reasonable to expect an enthusiast model with slightly more power and a more aggressive look, especially given its newfound popularity with modders.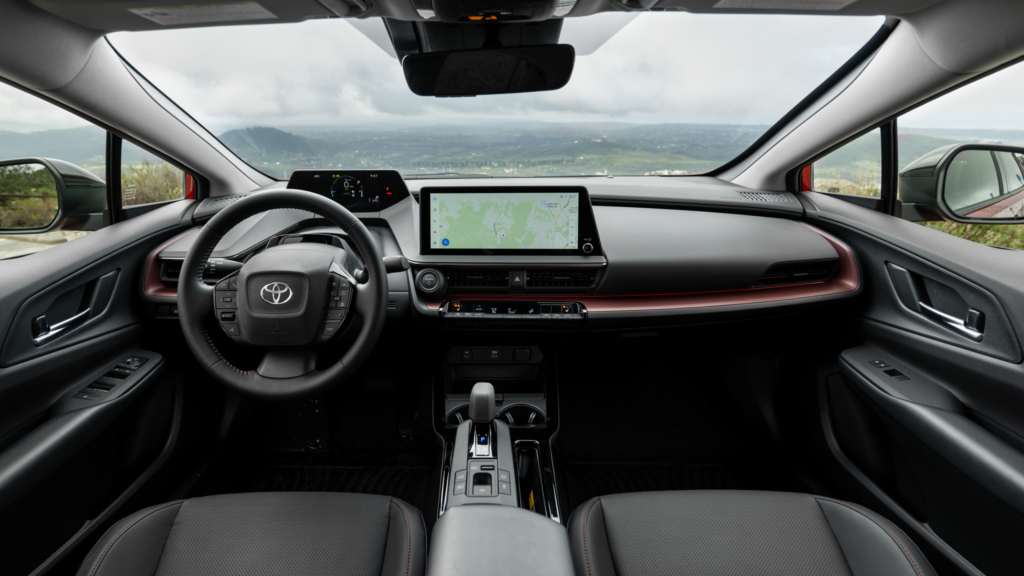 2023 Prius price, trim levels, mpg, and 0-60 performance
Toyota offers the Prius in several configurations and with all-wheel drive. The plug-in hybrid electric vehicle (PHEV) Prius Prime comes in sportier trims with a higher starting price and no all-wheel drive option. The tradeoff is that Prime buyers get up to 44 miles of all-electric range, meaning there could be extended periods without stops for gas, depending on the driver.
Making up to 220 horsepower, we know the 2023 Prius is no slouch. But real-world performance is about more than just horsepower. Weight and torque also play an important role. Pushing 139 lb-ft of torque and a curb weight between 3097-3571 lbs, the Prius Prime can accelerate from 0-60 mph in just 6.6 seconds while the regular Prius still manages a decent 7.
While those aren't record-shattering numbers, the 2023 Prius's 0-60 performance is a far cry from the 10.3 seconds of the 2012 model our Editor-in-Chief mentioned owning in his interview with Mag-X.
2023 Toyota Prius LE
2023 Toyota Prius XLE
2023 Toyota Prius Limited
194 net horsepower
139 lb-ft torque
2023 Toyota Prius Prime SE
2023 Toyota Prius Prime XSE
2023 Toyota Prius Prime Premium
The 2023 Prius is part of a sprawling car lineup from Toyota. The automaker also offers the Corolla as a sedan or hatchback with an optional hybrid powertrain. The Camry is also available as a gas or hybrid, and Toyota recently revived the Crown nameplate for use on a hybrid-only premium sedan. In terms of pricing, the Prius is more expensive than the Corolla and starts off a little below the Camry's base price.
Toyota has always done a decent job with value and offering a simple vehicle build process. With the 2023 Prius, buyers have a wide range of colors and options packages to choose from. Most popular features come with trim level selection, making the buying process much easier to navigate. The car also gets a load of standard safety equipment, including blind spot monitoring, lane-keep assist, and much more.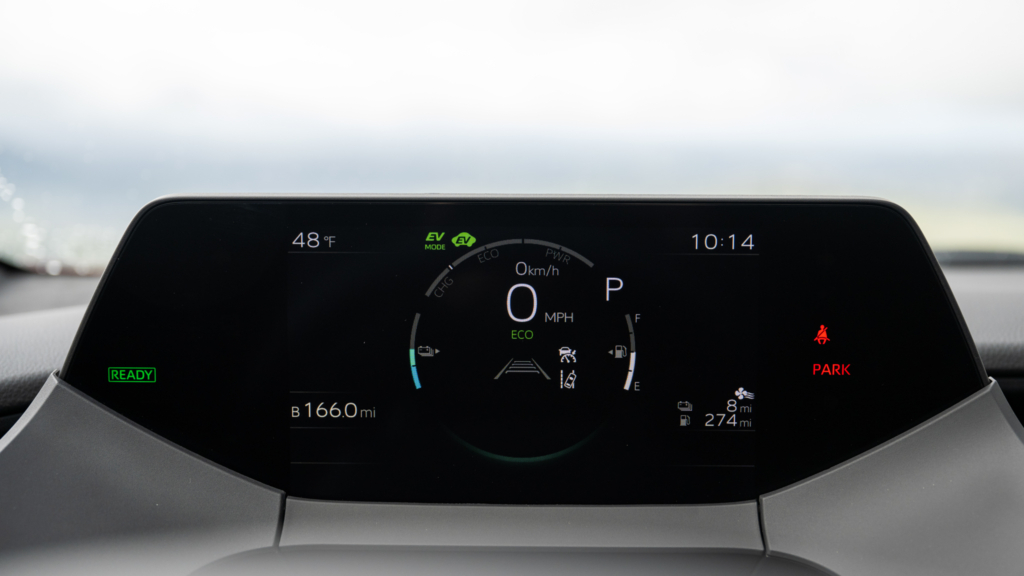 Toyota hybrids: 2023 Toyota Prius vs 2023 Toyota Corolla hybrid
The Prius' move upmarket with power and styling made it more compelling than the Corolla on paper, though neither car is remarkably exciting nor quick. The 2023 Prius delivers 194 horsepower, while the Corolla is limited to 138 ponies. Both cars get a continuously variable transmission and are available with all-wheel drive.
Most versions of the Prius outperform the Corolla Hybrid on fuel economy. The most efficient front-drive Prius LE delivers 57 mpg in the city, while the Corolla Hybrid tops out at 50 mpg city. The Prius offers ten more cubic feet of cargo space than the Corolla, although both leave much to be desired in this department.
Toyota has massively improved its technology offerings in recent years, and the new 2023 Prius gets the full benefit of the automaker's latest interface. It comes standard with a standard 7-inch display or an optional 12.3-inch display, and the new infotainment system runs flawlessly on both. The Corolla also got a new interface for 2023, but its largest display is an 8-inch touchscreen. Both cars get upscale tech features that were considered luxuries just a few years ago. These include wireless Apple CarPlay and Android Auto, a digital gauge cluster, and more.
2023 Prius news
Toyota just got a new CEO after long-time leader Akio Toyoda stepped down from the position earlier this year. The company has been a public skeptic of the move to electric vehicles for many years. This has led Toyota to push forward with the development of hybrids and other fuel sources, such as hydrogen fuel cell vehicles. The automaker's first mass-market EV, the Toyota bZ4X, was plagued with delays and a recall early on but has reached the market with generally positive reviews.
The company has announced its plans to release ten new EV models by 2025 and said plug-in hybrids are the way forward with electrification. Toyota is working on new PHEV models with electric ranges of more than 124 miles, giving them several times the range of today's most robust PHEVs. The automaker believes that PHEVs will be considered "practical BEVs" and hybrids will become the lower-cost alternatives while still saving fuel.
At the same time, Toyota is in the middle of a modernization push with its truck and SUV line. The automaker overhauled its ancient Sequoia SUV and Tundra pickup truck last year and has begun releasing teaser images for the upcoming Tacoma refresh.