"YOU DRIVE A TOYOTA PRIUS!? HA, WHAT A LOSER," exclaims everyone who watched a little too much Top Gear in 2005. But here you stand, grown and matured, ready to tackle the 9-to-5. And it is you who shall have the last laugh. Or will you?
The 2023 Toyota Prius XLE is indeed as pedestrian as econoboxes come and always will be. The shape. The stigma. The acceleration. You can get a Toyota Prius in almost any color, but its personality was always never more than beige. It has never garnered much respect over the years despite all it has done over the years to polish its image and be the best damn everyday economy car money can buy, but no amount of gas mileage or interior space was enough. Not for enthusiasts nor for Dirty Mike and The Boys. But those who have welcomed it into their hearts and homes love it for a reason. If they didn't, there wouldn't be a new Prius.
So here we are. The Toyota Prius has gradually been honing its skills and changed threads every few years to get with the times to divisive reception, but this new one? Oh-ho, this new Prius. Toyota may have just struck gold thanks to some stints at the gym and a trip to its tailor, and now it's here to ask the haters who are laughing now.
Skip to section: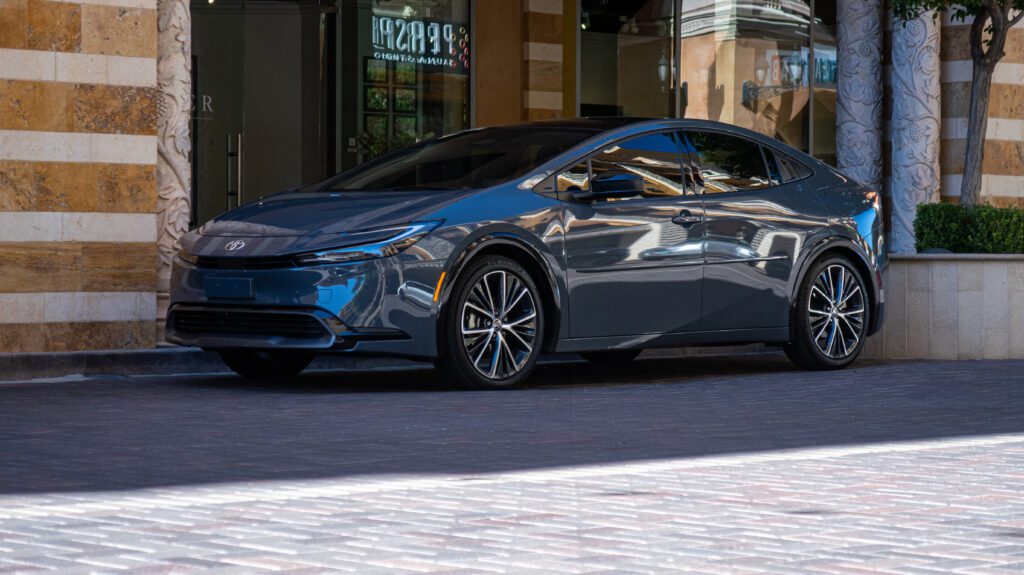 🚦Get ready, set, full disclosure! Some of the links powering our posts contain affiliate links, which means we may earn a small commission if you decide to make a purchase, even if it's not from the page we linked. Affiliate links are not always an endorsement of the product. To really help us keep our headlights shining to make more content like this, subscribe to the Acceleramota newsletter.
Author's Note: This review was made possible thanks to Turo and the generous owner, who agreed to allow us to rent this vehicle for review purposes. Check out the app or site to see what rides are available in your area!
Prius price and specs
In a world of astronomical price increases and rampant inflation, the Prius remains grounded in the ever-shrinking realm of affordability. This time, it does so with an extensive list of standard features and worthwhile upgrades over the outgoing generation, not least of which is a significantly more powerful hybrid powertrain with a larger two-liter gasoline engine and a heap of standard driving safety assists. Our vehicle was a 2023 model from Turo, but the equivalent 2024 XLE bases at $31,095.
| | |
| --- | --- |
| Base price (2024): | $31,095 |
| As-tested price (2024): | $33,925 |
| Engine: | 2.0-liter inline-four + 2 AC electric motors |
| Transmission: | CVT |
| Drivetrain: | front-wheel drive |
| Power: | 194 horsepower |
| Torque: | 139 pound-feet (engine only, total system not rated) |
| Redline: | N/A (no tachometer!) |
| Weight: | approx. 3,200 pounds |
| Zero-to-60 mph: | 7.1 seconds |
| ¼-mile: | 15.5 seconds @ 92 mph |
| MPG: | 52 city, 52 highway, 52 combined |
| Observed MPG: | 50.3 mpg |
| Fuel Capacity: | 11.3 gallons |
(Author's Note: Performance numbers reflected in Car and Driver's review from December 2022)
Prius exterior design
Glow-up of the century
Don't deny it. The new Prius is hot! Still an egg, yes. But it's a smoking pistol compared to the car it replaced and the cars it rivals. More interesting than a Corolla. More understated than an Elantra. Yet, it's sleeker and more aerodynamic than them all. Less goofy cues and proportions than an Ioniq Hybrid. Gone are the angular Gundam slashes that adorned the awkwardly shaped body of the last Prius, and in its place are smooth lines, soft creases, and a seemingly elongated nose complementing the short decklid.
The rear lights are comprised of a single light bar, while the front angular C-shaped headlights are perhaps the sharpest lines on the Prius and arguably its most attractive feature. Further enhancing the sporty appeal of Toyota's reborn hybrid hatchback is an upward sweeping side skirt that screams tuner car body kit.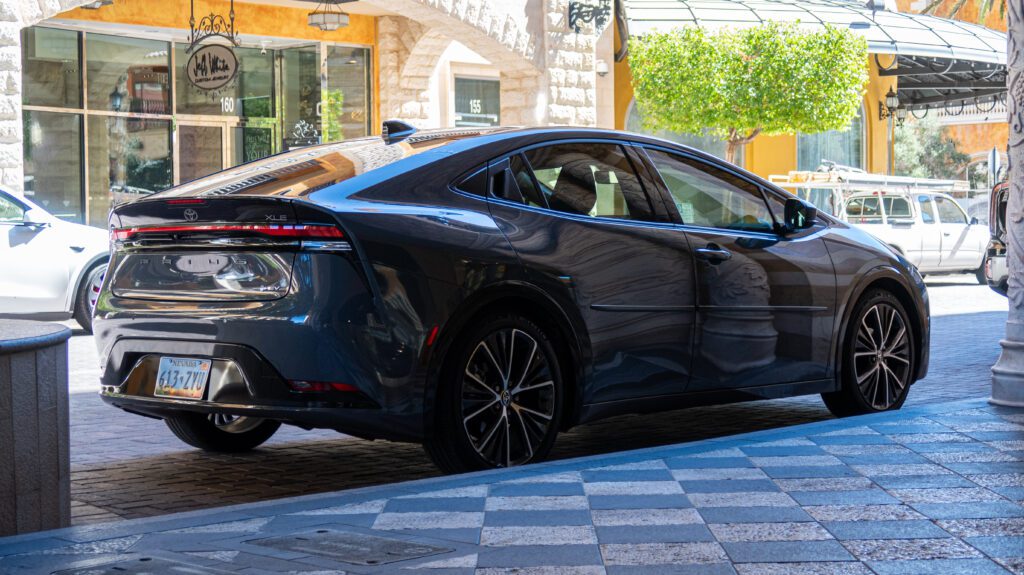 A slippery little snake
Of course, the still-eggy silhouette of the Toyota Prius will forever be a staple of its design and an integral key to its efficiency, and the current generation rocks more than just a prettier face.
Smoothened lines, grill shutters, and rounded edges contribute to the 0.29 drag coefficient or 0.27 with the lower trim levels' smoother wheels, which are actually up from the previous car's slipperier 0.24. This is likely due to the new Prius' newfound inch of extra width and higher-trim wheel that value style over outright economy.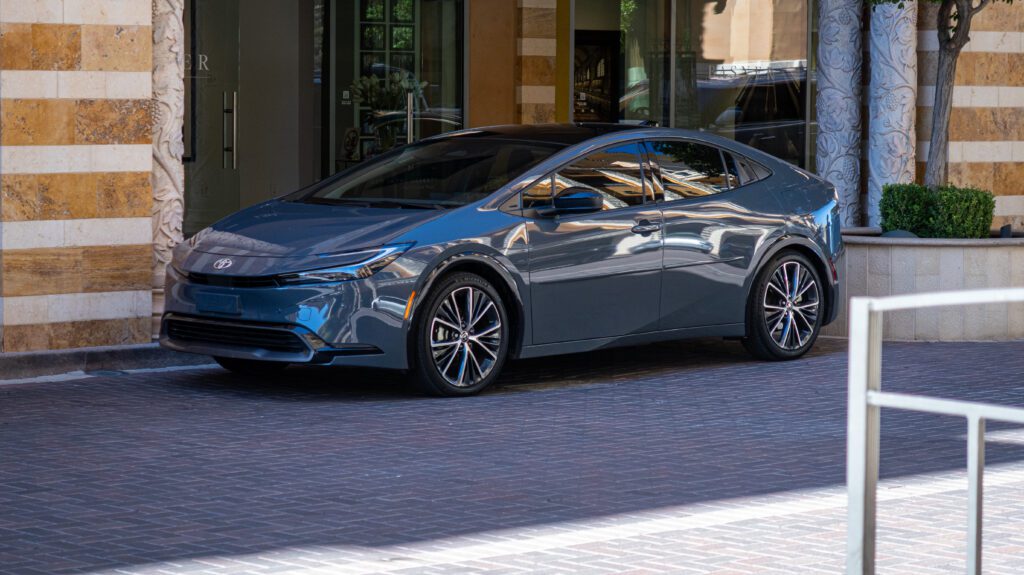 What's hot?
– The same fuel miser it always was
– Actually quick and dynamic-ish!?
– As maneuverable as even smaller cars
– Rapid-fire touchscreen response
– Abundance of storage nooks in the cabin
– Audio system engineer deserves head pats
Prius pricing breakdown
Prius pricing for current 2024 models starts as low as $27,650 for a stripper LE and rockets as high as nearly $43,000 for a loaded Prime plug-in XSE Premium. A 2024 equivalent for our non-plug-in XLE loaner will ring in towards the lower end of the spectrum, with the dual moonroofs and enlarged 12.3-inch touchscreen bringing the total to roughly $34,000 before taxes and fees. Other add-ons like a digital key, as is a smorgasbord of $300 to $450 carpet and all-weather floor mat packages, are available. Our XLE tester came standard with dual-zone climate and heated seats. However, higher trims offer heated rear seats and digital rearview mirrors as part of smaller options packages priced at a few hundred dollars. Solar charging is available on Prime plug-ins as part of its exclusive option packages, and Toyota's AWD-e is available on standard Prius hybrids for $1,400.
Not too bad, given how inflation has affected other vehicles far more significantly. Pricing is on par with what a Prius Four Touring cost in 2016, albeit with stronger performance, similar efficiency, and a much more attractive look inside and out.
Prius interior and tech
As tech-savvy as always
Our Prius XLE came equipped with a lovably clear and ultra-fast-responding 12.3-inch touchscreen that handled nearly everything from stereo controls to vehicle settings, although a physical volume knob and power button are appreciated. I just wish it wasn't on the damn passenger side. Seriously, why there? I'm right here, not there. At least the screen is big, bright, and quick to respond.
Besides a bit of confusion digging through the menus to set up CarPlay, the screen worked flawlessly. Bluetooth connection was quick to sort itself out on every start-up, and while wireless CarPlay does drain your battery, it's nowhere near as taxing as other cars I've experienced. And if your battery is still a concern, the wireless charger is there to come in clutch with spring-loaded grips to keep your phone from flopping around over bumps. And it actually charges, too, unlike older Toyota wireless chargers where I found they just kept your phone held at a certain charge.
Toyota's Safety Sense systems are also standard, with blind-spot monitoring, adaptive cruise with lane-centering, and even a mild brake assist that leans into your hybrid system's brake regen to help you slow down when it detects stopped traffic in the distance. It won't fully stop and will flash a warning if you get too close, but it's a nice little helper around town.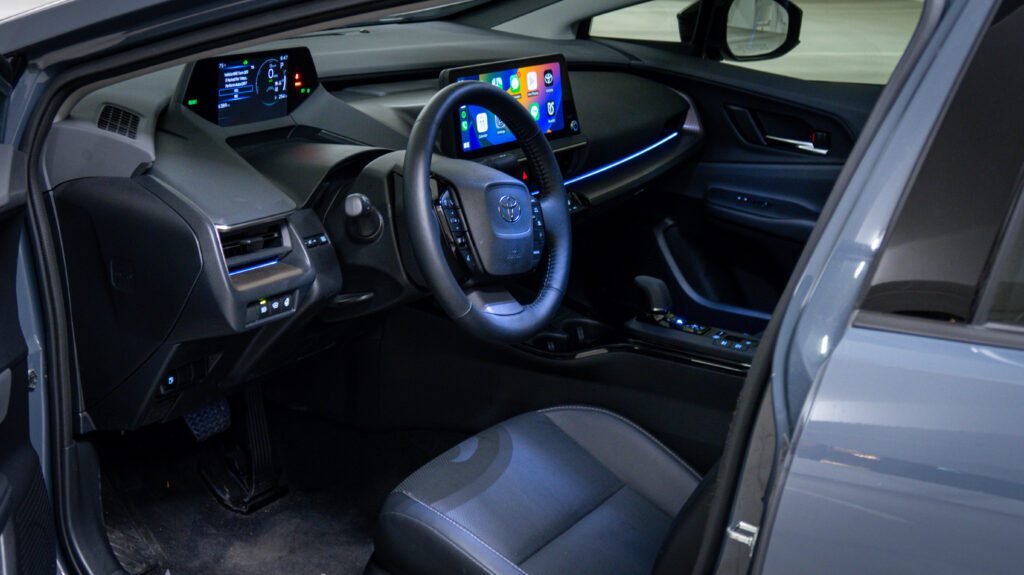 Faux luxury
And to think all of this comes wrapped up in a package that's just as attractive as the outside. Dare I say you could probably slap on some wood paneling here and call it a new Lexus CT200h? It's cozy and modern, like an overpriced luxury apartment.
Regardless of screen size, it's saddled atop the dash right in the peripherals of the driver, as is the digital gauge cluster, which sits high but rather far down the long dashboard. And I mean a long dashboard (see gallery below). They are brilliantly lit and wonderfully crisp, like a 4K TV, and even the animation of sliding between screens and menus appears to be in 60 FPS, evoking thoughts of cars that cost multiples more. Even some Mercedes products don't have screens this nice. But for those who admonish the overuse of screens, the hard buttons for the climate controls are a nice complement. There's also no shortage of storage cubbies throughout the cabin, including the cheeky #HIDDENCOMPARTMENT bin beneath the climate controls. Clever, aside from the very obvious latch to open it.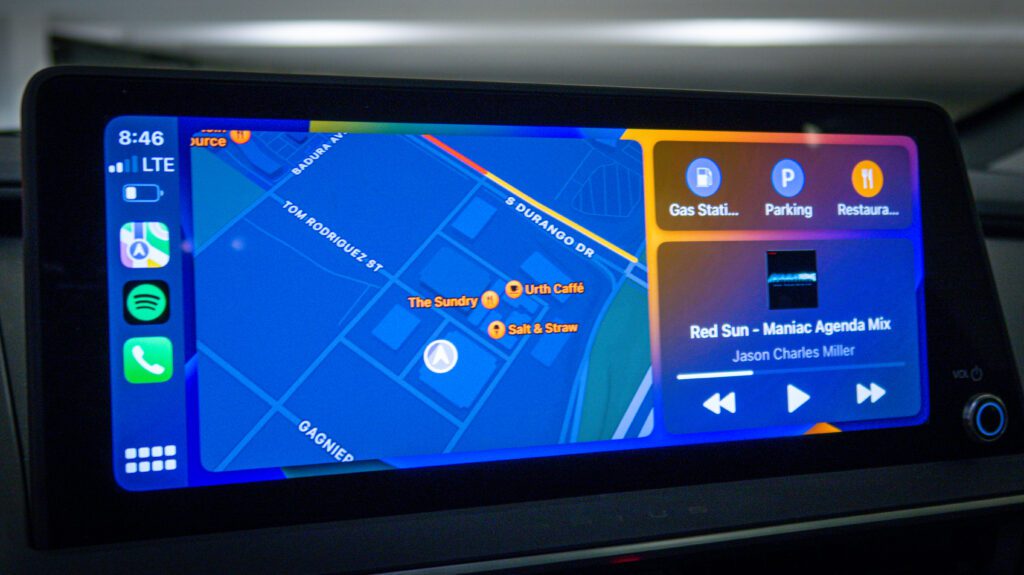 The glass roof doesn't open, but it does let an appreciable amount of light in for an even airier feel for the already-expansive greenhouse. Best of all, it's tinted well enough that it blocks heat and UV quite well. Of course, if it's still not enough, roll-up shades are stored in the center bar dividing the glass panels. The dashboard lightbar above the climate controls and soft white LED interior lighting are a fun touch for adding a splash of color and modernity to this frugal front-driver, and the optional gray interior would spur that theme further. I wouldn't say it's for everyone. It's perhaps a little too youthful and videogamey in here. But it sure is nice to decompress after a long day of complaining on social media and shopping at Trader Joe's.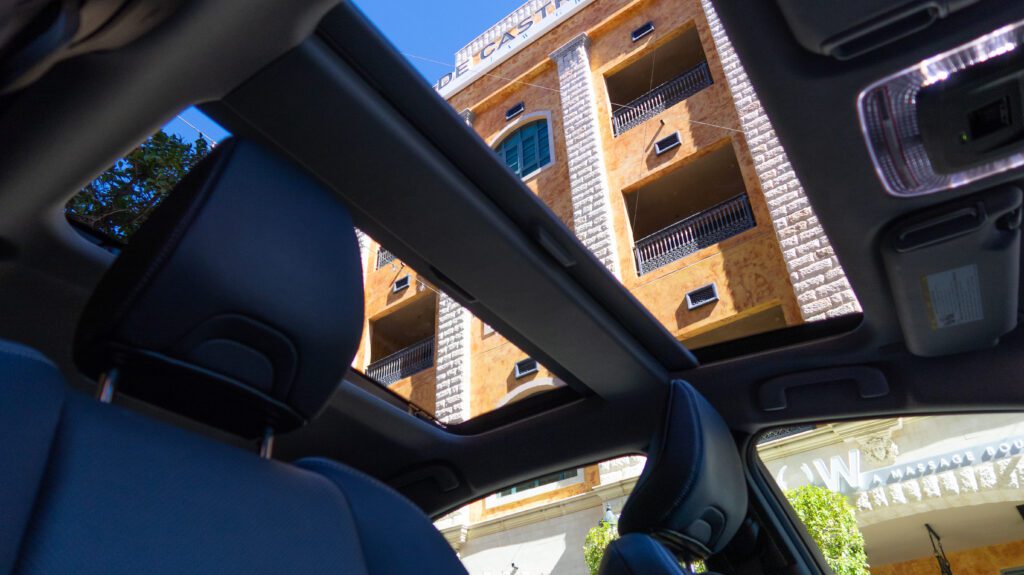 Yep, the new Prius is still an NPC car
A coddling egg
But you certainly won't complain about how the new Prius goes about its daily business. Ever heard jokes about NPC (non-playable character) cars? The new Prius is the definitive NPC car, and I mean that in the most positive and inoffensive manner possible. This car is a lovely and unbothersome place to eat up the many miles loaded into that minuscule gas tank. Like, damn near 600 miles out of 11.3 gallons, not including the full-EV stints you may accomplish. I hope you can remember what side the tank is on.
The seats are reasonably plush and supportive for a budget-minded car, and the expanses of glass yield impressive visibility everywhere but the rear quarter views. Back there, thick pillars and a lack of sizable quarter glass force you to rely more on the blind-spot monitor, which softly beeps when it detects you are signaling into a pesky hidden car.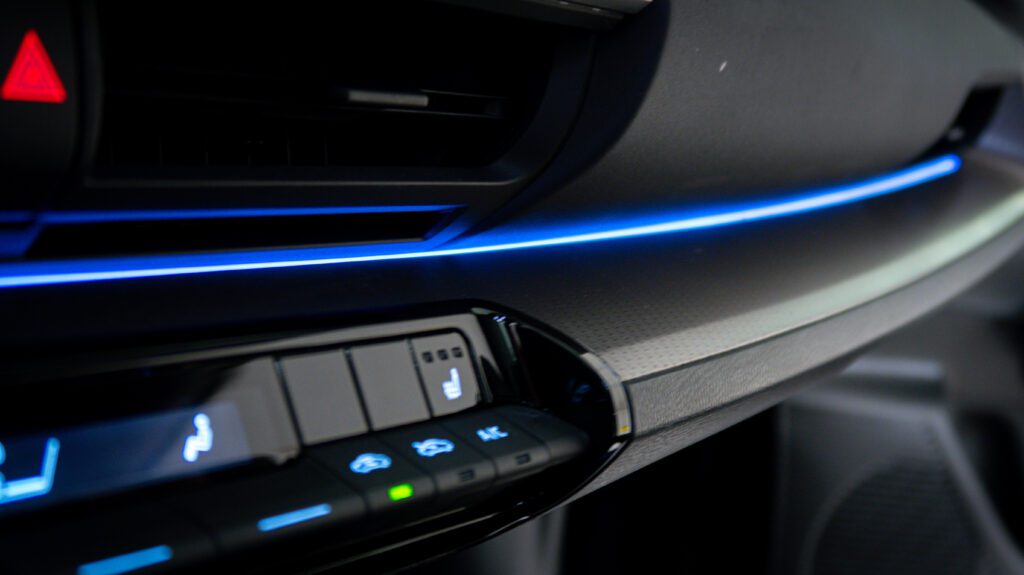 Another nitpick inside would be that the glass roof impedes headroom, forcing my six-foot-plus friend to readjust his seating position. The spare tire kit protrudes upward into the hatch space, wiping away what could be feet of space had it not been for the annoyingly intrusive styrofoam tray of just-in-case-the-universe-hates-you tire sealant. Additionally, the digital gauges, while legible, are a tad small and in an awkward place far along the dashboard, which means some drivers who like their steering wheels a bit high, like me, may have their view partially obstructed. There's always a catch with modern car interiors, isn't there? At least everything else is as comfortable and ergonomic as can be for the price point.
The engine is a little droney, as Priuses have always been, but I'm happy to report it's easy to drown out with the standard eight-speaker stereo that genuinely bumps when cranked up without sounding cheap or tinny. What an appropriate stereo to blast Eurobeat out of if Toyota didn't wire it to the most inappropriate car for Eurobeat. I imagine the optional JBL system must be a certified banger. And for such a small cabin, there's an abundance of chargers, including the wireless charger, ports beneath the climate controls, and USB-C ports for the rear occupants mounted on the otherwise minimal center console stand. Because charging matters more to your rear occupants than air conditioning.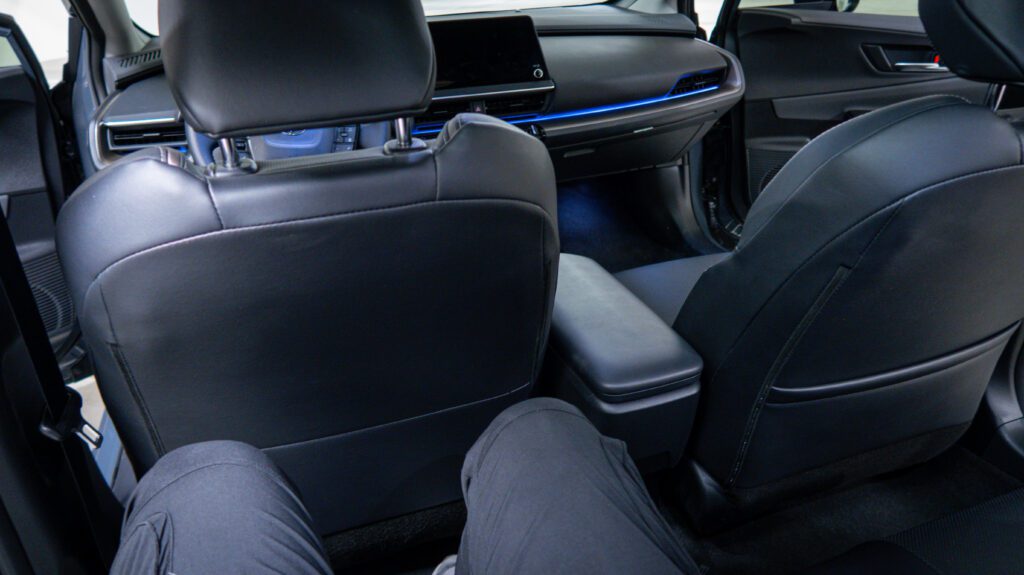 Drives as easily as it looks
Once you're off, it's immediately apparent how quick and light the steering is, meaning parking lot maneuvers are brainless. The Prius further buffs its maneuverability with a tight turning radius spanning parking spaces wide. Anyone who feels like pushing that turning circle will get an audible slap on the wrist from the handy (and perhaps a bit too overreactive) front parking sensors.
As for the highways, the Prius eats interstates like its GR86 stablemate devours corners. It's been a while since I've been in a car that hasn't jittered over expansion joints or wandered at the site of ruts. This thing just tracks straight and glides over asphalt, its newfound horsepower making short work of passes where the old car would wheeze its way to barely inch up. Hold it at 75 mph on a flat stretch of road, and you're humming along in full electric-only mode for as long as the battery says it can.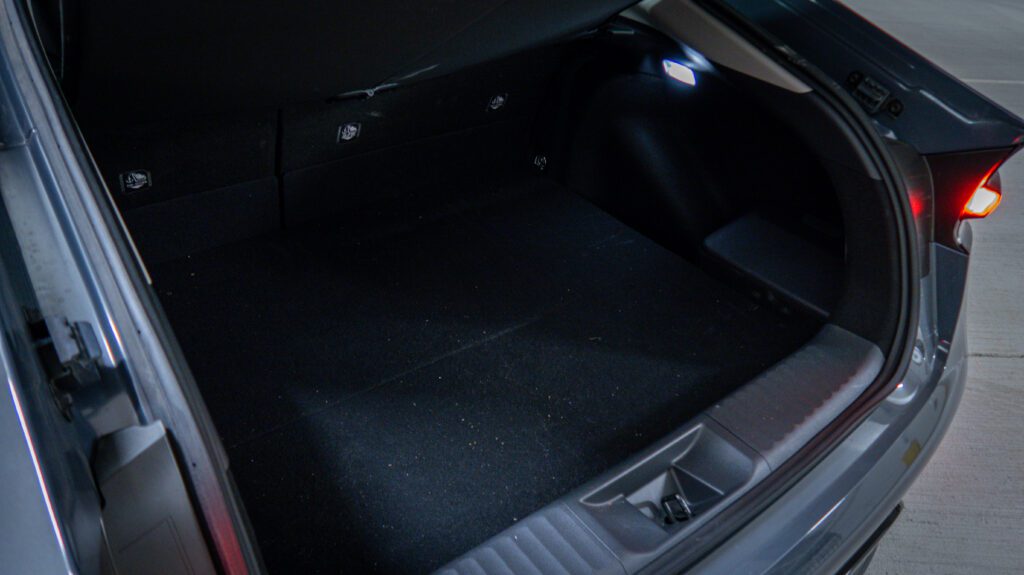 Its 587-mile cruising range can stretch beyond that if you can hold it in electric-only driving. Nowadays, I'm starting to grow weary of press car stints in vehicles that need a fill-up at least once a day. With the Prius, 260 miles of driving over three days in my care barely knocked the fuel gauge down to below half. Note that lower-trim Priuses feature a more economical and aerodynamic wheel-and-tire package that delivers a meaningful boost in mpg, ensuring easily attainable 600-mile ranges all day long. Huzzah!
The B mode on the shifter is not brake regen like I previously thought but actually a slight engine braking mode to rely less on regen when the battery is fully charged. Alternatively, the aforementioned mild brake assist leans into the regen when the car detects stopped traffic head, which is handy for urbanites who wish to have every ounce of juice available. An actual EV mode exists, but like prior Prius models, it's solely for parking lot speeds and deactivates upon too much throttle input or when exceeding 25 mph. See Prius Prime for all your I-don't-want-an-electric-car-copium.
But Sport mode, however…
How the hypermiler got hyper-cool
Oh yeah. In case it wasn't already clear, the new Prius is fun. And kind of fast? I think. Nah, it is. This is a quick car with a competent chassis that just so happens to get over 50 mpg everywhere it goes when you're not making it groan and howl like a garbage disposal. Thanks for that, CVT. But other than the droney engine noise, this thing is fun. Get that. A cool Prius? I didn't think I'd ever see the day.
So about Sport mode. The new Prius has it. And it sure is something.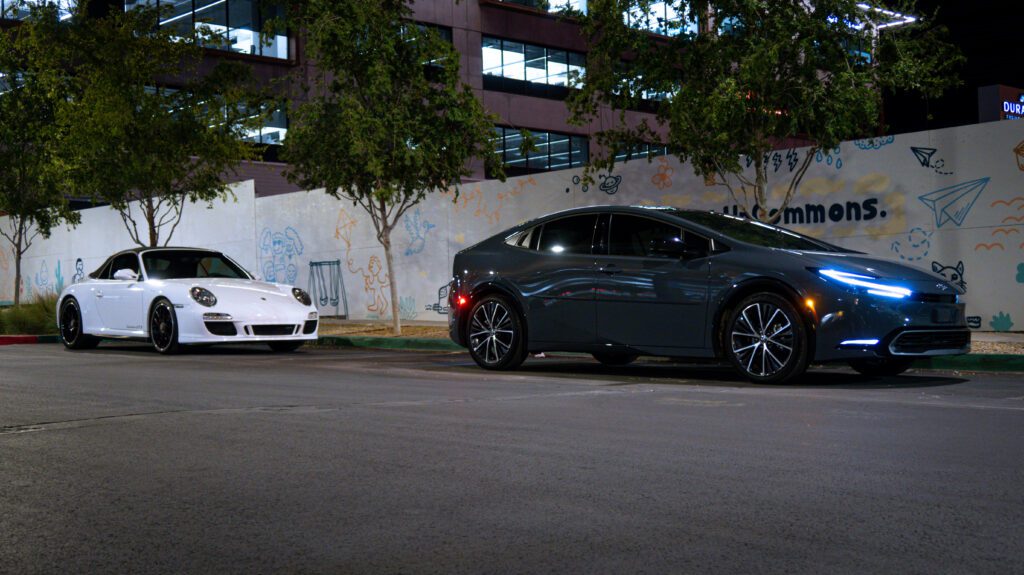 With Sport mode, throttle response and battery power ramp up and show you how far of a leap that 194 horsepower, two-liter hybrid powertrain is over the outgoing car's measly 121 horsepower. Slam the throttle, and the electric powertrain whirs as the engine groans, their combined power thrusting you to 60 mph not far off the likes of the Fiat 500 Abarth, Ford Fiesta ST, Mk6 Golf GTI, or Scion FR-S/Toyota 86. This thing scoots! Or at least it scoots enough to piss off traction control from a stop. Don't ask me how I know, wink, wink. But you won't be pulling such antics in the last-generation car.
Stoplight sprints are no longer a chore, and highway on-ramps are more of a pleasure than an obstacle, not only due to the power but also the Prius' revamped chassis and steering that no longer wallow at the sight of a one-degree bend. Just as the Prius is surefooted and stable on interstate escapades, it's a (kind of) playful and competent city runabout. No, it's not a hot hatch. It's not even lukewarm or even room temperature. It's too numb for that, and the CVT is, well, a CVT. Not that the average Prius buyer cares. But finally, at long last, the Prius not only looks good but drives well enough, too. This is a likable driving experience.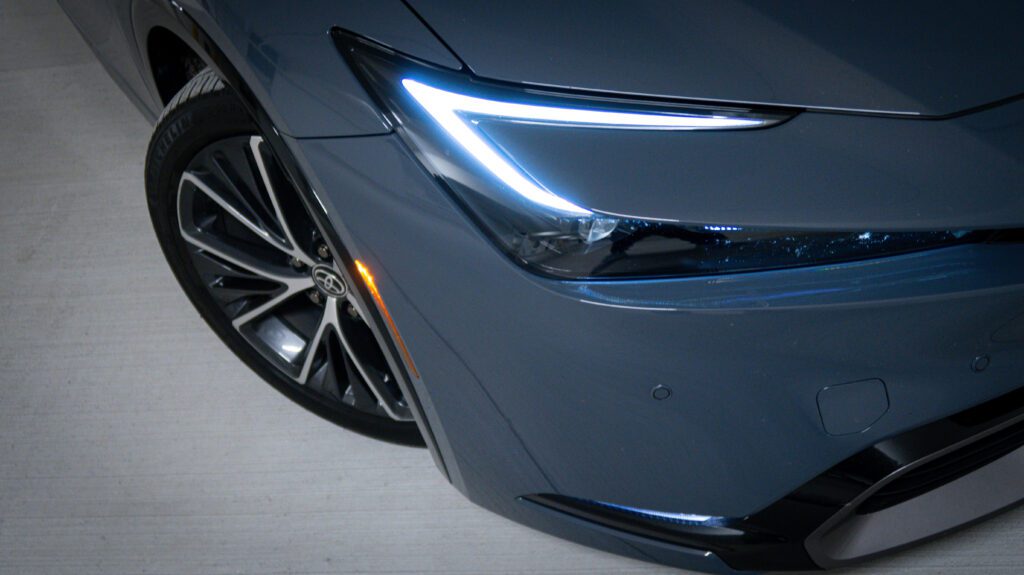 What's not?
– Groany engine noises
– Tire repair kit interferes with trunk space
– Glass roof may hinder taller occupants
– Digital gauge cluster is small and in a stupid place
– Lower trims get more efficient wheel-tire packages
– Faces formidable competition from plug-ins, crossovers, and full EVs
The near-perfect daily driver for almost anyone
Never thought I'd say this. But the Toyota Prius? Pretty damn cool nowadays. Unfortunately for Toyota, Dirty Mike's posse has more options than ever. EVs and plug-ins are edging closer and closer to mainstream relevancy each day, with advancements bringing greater range, more practicality, and improved infrastructure, even if it's marginal gains. Rivals like the Honda Insight and Hyundai Ioniq are also highly compelling choices from rapidly improving and maturing companies, meaning the Prius doesn't stand alone as the king of this hill anymore.
But even so, the Prius still makes a case for itself with its own suite of upgrades at a good value that ensures newcomers and veteran fans alike will find something worthwhile. I certainly have. It's loaded with tech, all of which works quite well. The improved performance is a hoot for getting errands knocked out quicker at the Albertson's Grand Prix and for turning the tides of rush hour death matches in your favor. And it does it all while still getting over 50 miles to the freaking gallon. Five-zero!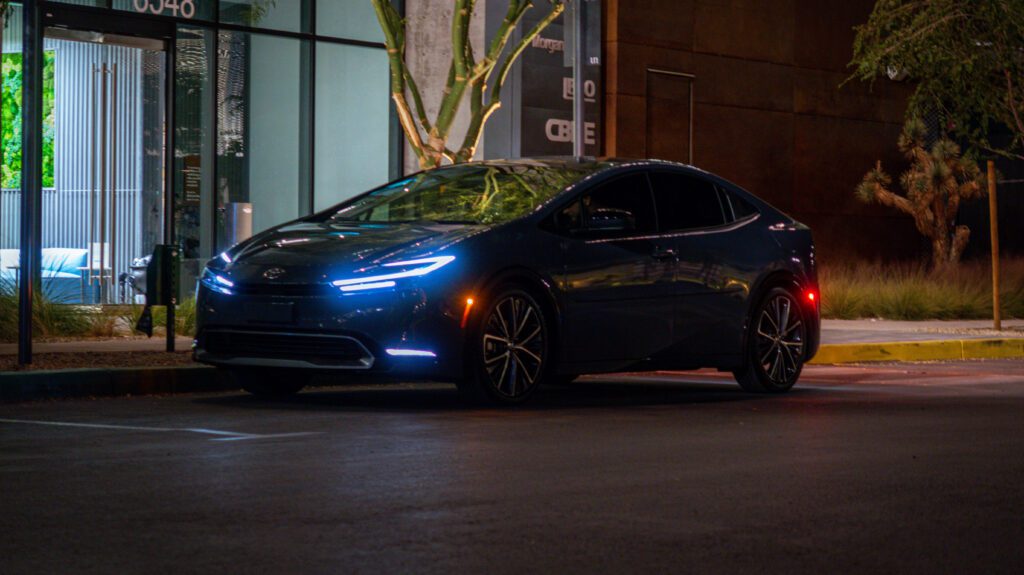 The enthusiast who may snag one as a daily will greatly appreciate the improved dynamics and not paying a gazillion-bajillion dollars at the pump, while the average consumer will walk away from every commute unoffended by the maturity and composure the Prius now carries in spades. Those two attributes in tandem definitely make for a great car and a stellar consumer product. So who's laughing now, Clarkson?
Now let's urge Toyota to put a GR version into production.