Welcome to Johnson Valley, home of rocks, rattlesnakes, and the legendary King of the Hammers off-road racecourse. Last year, Johnson Valley also played host to the gnarliest dynamic vehicle launch of my automotive career, when Ford brought media out for a day of technical rock crawling, high-speed whoop running, lakebed autocross, and straight-up jumping (on purpose) in the absolutely manic Bronco Raptor. And today, it's the perfect setting for Chevrolet to pull out the stops in a bit of one-upmanship by debuting the new Colorado ZR2 Bison, the Chevy Colorado's most hardcore off-roading package. In fact, Chevy unveiled an entirely new "Bison Family" at Johnson Valley including the Silverado's Light Duty and Heavy Duty variants. But for a real King of the Hammers experience, a Colorado jam-packed with goodies from American Expedition Vehicles (AEV) definitely takes the cake.
I showed up to Johnson Valley with plenty of experience driving a "base" Colorado ZR2 on the Vegas to Reno off-road racecourse earlier this year. Over that three-day adventure, I somehow planted enough seeds of confidence among Chevy's PR and engineering teams that they planned a one-on-one afternoon for me and GM's Engineering Group Manager Tim Demetrio to take a Bison even further off the beaten path and hopefully find some Raptor-style ripping and rock crawling to fully reveal the new truck's impressive off-roading capabilities.
Skip to section: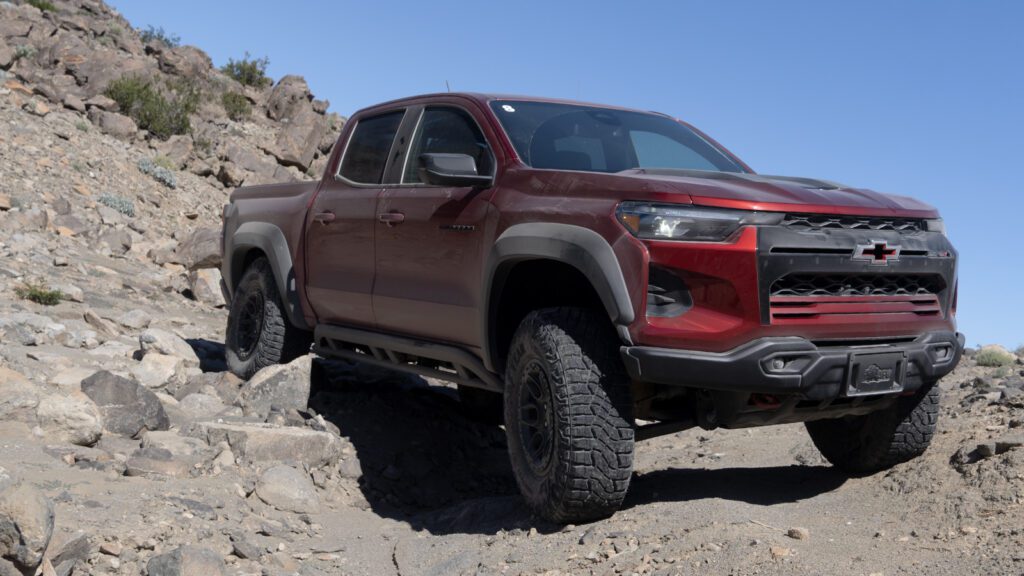 Price and Specs
Price is currently unknown as this is an especially new, fresh-off-the-drawing-board model that we've had the privilege of reviewing. However, do expect it to sticker at a healthy increase over the non-Bison ZR2's $48,295, further detailed in our pricing breakdown. In the interim, please enjoy the specs we were given, juiced up with extra off-road-centric figures for your sand-kicking pleasure.
| | |
| --- | --- |
| Base price: | TBA |
| As-test price: | TBA; Couldn't tell ya! |
| Engine: | High-Output 2.7-liter turbocharged inline-four |
| Transmission: | 8-speed automatic |
| Drivetrain: | RWD/4Hi/4Lo with electronically locking front and rear differentials |
| Power: | 310 horsepower |
| Torque: | 430 pound-feet |
| Weight: | 5,265 pounds |
| Tow rating: | 5,500 pounds |
| Max payload: | 1,050 pounds |
| Tires: | LT315/70R17 Mud-Terrains (35" OD) |
| Approach angle: | 38.2° |
| Departure angle: | 26.0° |
| Breakover angle: | 26.9° |
| MPG: | TBA; Worse than the base ZR2, I bet. |
| Fuel Capacity: | 21 gallons |
ZR2 Bison Exterior Design
The Colorado received a ground-up redesign for the third generation, seemingly taking plenty of styling and engineering cues from the Toyota Tacoma. Boxy, angular headlights up front transition to a square body with subtle fender flares on lower-spec trucks and more aggressive details on the ZR2 and Bison. The entire lineup comes only in the most popular crew cab with a short bed configuration, which unfortunately renders long beds and extra cabs extinct.
Spotting a Bison from afar, versus a base ZR2, requires 20:20 vision. Up close, the steel bumpers and 17-inch wheels from AEV stand out as slightly more off-road-focused. An additional 1.5 inches of ride height over the ZR2's 3.0-inch lift contributes to a bolder stance that the 35-inch mud-terrain tires only enhance.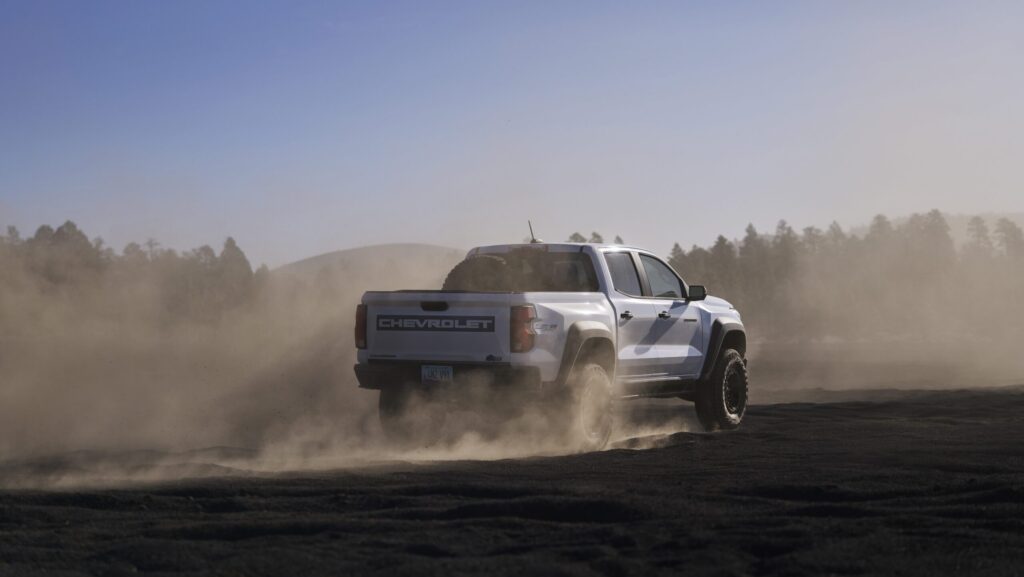 What's hot?
– Sublime Multimatic suspension with new hydraulic jounce control bumpers
– Improved tech with trick four-wheeling drive modes
– Ventilated seats!
ZR2 Bison Pricing Breakdown
The full Bison package adds a set of Multimatic's hydraulic jounce control bumpers (more on those later) to complement the spectacular Dynamic Suspensions Spool Valve (DSSV) dampers that already make the ZR2 an impressively specced pickup from the factory. AEV then contributes the steel bumpers, hot-stamped boron-steel skid plates, and rock sliders to protect the truck from the toughest trails. Those 35-inch tires are Goodyear Wrangler Territory Mud-Terrains mounted on beadlock-capable wheels that measure a half-inch wider than the ZR2's.
Chevrolet plans to announce pricing for the Bison closer to the start of production, but we know that the 2023 ZR2 stickered for an impressive $48,295, and adding the Bison package to the Silverado ZR2 ran about $8,000. However, the Colorado's full spec sheet tacks on more than the Silverado received, mostly in the form of tires and those hydraulic jouncers, so expect the Colorado Bison to slot in just shy of $60,000 — critically, a step below Ford's pricing for the F-150 and Bronco Raptors that start in the high-$60,000 range, and in line with the Ranger Raptor that starts at a smidge above $55,000. Avoiding that level of sticker shock clearly fits into the plan, since nearly half of Colorado ZR2 buyers count as conquest customers switching to Chevrolet for the first time.
ZR2 Bison Interior and Tech
Redesigning the Colorado for a third generation included a desperately needed step up for the trucks' interior and technology. For the first time, an 11.3-inch touchscreen crowning the dash includes Google Built-In as well as Wireless Apple CarPlay, while the four-wheel-drive controls move to piano keys and knobs located close to the gear shifter and, therefore, the driver's right hand.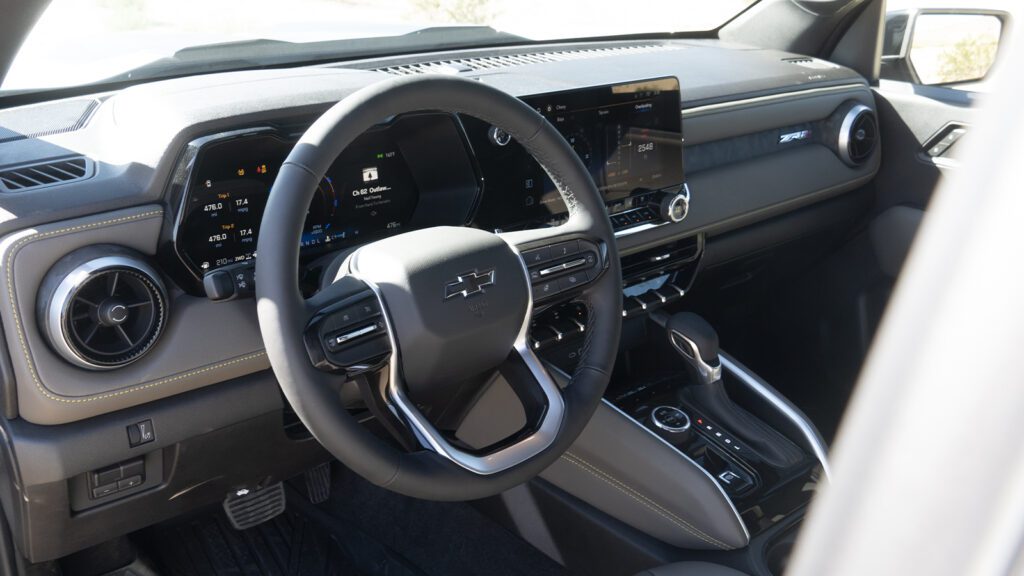 The Colorado's front seats can fit taller drivers with ease, though the rear bench feels tight even with the front seats scooted fairly far forward. Four-legged friends will no doubt enjoy the rear ergonomics, but the relative lack of real liveable space makes the decision to skip an extra cab and long bed configuration all the more confusing. But most importantly, the Bison package includes ventilated seats, which all desert rats know as the greatest piece of automotive engineering ever and what the standard ZR2 surprisingly lacked.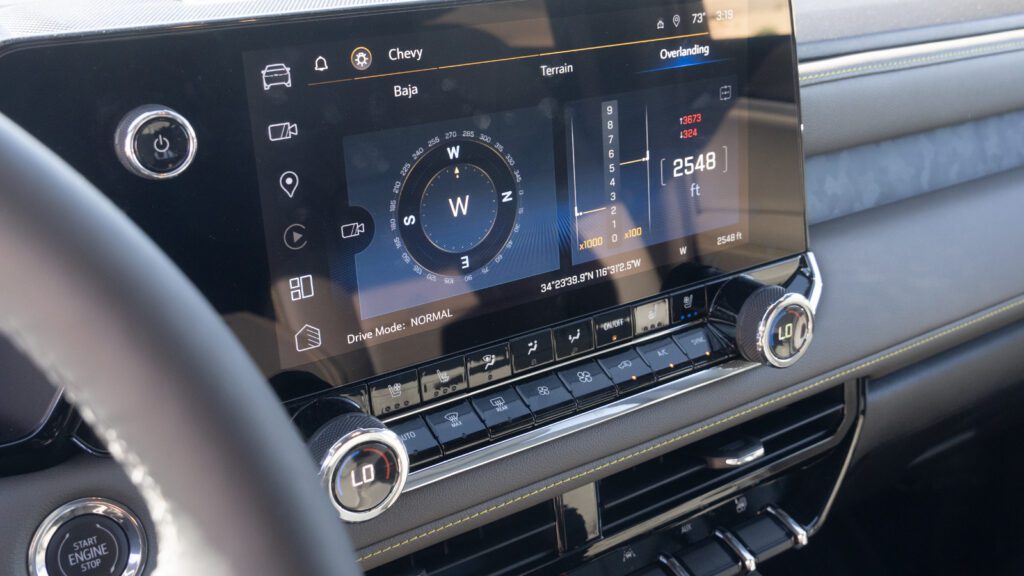 The most hardcore Colorado possible
A race-ready powerhouse
Significant updates to the exterior, interior, and tech should help the entire Colorado lineup stand up to competition from Toyota's Tacoma and Ford's Ranger. But really, the whole point of hitting Johnson Valley in a Bison was to show off what's going on beneath the skin (some of which is easily visible, to be fair). The off-roading goodies arrive hot off years of testing by Chevrolet's factory efforts with Chad Hall Racing at the full calendar of events including King of the Hammers, but also the Mint 400, Vegas to Reno, and more.
Chasing Chad Hall himself across Nevada from behind the wheel of a base ZR2 showed off the difference (other than race tires) between the ZR2 and Bison, but now the time has arrived for Demetrio to take me out in Johnson Valley and prove it. We left the rest of the group behind a bit surreptitiously, but once out of view behind a small hill, Demetrio gave me the go-ahead and I tipped deep into throttle. The High-Output version of Chevy's new-ish 2.7-liter inline-four takes a minute to build turbo boost before unleashing all 430 lb-ft of torque. But really, when it comes to off-road in the slippery stuff, instantaneous response may only lead to wheelspin, anyway.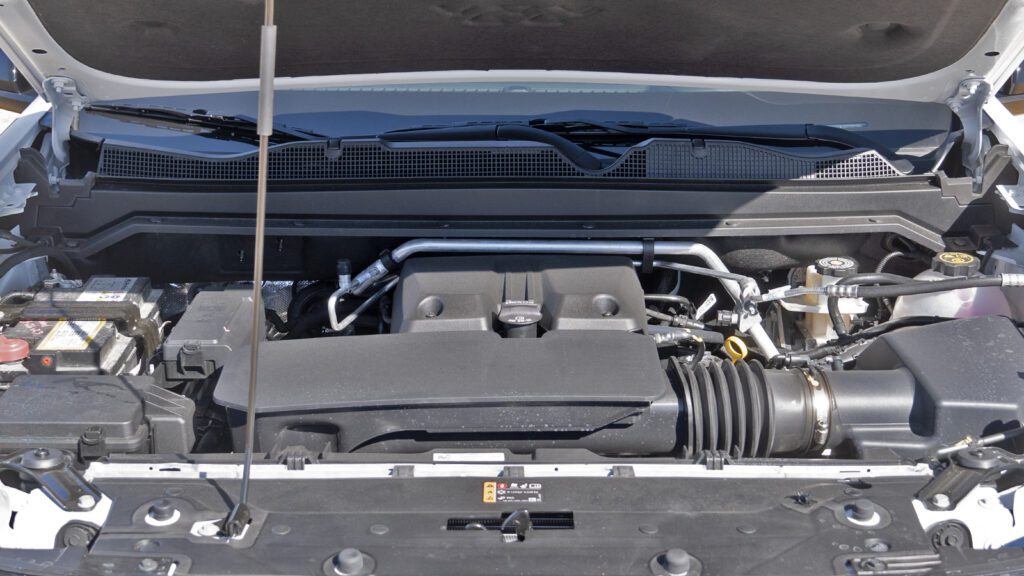 Once up into the powerband, though, I trusted the Bison with a loose hand on the reins and my faith in that magical suspension setup and its revised mounting points. Sure enough, after charging over whoops and blasting up rutted washes, this version of the Colorado takes comfort and confidence to a new level despite me doing my darnedest to slide around and apply plenty of countersteer. Catching air under the front and rear axles never bottomed out the DSSV dampers. Not once. Or at least, as Demetrio explained, it never felt that way.
A proper chassis for a proper performance vehicle
The hydraulic jounce bumpers create that illusion by absorbing and dissipating impacts that more traditional rubber bump stops would absorb and then rebound back into the chassis. Of course, the 35s serve as the first and most important part of the entire suspension system, but the Multimatics help to control any perceived weight and balance concerns that bigger tires and more lift might otherwise create.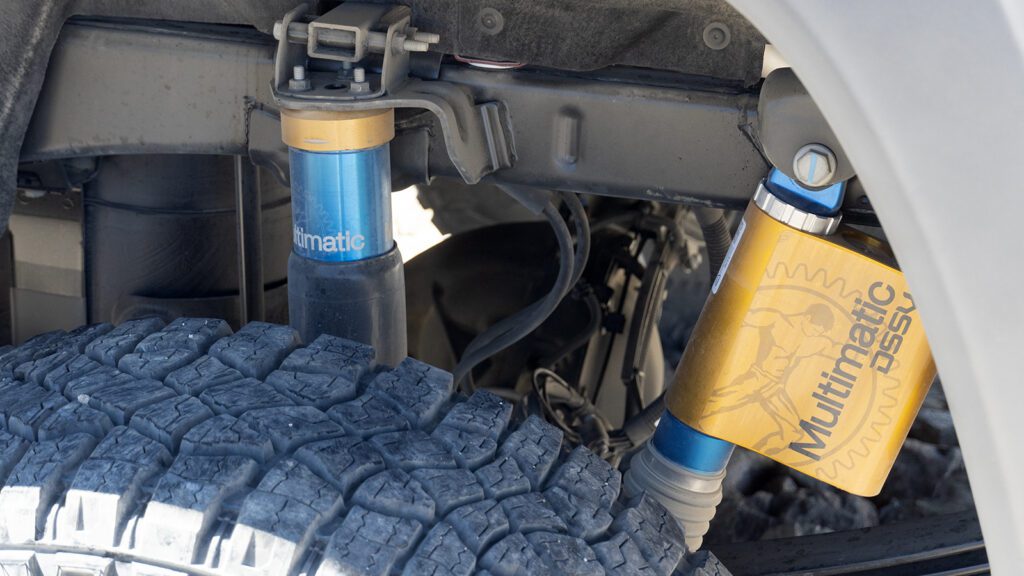 The resulting combination of trophy truck speed and nimble handling at the limits of traction also helps explain why Chevy ditched the diesel engine option for the new Colorado. The new gas four-banger puts out more torque, but in the desert, the diesel's cast-iron block would have messed up the ZR2 and Bison's front-to-rear weight balance. Instead, I can now click into two-wheel drive and lock the rear diff, which most manufacturers won't allow, to produce some real hooning fun.
Fishtailing around as fast as possible never matches the sheer pace possible in 4-Auto or 4-Hi, though, and Demetrio and I only had so much time out on our own. After showing off the Colorado's high-speed abilities, he also wanted to take me on some more hardcore rock crawling that the Bison's additional armoring and bigger tires make possible. We ended up entirely over a far ridge, searching for the best route home while hopping over rocks and clambering up bouldered trails that, to my eye, looked more suitable for side-by-sides. And yet, once again the Bison just kept chugging along even as I truly tested the rock sliders and skid plates with some bangs and scrapes.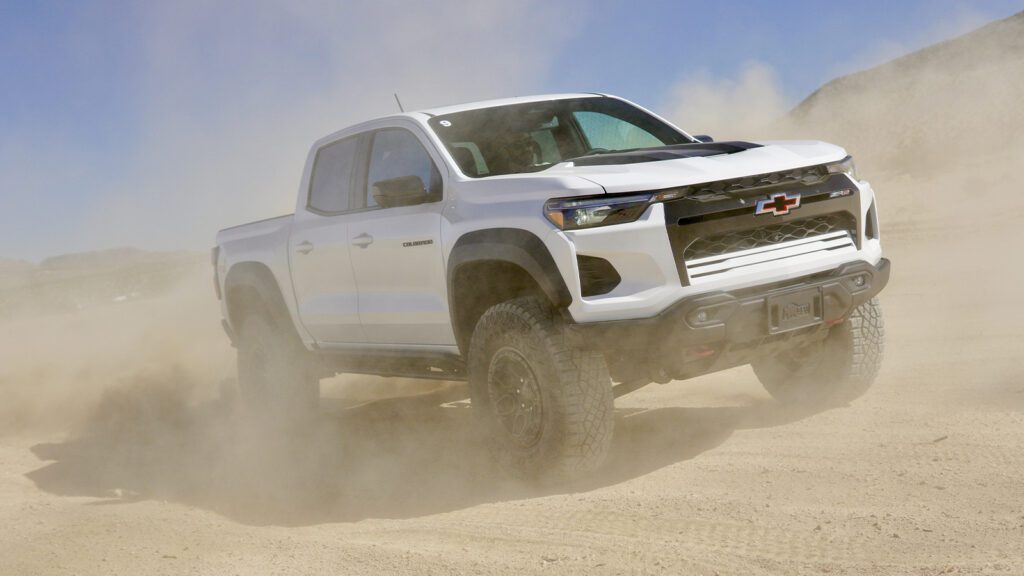 Supreme confidence down Chocolate Thunder
Fear no boulders
Eventually, we wound up at the top of a KoH segment known as Chocolate Thunder (children, these off-roaders, I swear) and Demetrio explained how the Colorado's new Terrain drive mode makes the most of an electronically assisted brake booster to create ideal one-pedal driving. Playing friendly, I switched over into Terrain mode and inched down the technical trail, occasionally using the front camera to help with visibility over the Colorado's square hood (which might just be my least favorite part of the trucks, actually).
At points where I expected a wheel (or two) to lift off or lose traction after my experience with a ZR2, the Bison simply stayed put. That kind of articulation in a truck with independent front suspension and a leaf spring solid rear axle simply boggles the mind. Once again, the third gen's revised suspension mounting points prove their worth. I still prefer two-foot driving while rock crawling, and can admit to leaving a bit more boron on the rocks of Chocolate Thunder. But once we got underway, I never felt anything near the kind of trepidation that crept in looking down from the top of the trail.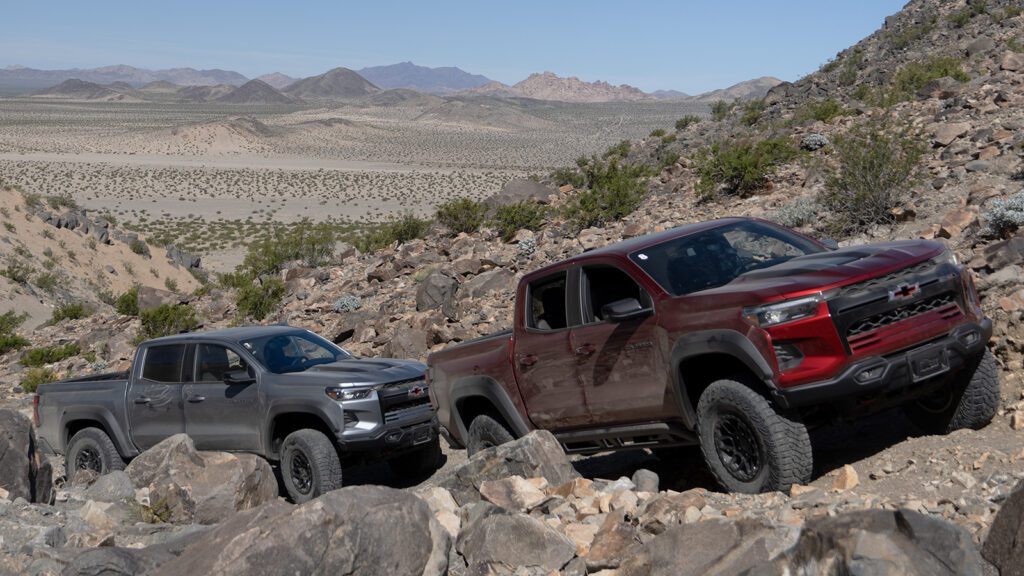 Baja Blastin'
Time to rejoin the group. Lost in our fun, we might even be running late. No problem. Pop out of Terrain mode and back into Baja, and it's time to find the fastest way back to home base. Demetrio keeps telling me to push harder and stop slowing down for those whoops, how once during testing he saw the underside of a truck's front diff while chasing another development engineer across the desert. Now we're both laughing, the off-road children ourselves, amazed at how much punishment the Bison can take—without dishing it out on the driver or passenger. This truck rollicks like a bucking Bronco. Wait, no, a bucking Mustang. Dammit, like something that's not a Ford product name!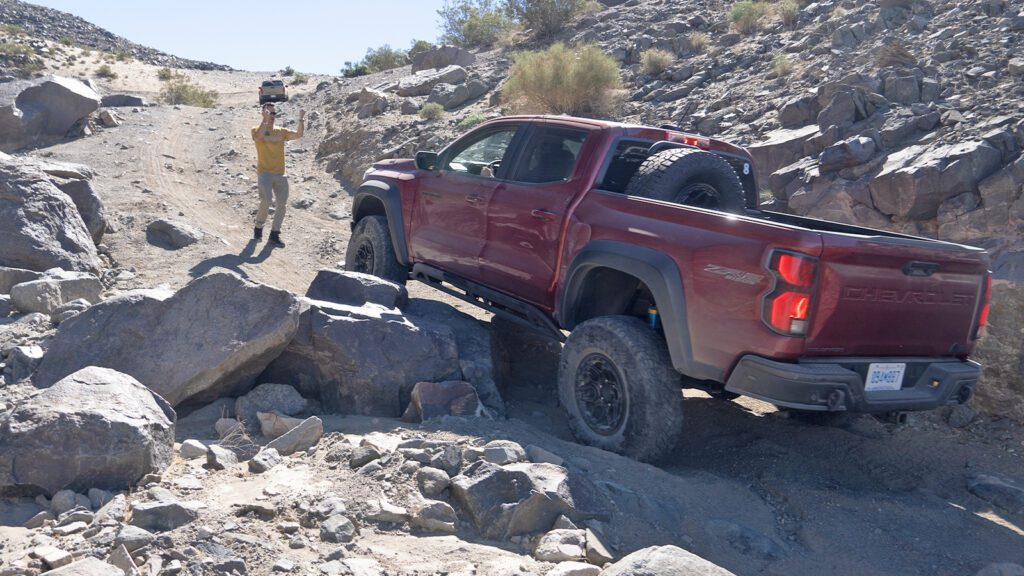 Almost back to the group, I pepper Demetrio with a few questions of my own. Why no disconnecting sway bars, as on the Bronco or Jeep's Gladiator and Wrangler? Well, other than added cost, the ZR2 and Bison both get locking front diffs that make a bigger difference while rock-crawling with a leaf spring rear axle than a sway-bar disconnect might. And how about some paddle shifters to keep that 2.7L in the power band? A grimace and not-so-subtle "no comment" in response, so I blame the bean counters here, though at least Demetrio's team recalibrated Baja mode after my incessant complaining about weird shifting throughout the Vegas to Reno ZR2 drive. Should I truly take credit? Who knows, but it's always nice to think someone, anyone, maybe in a blue moon, ever listens to us journalists.
What's not?
– Only available as a crew cab w/ short bed
– Competitive pricing is still expected to be fairly steep
– Not the prettiest tool in Chevy's shed, even if it is the sharpest
Off-road god mode without sacrificing on-road dynamics
Throughout our time at top speed or rock crawling, Demetrio never flinches. He believes in the Bison, and I'd like to think he even enjoyed some time watching me wheel around Johnson Valley somewhere near the absolute limit. But, perhaps as impressive as the off-roading capability the ZR2 delivers and the Bison package only enhances, somehow the most hardcore of Colorados still sacrifice little for on-road dynamics.
Sure, adding 35-inch tires without regearing the final drive ratio cuts a bit into even the High-Output engine's low-end grunt. But out on the asphalt, those 430 pound-feet make for plenty of pep while daily driving. The glory of the Multimatics is how well the spool valves can fine-tune fluid flow for stability on the road as much as off, resulting in noticeably less body roll and chassis flex than the taller Bronco Raptor on its 37-inch tires.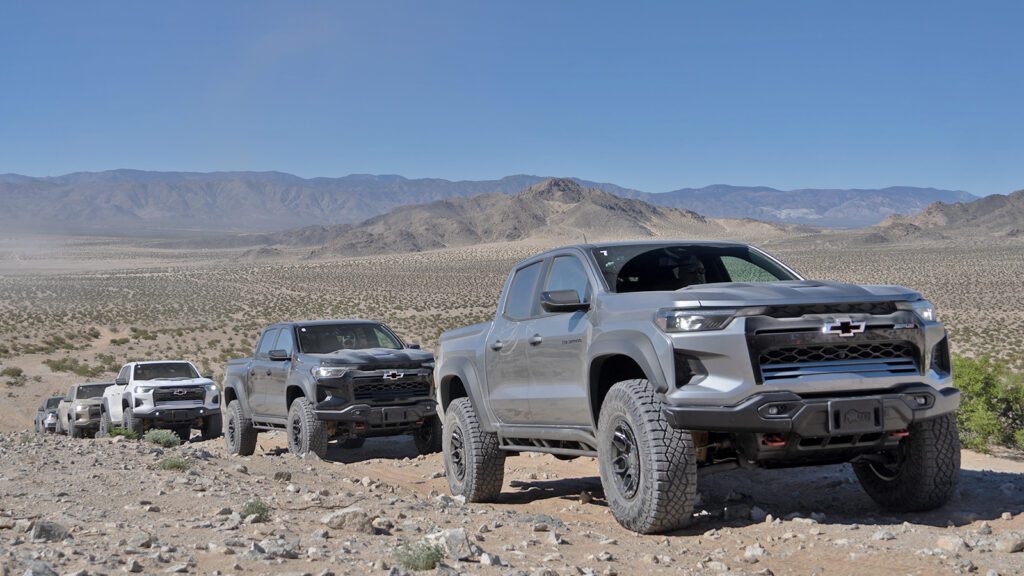 And where the Braptor's proportions peak in absurdity, with the rear hatch opened to reveal a tiny little cargo compartment, the Bison still comes with a truck bed (albeit a relatively small one). So buyers looking for a truck to daily drive, rip around the desert, or serve as the base for an overlanding build should be satisfied. What the new Tacoma TRD Pro or Ranger Raptor might have to say next year remains a mystery and exact pricing is obviously a big question mark. But, for now, the ZR2 Bison charges into uncharted territory in a class and segment all to its own.