Since its 2010 debut, the Nissan Leaf has been a flagship EV for the Yokohama, Japan-based automaker. The affordable electric car was even the top-selling plug-in-electric (PEV) model until 2020, when it was surpassed by Tesla's Model 3. The 2024 Nissan Leaf carries on the legacy of being a great entry-level EV option.
Despite a significant refresh in 2017, Nissan announced in mid-2022 that they would be phasing out the Leaf in favor of more advanced models. As a result, it's not surprising that the 2024 Nissan Leaf lacks major updates from previous model years. In fact, the file name of the photo above (when you download it from Nissan's press site) is "2023 Nissan LEAF_38-source.jpg" — so make of that what you will.
The 2024 Nissan Leaf's starting MSRP is under $30,000, meaning it is a great budget option if you're looking to join the world of electrified motoring — but it comes with some drawbacks. It's clear that the Nissan Leaf line is no longer a priority for the carmaker, who has pledged to make 40% of its line electric by 2030. Most glaringly, the 2024 Nissan Leaf remains the last production model EV using the CHAdeMO connector rather than the more common CCS connector. To say the least, EV charging standards are undergoing a radical transformation that will make the Leaf feel dated before it even hits the lots.
2024 Nissan Leaf price and trim level options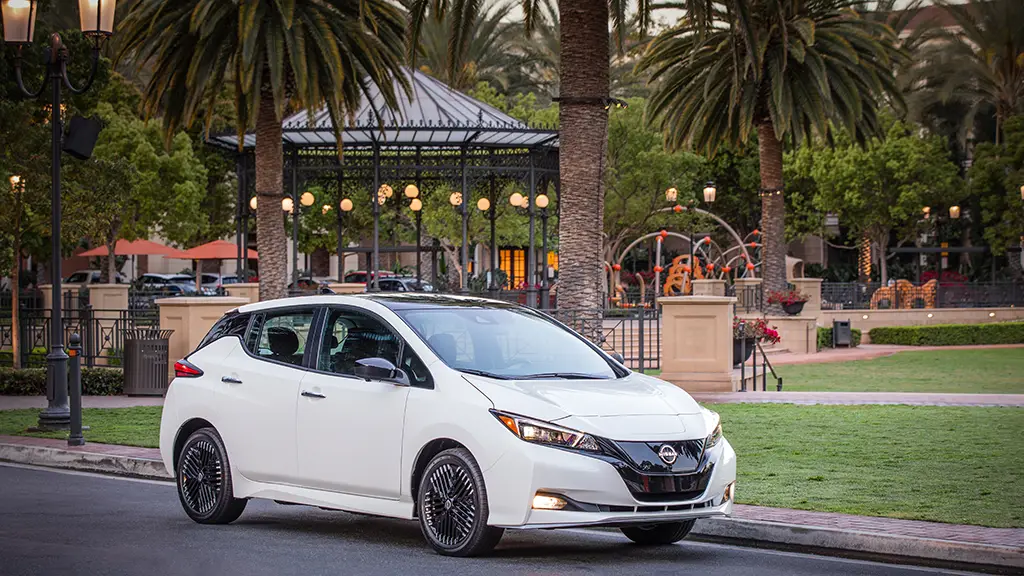 🚦Get ready, set, full disclosure! Some of the links powering our posts contain affiliate links, which means we may earn a small commission if you decide to make a purchase, even if it's not from the page we linked. Affiliate links are not always an endorsement of the product. To really help us keep our headlights shining to make more content like this, subscribe to the Acceleramota newsletter.
The 2024 Nissan Leaf is available in two "grades," the Leaf S and the Leaf SV Plus. The Leaf S has an MSRP of $28,140 for the barebones model and the Leaf SV Plus starts at $36,190.
Let's take a look at how the 2024 Nissan Leaf's trim options match up:
2024 Nissan Leaf S
Starting Price: $28,140
Lithium-ion battery capacity: 40kWh
Electric motor power: 110-kW / 147hp / 236 lb-ft of torque
EPA-estimated range: 149 miles
2024 Nissan Leaf SV Plus
Starting price: $36,140
Lithium-ion battery capacity: 60kWh
Electric motor power: 160-kW / 214hp / 250 lb-ft of torque
EPA-estimated range: 212 miles
Available upgrades and accessories include:
Factory installed options

Premium paint (2-Tone): $695
Premium paint: $395
Cargo cover: $220

Port installed accessories

Protection package: $280
Splash guards: $245
USB charging cable set: $90
Floor mats and cargo area mat cargo organizer: $285
Rear cupholders and stash tray: $260
Kick plates: $160
Safety kit: $100
Since the Nissan press release cites the 2023 Leaf's "refreshed exterior design, including an enhanced front grille, bumper molding and headlights, plus interior upholstery changes and a new 17-inch wheel design for SV Plus," it's safe to assume the exterior and interior options will remain unchanged.
2024 Nissan Leaf exterior color options:
2024 Nissan Leaf S only
2024 Nissan Leaf S and 2024 Nissan Leaf SV Plus

Brilliant silver metallic
Gun metallic
Super black
Deep blue pearl

2024 Nissan Leaf SV Plus only

Scarlet Ember tint coat (premium color) (Leaf SV Plus only)
Pearl White tri-coat (premium color)
Pearl White tri-coat + Super Black (2-tone premium color)
2024 Nissan Leaf interior options:
Black cloth

Leaf S interior accents: gray
Leaf SV Plus interior accents: gloss black
Interior and tech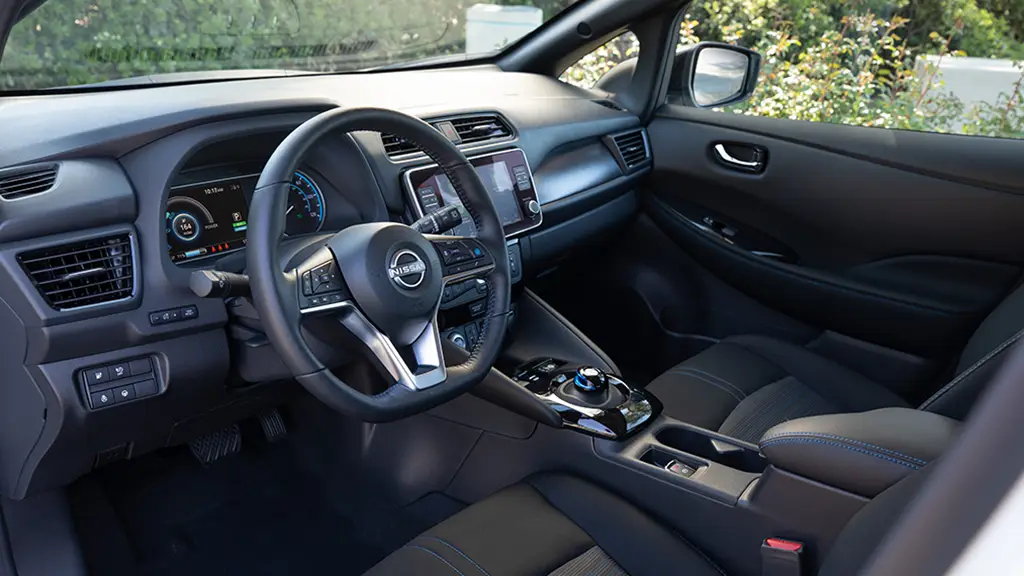 Another sign that Nissan's media team is sunsetting the Leaf model is that they haven't provided any new photos of the 2024 Nissan Leaf's interior. Once again, it's a safe bet to infer that relatively little has changed, so the image above is from the 2023 Nissan Leaf's press release. Do with that information what you will.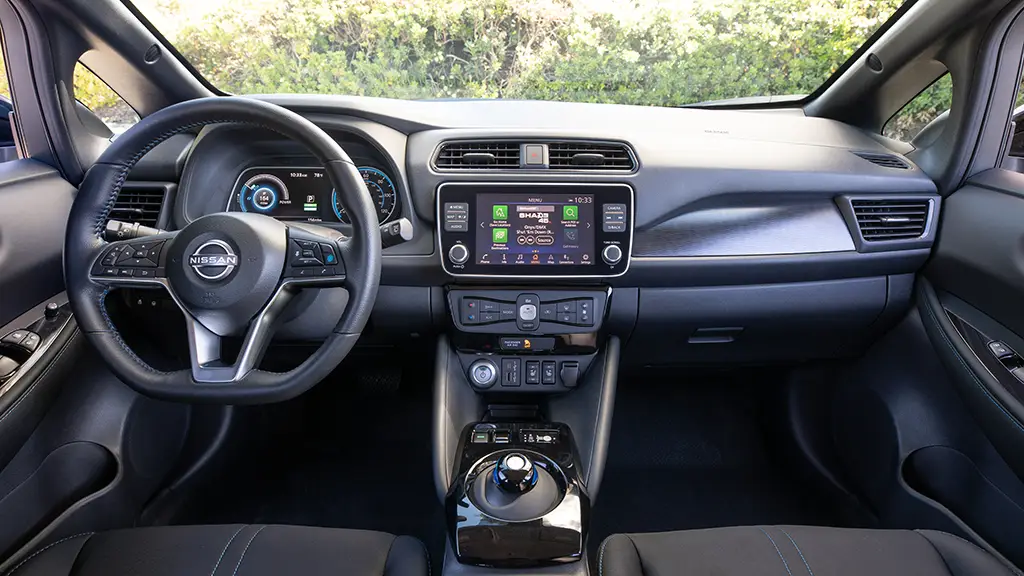 As far as interior tech bells and whistles go, the 2023 model boasted "a new brand identity badge on the steering wheel and a new start-up video on the instrument panel screen," because who doesn't love a fun little video?
Interior space:
Front seat headroom: 41.2″
Rear seat headroom: 37.3″
Front seat legroom: 42.1″
Rear seat legroom: 33.5″
Front seat hip room: 51.7″
Rear seat hip room: 50.0″
Front seat shoulder room: 54.3″
Rear seat shoulder room: 52.5″
Exterior dimensions:
Wheelbase: 106.3″
Overall length: 176.4″
Overall width: 70.5″
Overall height: 61.5″
Track width (front/rear): 60.6″ / 61.2″
Tech features:
NissanConnect infotainment system:

8-inch color display
Apple CarPlay
Android Auto
SiriusXM
Four USB ports
Charging timer,
HVAC timer (for pre-heating or pre-cooling the cabin)

Nissan Leaf SV Plus infotainment upgrades:

Nissan door-to-door navigation
NissanConnect services
NissanConnect EV smartphone app (free 3-year trial included)

Nissan Safety Shield 360

Automatic emergency braking with pedestrian detection
Blind spot warning
High beam assist
Lane departure warning
Rear cross-traffic alert
Rear automatic braking.

Driver assistance and convenience features

Rear door alert
Rear parking sensors

Leaf SV Plus additional features

Intelligent Driver Alertness (ID-A)
Intelligent Around View Monitor (I-AVM)
ProPilot Assist (combination steering assist + Intelligent Cruise Control)
2024 Nissan Leaf electric range and charging times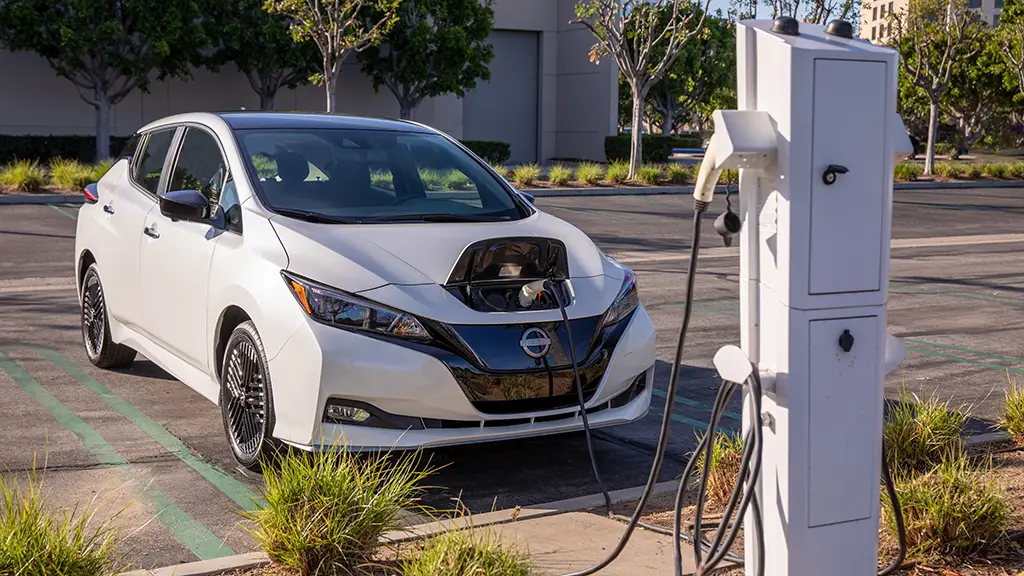 Keep in mind, Nissan's decision not to update the CHAdeMO adapter on its 2024 Nissan Leaf models could negatively impact its resale value, causing it to depreciate more than it would already. For those of you on the fence, might I interest you in the similarly priced, higher spec, and tax credit-eligible Chevy Bolt?
If you're dead set on a Leaf, definitely lease it. All leases qualify for the federal tax incentive and most reputable dealers will pass the savings onto you. Just ask before signing anything, and if they don't budge? Walk away and keep your phone on standby. You'll hear back.
Leaf S

Electric range: 149 miles
Charging time: Charges to 80% in 40 minutes
Quick charge port: 50 kW (CHAdeMO)

Leaf SV Plus

Electric range: 212 miles
Charging time: 80% in 60 minutes
High-output quick charge port: 100 kW (CHAdeMO)
Engine and performance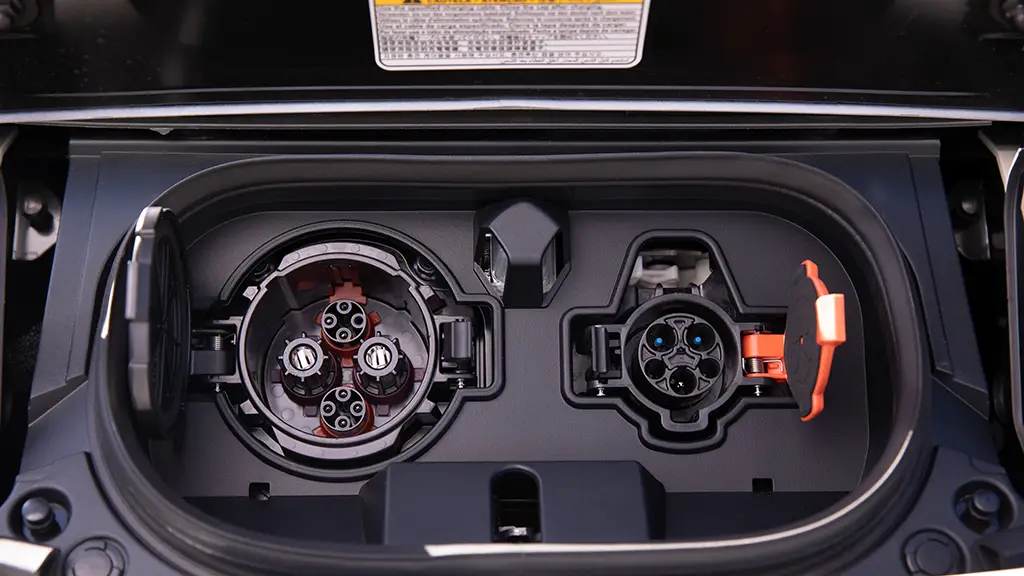 For an entry-level EV, the 2024 Nissan Leaf has quite a bit of power.
Leaf S

Lithium-ion Battery Capacity: 40kWh
Electric Motor Power: 110-kW / 147hp / 236 lb-ft of torque

Leaf SV Plus

Lithium-ion Battery Capacity: 60kWh
Electric Motor Power: 160-kW / 214hp / 250 lb-ft of torque
Design changes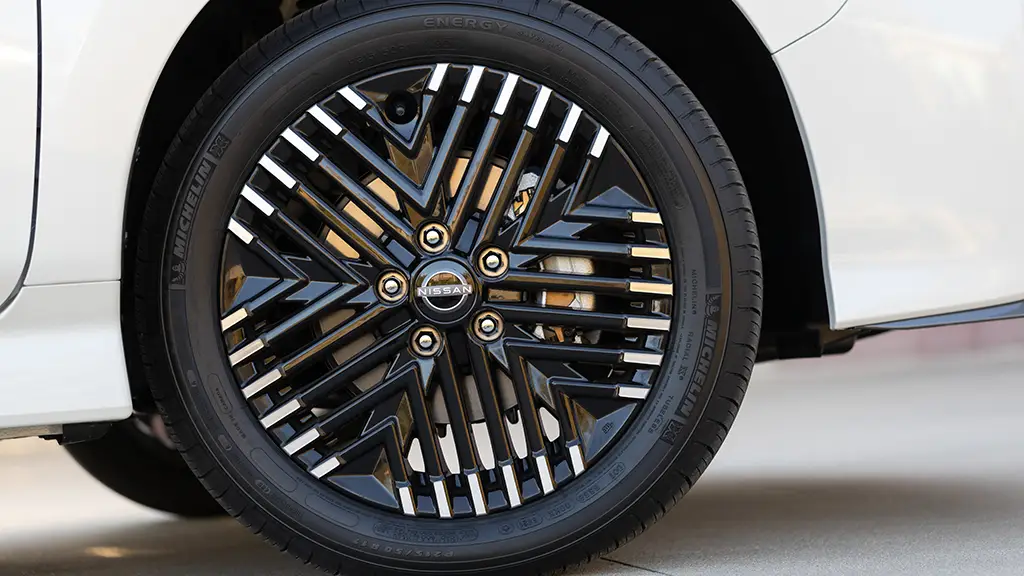 While the overall design is unchanged from the 2023 model, it's worth calling out that the 2024 Nissan Leaf SV Plus trim level comes standard with this futuristic-looking 5-spoke, 17-inch alloy wheel.
2024 Nissan Leaf review (to come)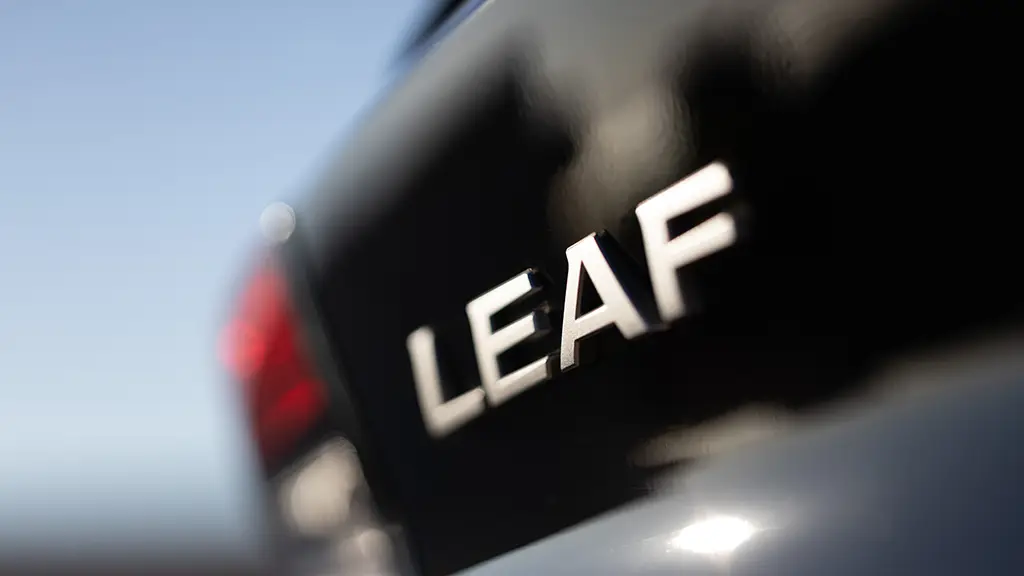 The Nissan Leaf has been a stalwart in the world of electric vehicles, and at one time it was the most popular EV in the world. Past models were praised for their surprisingly spacious interiors and efficient, powerful motors (for an entry-level hatchback.)
Seeing as the 2024 Nissan Leaf is very much a rehash of the 2023 model, we'd expect a review to line up pretty solidly with our expectations. That is to say, despite being on its way out, the 2024 Nissan Leaf remains one of the few truly affordable EVs, though if you're not in a rush, you could always save up an extra $7,000 over the next year for the 2025 Volvo EX30. While this will be a new model in Volvo's electrified lineup, the Swedish carmaker has proven itself a serious contender in the EV space with the revered XC40 Recharge.
FAQs
Is the Nissan Leaf being discontinued?
Yes, in 2022 the Japanese carmaker announced it would be phasing out the Leaf model. Still, Nissan still plans to develop electric vehicles, with its "Nissan Ambition 2030" pledge aiming for 40% EVs by 2030.
How much does a Nissan Leaf battery cost?
Lithium-ion batteries aren't cheap! Should the worst-case scenario happen and your Nissan LEAF's battery needs replacement, you'll be looking at a hefty bill, according to findmyelectric.com.
40 kWh battery: $6,500 – $7,500
60 kWh battery: $8,500 – $9,500
Where can I charge my Nissan Leaf?
The 2024 Nissan Leaf's CHAdeMO port limits the number of charging locations when you're out and about. Check PlugShare for an updated list of CHAdeMO stations.