Polestar, the Volvo performance brand turned EV super-company, is at it again. This time, it's back at it with the Polestar 4 – a full-electric performance-SUV with pizazz.
You could randomly pick an automaker from a hat and be guaranteed that the company has mentioned "the climate" in one of its recent press statements. Polestar's focus is on supply chain tracing to prevent conflict minerals.
2024 is around the corner. The Polestar 4 awaits you!
Polestar 4 price and specs
Although data on the Polestar 4 is preliminary, we got some interesting spec and info on the car at the Shanghai motor show. If you need to get clued up on some EV terminology, check our EV explainer out before continuing.
Price (MSRP): $60,000
Battery capacity: 94 kWh
Charging: 200 kW DC (28 min), 22 kW AC (5h15m)
Range: 315 miles
2023 Polestar 4 interior and tech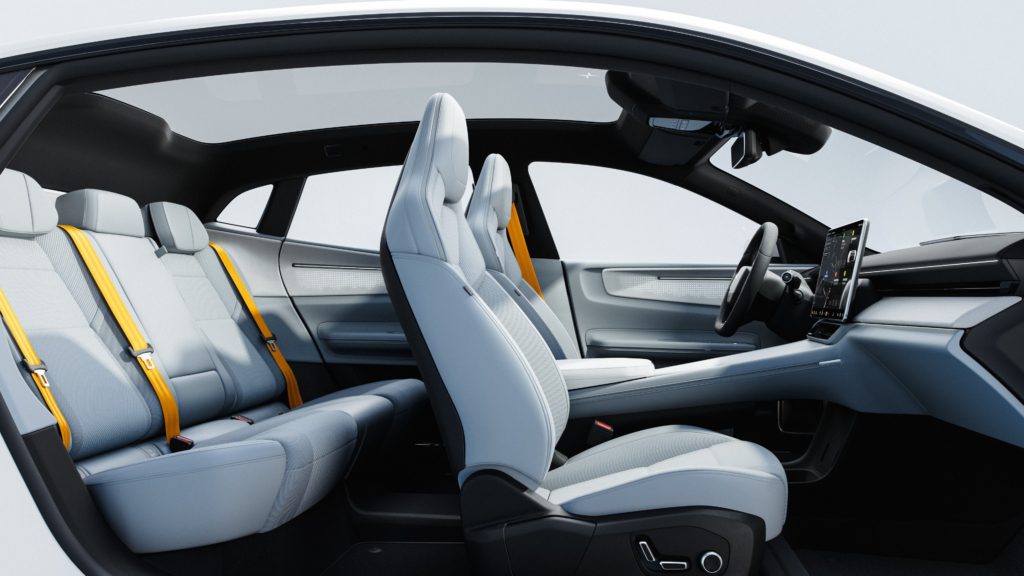 The Polestar 4 takes the Scandinavian design approach of function over form. Simple body lines, a sleek shape and open cabin all make for a serene passenger-or-pilot experience. Although the design is pleasing to the eye, it's centered on improving aerodynamics and range. A lowered front apron, retractable door handles, and rear aero blades all help reduce air resistance. Even the rear-light bar maxes out aero points.
If you like screens, it's got a 14.7-inch Head-Up Display, and a 10.2-inch driver display.
No rear window? No Problem!
It's got a top-mounted rear view camera and a panoramic roof that stretches all the way to the back – a first for any production car.
Interior dimensions
Front storage capacity: 0.5 cubic feet
Rear luggage capacity: 17.7 cubic feet
Rear cargo capacity: 52.3 cubic feet
Towing capacity: 3,500 lbs
Exterior dimensions
Height: 190.5"
Length: 84.2″
Width: 60.7″
Wheelbase: 118" (including mirrors)
Usability
A sports-SUV needs a big trunk. You need to be able to carry all your gold bars from one office to the next (S/O to SavageGeese on YouTube). The Polestar 4 has 17 cubic feet of trunk space and 52 cubic feet with the seats folded down. In real-world terms, that's 5 large suitcases or 14 with the seats folded down.
The frunk (front trunk), on the other hand, carries all your charging gear.
Tech
Polestar has all the sensors! The Polestar 4 has 12 cameras, a driver monitoring camera, 12 ultrasonic sensors and radar. This is part of the Mobileye SuperVision system, meant to allow advanced driving assistance like Self-driving.
It's also got vehicle-to-load capability (bi-directional charging). Essentially, you can power your house appliances from the main battery, or feed power back into the grid. It also allows you to camp without having an external power-system or massive overlanding rig. So, it's useful if you're the type to enjoy the outdoors.
Polestar 4 range and charging times
This is where the Polestar 4 comes into its own. It does around 315 miles on a full charge and has 200 kW DC fast charging. That is, if you find a fast charging station that isn't occupied. Overnight charging at home is 22 kW AC, double that of the competitors in the same class.
Home charging is type 2. Fast charging is CCS and both use the SAE J1772 connector most commonly found in North America. This is pretty much standard in modern EVs, so it's nice to know Polestar aren't trying to reinvent the wheel here.
Battery capacity: 94 kWh
Charging capacity (AC): 22 kW
Charging time (AC): 0-100% in 5.5 hours
Charging capacity (DC): 200 kW
Charging time (DC): 5-80% in 32 min (200 kW)
400-volt architecture
400 volt is so last year! Porsche were the first to make the jump to 800V with the Taycan. Hyundai followed suit with the Ioniq 6. In fact, the Polestar 5, which is still in development, will also use an 800V architecture.
So, why is the Polestar 4 stuck with the tired old 400V?
The Geely SEA platform supports both 400V and 800V battery and charging architectures. It makes sense to share resources between lines, instead of throwing every vehicle on to 800v. It's in tune with Polestar's sustainability goals. But, it means that the Polestar 4 has half the charging speed, is heavier and costs more to make.
2023 Polestar 4 engine and performance
The dual motor version offers 400kW and 638 Nm. That gives you a 0-62 mph time of 3.8 seconds. If you opt for the rear single motor option, you'll get 200kW and 253 lb-ft of torque and a 0- 62 mph time of 7.4 sec.
Of course, the Polestar 4 isn't a track car. You might want to hold on for the Polestar 5 if the track is where you get your kicks.
Polestar 4 Long range Single motor
Electric motor power: 200 kW (272 hp)
Torque: 253 lb-ft (343 Nm)
Top speed 180 km/h (112 mph)
Acceleration: 7.4 seconds
Drivetrain: Permanent magnet synchronous motors
Polestar 4 Long range Dual motor
Electric motor power: 400 kW (544 hp)
Torque: 506 lb-ft (686 Nm)
Top speed: 124 mph (200 km/h)
Acceleration: 3.8 seconds
Drivetrain: Permanent magnet synchronous motors
Polestar 3 vs 4
The Polestar 3 is more-akin to a traditional SUV. Where the Polestar 4 is built on the SEA platform (Volvo EX30), the Polestar 3 is on the previous gen SPA2 platform (Volvo XC40 Recharge).
Range and charging are slightly improved with the Polestar 4. The Polestar 3 does 305 miles on a full charge and fast-charges from 10-80% in 32 min.
Polestar's commitment to sustainability
"Sustainable Experience Architecture" is Geely's new name for their open-source modular electric vehicle platform. The plan is to supply automakers with a frame, components and batteries. This will reduce costs, reduce waste and minimize the automakers impact on the planet.
Polestar being Polestar, took it a step further with a "Mono Material Approach." The aim of this is to have all interior materials 100% recyclable, without extra sorting. The carpets are from recycled fishing nets (ECONYL) and the vinyl uses pine oil instead of crude oil (MicroTech).
It's nice to see a company commit to sustainable manufacturing and materials in a meaningful way.
Is the Polestar 4 fun to drive?
Semi-active suspension means that you can switch between comfort and performance on the fly. According to Polestar, steering and handling are sharp and the car is thrilling to drive. Further details will trickle in closer to the release date.
Pre-order, buy, or skip
This is definitely a "buy" for now. Your best bet is to wait for Polestar to release the full details.
The current specs, range and charging are class-leading. It looks pretty cool too. Somehow the Polestar 4 manages to use Nordic design and not look like a Tesla or a generic SUV. There's not much to dislike here. So, if you're in the market for a performance-SUV, this should be near the top of your list.
[1] All charging/range numbers are approximate as weather, battery temperature, battery degradation and location affect charging speeds.
[2] Pricing of the Polestar 4 is not final.