Stop! Shut up for a sec. About this Hyundai Elantra N, you're telling me the same company that made shitpile Sonatas back in the day is now selling a near-300-horsepower rocket sled with a stick or dual-clutch, handling to shame a 3 Series, and over 30 mpg on the freeway for under thirty-five grand?
Nuh-uh!
But such is the 2023 Hyundai Elantra N. Once again, we receive yet another wonderfully unexpected gift from South Korea, like spa-grade skin care products and squid ink corndogs. We know it's going to be good. Downright grand, even, especially given the now-defunct Veloster N, whose heart plus some bones were transplanted here. But just how good are we talking? Because in this segment, it doesn't just pay to be merely good.
For some time now, the sport compact breed has been an endangered species, a category of driver's cars occupied by pan flashes of greatness and slivers of hope for the blue-collar enthusiast. Hyundai's continued participation is nothing short of a breath of fresh air. But it takes serious performance cred to make an impact nowadays, something the Elantra N's forebearer had no issue with doing. With the Veloster gone, the Elantra carries the torch as Hyundai's champion in the category and all the expectations that go with it.
Thankfully, the Elantra N, with all that weight on its shoulders, was eager to show its true colors during three days of SoCal adventuring. This Hyundai had a lot to prove. And boy, were there some things to show for it.
Skip to section: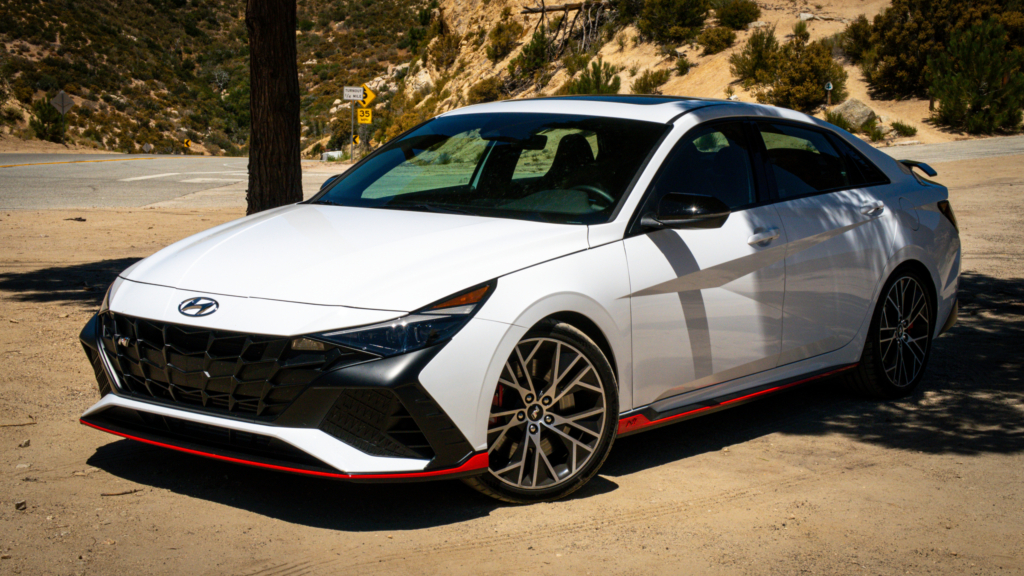 2023 Elantra N price and specs
🚦Get ready, set, full disclosure! Some of the links powering our posts contain affiliate links, which means we may earn a small commission if you decide to make a purchase, even if it's not from the page we linked. Affiliate links are not always an endorsement of the product. To really help us keep our headlights shining to make more content like this, subscribe to the Acceleramota newsletter.
Lo and behold! The Elantra N does indeed boasts fairly admirable numbers. To summarize in one sentence, the N occupies a niche directly beneath Civic Type R, Volkswagen Golf R, GR Corolla, and the deceased Focus RS, but its stats are within a breath, if not on par, with all of them.
Base price: $32,900
As-tested price: $34,465
Engine: 2.0-liter turbocharged inline-four
Transmission: 8-speed DCT (as-tested) // 6-speed manual
Drivetrain: front-wheel drive
HP: 276 horsepower (286 with overboost) @ 6,000 rpm
Torque: 289 pound-feet @ 2,100 rpm
Redline: 6,700 rpm
Weight: approx. 3,300 pounds (8DCT) // approx. 3,200 pounds (6MT)
0 – 60 mph: 4.8 seconds (8DCT) // 5.1 seconds (6MT)
¼-mile: 13.4 seconds @ 106 mph (8DCT) // 13.8 seconds @ 103 mph (6MT)
MPG: 20 city, 30 highway, 23 combined (8DCT) // 22 city, 31 highway, 25 combined (6MT)
Observed MPG: 30.4 mpg
Fuel Capacity: 12.4 gallons
(Author's Note: Performance numbers were pulled from Car and Driver, recorded in its review from July 2023)
2023 Hyundai Elantra N design
Yes, yes, yes, I get it. It's a little ugly. It'd be a Catfish Camaro if witches hexed the Alpha-platform cars into being compact sports sedans. The Legend of Zorro body lines are love-it-or-hate-it. Oh, and the ZL1 called and asked for its pedestal spoiler back. However, that face is quite pretty if you sit it next to, let's say, a G80 BMW M3.
But I'll give them this. It's interesting.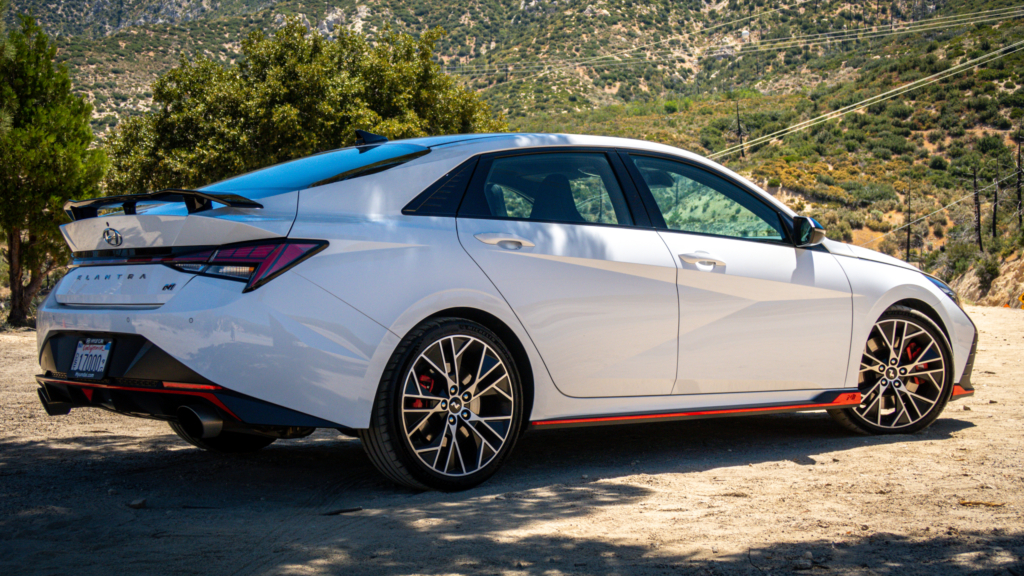 The Elantra N and I suppose the Elantra, as a whole, is a more aggressive and eye-catching shape than most econoboxes, hotted-up or not. And I wouldn't say it's egregious either, just strange in an almost-concept car sort of way. The 2024 model does clean up the face and is right around the corner.
With the Hyundai N touches, including the red accents and sharp wheels that appear as though they were plucked right off an Audi S7, this Elantra does look at home on canyon roads or sitting pretty at a Donut Media pop-up meet.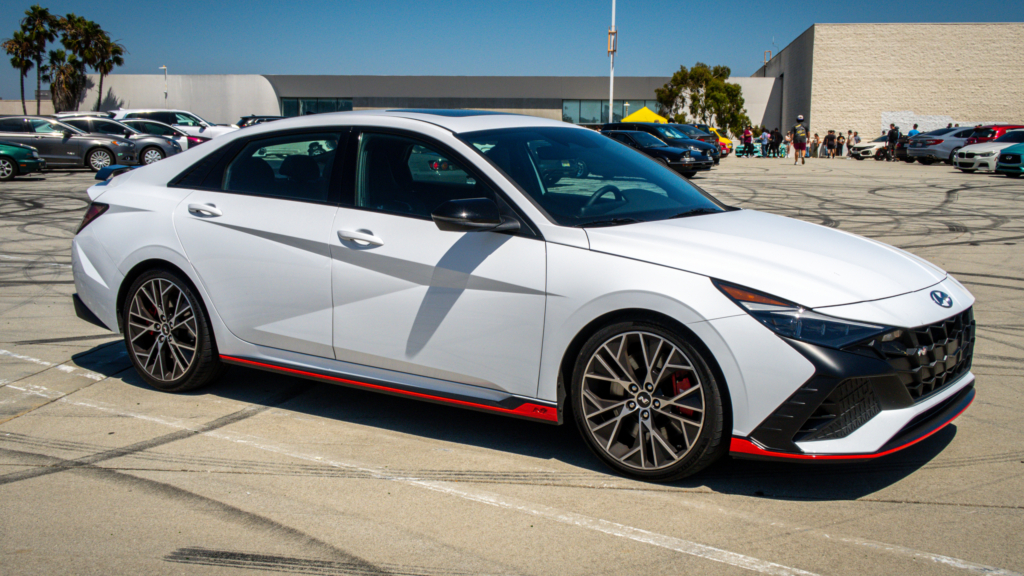 2023 Hyundai Elantra N colors
Right. Colors. Welp, you get a whopping five. Hyundai offered an extroverted shade of red but discontinued the color.
There aren't any tasteless or gaudy hues, but they're not exciting either. Although, it does match the mature and modern aesthetic of the Elantra N, especially when contrasting against the red on the badging, brake calipers, and side skirts. The white on my test car was the understated-yet-handsome choice, but Performance Blue is the definite power move.
The only choice for interior colors is a dreary black, which makes a slight but appreciable attempt at contrast via bright gauge colors in the digital display and an ambient light bar across the dash.
Exterior paint colors
White: $450
Performance Blue: $450
Intense Blue: $0
Cyber Gray: $0
Phantom Black: $0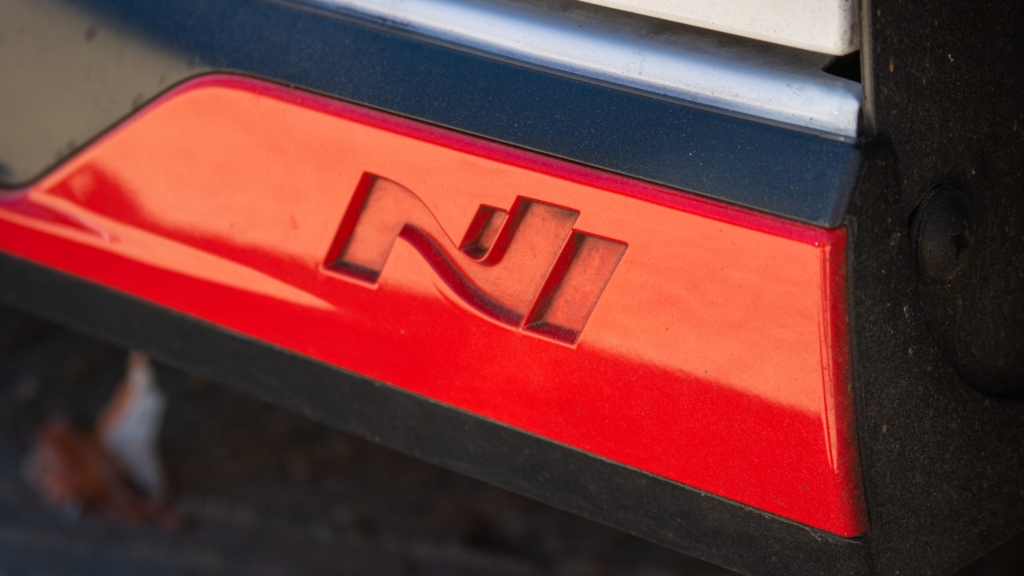 2023 Hyundai Elantra N price
If gushy first impressions and snazzy shots don't ruffle your feathers, maybe the price tag will. Amidst Type Rs and Golf Rs deep in the $40K range and even kissing $50K before markup, the Elantra N stickers for an astonishing $32,900, or a smidge over $34K with handling fees.
For reference, that's within range of top-shelf trims of the less powerful Toyota GR86 and Subaru BRZ twins. It's priced lower than a base Toyota GR Corolla Core but a few thousand more than a base Volkswagen Mk8 Golf GTI. Do with that as you will, but that's one hell deal given the performance-to-practicality ratio this car delivers, which we'll ramble about more in just a sec.
Trim levels (before taxes and fees)
6-speed manual: $32,900
8-speed DCT: $34,400
The cars come loaded and stunningly well-equipped for their class, with only minor accessories available, such as wheel locks and roadside safety kits. The only real option is a good old-fashioned stick or the $1,500 rapid-fire wet dual-clutch.
And if we want to bring the used market into the fray, know that this car directly butts heads with Focus RSs and FK8-generation Civic Type Rs of old.
2024 Hyundai Elantra N interior and tech
Fine decor
Auto journos have praised Korean automakers for some time for how much they've advanced themselves in the past decade or so, and the Elantra N has rightfully earned the hype. Seriously, let's get subjective as hell right now. Look at the posh, modern elegance of Genesis luxo barges, Kia SUVs, or even Hyundai econoboxes, and tell me they can't hold a candle to a Camry or Accord. The freshly-minted notion that Korea will rule the car market has substance behind it, and it starts with where your booty meets with the bolstering.
The Elantra N rocks an attractive set of heated bucket seats, with holes for harness straps and an illuminated N badge as the cherry on top. Leather bolsters match the perforated leather on the wonderfully-contoured steering wheel and flank a suede bottom cushion and backrest. Physical dual-zone climate controls and a centrally-mounted radio power and volume knob sit beneath the BMW-esque digital gauge/infotainment screen combo.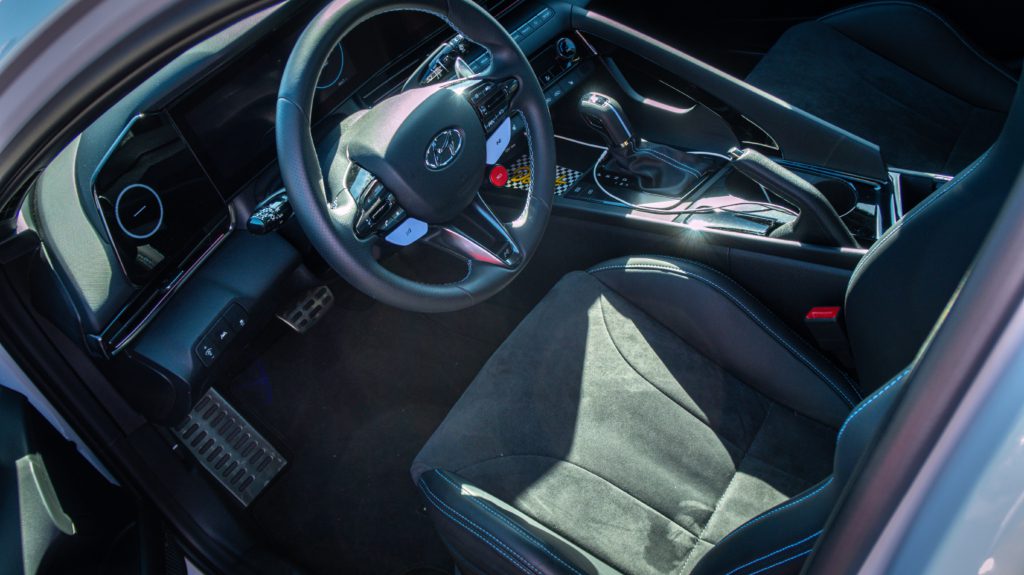 Of course, even for nearly $35K as tested, this is still a Hyundai-freaking-Elantra, the diminutive runt of Hyundai's ranks, or at least not when compared to the Accent or Veloster (rest in peace, little Velo). The N is a compact sedan cut from the same cloth as a Civic, Corolla, or Focus, meaning plenty of hard black plastics, but the Elantra sets itself apart with soft-touch points and materials that at least look premium, even if they aren't.
The trunk is cavernous enough to hold weekend luggage for a small family, although the red chassis brace means no converting the Elantra N into an awkwardly sleek cargo van. The backseats are plenty spacious with copious legroom, even with the front seats adjusted to accommodate my six-foot passenger. However, the lack of a center armrest and dedicated rear seat climate controls remind occupants of this car's origins on the Enterprise rental lot. And the roofline and small back door opening raise mild concerns for those with longer torsos. Or bigass foreheads.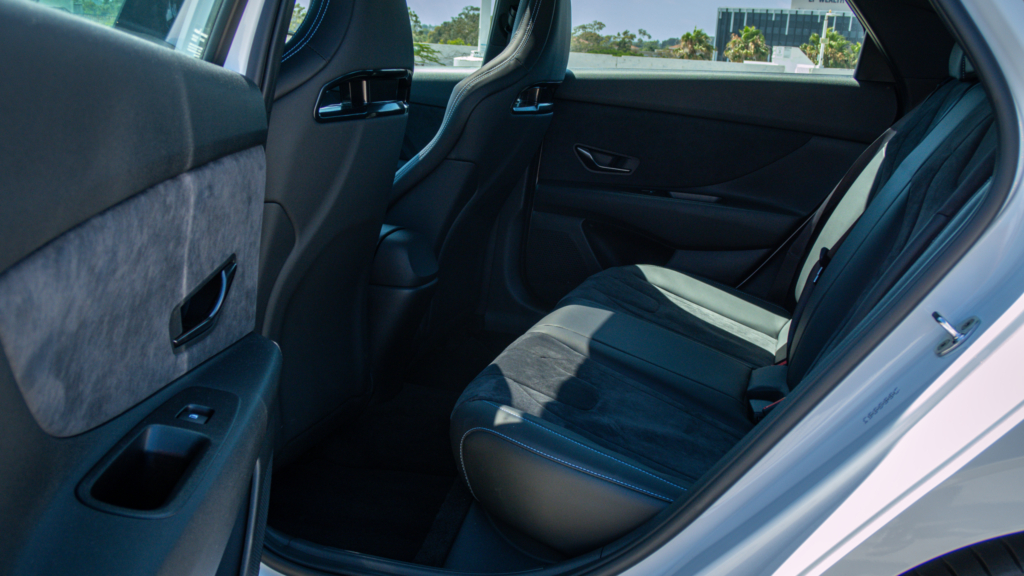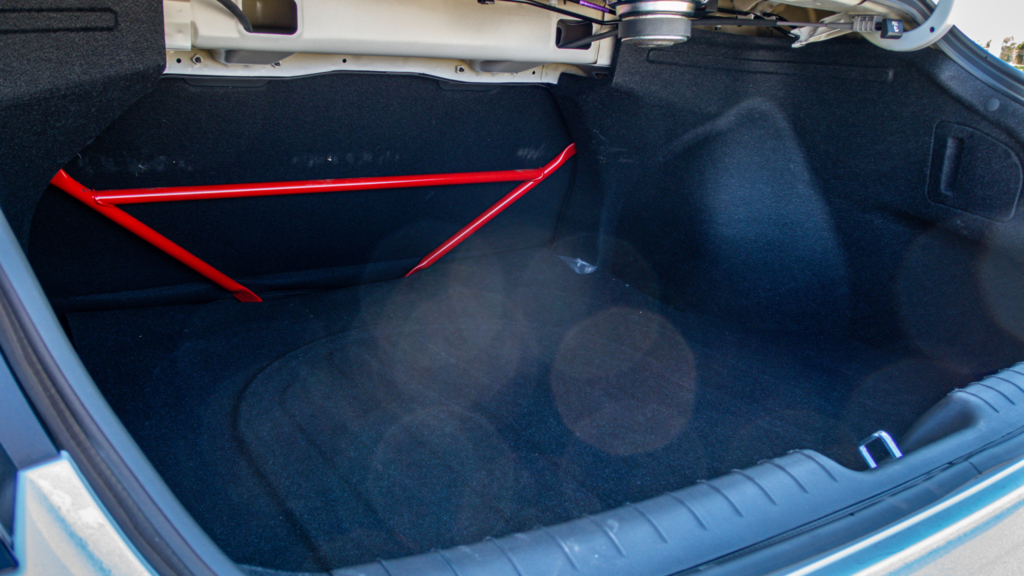 Enough tech to quell the Silicon Valley nerds
Equally as useful is Hyundai's expansive suite of safety aids. Parking cameras with moving guidance lines and sensors are always a godsend in any car, as are blind-spot monitors that illuminate in the mirrors and with a graphic on the gauge cluster screen.
Adaptive cruise control with lane following is present, although I admit I never quite learned how to enable it as easily as I have in other Hyundais. I blame the two hours of sleep I had the day I took delivery. If it works anything like the Santa Cruz I drove with the same feature, I'd say it's a mostly intelligent and smooth-operating semi-autonomous system but still requires a watchful eye.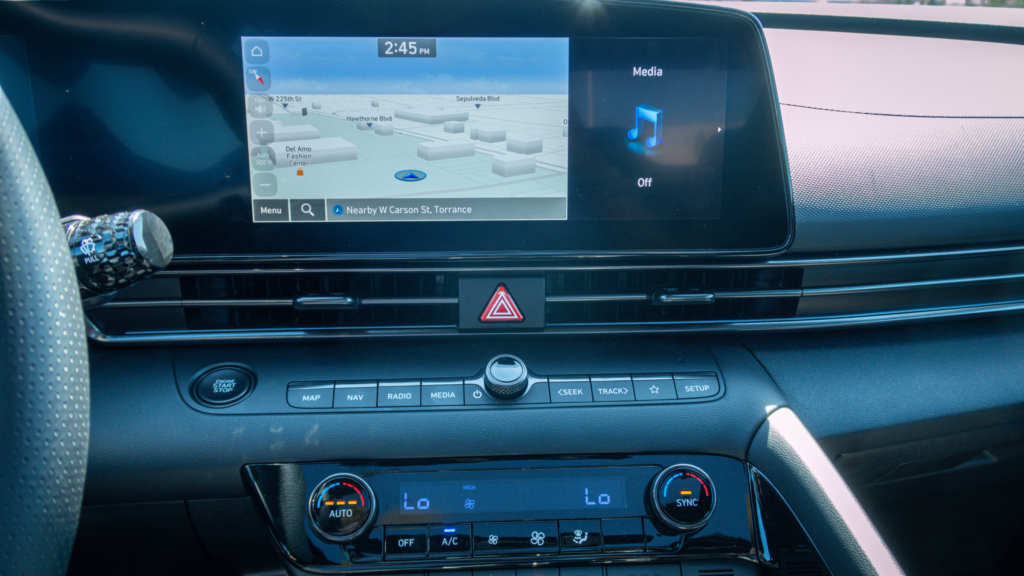 As the cherry on top, there's even an audible chime and visual notification in the cluster when the lead car departs at an intersection. In case, you know, you're on your phone reading Acceleramota articles or something. Very neat. Very useful. And very much a sign of our increasingly-inattentive society, and pretty soon, we'll need a notification to check the notification. But I'll take it!
How well does it do Elantra things?
A (mostly) premium commuting experience on a budget
As you can imagine, all that tech-ladden goodness in this nameplate from a repentant Korean marque experiencing the glow-up of the century equates to one hell of a 9-to-5 shuttle. And that's the best compliment I can give to any econobox.
Strip away the N badge and the sharp-colored accents. Take away the hot engine and the gobs of power and just drive this car for what it is at its core, an Elantra, and you'll be amazed at how far Hyundai has matured.
While the steering can be a tad hefty, even in its most sedate mode, it's still well-acquainted with concrete jungles, and the quick ratio lets you dart between lanes and around parking garages with minimal inputs. The ride is mostly compliant in spite of its high-performance nature until you greet some of LA's worst potholes. Then the firm dampers and thin tire sidewalls can send a frightening crash through the whole car. But that's a seldom occasion on only the worst of ill-maintained roads, and the body exhibits no signs of quivers.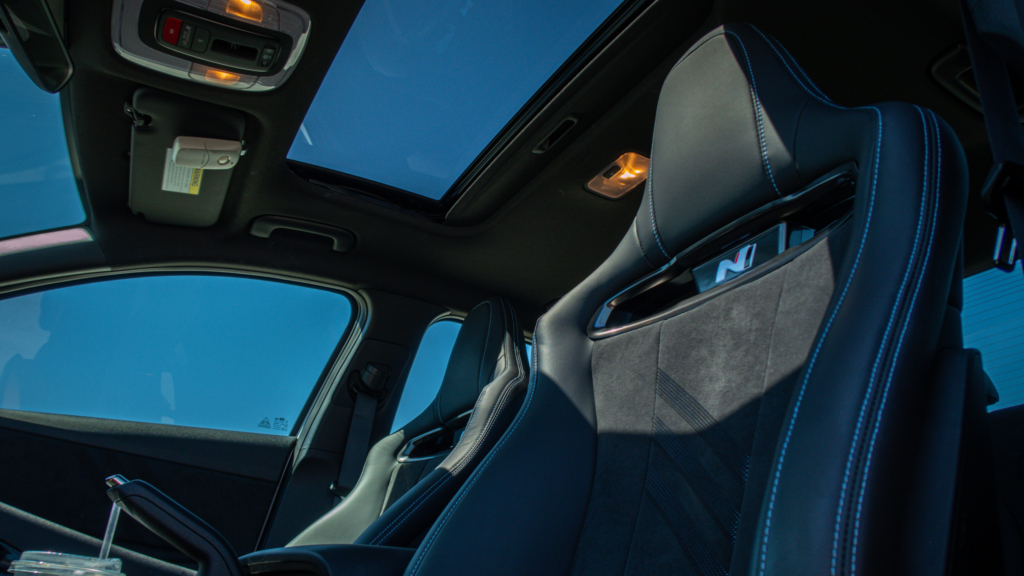 Having experienced (and loved) the same tech in a Hyundai Santa Cruz, the tech in the Elantra N expectedly worked without a single hiccup. Wired CarPlay was as brainless as always, but the in-system navigation is no less a piece of cake and features destination searching. The sound system was a literal banger, with the equalizer able to crank out enough bass to earn it a spot at lowrider meets. All sensors and cameras worked flawlessly, and every function within the screen was as intuitive as can be and easy to switch between.
Hey, I said "mostly."
One minor complaint was that the red illumination of the blind spot monitors in the mirrors was a bit easy to lose in the sun. Thankfully, the gauge cluster notifications more than made up for it and quickly dismissed the need to see the light in the mirrors.
And not to be that guy, but I will be that guy. Because these bucket seats, as cool as they look and as laterally supportive as they are, kind of suck as a touring seat. I get it. The N is the performance version, but it's still an Elantra, and its seat comfort is a big strike against its grand touring cred. My local LA friend who accompanied me quipped how he sat in lawn chairs that were more comfortable. Both of us cited the annoying lack of lumbar support or adjustment.
A slightly nitpickier flop is fuel economy if you go DCT over the stick. You get marginally less fuel mileage despite having more gears. Then again, I'm seriously nitpicking here. And, while you can theoretically hit the EPA-rated 30 mpg, I averaged over 30 during mixed driving of mostly highways, with some city and a wee dash of balls-to-the-wall canyon driving thrown in. Even more fascinating, Car and Driver saw a jaw-dropping 37 during their highway loop.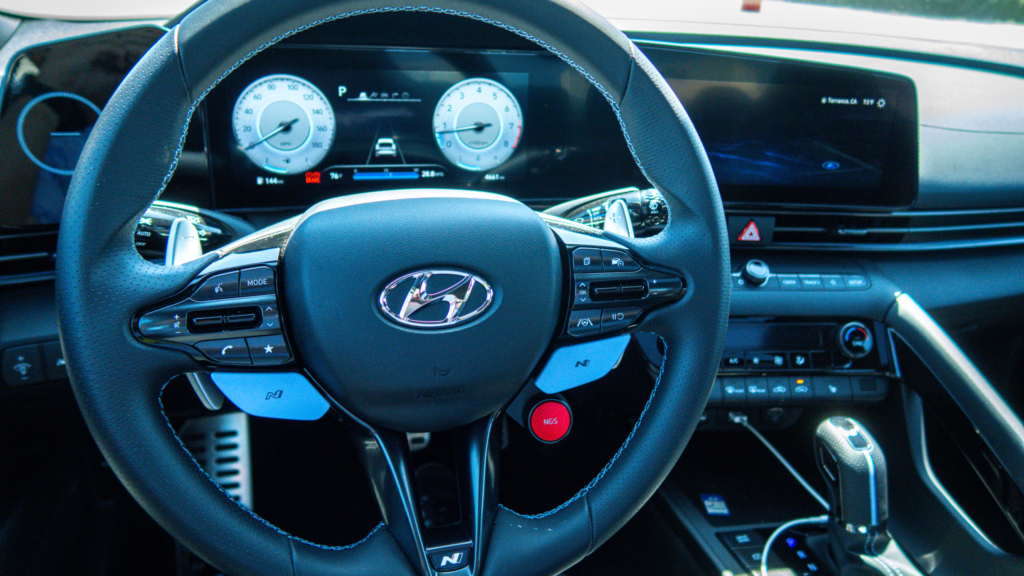 So basically, don't drive like a total dickbag and then complain about gas mileage. Or better yet, opt for the purists' stick shift and boost your miles per gallon and your smiles per mile. Your call. Either way, you're still better off than my Mustang, even on a good day.
Owners ought to consider themselves lucky, as it's rare a car comes along that's this good at the split-personality act. If you thought its credentials as a 9-to-5 shuttle were impressive, wait until you get the chance to run for the twisties.
How well does it wear that N badge?
Built by N, blessed by M
And run for the twisties, you must in this car. It should be criminal to buy something like this and never experience it the way former M daddy, Albert Biermann, intended. If the students of Todo School in Fourth Stage were present-day patrons of Korea International Circuit, they'd probably be rocking a fleet of these.
No, the N doesn't quite seem to have the on-track pretentious of a Focus RS or Type R, nor is it as cutthroat. But there's also no reason to believe it can't give them a run for their money at local track days. This thing is a real bully in the canyons but in a composed, calculating manner that evokes memories of Germany's finest.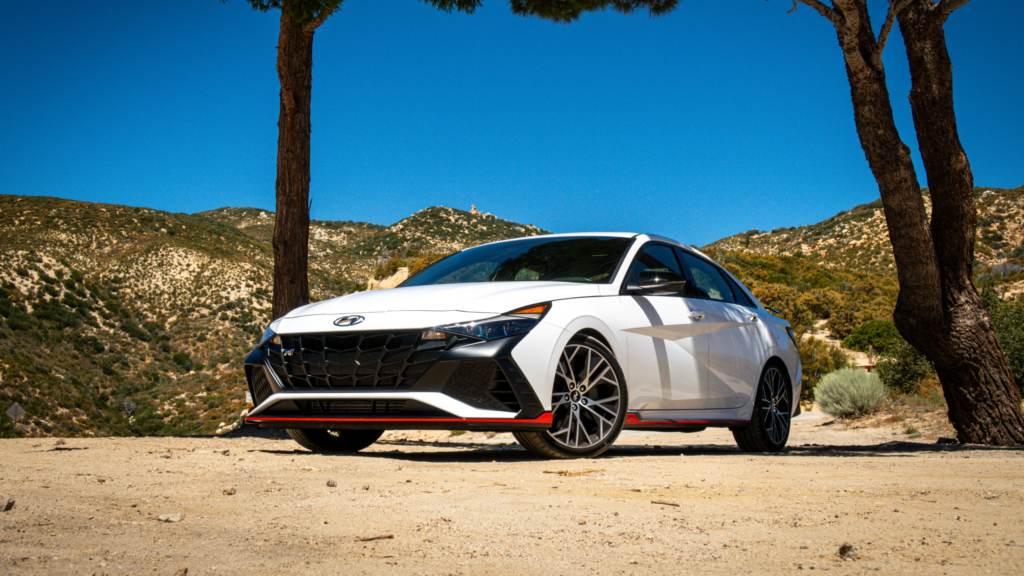 The steering and handling are wonderfully reactive, and the Elantra N just braces for every corner with a sense of enthusiasm found in lighter cars. 3,300 pounds doesn't mean that much when it can hustle this fast around hairpins and sweepers, thanks to the 245-wide Michelin Pilot Sport 4S tires and Hyundai's electronic limited-slip differential.
Dancing With the Cars
Did you make a mistake and enter too hot? No worries. Just add more steering. Don't even be afraid to give it a touch of throttle to power out halfway through the corner. The car just rockets around bends with hardly a lick of understeer. You can even get the tail to wag enough for a few giggles with the right amount of trail braking.
This anti-Jetta GLI inspires great confidence, from its performance to feedback and handling characteristics. Thanks to its level of cornering composure and turbo grunt, I beat back a Camaro SS 1LE and beat down a V8 Vantage into giving me a point-by in the LA canyons.
And of course that's the truth! What choice do you have in reading this than to believe me? Try for yourself, and you'll see. Utter brilliance!
Unlike many rocket sleds from Germany, the Elantra N has somewhat natural steering with a much-appreciated sense of weighting under load, like a real sports car. It's not what I'd describe as being alive with feel, but you still get a decent sense of the road and how close or far you are from the limits. There are faint wriggles and jitters through the seat and the chassis, letting you know every bit of the road without conveying a sense of harshness or cheapness. It's genuine communication. Not that much, but it's there.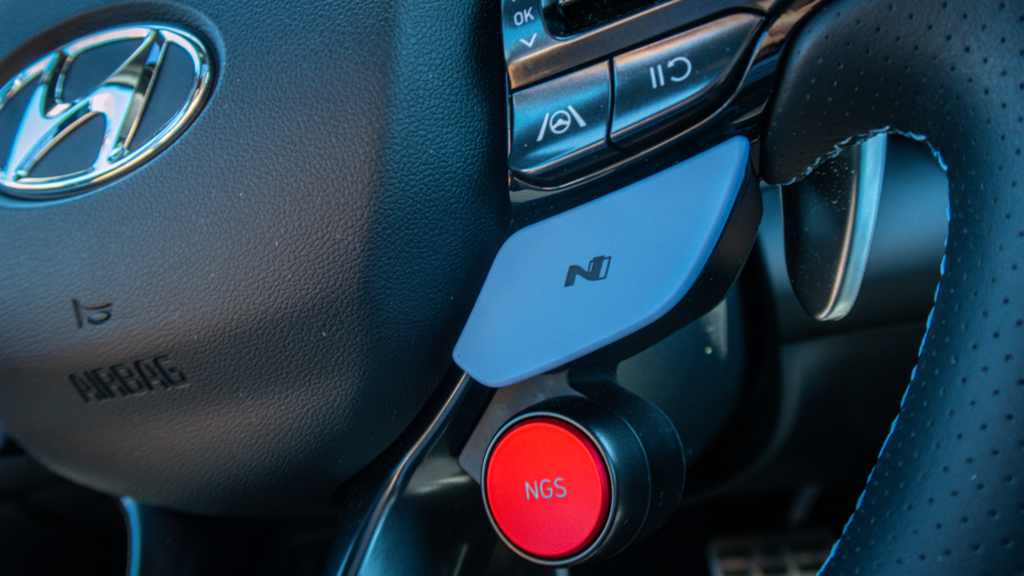 You can preset two custom drive modes to your liking: N Mode and your custom presets can be cycled between using the N buttons on the wheel. I found maximum kill for the powertrain with mid-level suspension and steering to be perfect, with a ride-handling balance that never upset the chassis and steering that never felt heavy to the point where you think the car put on some pounds. Like a BMW M car, it can be overwhelming at first. But then you learn what you like, set it, and forget it.
Brakes were rock solid, superbly easy to modulate in a way few modern performance cars can replicate, and fade-free, even after living out my Initial D fantasies on one of Malibu's most dangerous and technical canyon roads. Do not attempt at home, kids! But not one complaint in the stopping department!
The little four-banger that could
But I bet you're waiting to hear how this two-liter turbo engine feels. Well then.
By the numbers, the Elantra is on par with more focused and powerful peers, and it feels every tenth of a second as quick. It's the perfect in-between for those who enjoy the brutal effectiveness of a German turbo motor but also the playful charm of a Japanese mill. And from one flick of a drive mode switch, it pivots from mundane commuter to wannabe rally car in a heartbeat.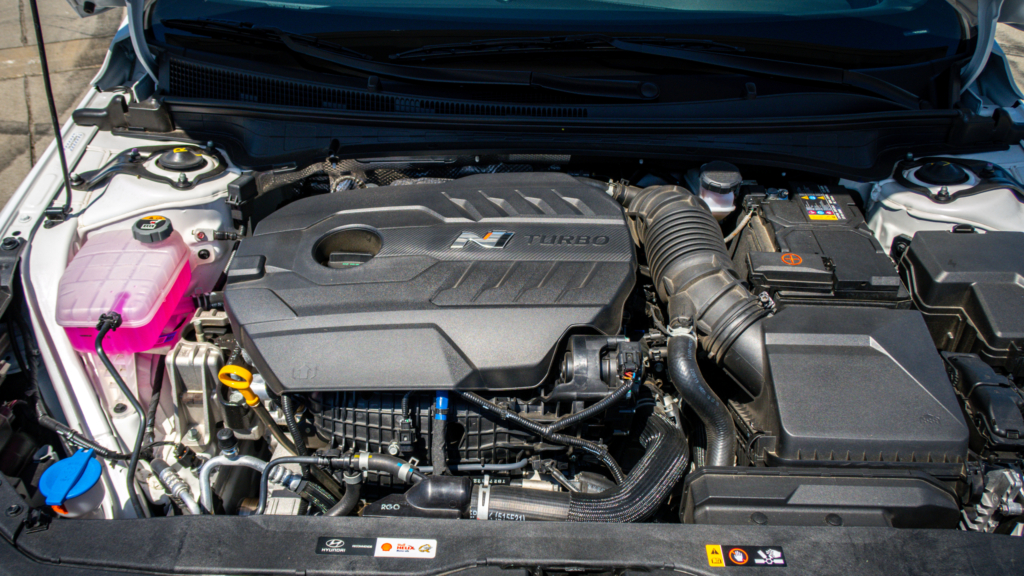 There's turbo lag that can be a treat to play with if you lug it to feel that power surge, but it's only a tad bit tucked way down in the rev range. With the snappy, ankle-biting gearing of Hyundai's dual-clutch, you've got to really be searching for lag to ever encounter it on spirited drives. Otherwise, you're always neck-deep in that deliciously meaty powerband, which delivers its oomph in such a respectably silky manner for a four-banger that it's easy to smash right into the hard rev limiter.
The party gets plenty more obscene with rpm-adjustable launch control and N Grin Shift (NGS), the latter working as an overboost function for 20 seconds to pump out ten more ponies.
At least the Elantra N lets you do just that, giving you greater control and autonomy over the car's performance. Manual mode is manual mode. None of this auto-upshift at the fuel cutoff crap. You can lug gears to the absolute last second or send the revs straight to high heaven before grabbing the next via the metal shift paddles, which respond instantly to inputs and react eagerly to rapid successions of downshifts.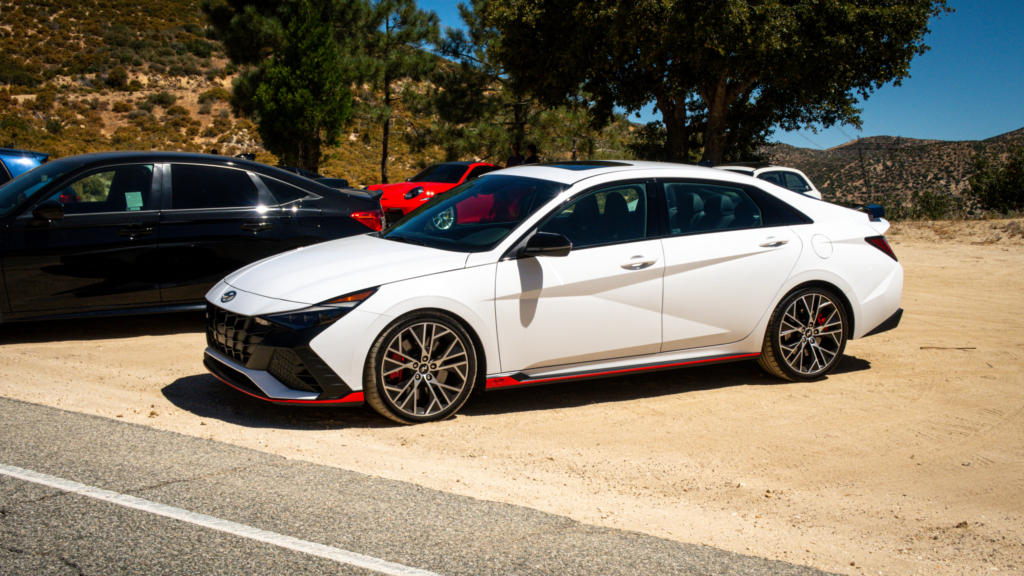 In auto, the gearbox does a fantastic job choosing gears, never hunting on the highway or holding gears for too long or too little in the canyons. There's some real Goldilocks programming here. Porsche 911 PDK good? Nah. But it'll give Volkswagen's DSG a run for its money.
I never sampled the manual Elantra N for those asking, but I did try the near-identical stick-and-turbo combo in a friend's Veloster N. It's great. Think of a slightly notchier Fiesta ST, from what I remember. Easy and accurate gates shifter with a friendly clutch. Almost a Honda but not quite.
The Hyundai Elantra N is a worthy warrior
Not too shabby for only the second entry into Hyundai's growing N lineup. It's a nicer Type R and a more civilized Focus RS. At the same time, it's more frantic than the comparably sterile Golf R or GTI while being nearly as usable on the daily grind, granted you can get to grips with the bucket seats. Other than some admittedly trivial quirks, there's no faulting how well this car plays the split-personality role in a way few cars on this side of a Fiesta ST can.
And, uh, ahem, the Elantra N is a hell of a lot faster than a GTI or Fiesta ST. Dare I say it can run a Type R's fade in the canyons with the right driver? It feels as punchy as its slightly more muscular foes and nearly as razor-edged, but it wears its bargain rack tuxedo with a little more class. Of course, it's not perfect, and rivals do accomplish certain goals far better than this car ever could out of the box. But with the utmost confidence, I declare that Korea's addition to the sports compact pantheon walks the line between sports car godhood and mortal commuter with beauty and grace.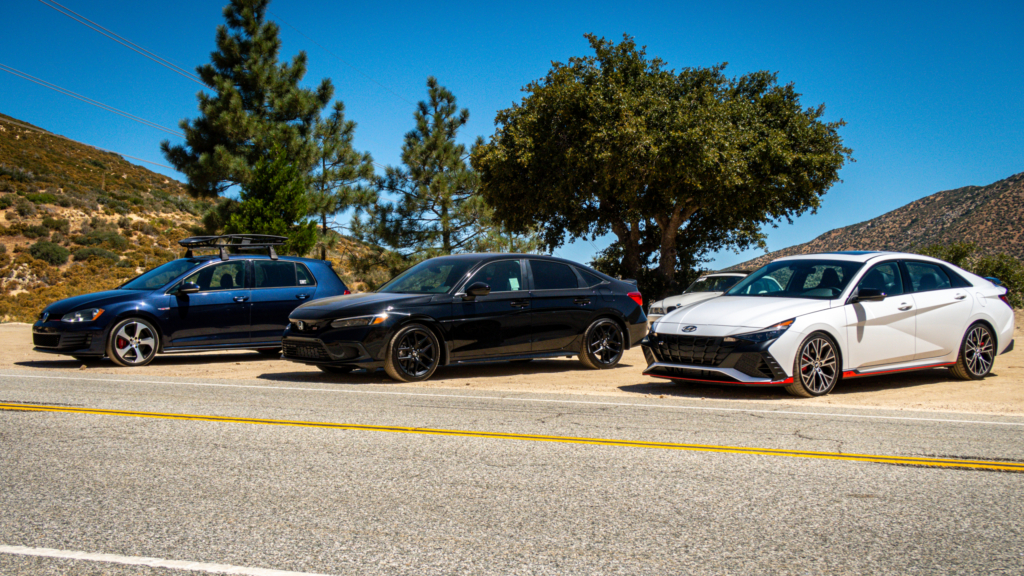 Now let's backtrack here. You're telling me the same company that made shitpile Sonatas back in the day is now selling a near-300-horsepower rocket sled with a stick or dual-clutch, handling to shame a 3-Series, and over 30 mpg on the freeway for under thirty-five grand?