Regardless of its financial outlook as a company, Lucid is one of the more remarkable names in the Californian new guard of automotive technology. Considering the star power it wields, the high-caliber design and performance of its first electric car should come as no surprise. The Lucid Air is the product of a collaboration between former Tesla Model S chief engineer Peter Rawlinson and the fourth-generation Mazda MX-5 (aka the ND Miata) designer Derek Jenkins. Now, with the upcoming Lucid Gravity, the iconic duo is tapping into the SUV market.
Whereas the Lucid Air was a beefy sedan with a curb weight exceeding five tons, the Lucid Gravity will adopt many of the same design cues for what will presumably be an even heftier machine. Anticipated to arrive sometime in 2024 with similar performance, range, and pricing to the Air, the Lucid Gravity is little more than a concept ripped straight from a gallery at this stage, but if their shared otherworldly style is any indication, the EVs will have more than a few things in common.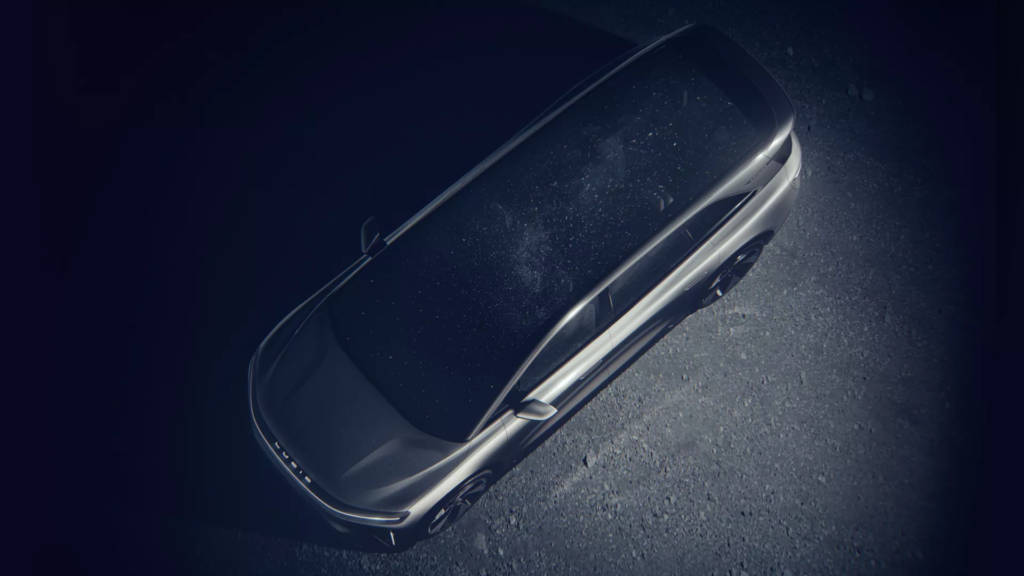 2024 Lucid Gravity price and specs
Like its sedan equivalent, the Lucid Air Sapphire, the Gravity Sapphire is expected to push 800 horsepower while maintaining up to 440 miles of range on a single charge. So it makes sense it would cost as much as a house in the 'burbs.
| | |
| --- | --- |
| Estimated price: | TBA; starting at approx. $80,000 |
| Estimated range: | TBA; over 440 miles |
| Estimated power: | 800 horsepower |
| Battery capacity: | TBA; approx. between 88 kWh and 118 kWh |
| Seating capacity: | 7 passengers |
| Zero-to-60: | TBA; <3.5 seconds |
| Drag coefficient: | 0.24 cd |
(Editor's Note: Estimates, current as of 11/27/2023, pulled from Lucid Gravity release page and known stats of Lucid Air powertrains)
Unlike the Lucid Air, which came in both rear-wheel drive (RWD) and all-wheel drive (AWD) configurations, the Gravity SUV may come standard with the latter. Even as RWD remains the drivetrain of choice for sports car enthusiasts, modern luxury SUVs like the Alfa Romeo Tonale tend to forego the option altogether.
Even as an SUV, however, the Gravity will have the advantage of instant torque and mind-bending acceleration over its gas-powered rivals, giving it a zero to 60 time of under 3.5 seconds.
The Gravity will feature the same fast charging setup as the Air, meaning it should squeeze out 200 miles of range in just over 10 minutes. Lucid has said bi-directional charging is coming to its vehicles soon, so the Gravity may be able to provide power for a campsite or a home during a power outage and could potentially charge other EVs.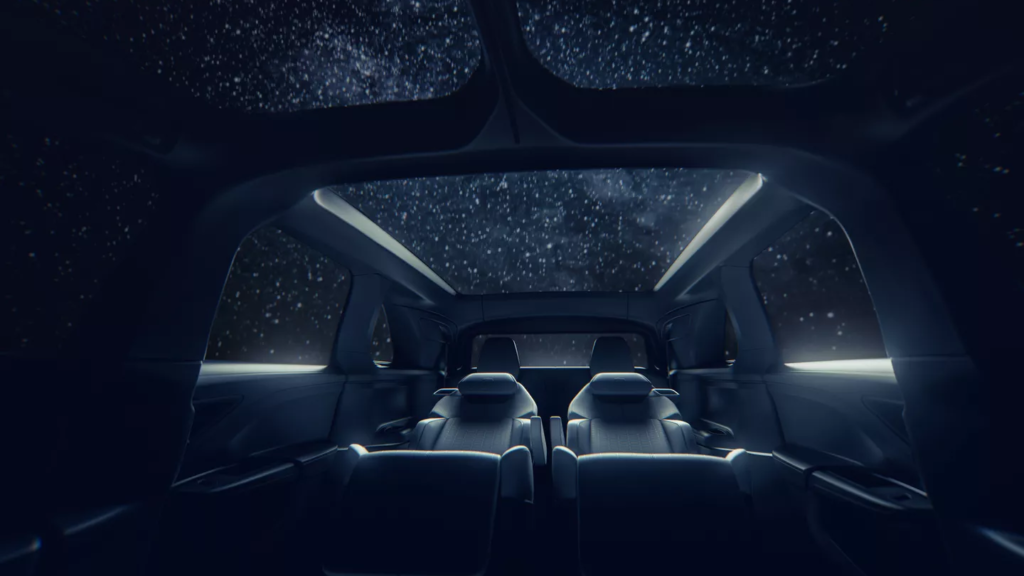 Interior and tech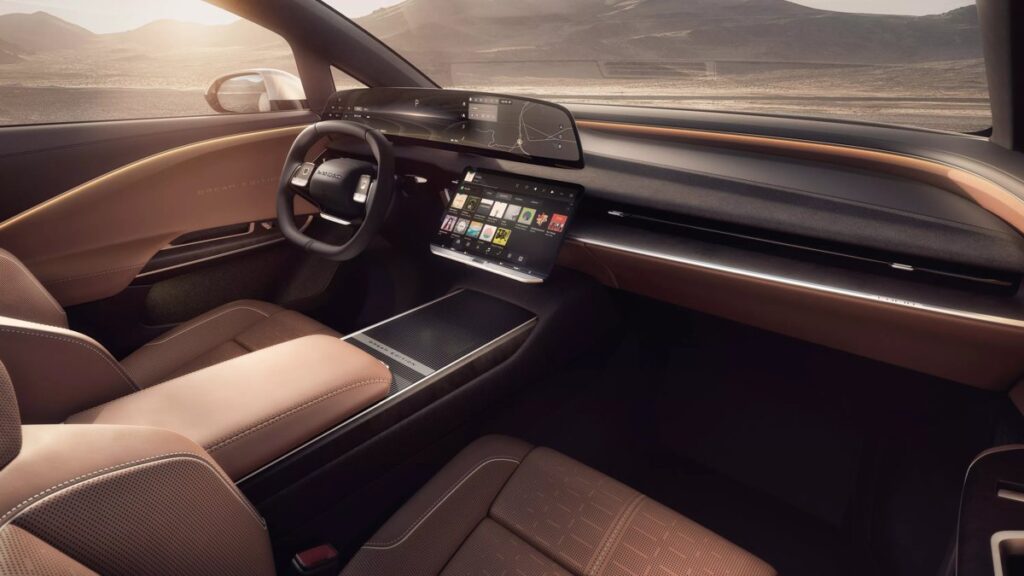 The Lucid Gravity is not reinventing the SUV playbook. Underneath and on the outside, it's another electric SUV. Inside though, it's perfection.
It's not just the looming panoramic roof and windows that give it that spacious feeling. The interior panels, roof, and body pillars are angled outward to let light into the cabin. The windscreen stretches over your head when you're sitting in the front. You can look up from the front passenger seat and see the real stars at night, which has never been done before.
Of course, the reclining leather seats and soft-touch panels are brilliant, but you expect that in an $80,000 luxury SUV. For some more innovation, Lucid added a funky frunk that can seat two people and if you don't have bad friends, a couple of beer coolers and bodyboards. It's flexible, washable, and opens up like a hatchback. Essentially, it's exactly what you want from a useful front trunk!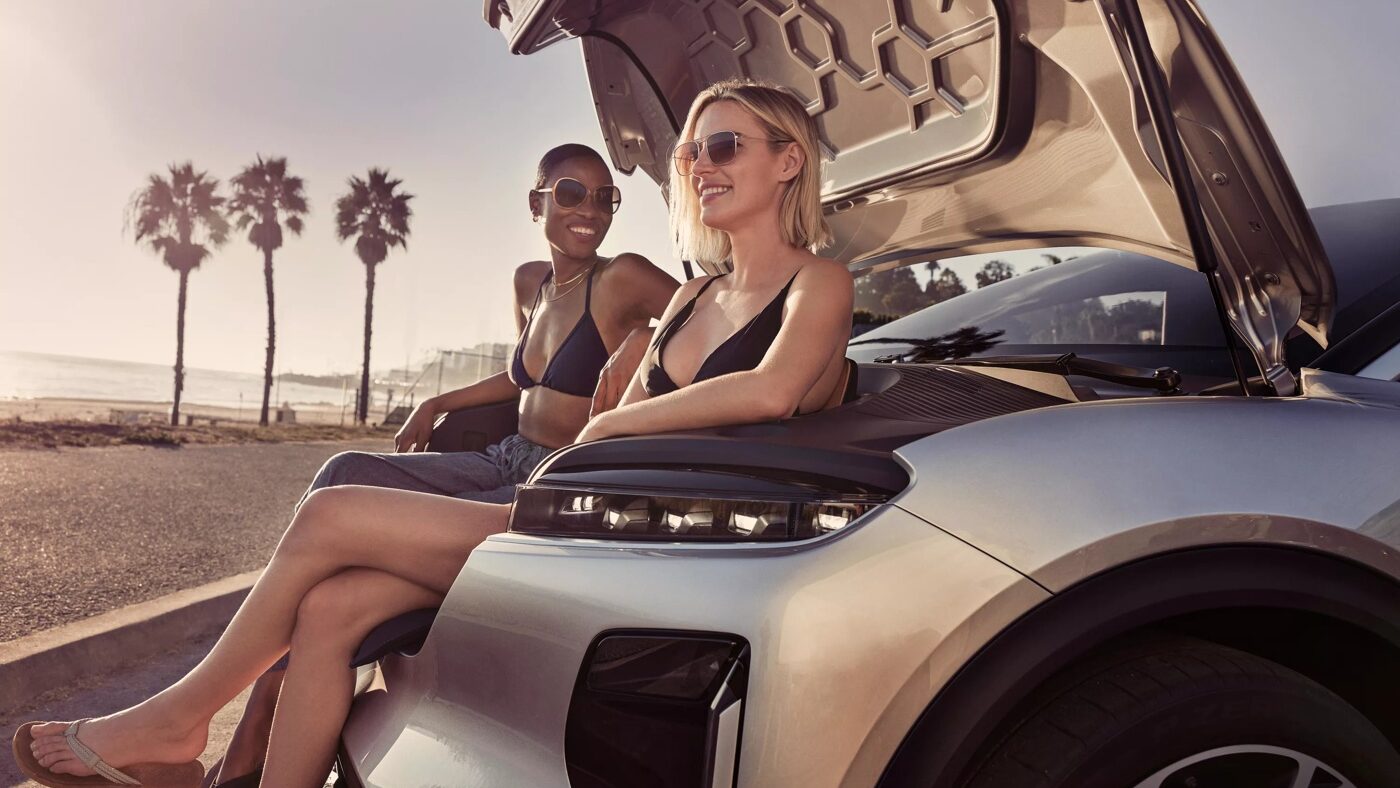 Lucid equips its vehicles with a load of impressive interior tech, including a massive 34-inch display. Unlike Tesla, it offers Apple CarPlay and Android Auto, and buyers can upgrade with a premium audio system. Lucid includes physical steering wheel controls and a few elsewhere, but many of its vehicle functions and settings are housed in the touchscreen. 
Beyond that, the Gravity will receive Lucid's suite of trick safety tech. Blind spot monitoring, traffic sign recognition, lane centering, and collision avoidance will be the order of the day, as it is for many upscale family SUVs, electric or otherwise. Lucid's DreamDrive driving assistance feature, which they're lovably touting as more of a co-pilot than a full autopilot function, will also make an appearance in the Gravity.
Lucid EVs: 2024 Lucid Gravity vs Lucid Air
The Lucid Gravity shares much of its underlying engineering and structure with the Lucid Air sedan, so there will be many similarities in how they drive and perform in everyday situations. The Lucid Air is a striking performer that offers sub-two-second zero-to-60 mph times in its quickest configurations, and the Gravity will likely offer comparable performance when even higher-performance variants drop. Even so, less than 3.5 seconds in the Gravity is still plenty quick. Despite carrying the extra weight of an SUV, the low battery position will ensure smooth handling and stability.
The differences between the Lucid Gravity and Lucid Air will become more apparent when you take them off-road. Early concept images from Lucid showcase what appears to be a posh luxury SUV like you'd find at your local Whole Foods, if it's anything like the Air, the Lucid Gravity's looks may be deceiving. The exceptionally capable electric powertrain and increased ride height could allow for an adjustable suspension and other trail-friendly features.
Pre-production renderings and photos we've seen so far of the Lucid SUV reveal third-row seating with a spacious rear cabin akin to the Air. We don't have interior details yet, but the vehicle's greenhouse is almost completely made of glass for a bright, open-cabin feel. We know the Gravity will come standard as a five-seater, but buyers can upgrade to a three-row, seven-seat configuration. Lucid offers a range of leather options, including Nappa full-grain and synthetic.
To live up to its price tag and stand out from the Air, the 2024 Lucid Gravity will have to offer ultra-high-end luxury finishes and even more advanced technology. Also, with so many competitive options available for a fraction of the price, the Gravity will need to be a transcendent option, in terms of range and performance, to get traction. The Air has done this with its performance and design, and Lucid could take a similar approach with the 2024 Gravity.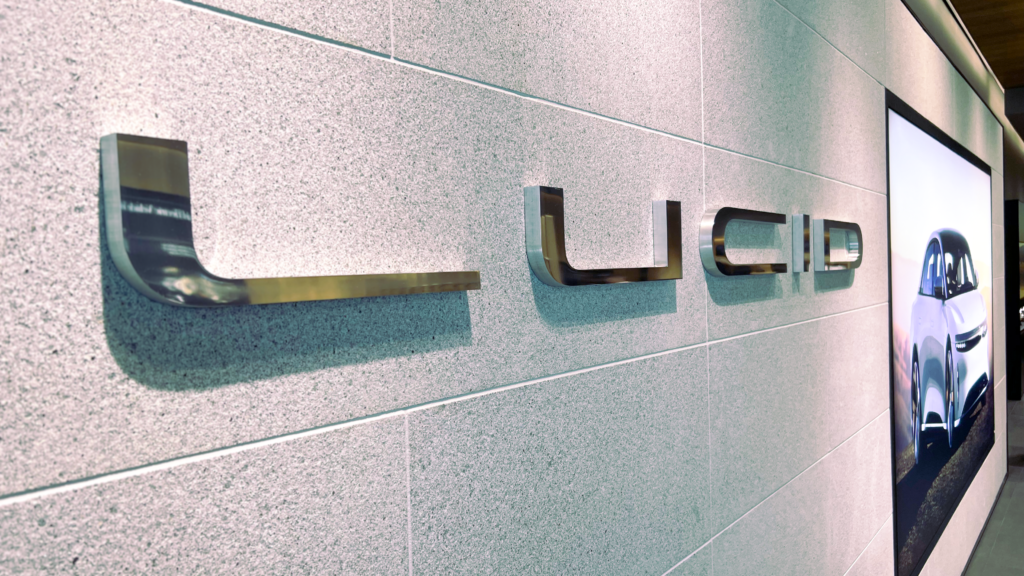 Lucid Motors company news: volatile stock prices, job cuts – a reason for concern?
Lucid recently announced it's cutting 18 percent of its workforce due to underwhelming demand for its vehicles. The company's position in the market is precarious, as its vehicles are priced above and beyond most of its rivals, including the already-spendy Tesla Model S Plaid. Lucid's pricing and positioning in the market also make its vehicles ineligible for federal tax incentives. Recent production forecasts show Lucid falling well short of expectations, and the company is only expected to build half of the 27,000 units analysts projected.
None of that is to say that Lucid is going out of business, but 2023 will be the company's best shot at righting the ship. Company CFO Sherry House said Lucid had enough cash on hand to last through the first quarter of 2024, but lower demand and production volume won't help extend that date. Additionally, Lucid stock has fallen in recent weeks as the company announced layoffs and insufficient sales.