After months of indecisive waffling, test driving every electric vehicle I could get my hands on, I finally settled on the 2024 Alfa Romeo Tonale. The Tonale is, for all intents and purposes, a purchase to appease my wife and our friends. The luxury crossover SUV is Alfa Romeo's foray into electrification. Like all plug-in hybrids (PHEVs), it's a stopgap on its way to an all-electric future, which for Alfa starts no later than 2027.
2024 Alfa Romeo Tonale price and trim levels
Starting at $42,995, the Alfa Romeo Tonale is expected to go on sale in June 2023. It comes in three trim levels – Sprint, Ti, and Veloce – each with its own distinctions. It comes standard with all-wheel drive, forward collision warning sensors with automatic emergency braking, driver attention alerts, and rear seat reminder.
While the European and Canadian markets offer internal combustion engine (ICE) and mild-hybrid (HEV) options, the U.S. Tonale we'll be covering is exclusively available as a PHEV.
Trim levels
Sprint: $42,995
Ti: $44,995
Veloce: $47,495
Exterior paint colors
Alfa White (white): standard
Alfa Rosso (red): $500
Alfa Black (black): $500
Grigio Ascari Metallic (gray): $660
Misano Blue Metallic: $2,200
Interior options
Sport cloth seat with biscotto stitching: standard
Perforated black leather seat: $1,500 or $2,500 (depends on package)
Packages
High-performance driving: $1,500

Features: paddle shifters, aluminum pedals, Brembo brakes w/ Alfa Romeo script

Active assist advanced: $2,000

Features: intelligent speed control, traffic sign recognition, 360-degree camera, front, ParkSense park assist

Premium interior: $1,500

Features: leather-trimmed interior, ventilated front seats

Premium interior & sound: $2,500

Features: leather-trimmed interior, ventilated front seats, 12-speaker Harmon Kardon premium sound system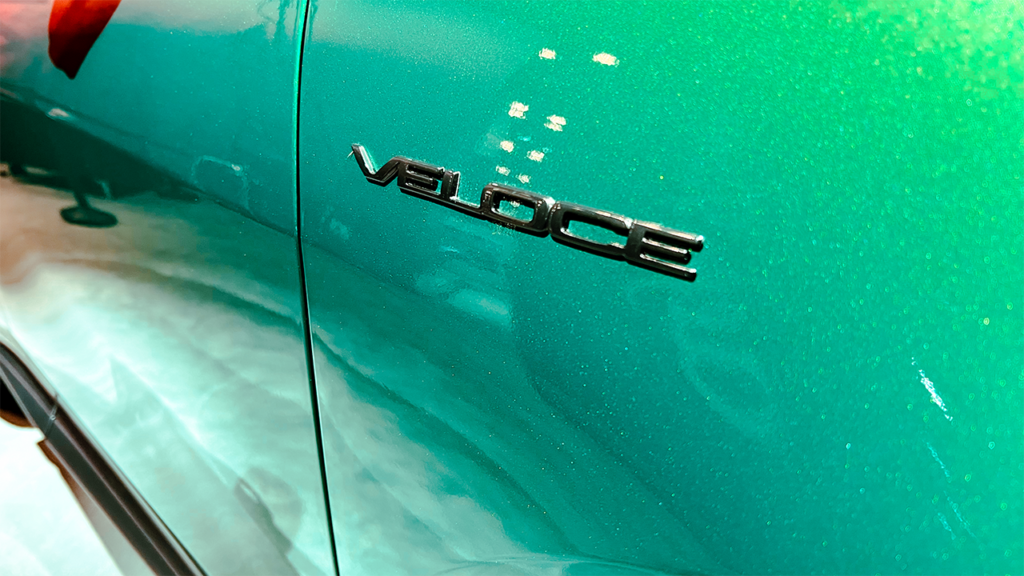 You can place a reservation for any of its three trims by contacting your local dealer through CarGurus or placing a reservation on the Alfa Romeo site. Either way, you can expect a call or text from your dealer regarding your next steps.
Once I learned how meaningless the word "pre-order" is to Alfa Romeo, I placed orders at 11 different locations in New York and New Jersey to compare dealer fees, customer service, and availability. In the end, I factory ordered mine at Westbury Alfa Romeo in Long Island because they called me back on a Sunday and the manager was pleasant on the phone. She was upfront about the $600 dealer fee and what it covers, as well as the $1,595 destination charge. It was a quick and painless process, and I received my VON (vehicle order number) within a day.
Even though financing a Tonale no longer qualifies for the federal EV tax credit in the U.S., leasing one still does. However, because the dealer still owns the car, it's up to them whether they want to pass the savings onto the customer. I've heard many dealerships will reduce your monthly payments, but I'm sure they won't volunteer that information when you sit down to review the numbers.
2024 Alfa Romeo Tonale interior and tech
As I discussed at length in my interview with Mag-X, a Japanese car magazine, my wife's criteria for a good car start with space and end with comfort. Although I've yet to drive one myself, I did have the chance to check out the Alfa Romeo Tonale's interior and the tech inside it in my three days at the 2023 New York International Auto Show.
In making the most of its subcompact frame, Alfa literally outdid itself with the Tonale's interior. Despite its smaller dimensions on the outside, the Tonale beats the 2024 Alfa Romeo Stelvio when it comes to legroom in both the front and rear cabins. Of course, the Tonale falls short on headroom in comparison to its mid-sized sibling, but only by less than an inch in the back and just under 2 inches in the front. And while it lacks the cargo space of the Stelvio with the back seats down, the Tonale has 4.4 cubic-feet more storage when the seats are up. And yet, the Stelvio is taller, wider, and longer than the Tonale, making the Stelvio's place in the market all the more confusing.
Interior space
Front seat legroom: 41.7 inches
Rear seat legroom: 38 inches
Front seat headroom: 38.8 inches
Rear seat headroom: 38.2 inches
Cargo space with back seats up: 22.9 cubic feet
Cargo space with back seats down: 50.5 cubic feet
Dimensions
Length: 178 inches
Width: 72 inches
Height: 63 inches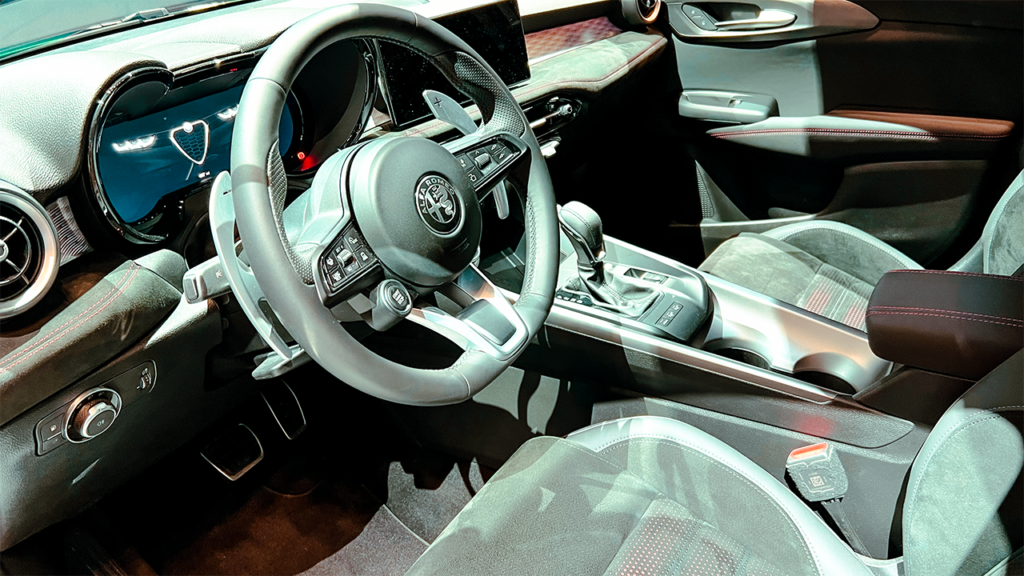 At any rate, Alfa Romeo Tonale buyers won't have to worry about making too many choices when it comes to the interior. The bottom two trims come outfitted with cloth seats, with the middle-tier Tonale Ti getting a black and tan color combo while the Sprint model's seats are blacked out. At the top end, the Veloce trim comes standard with Alcantara cloth seats featuring tasteful red accents. No matter which trim level you choose, an extra grand and a half adds perforated leather seats. For whatever reason, you can't upgrade to the 12-speaker Harmon Kardon sound system without the leather seats. So, if you prefer the styling of the Alcantara option paired with Harmon's superior audio quality, you're shit out of luck.
In the center console, you'll find a 10.25-inch touch display running Uconnect 5, the same software you'll find in any modern Chrysler-Fiat vehicle. It supports CarPlay and Android Auto, not to be confused Android Automotive, a completely different product. Behind your steering wheel is a 12.3-inch digital instrument cluster, the center of which you can customize to your liking. My wife compared it to "complications" on an Apple Watch. You can toggle between screens showing your navigation, safety alerts, fuel economy, and your electric charge level. Naturally, on its left and right sides are the speedometer and tachometer screens.
The signature DNA selector returns to the center console of the 2024 Alfa Romeo Tonale. Found across the Alfa Romeo family, the dial provides three drive mode options, accommodating different types of drivers and road conditions. In this case, DNA stands not for deoxyribonucleic acid but Dynamic, Natural, and Advanced Efficiency. Because of its plug-in hybrid powertrain, these three drive modes are notably distinct from those found in the Stelvio and Alfa Romeo Giulia. In the case of the Tonale, Dynamic gives you full hybrid performance, Natural is dynamic, and Advanced Efficiency is fully electric.
2024 Alfa Romeo Tonale electric range and charging times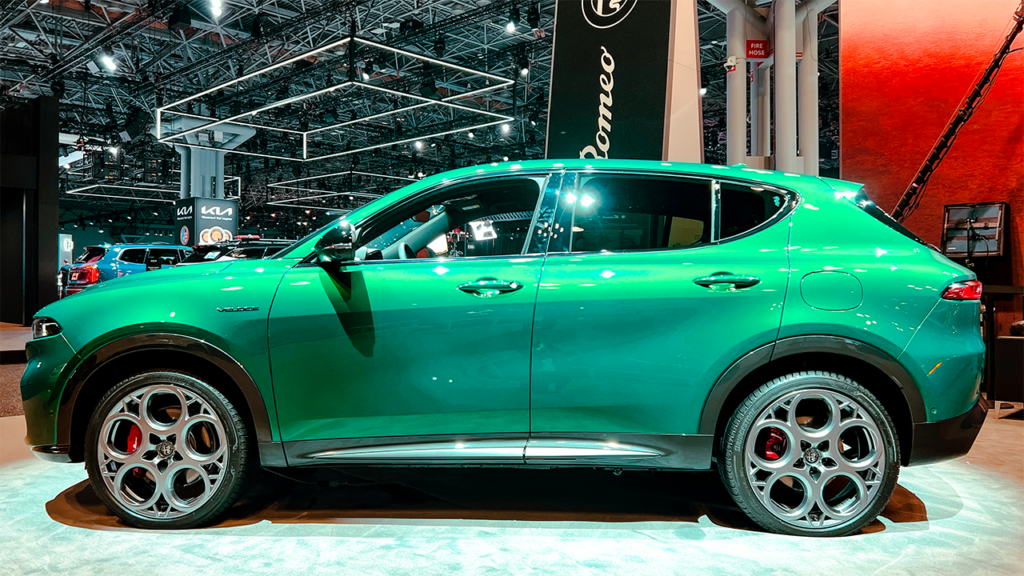 My wife doesn't care about the 30 extra horsepower you can get from the nearly identical Dodge Hornet with its performance-boosting PowerShot feature enabled. In fact, I'm willing to bet she never turns on the engine, save for longer road trips. Nor will she have to, as the Alfa Romeo Tonale can travel up to 30 miles without consuming any fuel. For anyone with a commute under 15 miles, this is perfectly acceptable. For everyone else, there is little reason to buy a plug-in hybrid over a BEV (battery-electric vehicle) with several times the range and no need for gas.
You can recharge the Alfa Romeo Tonale's 15.5kWh lithium-ion battery in 8 hours when plugged into a standard 120-volt power outlet, the kind found in most residential garages. The cable for that outlet, known as a Level 1 charger, is included with your vehicle purchase. Alternatively, you can replenish the battery using a 240-volt Level 2 charger, more often seen at gas stations, in 2 hours and 30 minutes.
While a Level 2 charger can be installed in your garage, it might not be worth the cost or effort to do so for a single PHEV. 8 hours will be fast enough for most people to leave it charging overnight. Living in New York, where we share a parking garage with dozens of other residents in our building, I'll probably drive on down to the local charging station across the street from Panera Bread. Grab a bite to eat and mess around with some spreadsheets in Microsoft Office for a couple of hours.
2024 Alfa Romeo engine and performance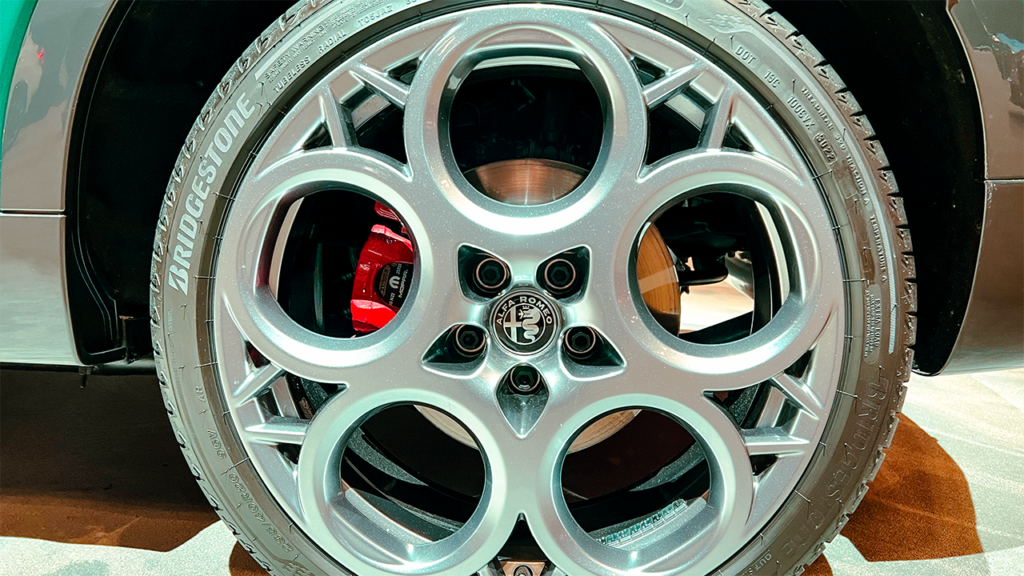 Haters will tell you the Alfa Romeo Tonale is a Jeep in snake's clothing, but that's not the full story. While the Tonale does share an identical powertrain with the Jeep Renegade 4xe and Jeep Compass 4xe PHEVs, neither Jeep model is sold in the U.S. Based on the Fiat Firefly architecture, the Tonale's 1.3-liter turbocharged engine makes up to 180 horsepower and 199 pound-feet of torque on gas alone. When paired with its 121-horsepower electric motor, the Tonale makes a combined 285 horsepower with 347 lb-ft of torque. That gives it enough oomph to race from 0-60 in as fast as 5.6 seconds. With the exception of the AMG version of the Mercedes-Benz GLA, the Tonale offers the best performance in its class.
When driving in the Dynamic mode, the power of the gas and electric are employed in tandem, starting with the electric motor and firing up the gas engine to achieve that full 285 horsepower. Natural relies on the electric motor completely until the battery is depleted or you floor it on the throttle, while Advanced Efficiency is the Alfa Romeo Tonale's eco mode, relying entirely on the electric motor. On one hand, you're only getting 121 horsepower from the electric motor, but since only the front wheels run on gas, it effectively becomes a rear-wheel drive vehicle with the engine off.
2024 Alfa Romeo design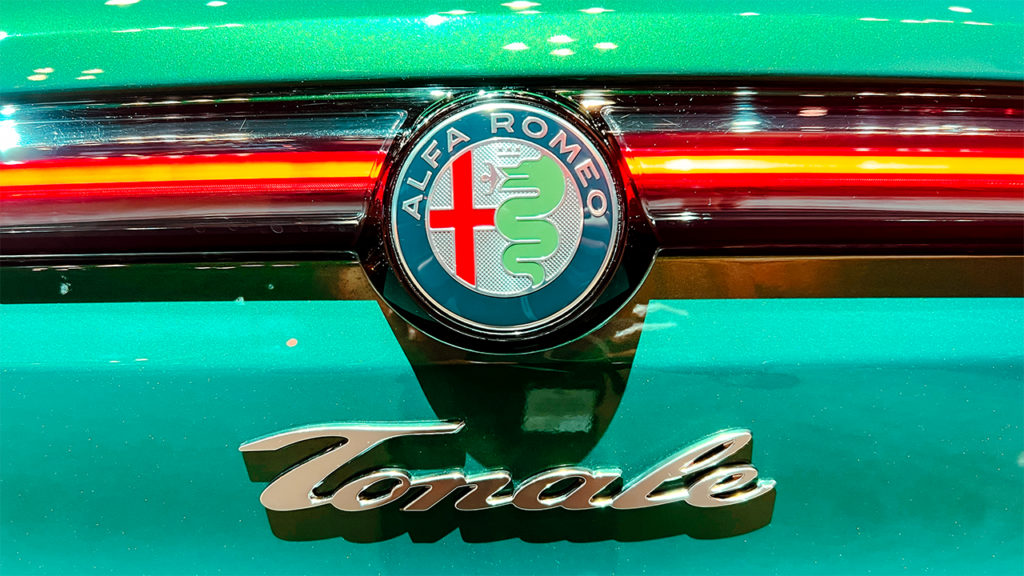 In a market littered with SUVs that all share the same aggressively sterile design cues, the 2024 Alfa Romeo Tonale stands out, ironically because it refuses to change. When BMW decided the nose of a car should resemble the pig from Angry Birds, Alfa Romeo respectfully disagreed. When GM ditched not only physical HVAC controls, but even CarPlay and Android Auto in favor of giant touchscreens running Android Automotive, Alfa said absolutely not.
The 2024 Alfa Romeo Tonale retains the automaker's traditional Italian styling, including its hallmark triangular grille. Compounded with the tantalizing metallic green paint job on display, the Tonale's cosmetic appeal was undoubtedly responsible for amassing large crowds in the three days I spent at the NY Auto Show. As I stood there snapping photos, just about every passerby on the show floor stopped in their tracks to get a better look. Unfortunately, that stunning green option, officially called Verde Fangio, comes at a $2,200 premium.
2024 Alfa Romeo Tonale review to come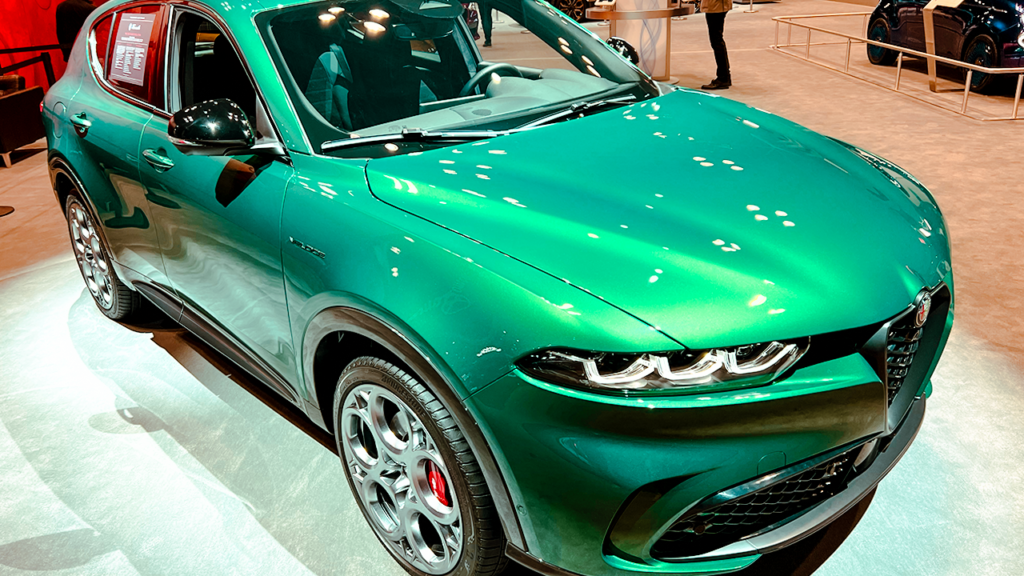 After "pre-ordering" the Alfa Romeo Tonale 11 times, resisting the urge to stack more options onto my build with each passing reservation was not an easy task. In fact, I didn't do it.
I knew my wife was committed to the green color option, as well as the Active Assist package, but the more I thought about it, I'm going to be driving this car too, right? This is our practical road trip car. In that case, we need paddle shifters and Brembo brakes to at least make our long drives more interesting. Might as well step it up to the Veloce where those options come standard. But could I do without the Harmon Kardon speakers like I have in my 4 Series? Maybe, but we don't know that for certain. What's left? Moonroof and 20-inch wheels it is.
In a world where Hyundais start at $45,500 and trucks cost six figures, is it so bad to spend $58,840 on a top-trim Alfa Romeo with everything on it? I'll let you know when I pick mine up in the fall. Until then, it's well worth it to see my wife giddy over a car for the first time since we met. And after the year I've had, I'm pretty excited too.
Who makes Alfa Romeo?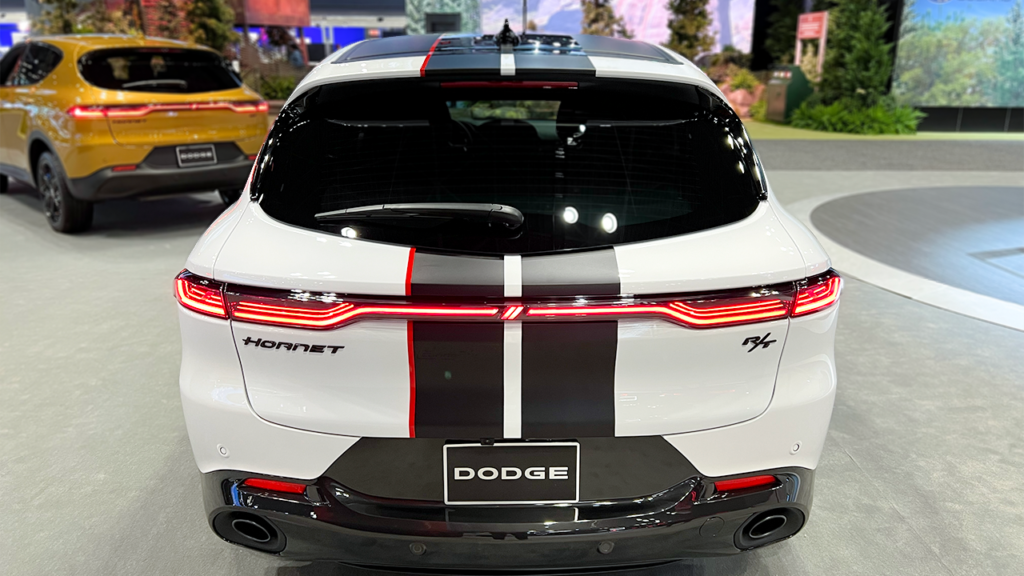 Based in Milan – the Italian epicenter for design and fashion, Alfa Romeo is a century-plus-old performance vehicle manufacturer with roots in racing – from Grand Prix to Formula 1 today. In fact, if the name Enzo Ferrari rings a bell, it's because the legendary sports car pioneer made a name for himself driving for Alfa dating back to the early 1920s.
Despite a storied legacy, Alfa Romeo is a niche name in the U.S., having sold a little under 13,000 vehicles in 2022 – 30% fewer than the year before. Compare that to BMW's 332,000 or Tesla's 456,000 and it's clear why the Italian automaker would introduce a crossover – the only hybrid in its class – to a market obsessed with SUVs.
Alfa has said it has five distinct BEVs in the works for the U.S., starting with an all-electric version of a nameplate from its current lineup. And because it only sells two core models in the States, that leaves us with either the Giulia sport sedan or the mid-sized Stelvio SUV. Alf also has plans for a full-size SUV, according to Auto Express.