The Ford Mustang, America's athletic, boorish, and rowdy son since 1964. A frequent patron of the Woodward Dream Cruise and GRIDLIFE time attack. Your neighbor has one. Your classmate has one. Your cool relative has one. The 83,195 hypebeast high schoolers at the local nighttime car meet each have one. The Mustang is as synonymous with Americarna as Route 66, Smokey and the Bandit, or the Rascal Flatts cover of "Life is a Highway." There's a Mustang on every block. And no matter your taste, there's certainly a Mustang for you.
Six decades and countless revisions, engine changes, and suspension overhauls later, we arrive at the new 2024 Ford Mustang – the S650 generation, an evolution in Ford's muscle car-turned-sports car. From a glance, not much has changed from the S550 generation that ran from 2015 to 2023, but this new Mustang takes pride in all the minute changes Ford made. A little more power here. A bit more chassis composure there. Ford's definitely taken a "don't mess with success" stance. That is, unless you have supercar money to blow.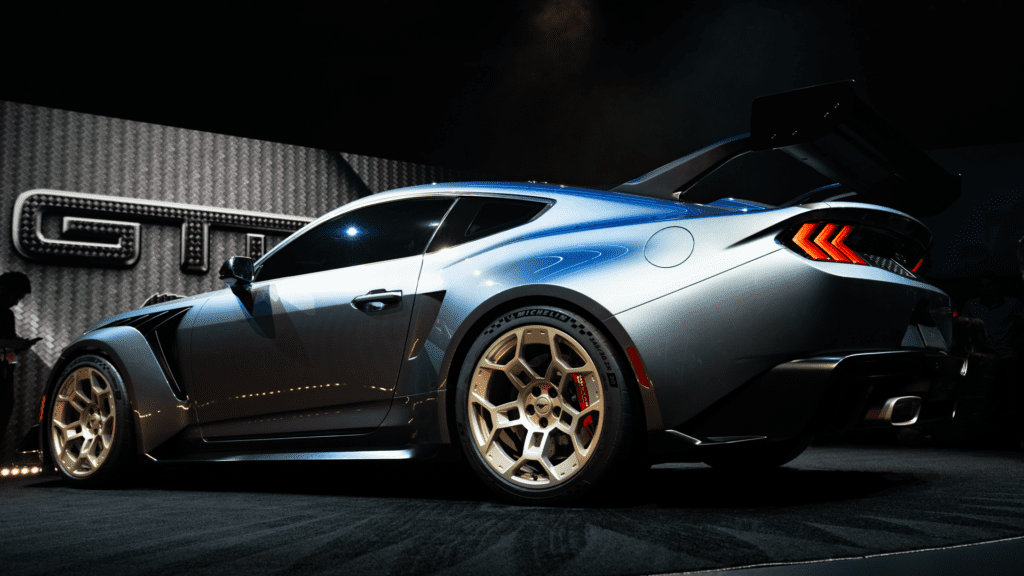 Following a virtual announcement on August 17, 2023, the Mustang GTD made its public debut at the prestigious Pebble Beach Concours d'Elegance car show in California the next day. The carbon-bodied beast sits on an eight-speed transaxle, giving it a nearly 50:50 weight distribution. A few weeks later, we had the chance to see the 'Stang for ourselves at the Detroit Auto Show. With a price tag well into the six figures, however, most people will never see a Mustang GTD in real life, let alone afford one themselves.
As for the rest of us, does the 2024 Mustang work? Or has Ford's march of modernity muddied its latest pony car? Let's take a look.
Skip to section:
2024 Ford Mustang price and trim levels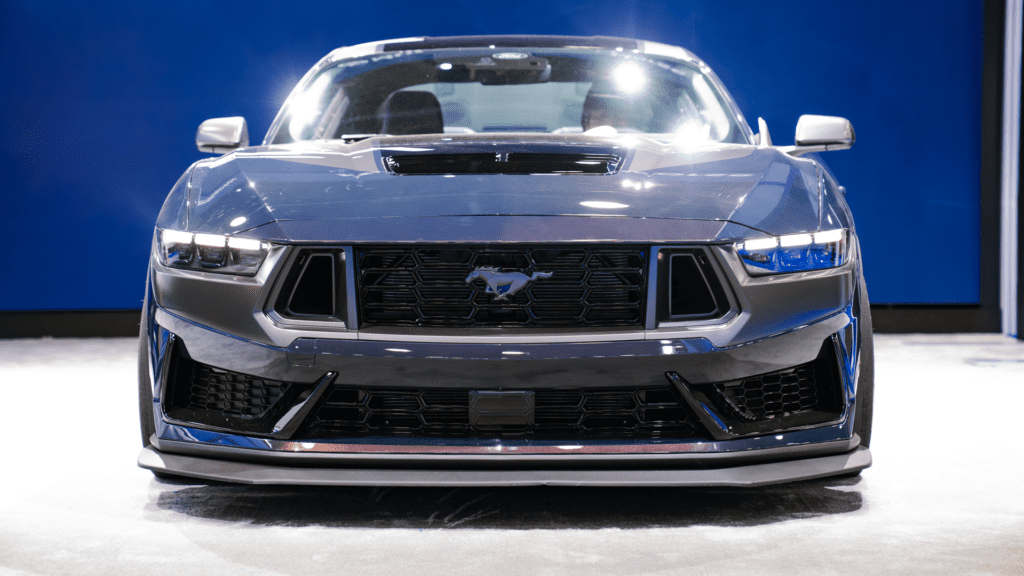 When Ford says there's a Mustang for everyone, that's no exaggeration. This unwavering truth is evident in everything from the options packages to the engine choices and that eye-popping disparity in pricing between the least and most expensive models.
Mustang EcoBoost
Starting Price: $30,920 (Fastback), $39,020 (Convertible)
EcoBoost Standard Features:

2.3L EcoBoost I4
10-speed automatic
3.15 final drive ratio
Split-screen interior dash design
12.4-inch LCD cluster
13.2-inch touchscreen infotainment w/ SYNC 4
Ford Co-Pilot 360 Technology w/ lane keep assist, lane keep alert, and blind-spot monitoring
Rearview camera w/ parking sensors
Rain-sensing wipers
Auto high-beams
Pre-collision warning w/ auto braking
6-speaker stereo
Mustang EcoBoost Premium
Starting Price: $36,445 (Fastback), $41,945 (Convertible)
EcoBoost Standard Features (on top of base):

Connected single-screen dash design
Heated/cooled leather seats
Heated leather steering wheel w/ chrome bezel
Multi-color ambient lighting
Remote start for 10-speed auto transmission
Dual-zone climate control
9-speaker stereo system
Wireless charging pad
Aluminum pedals
Universal garage opener
Mustang GT
Starting Price: $42,495
GT Standard Features:

5.0L Coyote V8
Getrag 6-speed manual
3.55 final drive ratio
Split-screen interior dash design
12.4-inch LCD cluster
13.2-inch touchscreen infotainment w/ SYNC 4
Ford Co-Pilot 360 Technology w/ lane keep assist, lane keep alert, and blind-spot monitoring
Rearview camera w/ parking sensors
Rain-sensing wipers
Auto high-beams
Pre-collision warning w/ auto braking
6-speaker stereo
Mustang GT Premium
Starting Price: $47,015 (Fastback), $52,515 (Convertible)
Premium Standard Features (on top of base):

Connected single-screen dash design
Heated/cooled leather seats
Heated leather steering wheel w/ chrome bezel
Multi-color ambient lighting
Remote start for 10-speed auto transmission
Dual-zone climate control
9-speaker stereo system
Wireless charging pad
Aluminum pedals
Universal garage opener
Mustang Dark Horse
Starting Price: $59,270
Dark Horse Standard Features:

5.0L Coyote V8 w/ revised manifold
Tremec 6-speed manual w/ titanium shift knob
Engine oil, transmission, and differential coolers
Torsen rear differential w/ 3.73 final drive ratio
Revised suspension and electronic assist tuning
12.4-inch LCD cluster
13.2-inch touchscreen infotainment w/ SYNC 4
Ford Co-Pilot 360 Technology w/ lane keep assist, lane keep alert, and blind-spot monitoring
Rearview camera w/ parking sensors
Rain-sensing wipers
Auto high-beams
Pre-collision warning w/ auto braking
Vinyl/cloth seats
Heated steering wheel
Multi-color ambient lighting
Remote start for 10-speed auto transmission
Dual-zone climate control
9-speaker stereo system
Wireless charging pad
Universal garage opener
Mustang Dark Horse Premium
Starting Price: $63,265
Premium Standard Features (on top of base):

Heated/cooled leather seats
Aluminum pedals
Universal garage opener
Mustang GTD
Starting Price: TBA; approx. $300,000
GTD Standard Features:

5.2L supercharged V8
8-speed dual-clutch transaxle
Multimatic DSSV dampers
Pushrod rear suspension
Active aerodynamics
Carbon fiber bodywork inspired by Mustang GT3
2024 Ford Mustang exterior color options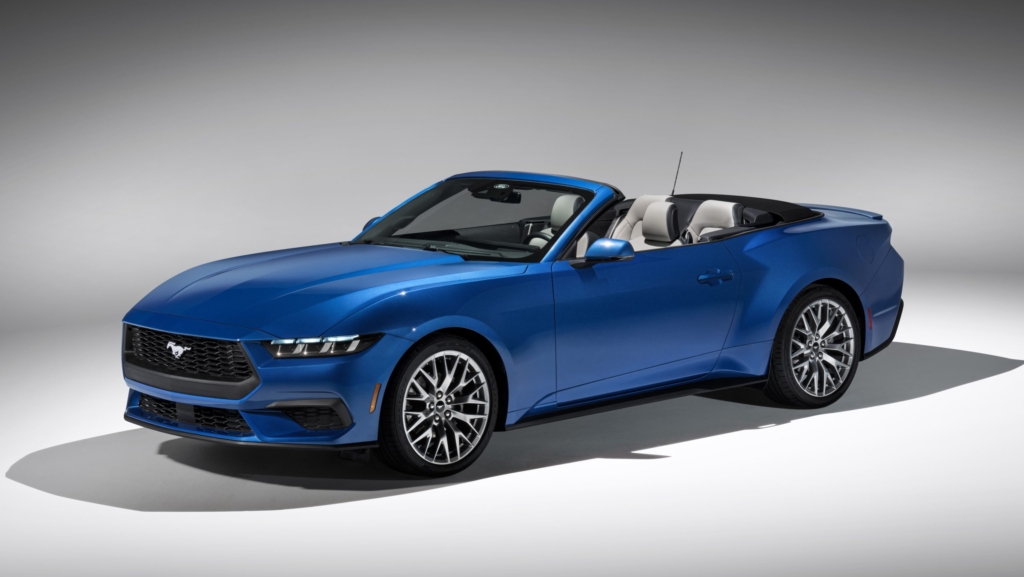 Mustang EcoBoost/GT
Shadow Black
Oxford White
Iconic Silver
Race Red
Rapid Red Metallic (+495)
Atlas Blue Metallic
Grabber Blue Metallic
Dark Matter Gray Metallic
Vapor Blue Metallic
Carbonized Gray Metallic
Yellow Splash Metallic (+995)
Mustang Dark Horse
Shadow Black
Oxford White
Race Red
Atlas Blue Metallic
Grabber Blue Metallic
Dark Matter Gray Metallic
Vapor Blue Metallic
Carbonized Gray Metallic
Blue Ember Metallic (+1,500, Dark Horse Premium only)
Mustang GTD
TBA; possibly paint-to-sample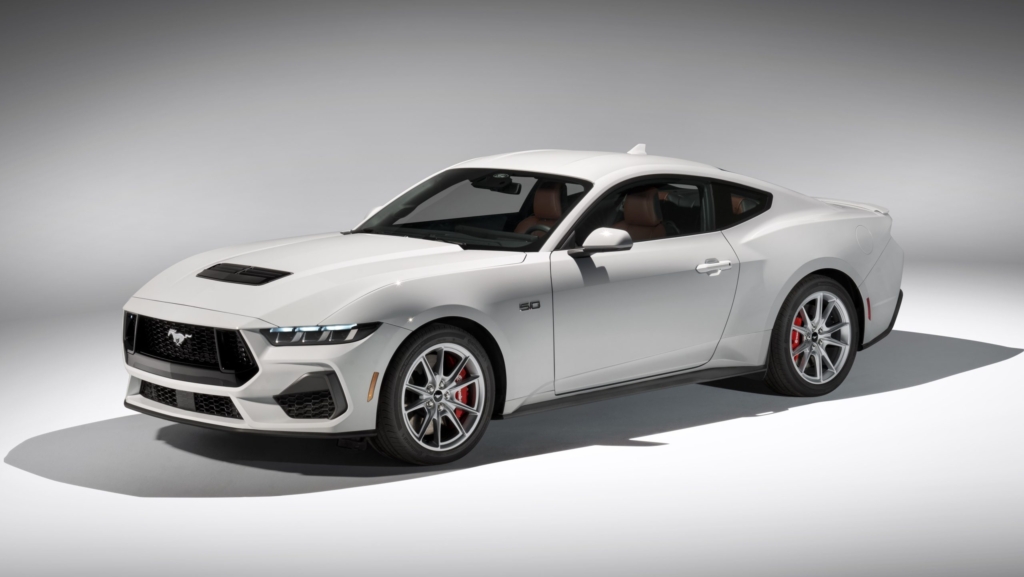 2024 Ford Mustang interior color options
Mustang non-Premium
Mustang Premium
Black Onyx
Space Gray
Emerglo
Carmine Red
Mustang Dark Horse/Dark Horse Premium
Mustang GTD
Interior and tech
Through interior comfort and technology, the Mustang asserts itself as the do-everything sports car for the masses. Carry luggage? There's a cavernous trunk with split-folding rear seats for that. Or, if you wish, you can use the rear seats to transport real, breathing adult humans – kind of important, that breathing part – in a pinch. The fastback roofline may not permit above-average-height people, but two or two-and-a-half Kevin Harts will do. The current crop of Mustangs sports plenty of cabin space for, uh, let's say big-boned Americans, meaning taking a GT on an actual grand tour won't be an exercise in keeping your claustrophobia under wraps. As a fun touch, the steering wheel now rocks a sleek flat-bottom design with pronounced thumb bolsters.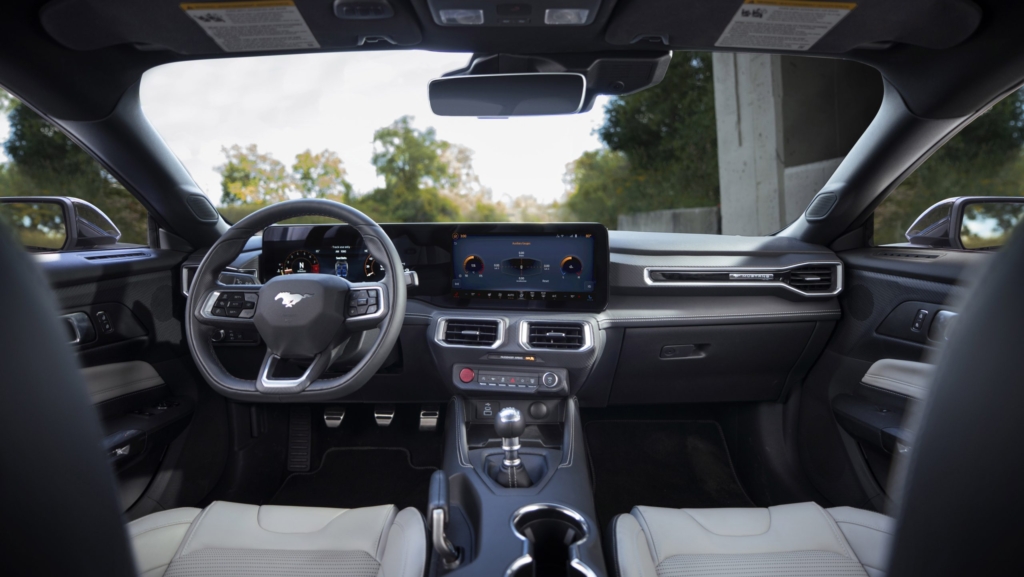 As you can see, tech is where the S650 Mustang sees the most transformative revolution. Whereas the exterior appears to be an alternate facelift of the first 2015 cars, the interior could pass as something from BMW. Or Hyundai. Or Kia. Or Honda.
Huh. I'm starting to see a pattern with these present-day cars.
Okay, so it's a little derivative, and perhaps that'll date it heavily in the future unlike limited runs crafted from the ground up to be timeless, like the Alfa Romeo 33 Stradale. But unlike an exotic supercar, the Mustang is here and now. It's meant to be driven. Not only to cars and coffee or the track, but to the supermarket, doctor's appointments, and long road trips with the fam. In keeping with modern trends, its clean, efficient, and upscale appearance is warranted.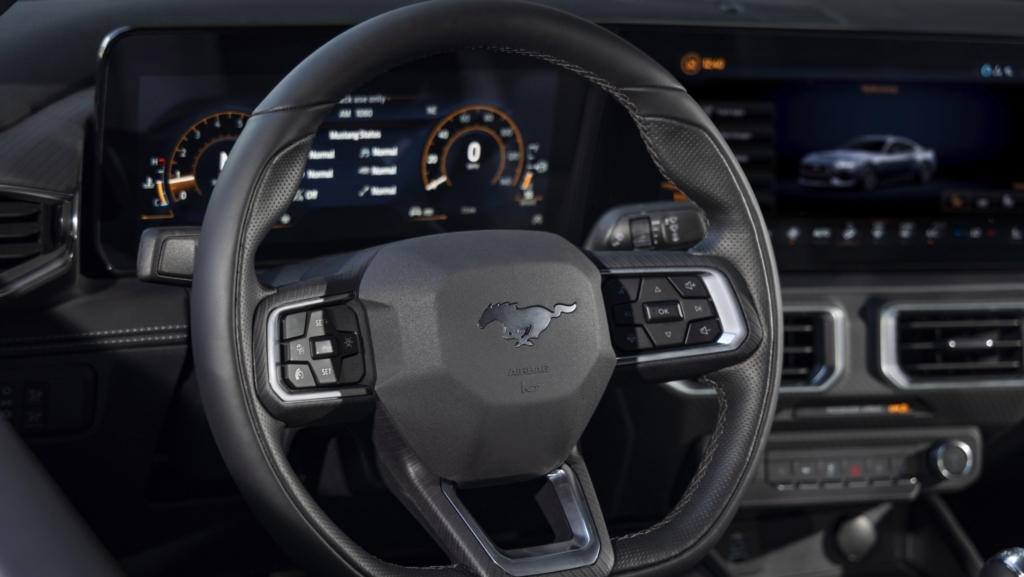 Whether you embrace it or condemn it to burn at the stake, the high-mounted display-centric dashboard is here to stay for the S650 Mustang. That move appreciably elevates lower-trim cars to new heights, no longer forcing buyers to cope with the Texas Instruments calculators that adorned the prior-gen base models. The new screen location brings information closer to your sightlines, meaning less looking down at the center stack, and enables wannabe racers to run those badass billet short shifters without obstructing the screen. SYNC 4 is standard across the board, as is CarPlay, Android Auto, Ford safety assists, a rearview camera with parking sensors, and digital gauges.
Speaking of, yes, that oh-so goofy Fox Body gauge mode for the digital gauges is very much real and available across all models, Premium or not. It's a touching bit of nostalgia for the younger hoonigans who know Fox Bodies from Need For Speed or elder millennials finally admitting their mid-life crisis. More new cars need harmless gimmicks like this.

Adjustable drive modes are now available to all, whereas prior models only featured them on Premium trims. New for the S650 is the addition of individual presets for tailoring the steering, throttle, brakes-by-wire feel, and, if equipped, MagneRide and active exhaust.
With all this head-spinning adjustment and an expansive safety net of nannies, the S650 Mustang can easily make itself at home on the commute as it can on the circuit. Set everything to full-kill Track Mode and let those rear tires howl. Or slap everything in Slippery or Normal and let it transform from a steroidal sports coupe to a lazy boulevard cruiser at the tap of a screen. Perhaps the only criticism one can have of all this control is most of it is accessible only through the screen, including climate controls, which are thankfully always visible on a strip located at the bottom of the screen display.
Oh, and if you're an especially childish goober with more whimsy than a McDonald's PlayPlace, 10-speed auto cars feature a Remote Rev function. Yes, this is exactly as it sounds. You can remotely rev your Mustang while parked via the key fob up to 5,000 rpm. A neat party trick for the next family reunion or Oakland sideshow.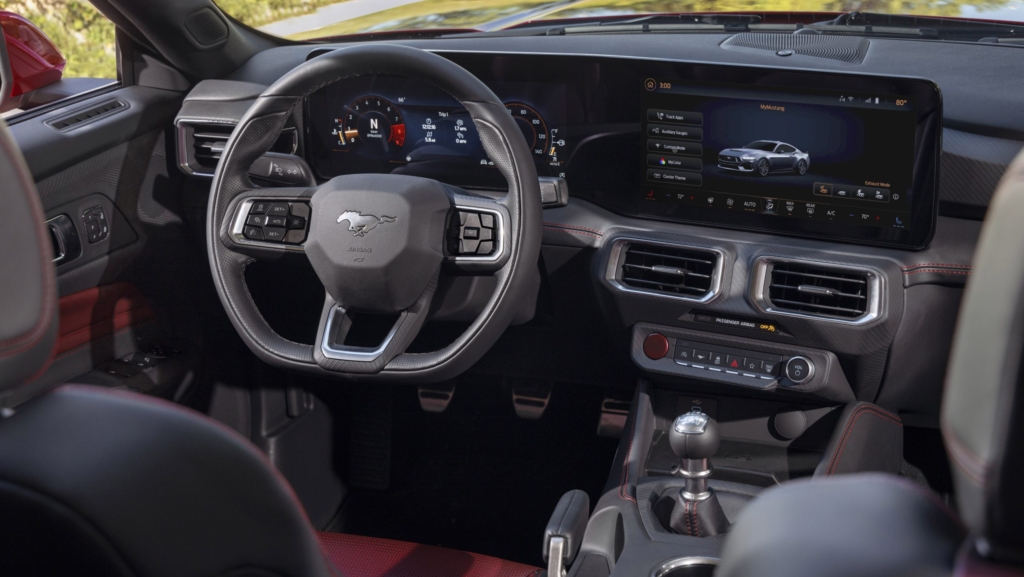 Dimensions
Exterior dimensions:
Length: 189.4 inches
Width: 75.4 inches
Width w/ mirrors: 81.9 inches
Wheelbase: 107 inches
Interior space:
Passenger volume: 79.2 cu. ft. (convertible), 82.8 cu. ft. (fastback)
Seating: 4
Front headroom: 37.6 inches
Rear headroom: 34.8 inches
Front shoulder room: 56.3 inches
Rear shoulder room: 52.2 inches
Front legroom: 44.5 inches
Rear legroom: 29.0 inches
Cargo volume: 11.4 cu. Ft. (convertible), 13.5 cu. ft. (fastback)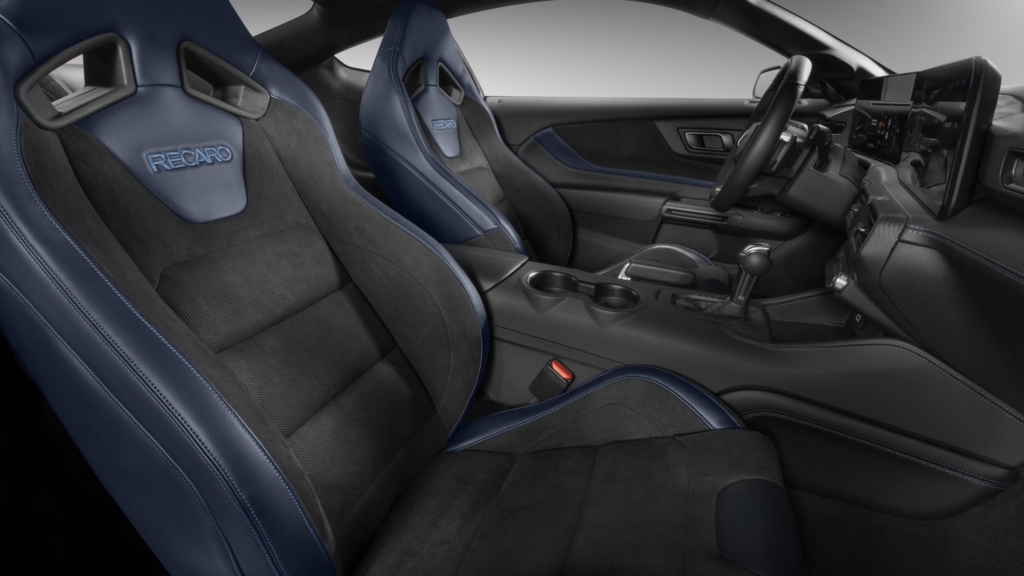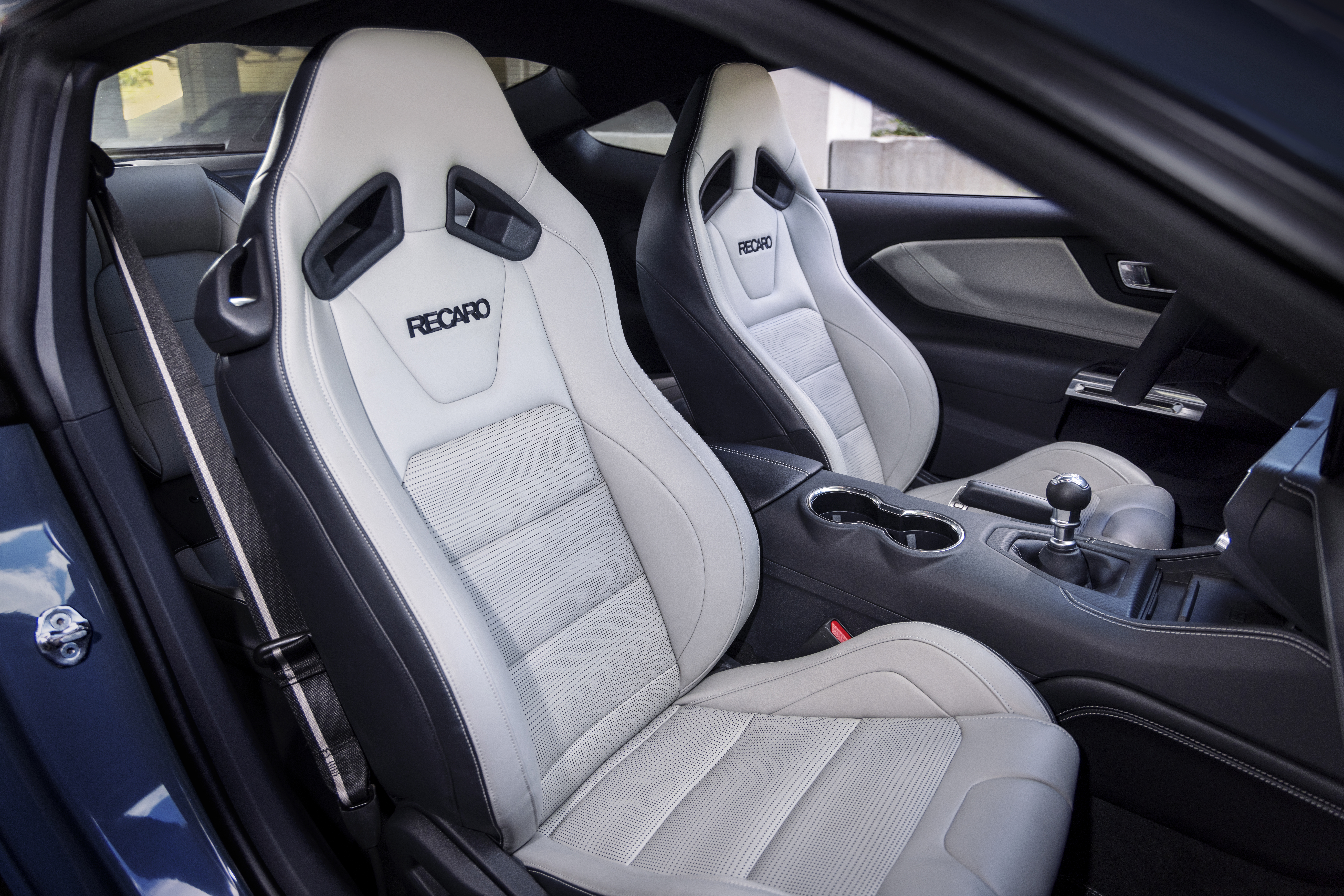 Fuel economy and range
Economy, eh? On a Mustang? Alrighty, then.
Paired with the sole choice, the 10-speed auto, the 2.3-liter EcoBoost returns a solid 22 mpg city, 33 highway, and 26 combined. That equates to a total highway range of 528 miles. Interestingly, opting for the Performance Package EcoBoost drops the ratings to 21 city, 29 highway, and 24 combined, likely due to the stickier summer tires and shorter final drive. But who needs fuel economy when you have faster lap times? No? Okay, fine.
GTs, at best with the 10-speed, manage 15 city, 24 highway, and 18 combined. Six-speed manuals drop each figure by one across the board, meaning the most miserly Mustangs barely eke out 384 miles on the interstate. Due to their slightly more aggressive aero and stickier rubber options, Dark Horses with either transmission manage one less mile per gallon on the highway, earning a rating of 22 mpg and dropping range to 352 miles. The lead-footed will likely not come close to any of these numbers.
The ultra-rare and ultra-violent GTD and its supercharged V8 are too far out to receive any fuel economy information. If the GT500 is anything to go off of, it'll most likely be abysmal. Let's just say it will at least get one mpg. Not certain, but maybe.
City Economy: 21 to 22 mpg (EcoBoost), 14 to 15 mpg (GT, Dark Horse), TBA (GTD)
Highway Economy: 29 to 33 mpg (EcoBoost), 23 to 24 mpg (GT), 22 mpg (Dark Horse), TBA (GTD)
Combined Economy: 24 to 26 mpg (EcoBoost), 17 to 18 mpg (GT), 17 mpg (Dark Horse), TBA (GTD)
Maximum Range: 464 to 528 miles (EcoBoost), 368 to 384 miles (GT), 352 miles (Dark Horse), TBA (GTD)
Fuel Capacity: 16.0 gallons
Engines, transmissions, and performance
Ah, yes. The section for spec sheet drag racers and couch potato canyon carvers. Performance is why buyers choose Mustangs and other pony cars over Nissan Zs or Subaru BRZs. Asphalt-shredding performance and thundering engines are the soul of the Mustang lineage, and the S650 generation carries that torch with pride and faithfulness.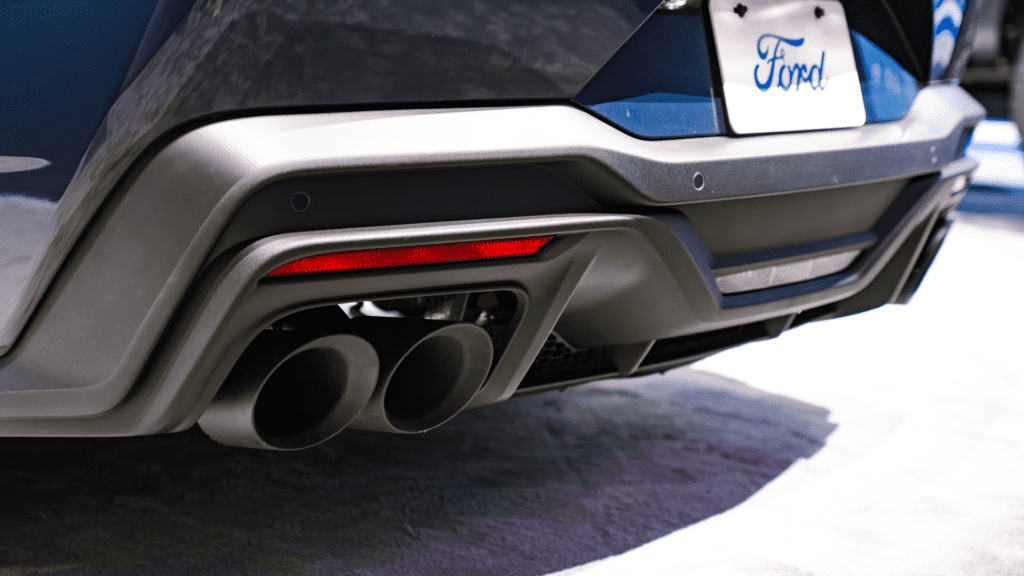 The Little Four-Banger That Could flexes a healthy 315 horsepower and 350 pound-feet of torque, the same torque level but up five horses over the old car. While no outlet has launched any instrumented tests at the time of writing, I imagine that'll yield straight-line acceleration on par with the outgoing model. However, GTs and Dark Horses are a different story, now wielding the fourth generation of the acclaimed free-breathing, high-revving 5.0-liter Coyote V8. Now, with a wee bit more displacement and a dual intake system, the mighty Coyote belches out a healthy 480 horsepower or 486 with the freer-flowing active exhaust and 418 pound-feet. Dark Horses use strengthened internals and revised tuning to generate 500 horses.
All "plebeian" spec Mustangs can mate powertrains to the now-famed 10-speed automatic, acclaimed for its snappy gearing, effectiveness in drag racing, and clever programming but sometimes knocked for iffy paddle shifter response at anything but full-tilt. However, the brawny V8s receive offers to join the Save The Manuals club, as the embarrassingly low take rate for manual EcoBoosts killed that powertrain combo entirely. GTs work with the controversial Getrag MT-82 six-speed manual, which is now as slick and accurate as ever, but pundits and Mustang fans alike have expressed concerns over longevity and how this new iteration will fair compared to older ones. Dark Horses rock the even-slicker and far more stout Tremec six-speed, previously featured in the Mach 1 and Shelby GT350 and now topped with an almost JDM tuner-like titanium knob.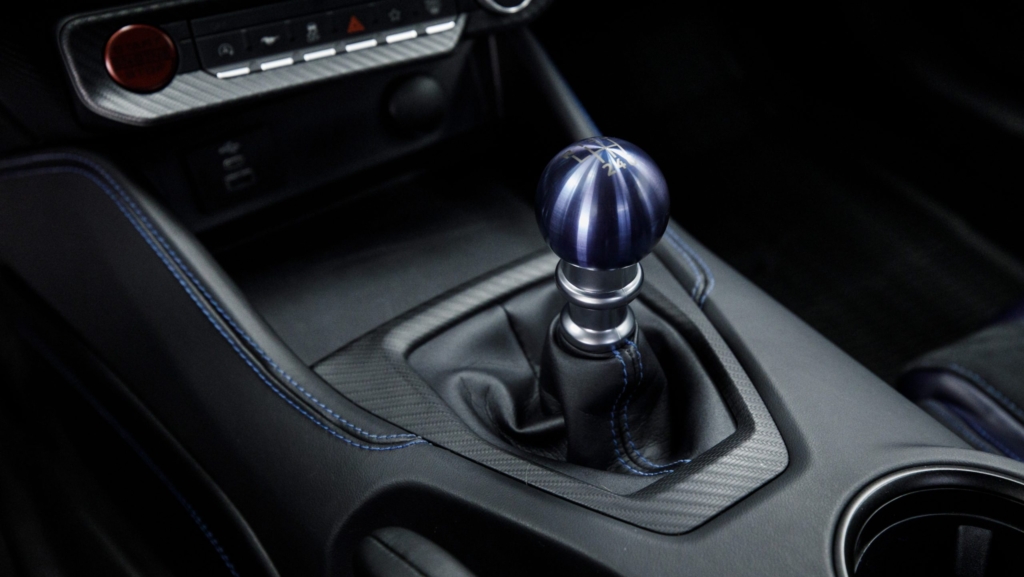 Acceleration from the few outlets who ran the new GT and Dark Horse against the clock is only marginally quicker than the cars they replace, despite the notable increase in power. But that still equates to being faster than you'll ever need on the street and most tracks. Handling Package-equipped Dark Horses manage to out-handle their forebearers, thanks to specially formulated 180-treadwear semi-slicks. However, the GT's handling, while reportedly sharper than ever, also trails slightly in grip. This mild step down is likely due to their Premium test cars weighing roughly 100 pounds heavier than non-Premium trims and the outgoing generation GTs, as well as Ford's odd decision to move away from their well-received Michelin tires to Pirellis PZeros.
Or, as my generation loves to say to write off flukes: "Ha, skill issue."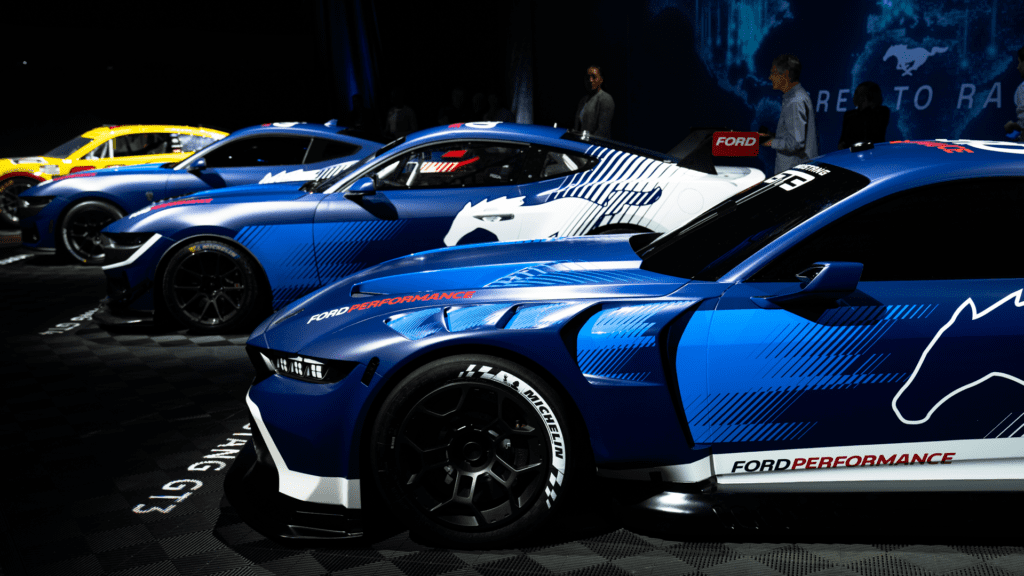 Stats
Engine: 2.3L EcoBoost I4 (EcoBoost), 5.0L Coyote V8 (GT, Dark Horse), 5.2L supercharged V8 (GTD)
Transmission: 10-speed automatic, Getrag 6-speed manual (GT), Tremec 6-speed manual (Dark Horse), 8-speed dual-clutch transaxle (GTD)
Drivetrain: rear-wheel drive
HP: 315 horsepower (EcoBoost), 480 horsepower (GT), 486 horsepower (GT w/ active exhaust), 500 horsepower (Dark Horse), approx. 800 horsepower (GTD)
Torque: 350 lb-ft (EcoBoost), 418 lb-ft (GT, Dark Horse), 730 lb-ft (GTD)
Redline: 6,400 rpm (EcoBoost), 7,500 rpm (GT, Dark Horse), TBA; approx. 7,400 rpm (GTD)
Weight: approx. 3,600 pounds (EcoBoost), approx. 3,820 pounds (non-Premium GT/Dark Horse), approx. 3,920 (Premium GT, Dark Horse), TBA; approx. 3,400 pounds (GTD)
0 – 60 mph: approx. 5.0 seconds (EcoBoost), approx. 3.8 to 4.1 seconds (GT), approx. 3.7 to 4.0 (Dark Horse), approx. 3.2 (GTD)
¼-mile: approx. 13.5 seconds (EcoBoost), approx. 12.0 to 12.5 seconds (GT), approx. 11.8 to 12.3 seconds (Dark Horse), approx. 10.8 seconds (GTD)
Note that our figures are mere approximations based on existing instrumented tests of current and prior Mustangs, as you'll see in our review round-up. Not all variants of the new S650 Mustang have been running against the clock, but their similarities with their forebearers lay a fairly trustworthy groundwork off which we can estimate.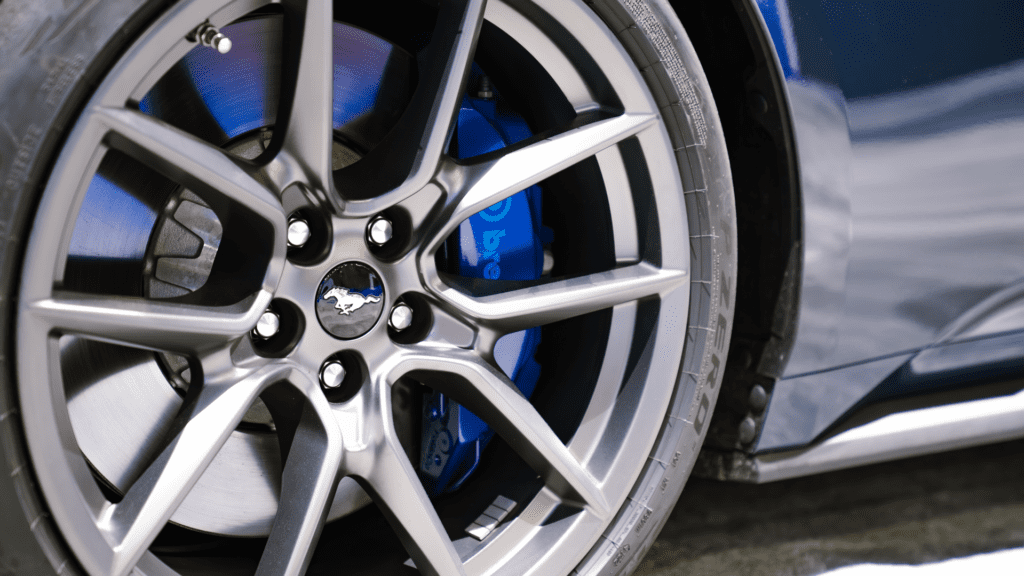 2024 Ford Mustang review round-up
Sadly, no one on the Acceleramota payroll has been graced by the Blue Oval's generosity with a seat in an S650… Yet. But! There are plenty of legacy mags and veteran journos who have, and they sure as hell have had plenty to say!
From traffic-packed commuting to canyon ripping, the optional MagneRide suspension dampers cover ground with a synthesis of plushness and stability. In their firmest setting, undulating pavement can agitate the car, but not in an overly stiff or punishing way. Comfort pervades in the softest mode, without ceding poise for cutting a corner off the boulevard. Long highway cruises prove their touring aptitude, and on twisting two-lanes they return a sophisticated connection with the pavement. These are key to the 2024 Mustang's great breadth of capability.

Alex Leanse, Motor Trend
First and foremost, the top-tier Mustang [Dark Horse] may weigh nearly 4,000 pounds, but it wears its weight well. Instead of attempting to squeeze into whatever's on the rack at H&M, it's comfortably slipping into athletic-cut threads at the big and tall store. This was especially true of its brakes; they never softened up or lost bite. Every time I'd dive into an incredibly late apex to enter the track's infield, the brakes felt amply powerful and had no indication of ever fading away. Their ease of modulation and excellent pedal feel made slicing through a smorgasbord of early, late, and double-apexes both fun and trivial for any driver, no matter the skill level.

Peter Nelson, The Drive
While the Mustang EcoBoost doesn't exactly feel at home on tight twisty roads, it's not a sloppy mess, either. The electronically assisted steering is lacking feel but a quicker ratio over the last-gen car means hand-shuffling happens far less. The chassis is set up for safety, so the front wheels will always give up before the rear. You can make it rotate with enough patience, but just under 3,600 pounds to lug around means cars like the Mazda MX-5 Miata or Toyota GR86 are far better choices if your commute has a bunch of fun corners. The payoff is, of course, a set of semi-usable back seats and a decently-sized trunk. If twisties are your thing and you absolutely must have a four-cylinder Mustang, we recommend opting for the Performance Package, as it gets you a Torsen limited-slip differential, 19-inch wheels with summer tires, bigger Brembo brakes, and a strut tower brace.

Brian Silvestro, Road & Track
Run ragged on some of the best canyon roads Los Angeles County has to offer, the new Mustang GT is shockingly poised and well balanced. Instead of bucking through bends, the new Mustang dives in and carves through, with speeds and confidence previously only exhibited by Shelby-badged cars. Although we wish a touch more road chatter was transmitted through the new steering rack, its effort and weighting are bang on, as is the suspension tuning. As to the latter, Sport and Track noticeably stiffen things up while still allowing enough compliance to avoid upsetting the car over midcorner impacts.

Christian Seabaugh, Motor Trend
In short, it's more of the same, but that's a good thing if nothing groundbreaking. A better Mustang than ever before while being notably sharper and a smidge quicker, yes. Unsurprising, as reporters spout those same words with every new iteration of Mustang, but it's a breath of fresh air nonetheless to have a car that breathes without an inhaler, shifts by your command, and sings to the high heavens with a voice unmuffled by turbo or electrified nonsense.
Well, you know. At least that's the case for the naturally aspirated V8. Hey, nothing wrong with a Mach-E or the EcoBoost either!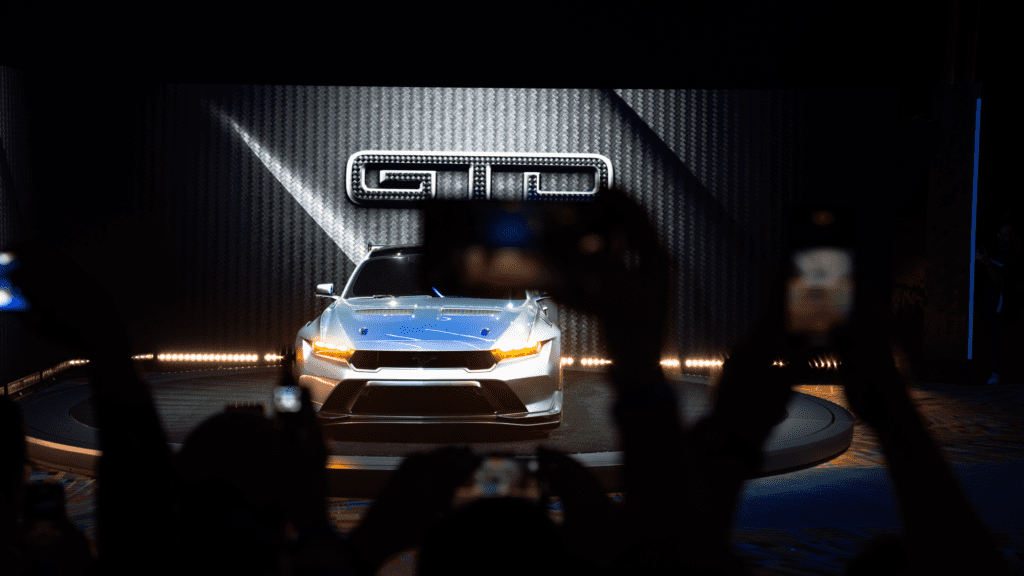 The fresh interior tech works quite well, even if it raised a few eyebrows. The revised steering rack may have taken two steps forward and two steps back, trading weight and feedback for speed and accuracy. However, some journos do enjoy the lighter weighting. Driving experiences are highly subjective matters to discuss, after all. But most agree the Mustang is a worthy successor, a perfect homage to Mustangs of the past, and a decent enough improvement in most aspects of driving dynamics.
Could it be even faster? Even sharper? Of course it can! It's a Mustang, duh! Ford knows that, and the aftermarket knows that, and the latter has already been foaming at the mouth with what they can do. Skeptics should stay tuned for that.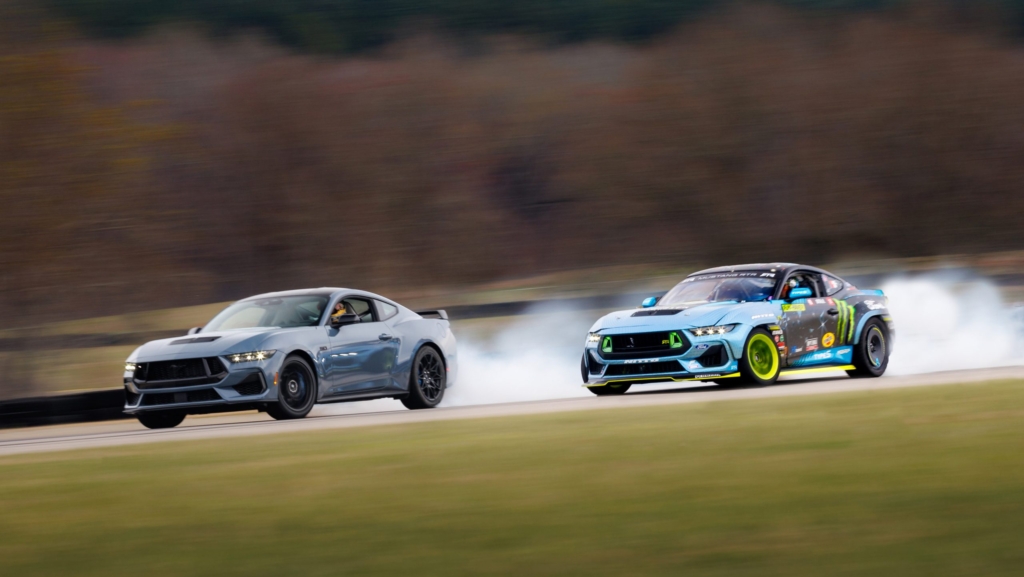 Race cars galore!
Nuh-uh. You aren't leaving this page without me shoving this down your throat.
Since the days of the S197-generation Boss 302, Ford has doubled down on its efforts positioning the Mustang to challenge the world. And what better place to do that than the circuit? The last generation saw variants based heavily upon the Shelby GT350, but now Ford aims to expand even further beyond with increasingly manic race trims of the famed nameplate.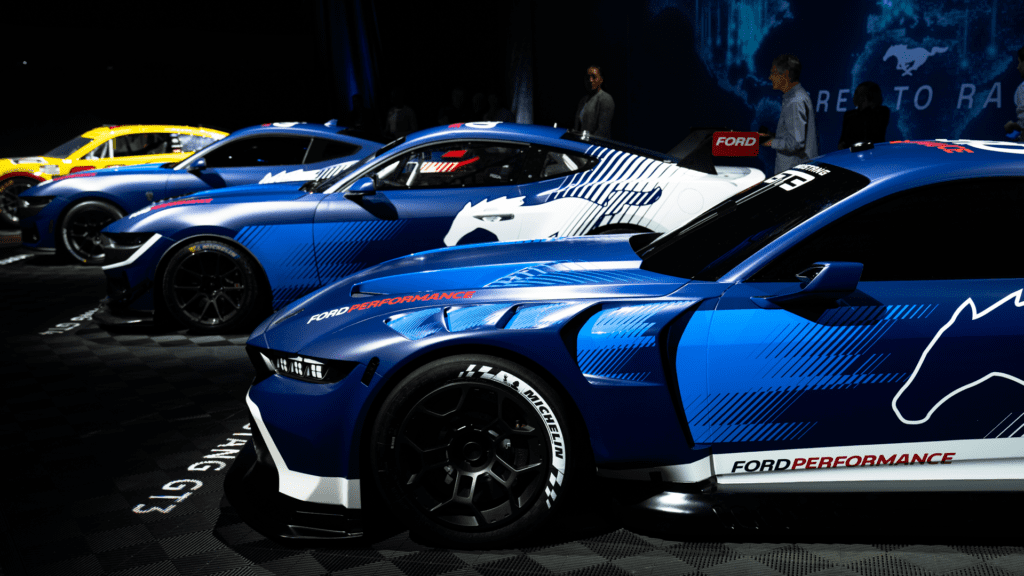 At the bottom rung sit the Dark Horse S and the Dark Horse R, stripped-down and relatively tame track-only editions of the Dark Horse road car. Little is known about the S other than being the less aggressive stablemate to the R. The latter comes ready to race out of the box, with road car-based aero, a traditional six-speed stick, and a virtually unchanged 5.0-liter Coyote V8, which even uses the same factory airboxes. It appears like a lightly modified Dark Horse road car from a distance – psst, if you really want the wheels, they'll soon be a Ford Performance catalog part. A neat party piece to the R is the shim-based camber plates, which adjust by removing or adding shims to tweak the camber to the driver's liking while being far less likely to come out of alignment than tightening down some bolts. Get ready to see these tear it up at advanced track days, club racing events, and the soon-to-launch Mustang Challenge series.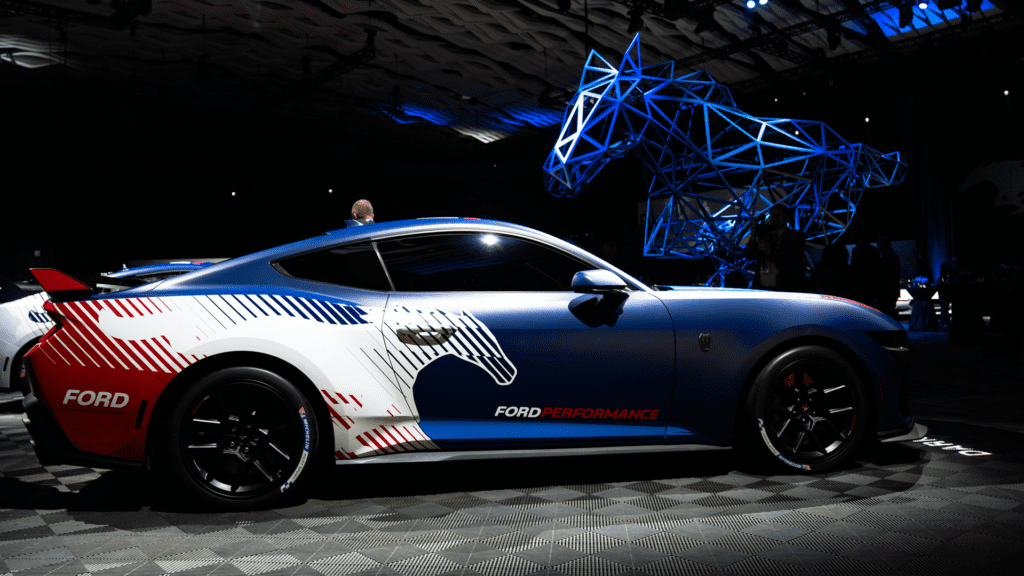 The Mustang GT4 ups the game with a legit wing setup pulled straight from Forza Motorsport and a more hardcore sequential gearbox. Like the Dark Horse R, there's no Looney Toons widebody or ultra-bespoke motor. It's still built to be a close representation of the street car, even sporting the same 5.0-liter V8. Except now, the transmission is a pneumatic dog-ring unit, and the suspension rocks dynamic spool-valve dampers by renowned builder, Multimatic, the same folks behind the dampers of the Camaro Z/28 and ZL1 1LE who helped bring the most recent Ford GT supercar to life.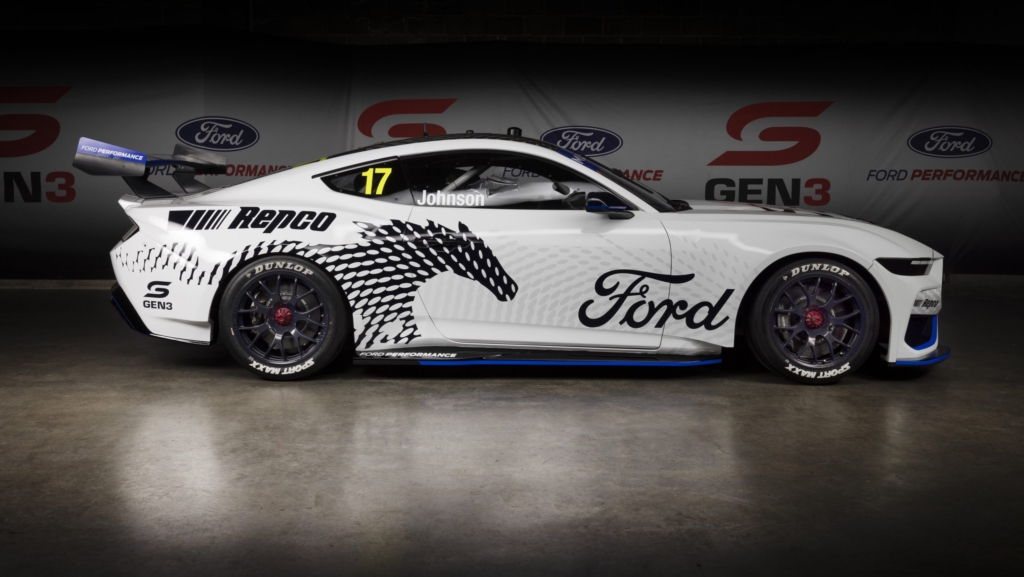 Now we're getting somewhere with the Mustang V8 Supercar built for, you guessed it, the Australian V8 Supercars series. It's like NASCAR… But Aussie. The body is wider. The engine is horsepower-er. And the car is right-hand-drive-er. Yes, these are words now. Not much is known other than its speculated 600 horsepower output from a Coyote-based 5.4-liter V8 that breathes through a single throttle body instead of the dual design. Interestingly, it seems to be the only Ford Performance racing effort not to have any relation to the Dark Horse or Mustang road cars in general and is the only one to feature styling cues from the GT instead. Not a bad looker, either, as the last iteration was, uh, pretty damn hideous.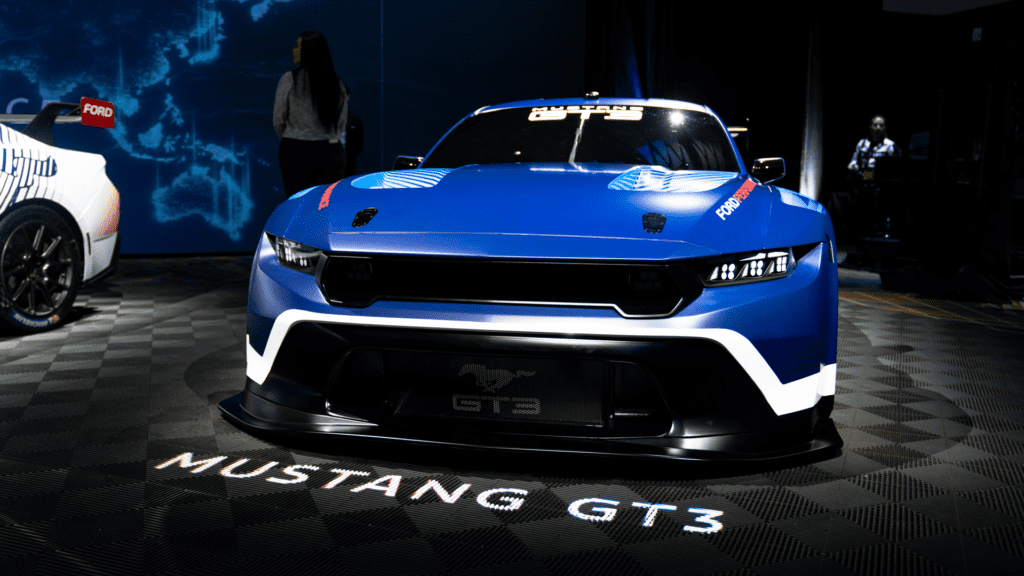 Atop the food chain sits the king, the one to lead the Mustang name into international motorsports stardom. The Mustang GT3 garnered acclaim and excitement for enabling the Mustang name to take on the world's fastest, succeeding the venerable Ford GT LM GTE-Pro. There's a carbon fiber widebody dotted with enough slots and holes to be mistaken for a Jack The Ripper victim, with the C-pillar-mounted swan neck wing acting as the cherry on top. Beneath the hood sits a unique 5.4-liter V8 co-developed with M-Sport, which, along with the V8 Supercar's mill, are the first 5.4-liter V8s in any Mustang, race or street, since the 2012 Shelby GT500. Best of all, the groundwork set by Multimatic and the GT3 will give way to a monstrous storm brewing in the Blue Oval's street car department.
The GTD: The storm that is approaching
Ah, lastly, we can't forget about this. I can see it now.
"Hey, I like your c-"
"More than you can afford, pal."
"Huh?"
"Ford."
"Dude, what?"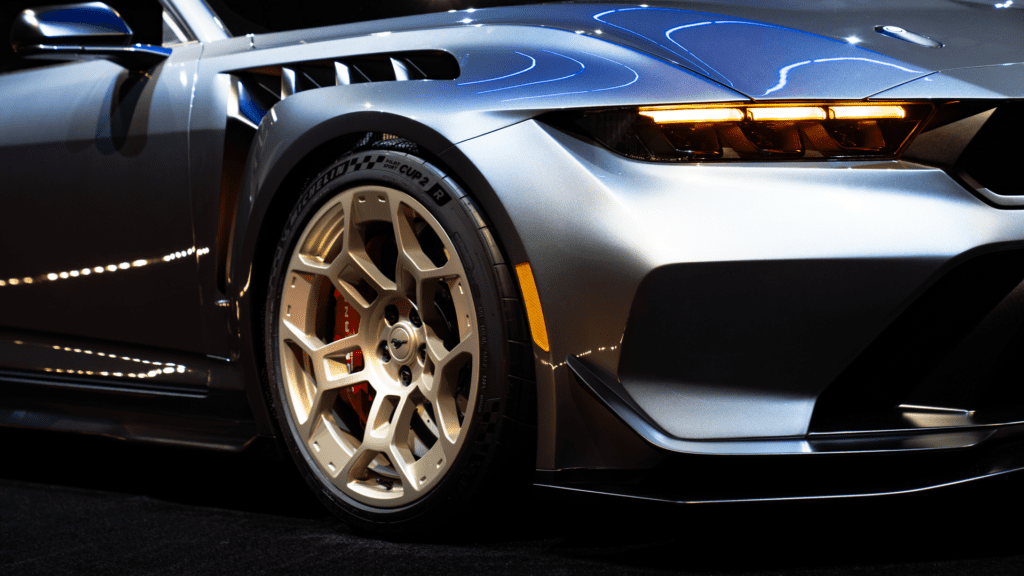 Following much hype surrounding a possible GT3 road car, Ford debuted the flagship GTD track special, a limited-edition supercar among pony cars built in conjunction with Multimatic. And you thought all those stats I threw earlier were nonsense filler.
The Mustang GTD exercises the full brunt of what Ford can do with the S650 Mustang platform, starting by sending a body-in-white to Multimatic to receive goodies such as the stunning carbon fiber GT3-inspired widebody. However, being a road car, gave Ford and Multimatic greater liberty to exercise more high-performance muscles in their pursuit of taking on the world's fastest. This Mustang utilizes electronically height-adjustable suspension with pushrod rear suspension, active aerodynamics, serving platter-sized carbon ceramic brakes, and tires wide enough to fluster drag racers. All this supercar mumbo jumbo works to reign in a beastly supercharged 5.2-liter V8 targeting 800 horsepower and breathing through a titanium Akrapovic exhaust. Someone's clearly a Euro fanboy on the engineering team.
Yes. It will be fast. No, you probably can't have one, as Ford plans to implement an application process akin to the Ford GT to allocate the 1,000 to 2,000 cars they intend to build. That is if you can swing the $300,000 expected price. That's 911 GT3 RS money, yes, but Ford has its hopes up that it can take the RS' lunch money while making a hell of a lot more noise.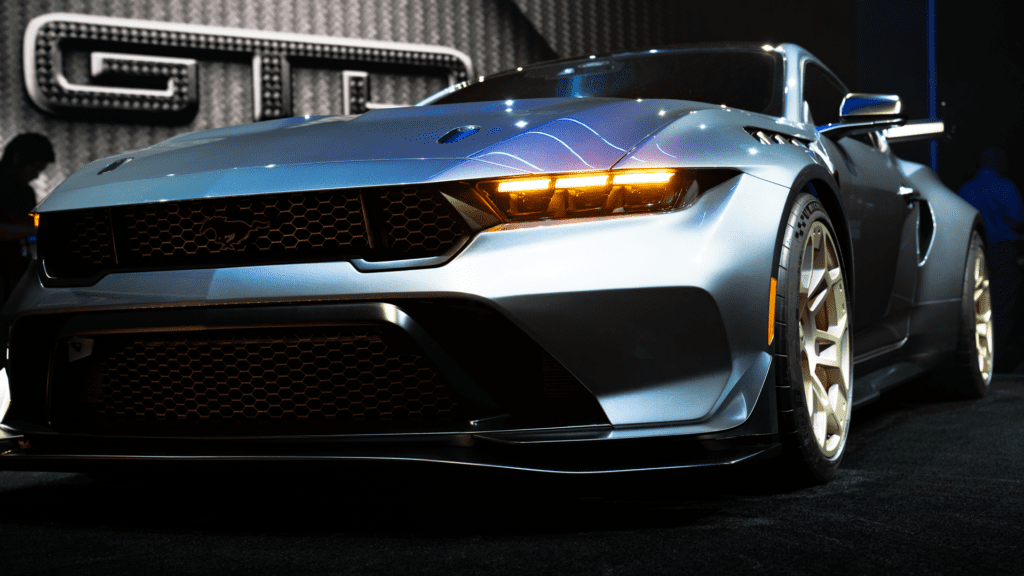 FAQs
Can I take a 2024 Mustang to the race track?
Of course you can. It's America's sports car, and part of being the car to do everything for everyone means being capable when hunting apexes or chasing the end of drag strips. Base Mustangs are competent enough for the casual driver, but the GT and EcoBoost Performance Package adds larger brakes, retuned suspensions and electronic assists, bigger wheels with wider summer tires, and additional cooling to better withstand prolonged spirited driving. For real hardcore track rats, I'd consider the sharper Dark Horse, the successor to the GT350, Mach 1, and Boss 302.
How is the aftermarket support for the 2024 Mustang?
Scarce as of now, as the new Mustang has only recently come on sale. But expect support to ramp up rapidly and spread like wildfire as R&D gets underway with popular aftermarket brands. Some companies were quick to snag up test cars to begin dyno runs and wheel fitment checks, and Ford Performance's new best bud, RTR, has already unveiled a complete upgrade package. For now, expect the only major challenge to be tuning, as the locked ECU and the dual intake's dual MAF sensors pose quite a hurdle for tuners. The workarounds won't be impossible. Tuners have long proven that many "untunable" platforms. But they won't come soon.
Can I daily a 2024 Mustang?
Ford Mustangs are splendid everyday sports cars. In their softest settings, they're tame, relaxed pussycats with unobtrusive road noise and suspension that can be firm but never harsh, even in the most hardcore models. Expect the 2024 cars to be quite familiar, albeit with maybe a hint more compliance from the new generation of (optional) MagneRide shocks. The new level of tech in the S650 will make it far more appealing to use as a single car and in heavy traffic. While derivative, the screen-centric dash design enables drivers to see whatever they need to see without looking low down on the center stack like older Mustangs.