After all the forum fights and magazine banter, what do you think when you imagine the Subaru BRZ? Tearing up back roads and race tracks? Hype beast influencers in overpriced streetwear posted outside the boba joint? What about the hotheaded kid thinking they're Ken Gushi slamming into a wall and ruining insurance rates for prospective buyers? The Subaru BRZ and its Toyota twin mean many things to many people and have amassed a vivid reputation as an affordable driver's car. But forget the endless stereotypes behind every Toyobaru and ponder this.
Sports cars were always a bone thrown our way whenever business was booming or when companies needed a four-wheeled hype person for the brand. Now more than ever, they're an endangered species, constantly coming and going and inflaming our anxiety over a future without any real driver's cars left. Thankfully, the Subaru BRZ is here, brandishing its pure intentions in the least offensive way possible in an age where cars are gradually getting more… Beige. And I don't mean color. The current BRZ is not merely a good sports car for the modern era. It's driving excellence and all the sports car you'll ever need.
Skip to section: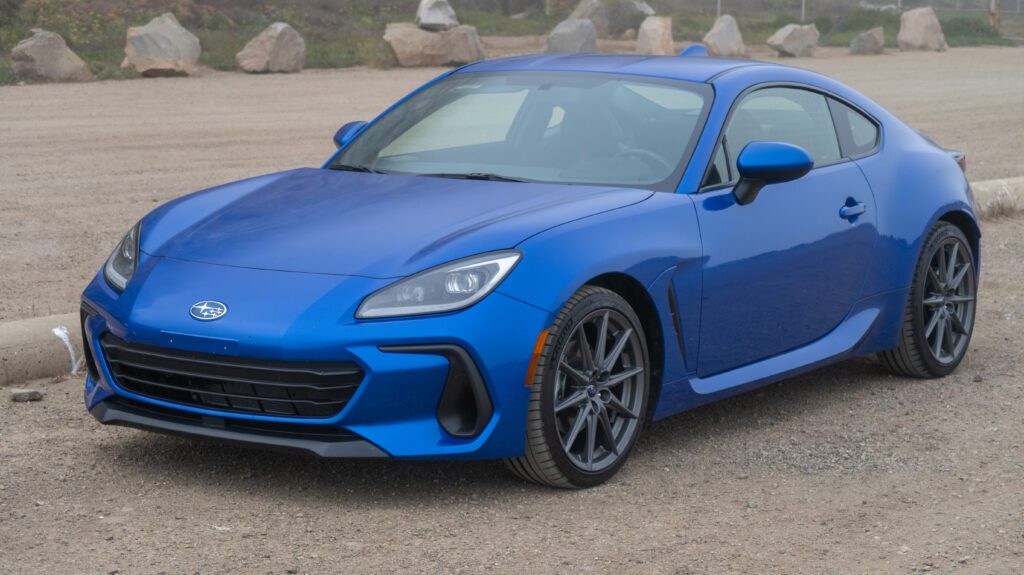 🚦Get ready, set, full disclosure! Some of the links powering our posts contain affiliate links, which means we may earn a small commission if you decide to make a purchase, even if it's not from the page we linked. Affiliate links are not always an endorsement of the product. To really help us keep our headlights shining to make more content like this, subscribe to the Acceleramota newsletter.
Price and specs
Note that we're looking at our loaner from the perspective of the recently updated 2024 model, as pricing will be adjusted to reflect the most recent updates. A goodie bag of added standard safety equipment inflated pricing out of being a sub-$30,000 car. But let's face it. Destination, taxes, and annoying markup meant these were never sub-$30,000 cars, anyway. Thankfully, all BRZs across all trims and model years are pretty much mechanically identical, so that should make your window shopping a little easier.
| | |
| --- | --- |
| Base price (2024): | $31,315 |
| As-tested price (2024): | $33,815 |
| Engine: | 2.4-liter flat-four |
| Transmission: | 6-speed manual |
| Drivetrain: | rear-wheel drive |
| Power: | 228 horsepower @ 7,000 rpm |
| Torque: | 184 pound-feet @ 3,700 rpm |
| Redline: | 7,400 rpm |
| Weight: | 2,815 pounds |
| Zero-to-60 mph: | 5.4 seconds |
| ¼-mile: | 13.9 seconds @ 101 mph |
| MPG: | 20 city, 27 highway, 22 combined |
| Observed MPG: | 28.7 |
| Fuel Capacity: | 13.2 gallons |
(Author's Note: Performance numbers reflected in Car and Driver's review from January 2022. Our press loaner is a straggler from 2022, but pricing has been adjusted to reflect the equivalent 2024 car.)
BRZ exterior design
This second generation of Subaru BRZ wowed its fanbase with a premium and aggressive redesign, conjuring visions of cars that cost tens of thousands of dollars more. Everything from the steeply swept-back headlights to the fender vents screams honest-to-goodness sports car, while the profile stays true to the long-nose, short-deck formula that makes legendary sports car designs of old so iconic.
If you find this overall design unattractive, you should be condemned to a lifetime behind the wheel of a Mitsubishi Mirage (uh, duh, I'm still going to link that). Count your blessings we even have cars that look like this in such a price range.
Any foibles with the BRZ stem from Subaru's tweaks to differentiate it from its Toyota counterpart and better suit the Subaru design language. The lack of a decklid spoiler that this car desperately needs and the quirky hexagonal smile are apparently what makes a Subaru a Subaru. However, shoutout to the World Rally Blue Pearl paint, a redeeming quality that's never done justice in photos or press material. This is an upscale color that anyone with functioning eyeballs would enjoy, even against the dark, hazy fog of an autumn evening in Monterey.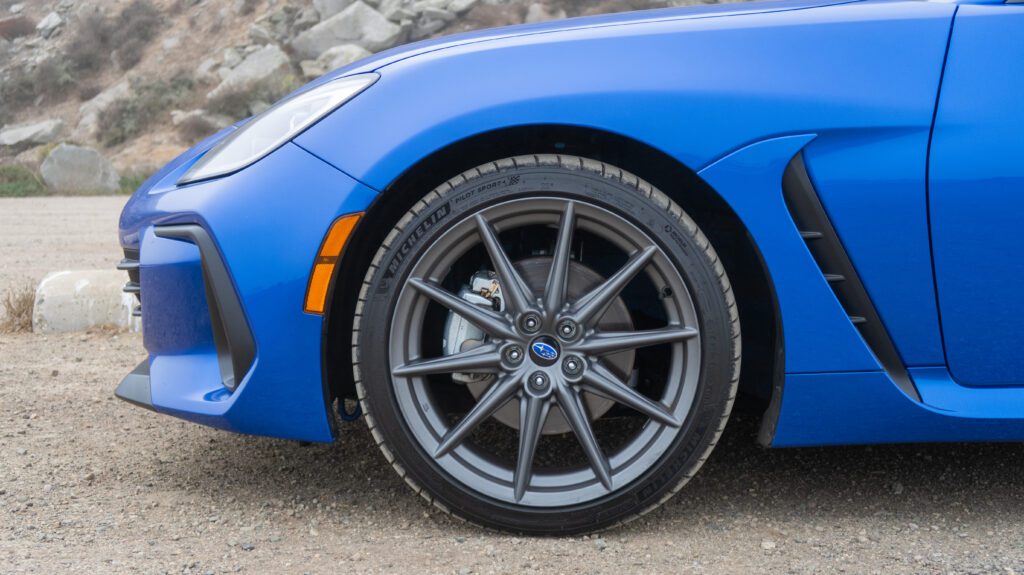 What's hot?
– A refreshing palette cleanser for what good driver inputs are
– Potent engine drastically improves speed and acceleration
– Lightning fast on even the tightest of roads
– Shocking comfort and compliance over the worst pavement
– Easily beats its EPA mileage figures
– More than practical enough for everyday use
BRZ pricing breakdown
Fascinating! The cheap budget sports car is priced cheap for buyers on a budget. Pricing on 2024 models reportedly begins at $31,315 for the base Premium, which includes a $1,050 destination charge. Shoot for a Limited like ours, and the price jumps to $33,815, which gifts your less-than-frugal spending with suede interior accents, heated seats, larger 18-inch wheels wrapped in Michelin Pilot Sport 4 summer tires, an upgraded audio system, and cornering headlights.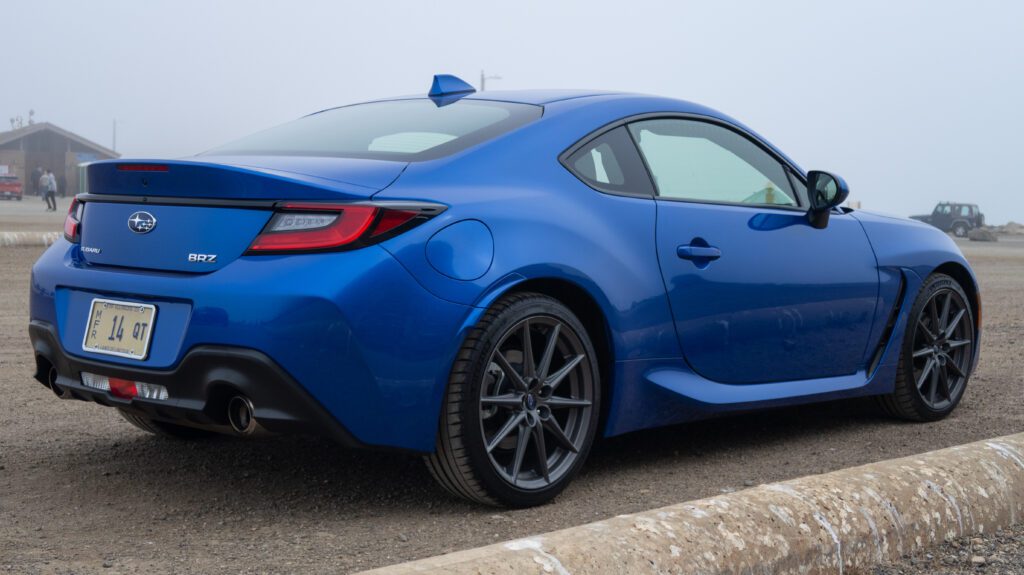 The recent price increase does afford Subaru's EyeSight safety systems as standard on all models, including manual transmission-equipped cars. Now wannabe tofu delivery drivers can enjoy the extra watchful eyes of adaptive cruise control, collision prevention, lane departure warning, and lead car start warning. A new high-performance tS model also enters the lineup at $36,465 rocking a blue-accented interior, Brembo brakes, and retuned dampers by Hitachi.
As for options, there aren't many. At least not in the way of performance or amenity-altering packages. What you see on any trim of BRZ is what you get, with the only main option being your choice of an automatic transmission on Limited cars for $950. Prior model years offered automatics on both Premium and Limited trims.
BRZ interior and tech
As expected for the price range the Subaru BRZ is pretty sparse compared to today's crop of sport compacts and sports cars. It's almost like a Lotus Elise to their Bentley Continental. But in all seriousness, there's everything you need and little of what you don't. The interior is a modernized evolution of the previous car, with a flat dashboard that's great for resting stuff (or mounting aftermarket gauge pods) on road trips. The lower portion of the passenger side just above the glove box could've been a neat shelf, but oh well.
The digital cluster that switches between a circular and bar-style tach in Track mode is a fantastic touch and can display heaps of performance and trip info. But the real star is the 8-inch touchscreen, leaps and bounds ahead in quality and functionality than any head unit to have come in BRZs before. It's quick to your touch, runs Bluetooth and Apple CarPlay without a hitch, and is well-integrated instead of resembling some tacked-on afterthought from Circuit City. Also included on our Limited tester was blind spot monitoring, adaptive cornering lights, and a six-speaker stereo that bumps quite hard for what it is.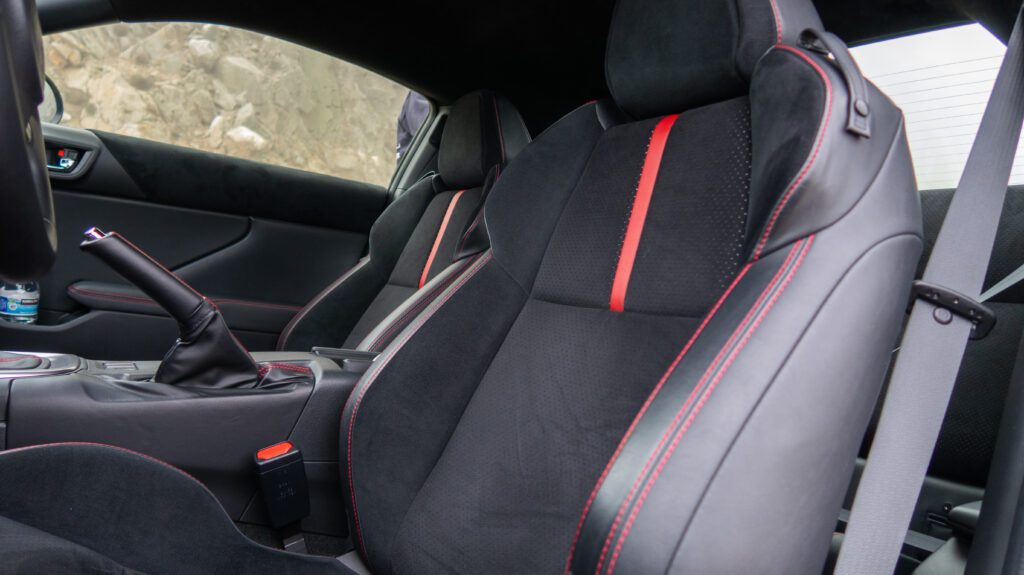 Again, note that 2024 models include the aforementioned suite of EyeSight tech as standard, even with manual transmissions, a first for the BRZ. So add adaptive cruise and the litany of safety warnings. So new buyers can finally drive more at ease on their way to the hillclimb route. Even so, the BRZ is not a complicated car, as much of its cost goes towards handling and driving involvement first and foremost. But how has that affected its ability to be used as just a normal car? Surprisingly, not much at all.
The tiniest grand tourer
Deceptively accommodating
I knew the Subaru BRZ would be exemplary in the twisties. That's not news. Ultimate enjoyment is what it was bred for. But a day in Los Angeles and hundreds of miles traversing the BRZ's antithesis, the American freeway system, highlighted a hidden side to the BRZ I never knew existed.
It's just a damn fine car. Like, a car car. Just a car. You can use it as a normal-ass car with minimal compromises. Who would've thought? Not me. Not when a majority of the BRZs and 86s I've experienced have been purpose-built for performance and modified to high hell. But there's a lot to get jiggy with in a stock BRZ.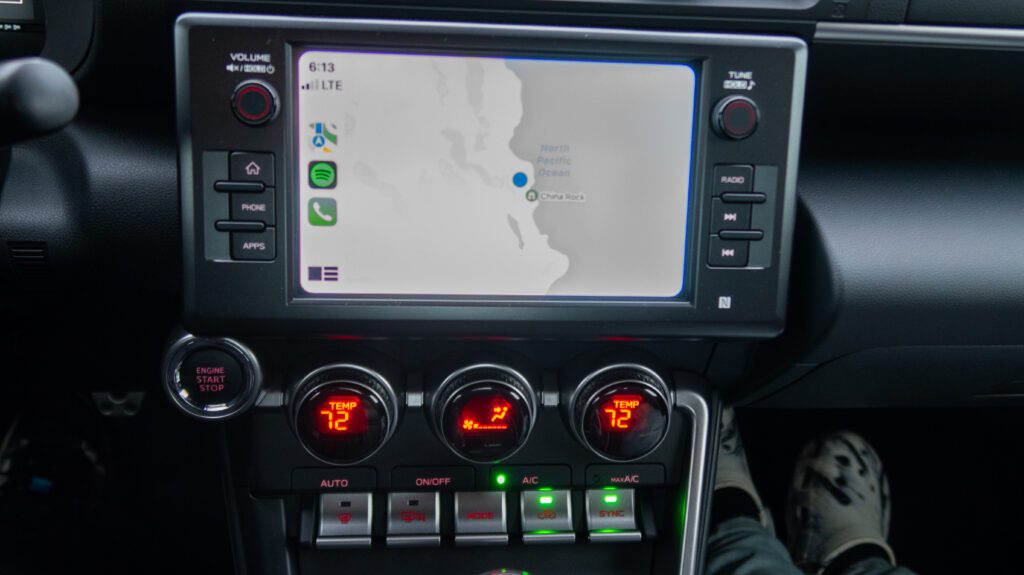 The interior, even if you're a six-and-a-half-foot walking tree like this one 86/BRZ fanatic friend of mine, is plenty spacious. Seats are comfortable enough for my journey up the coast, with supportive bolstering that's not intrusive and heated seats that comically range from "eh, kind of warm" to "WELCOME TO HELL." The trunk swallowed two large backpacks and a medium-ish duffle bag with ease, and anything extra my adventuring buddy or I needed was able to be shoehorned in the gaps. Worst case scenario, the rear seats, useless to anyone over the age of 8, make for secure luggage shelves. Visibility was top-notch, and the digital gauges and touchscreen were within easy reach and perfectly legible in the dead of night or midday.
These traits make for an excellent everyday commuter in the dense concrete jungle of LA. Tight parking garages, battered side streets, and narrow alleys were no problem for something this small. However, the low-slung ride means you'll still have to take the steepest driveways at an angle. God help you if you're on coilovers.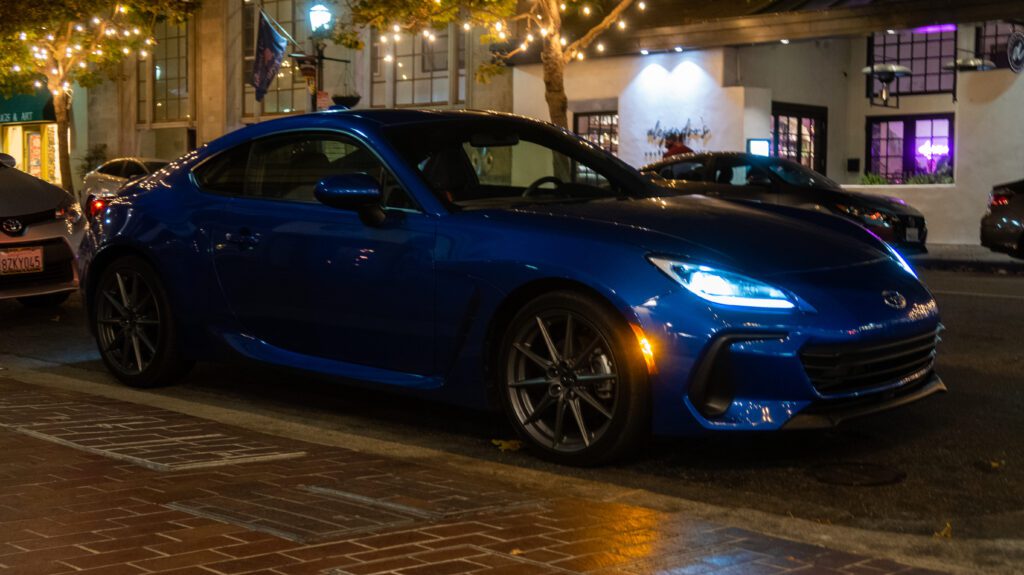 The pride of Japan versus American highways
Most impressive was the BRZ's highway manners cruising up Route 1 and 101 from LA to Monterey chasing GRIDLIFE Laguna. The EPA rates our manual-equipped tester at 27 mpg on the highway. That's a little pessimistic. Set our cruise control to 75, and my friend and I saw an easy 30 to 32 mpg for most of our highway journey and averaged over 28 mpg during our entire press loan. In cities and towns, I was seeing around 21 to 22, also besting the EPA estimate of 20 mpg. Trips to the gas station won't be as frequent as you think.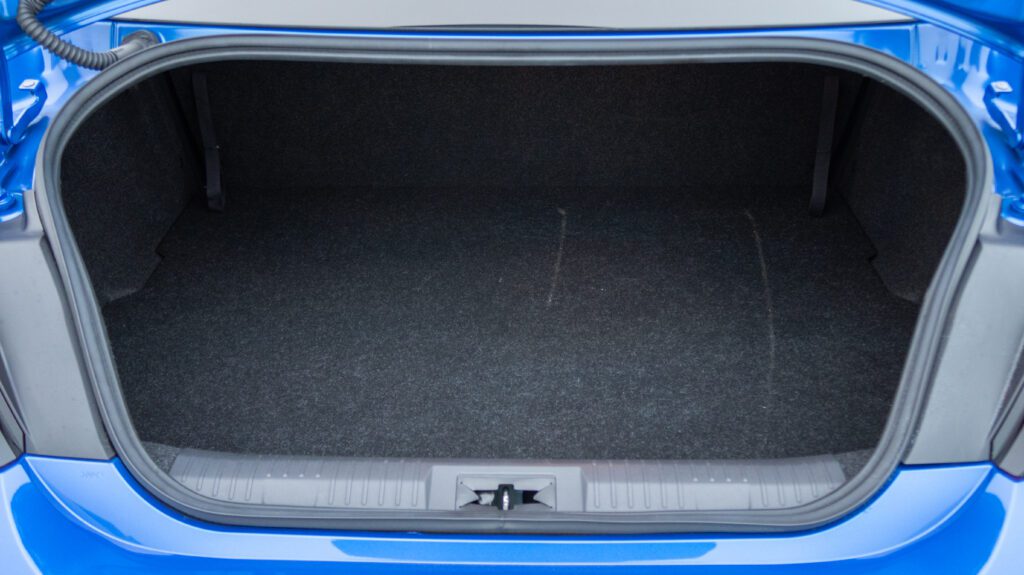 This runt tracks straight on its factory alignment, making highway excursions less of a chore, and its sound-deadening is commendable enough if not anything to write home about. Ride quality was the true standout on California pavement, however. Expansion joints, potholes, and gravel were no match for unfathomably compliant suspension tuning in such an inexpensive, short-wheelbase performance vehicle. Dare I say this is the world's smallest grand tourer? It's that livable in stock form.
Like many great split-personality cars, its dulled edge almost makes you forget just how potent of a performer it is. And this the Subaru BRZ is as distilled of an experience as modern sports cars come.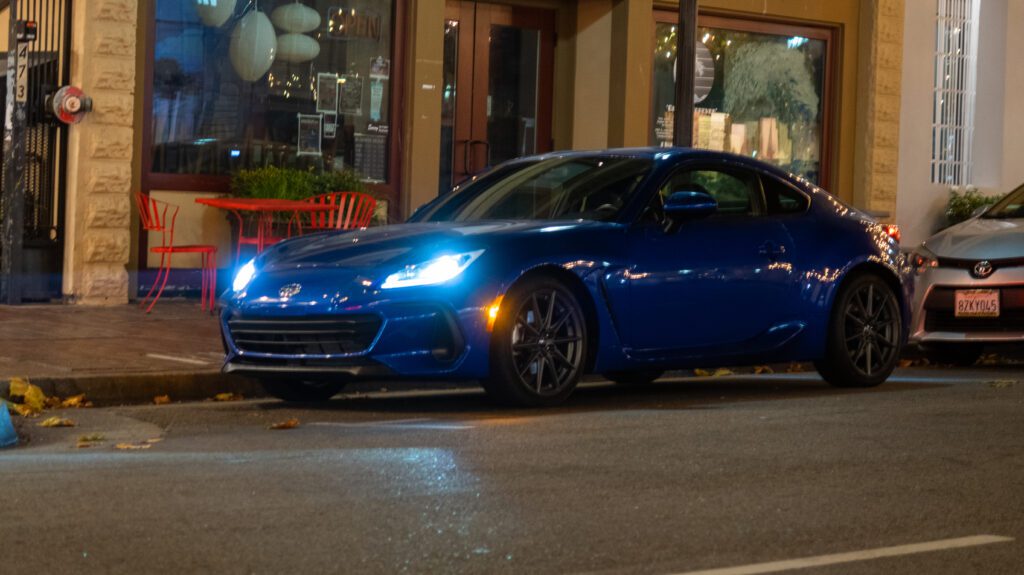 An example of driving excellence
Say it with me. It's quick.
Subaru heard your cries about the last car's motor. They said, "Shut the hell up, we're working on it."
And so they have. Because this FA24 flat-four is a skittish, leash-tugging sweetheart. Aside from making some disconcertingly agricultural noises, especially low in the rev range, it's surprisingly smooth and oh-so willing to zing right up to its redline. 228 horsepower and 184 pound-feet feels a hell of a lot more potent in this car than those numbers suggest, and it's more of a mind twist to learn how these second-gen cars are starting to punch above their weight.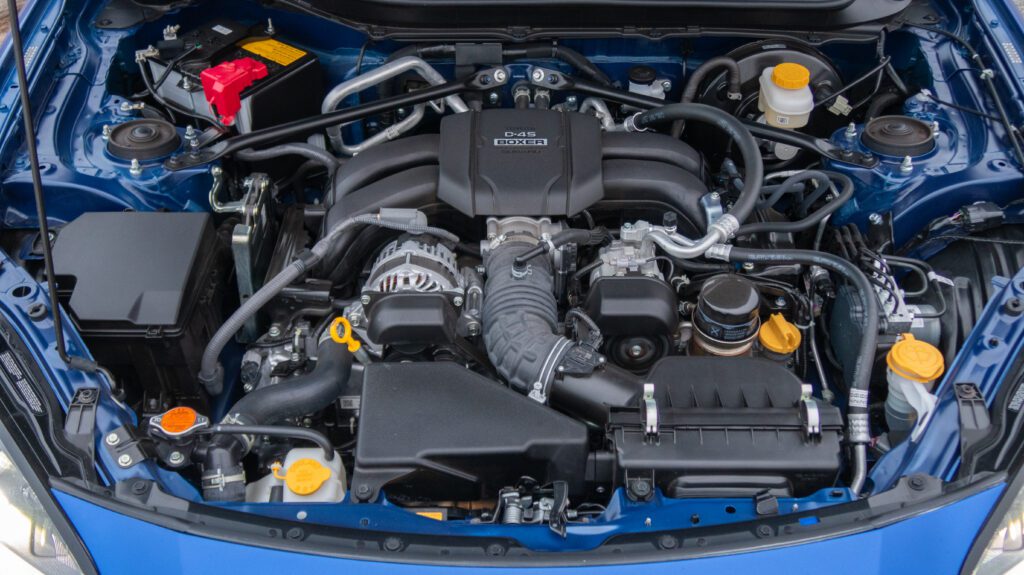 The added grunt and near-elimination of the infamous torque dip equate to magazine test numbers that are consistently within a stone's throw from more powerful turbo-four and V6 pony cars. The BRZ rewards you with short gearing that not only aids acceleration but also encourages you to enjoy the art of rowing gears. Screw the old stereotypes because the new BRZ is genuinely quick. It's quick. I've driven Porsches, AMG GTs, and Corvette ZR1s and have ridden in Model S Plaids, so say this with me. The current Subaru BRZ with its FA24 is quick.
It's a shame this spritely powertrain is neutered by one of the most intrusive fuel cuts. It stops the party if you edge just a smidge too far past the redline, which is easy to do with such short gears and a quick-revving engine and doesn't seem to restore power until somewhere above 7,100 rpm. What. Horse. Shit. Why such a harsh cut was implemented baffles me. But it's the BRZ/86 platform, after all, so it's nothing a tune can't fix. Hard rev limiter, anyone?
Decent powertrain. Impressive, even. Now Subaru, please resolve the on-track oiling issues. No, I will not elaborate. You know well enough.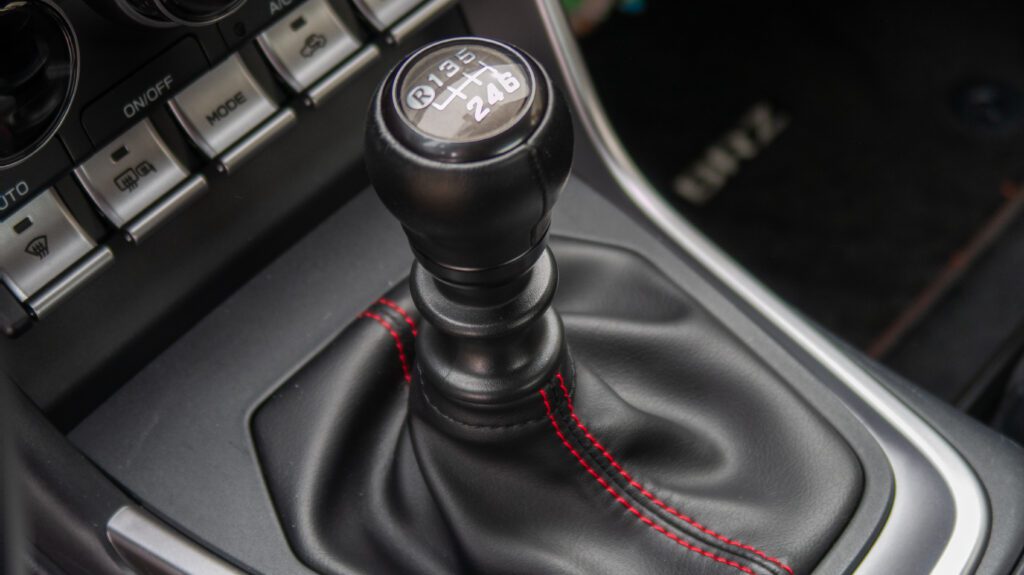 With beauty and grace
From the countryside back roads behind the Monterey hills to harrowing downhill canyons of Malibu, the BRZ makes short work of them all. There's no real drive mode aside from Track, which cuts out stability and traction control. Just slot this tinker toy in gear, drop the hammer, and disappear beyond the apexes, a daunting feat made brainless by this well-balanced machine.
It darts. It dives. Despite its seemingly relaxed factory alignment, it attacks corners with an eagerness and tenacity that'd have Cayman-killers like an Integra Type S on high alert on your average touge. And that supple ride I adored so much means you can still haul ass around the most tattered bends and hold the line without upsetting the chassis or shattering your spine.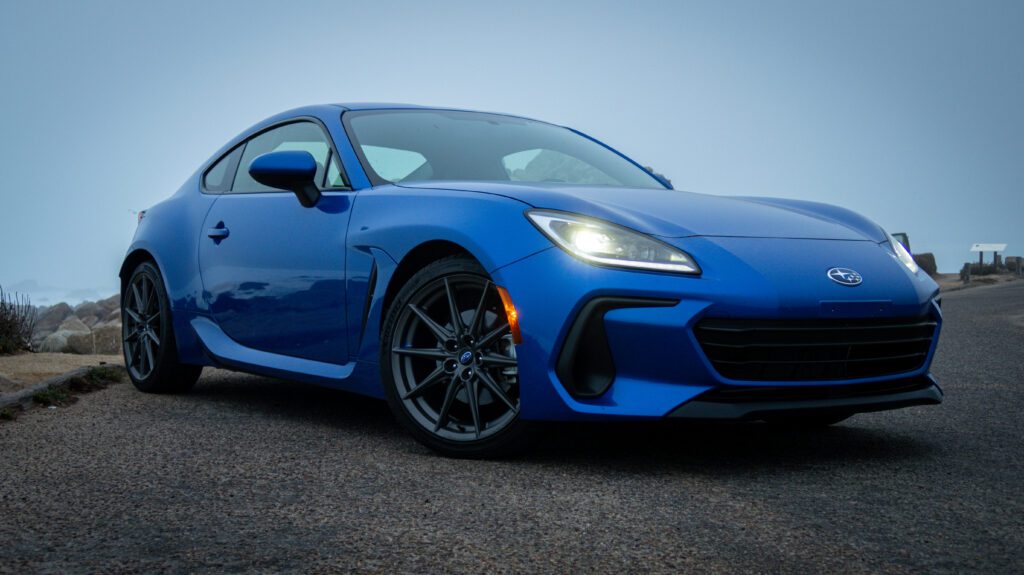 The brakes were decent. The firm pedal and strong performance inspired confidence on the tightest of asphalt ribbons high in the hills, but the sheer speed you can carry so nonchalantly quickly produced the all-too-familiar aroma of burning pads at the end of a particular Malibu canyon. Track rats may want to consider more resilient pads and fluid or jump ship to the tS and its larger Brembos.
The steering, although a step back in weighting from the deliciously hefty and natural rack of the previous-gen cars, is Porsche precise. I'm never making second guesses in the corners. Never having to adjust. The only steering corrections made were when trying to let the rear end stretch its legs a little, but against the stereotypes, it was a task that proved to be trickier at slower canyon speeds with my Limited tester's Michelin summer rubber. Still, that level of capability paired with such beauty and grace makes you feel like a real hero. There's a fluidity in the way this car moves that's hard to match, resulting in one of the most confidence-inspiring and rewarding cars to hustle.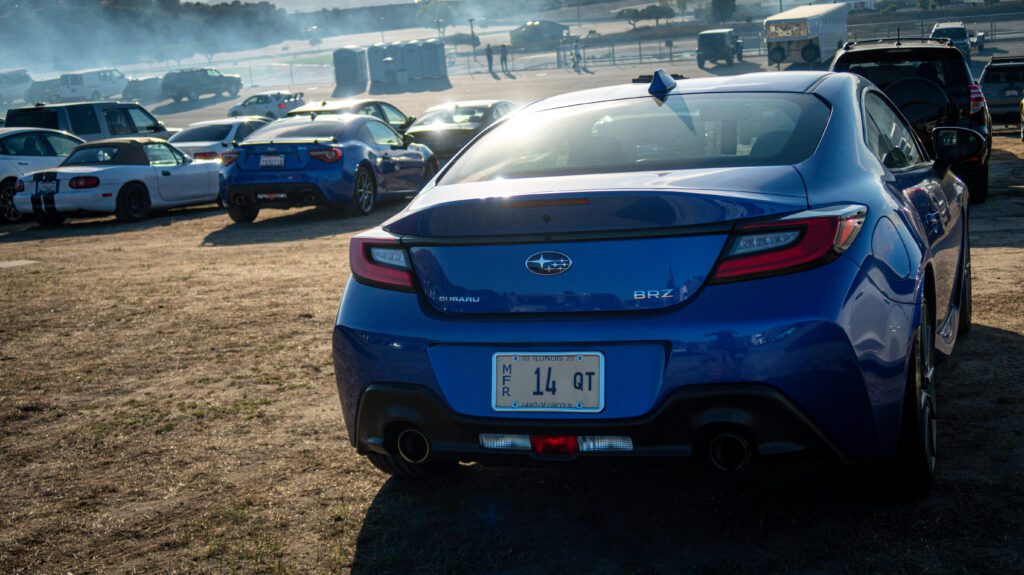 What's not?
– Abysmal fuel cut at redline
– Groaning engine noises
– Infamous on-track reliability concerns are always looming
– More standard features mean a higher price tag for 2024
– Rear seats are little more than an extra storage shelf (see how hard I'm nitpicking here?)
– The Toyota GR86 exists
The Ghost of Akina lives on, with or without a Toyota badge
Halfway through our loan, with that blue pearl paint glistening under the NorCal sun that had just unsheathed itself from the clouds, I already knew everything I wanted to say about the BRZ. The review had written itself by the time the car arrived for the second day of GRIDLIFE Laguna, yet I was dreading the moment I had to give it back. It's such a sweetheart on any occasion.
But despite all it gets right, you can't help but feel that the BRZ gets its toes stepped on by its more youthful twin, the Toyota GR86. The suspension is tuned to favor rotation on track, and many find the GR's simpler mug and the available lip spoiler to be the "proper" look, all for a marginally lower price. But I suppose if you're a die-hard Subaru loyalist or find the more mature appeal of the BRZ to be your jam, that's also fine. Either way, you'll have the privilege of piloting one of the best driver's cars ever made, and that's no hyperbole.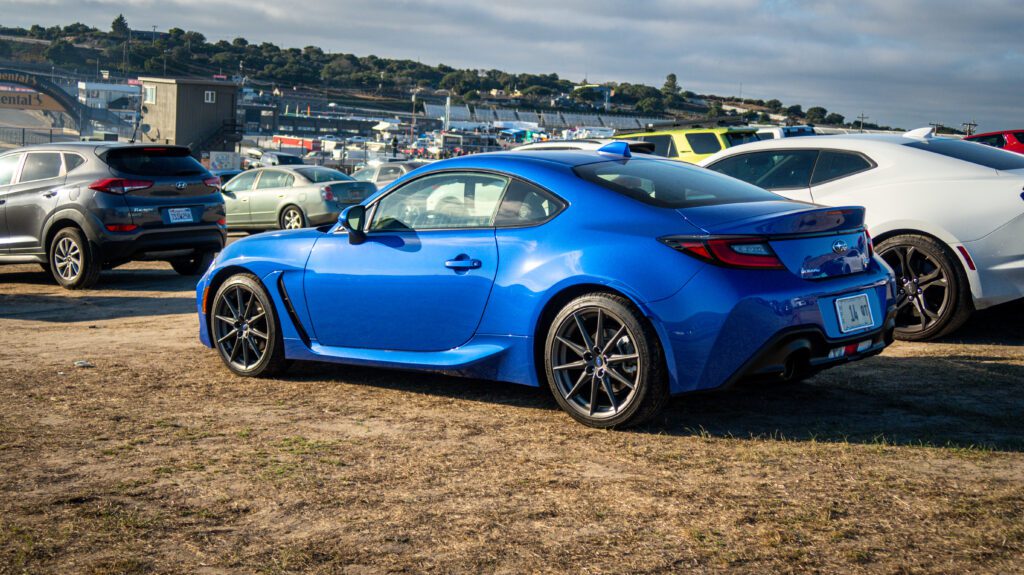 Few cars nowadays cater as fervently to enthusiasts as the Subaru BRZ without soiling their merits as possible tofu delivery vehicles. One moment, you're meandering around town, smashing potholes and darting through alleyways easily and efficiently. The next, you're Keiichi Tsuchiya showing Max Orido how it's done on the Gunsai Touge on some episode of Best Motoring. That type of euphoria should be celebrated! Because in an age of increased borification, who doesn't love a genuine, tactile, old-fashioned, row-your-own, free-breathing, rear-drive, lightweight pocket rocket of a sports car?
Not this guy. I'll take a tS in World Rally Pearl, please.