Professional wrestling is considered one of the most genuinely American forms of entertainment. From its humble origins in vaudeville and carny-ism to its current status as a multi-billion dollar entertainment industry, wrestling has long trafficked in United States-centric tropes. It should come as no surprise that professional wrestling has incorporated another great American pastime into its world of near-make-believe. Of course, I'm talking about cars and driving. Televised grappling has had a number of iconic moments of vehicular violence — so I'm going to count down my five favorite car-related wrestling moments.
Before we dig in:
I know what you're thinking: "Isn't wrestling fake?" Well, yes and no. Are they really connecting with all of the blows you're seeing? Does it really make a loud clapping noise when someone gets kicked in the head? Of course not. But that said, there is still an element of danger, injury, and physicality to professional wrestling. I think the simplest way to put it is that wrestling is a combination of improv, comedy, stunt work, and sometimes even soap operas. It's the kind of entertainment that can be admired from afar or devoured with a near fanatic level — with pretty much everyone able to get exactly what they want out of it.
Some key terms for pro wrestling:
Kayfabe: Probably a pig-latin version of "fake," this is basically the veneer of enhanced reality that lies just above what you're watching at a wrestling presentation. To acknowledge Kayfabe is to be "in on it."
Shoot: This is, basically, the opposite of Kayfabe. A "shoot injury" for instance would be a real injury picked up in a match. You might also hear that a wrestler was "shooting" during a "promo" (or semi-improvised on-mic moment), which means he or she went off-script.
Heel: The "bad guy".
Face/Babyface: The "good guy".
Vince McMahon: A real scumbag. Just a bad dude in general. If you don't already know about him, do yourself a favor and check out Abraham Josephine Riseman's Ringmaster: Vince McMahon and the Unmaking of America.
WWE/WWF: Some of these clips might be from when WWE (World Wrestling Entertainment) was still called WWF (World Wrestling Federation) but I'm just gonna say "WWE" for the sake of simplicity okay?
Alright onward to the list!
5. Edge spray-paints Alberto Del Rio's Rolls Royce
Date: Airdate: April 8, 2011 (WWE Smackdown) Taping date: April 5, 2011
Wrestlers involved: Edge and Alberto Del Rio

Background: Alberto Del Rio's character represents a long history of pro wrestlers tasked with wealth-related heelwork. At Wrestlemania 27, Del Rio flaunted his financial status by arriving in a Rolls Royce Silver Spirit and dressed up in a designer suit. Money Plane star Edge felt that Del Rio was hogging Pay-Per-View (PPV) time by milking the moment, even hugging the Rolls Royce — but do you blame him, look at that thing!

How it went down: In what you'll see is a bit of a theme for this topic, on-site security at televised wrestling events must be absolutely awful. Somehow, Edge was able to get Del Rio's Rolls Royce on a flatbed which he proceeded to drive right into the middle of Time Warner Cable Arena in Charlotte, North Carolina. Not content to just interrupt Del Rio's promo, the man known only as "Edge" spray-painted the classic luxury car, even going so far as to smash the windshield in.

How much damage was done: While the spray paint could easily be removeable, Del Rio was likely looking at spending a pretty penny to get his Rolls Royce back on the road. That said, the flatbed in this segment makes me doubt this particular Royce was doing much rolling regardless.
4. The Backlot Brawl
Date: March 31, 1996 (Wrestlemania XII)
Wrestlers involved: "Rowdy" Roddy Piper and Goldust

Background: The Backlot Brawl, a partially pre-taped match from Wrestlemania XII, bears no small resemblance to two late-century American cultural touchpoints: the long fight sequence from Piper's own star turn in John Carpenter's 1988 masterpiece They Live, and (confusingly!) the OJ Simpson murder trial. I'd like to take a quick moment here to say that if you have somehow not seen They Live, it still absolutely goes. RIP Roddy Piper.

How it went down: Both Piper and Goldust (who now wrestles for All Elite Wrestling (AEW) under the name Dustin Rhodes) considered this match to be something of a mess. The outdoor sequence, although presented as happening live during the PPV, was actually pre-taped about two weeks before the event. This sort of presenation is now called a "Cinematic Match," and bears more resemblance to a fight sequence in a movie than most wrestling matches. As you can see in the clip above, there's no shortage of punches, kicks, and bodyslams into cars parked in this backlot — including a gold spray-painted Cadillac and a White Ford Bronco.

According to both combatants, they had no idea what was going to happen next. The plan was for the finish to happen live in the ring at Arrowhead Pond of Anaheim in Anaheim, California following an extended cutaway to a car chase… A car chase that included footage from OJ Simpson's infamous 1994 getaway.

That's right, Vince McMahon licensed actual news footage of the OJ Simpson chase for a cheap joke at a PPV. The match itself is absolutely worth checking out in its entirety, if only for a reminder of the absurdist outsider art that WWE was making in the mid-90s.

How much damage was done: Presumably not much actual harm came to either of the vehicles used in this segment outside of the various body slams. According to interviews, both wrestlers were hospitalized following the taping of the cinematic portion of this fight, meaning they had limited time to heal up before the big event.
3. Braun Strowman flips an ambulance
Date: April 10, 2017 (WWE Monday Night Raw)
Wrestlers involved: Braun Strowman and Roman Reigns

Background: I'm gonna be totally candid on this one: This was basically the thing to get me interested in wrestling again. When I saw Braun Strowman flip this danged ambulance I just knew I had to see what exactly was going on at WWE. Although it may come as a surprise to current WWE fans, in the mid 2010s, "The Fed" had one hell of a time getting Roman Reigns "over" (or popular). They teamed him up with other badasses like Dean Ambrose (now the brutally bloody Jon Moxley over at AEW) but nothing seemed to work. Even this particular moment, I can't exactly grok what the inciting moment was. All you really need to know is that Strowman was mad at Roman Reigns and for some reason this got covered by the New York Daily News.

How it went down: The video speaks for itself. We see Strowman brutally beating Roman Reigns. After a continued onslaught, Roman Reigns is whisked off by the emergency crews into a waiting ambulance. At this moment it's worth noting that WWE does not provide health insurance to its wrestlers, who are classified as contractors. But all that is moot regardless because on this particular night, Roman Reigns' emergency transport was about to have an unexpected mechanical failure. That is to say, it got flipped over all the way onto its danged side by the 6'8″, 335 lb. Strowman.

How much damage was done: I'm not sure exactly what kinds of injuries one might sustain if your ambulance flipped over, but fortunately this one was all stagecraft and movie magic. That said, it's absolutely fun to believe, so I'm not going to judge you if you do.
2. Vince McMahon's limo explodes
Date: June 11, 2007 (WWE Monday Night Raw)
Wrestlers involved: Vince McMahon and ???

Background: Once again, if you're in any way interested in the history of the WWE or Vince McMahon's various scandals, you should check out Abraham Josephine Riesman's Ringmaster. The long and short of it is that Vince took over the company that eventually became WWE from his father Vince Sr. and ruled with an iron fist (see that John Oliver clip I linked to earlier). One of his more intriguing business decisions was making himself an on-air personality — and not just any on-air personality. He was a full-on heel, taking on the likes of "Stone Cold" Steve Austin in elaborate feuds. Vince even let Steve Austin smack him in the face with a hospital bedpan and there's no faking that. He played the role of tyrant, bad boss. He's the guy all the good guys hate and he loved the hate he got from his audience. Then, one day in June 2007, there was a tragic incident during Monday Night Raw.

How it went down: Instant reaction to the stunt was nuclear. People in and out of the industry were left wondering how WWE had pulled it off. As legend has it, Donald Trump himself was fooled — calling WWE HQ in Stamford, CT the next morning and talking to Triple HHH to make sure his buddy Vince was okay. As HHH himself tells it:
"What kills me is, so many people called — I mean, the office the next day, people … I'm not kidding you. And he'll probably be mad at me for saying this, but like, Trump called, and was like, 'Did something happen to Vince?' It's just the magic of television, you know what I mean?"

Source: IWNerd.com
How much damage was done: While a real limo was blown up, not much came of the stunt. Just a few weeks later, real-life tragedy struck the WWE when star wrestler Chris Benoit murdered his family and took his own life. Showing uncharacteristic restraint, WWE dropped the "Vince McMahon is dead" storyline and simply never spoke of it again.
Bonus Entry: Hulk Hogan vs. The Giant ft. monster trucks
Date: October 29, 1995 (WCW Halloween Havoc 1995)
Wrestlers involved: Hulk Hogan and The Giant

Background: Noted friend of the free press Hulk Hogan was one of the most major defections from WWE when Ted Turner and Eric Bischoff's WCW started to gain momentum in the mid-90s. As such, he was often featured in major WCW storylines and PPVs, including this bizarre match from Halloween Havoc 1995. A few weeks prior, The Giant (later to be known as Big Show) ran over one of Hulk's motorcycles with a monster truck. Naturally, this meant that they would have a monster truck sumo match directly prior to The Giant challenging Hulk for his WCW Title.

How it went down: Mercifully, WWE (who owns WCW's back catalog now) has uploaded this entire match to YouTube so everyone can see this weird mess. In a pre-taped cinematic segment, we see The Giant and Hulk Hogan have a lengthy (too long?) sumo match with monster trucks and then The Giant simply… falls off the roof of the stadium. Next thing you know, they're in the ring having a match. It's worth checking out or at least scrubbing through.

How much damage was done: Seeing as The Giant survived his fall, I'd say relatively little damage. I guess a monster truck did run over Hulk's motorcycle though. Put it on the board.
1. The Parking Lot Fight
Date: September 16, 2020
Wrestlers involved: Best Friends (Trent Beretta and Chuck Taylor) and Proud & Powerful (Santana and Ortiz)

Background: Okay so this is legit one of my favorite wrestling matches and storylines ever so I'll try to keep it short. When the pandemic hit, WWE and upstart competitor All Elite Wrestling (AEW) had to do some heavy improvising. This meant taping batches of episodes and then allowing wrestlers to go home, self-isolate, and rest after a brutal couple days of work. The shows from March 2020 through the end of the year are quite the spectacle in and of themselves. With filming having to take place behind closed doors, "jobbers" (or lower-ranking wrestlers) had to serve as the crowds for the shows.

As they say, hard times breed innovation and AEW certainly innovated. Thanks in part to the company's owner Tony Khan's status as co-owner of the Jacksonville Jaguars, the wrestling promotion had access to a sizable concert venue (Daily's Place) as well as the stadium itself. They made good use of this space, including first Stadium Stampede, a cinematic match that used the entirety of TIAA Bank Field's empty confines.

The build-up to this match was pretty straight forward. Comedy tag team Best Friends, who with their other friend Orange Cassidy have brought some much needed levity to televised pro wrestling, got a number of key storylines during the pandemic period. After WWE transplants FTR arrived at Daily's Place in a shiny pickup truck, Best Friends joked that Trent's real-life mother Sue Marasciulo would bring them to AEW's weekly show, Dynamite, in her minivan. And then she did. A few weeks later, Best Friends defeated Proud & Powerful in a tag team match and Santana and Ortiz took their frustrations out on poor Sue's minivan. How rude!

How it went down: As you can see from this clip, there are some pretty brutal spots in this match. Bodies are smashed into windshields, engines, and smashed under the hood of multiple vehicles. You can find the entire match on TBS (or maybe TNT)'s app if you look for the September 16, 2020 episode of Dynamite — it's worth seeking out. A surprise appearance from Orange Cassidy saves the day and makes you wonder how long he had been hiding in there. Best Friends got the 1-2-3 and, fittingly, drove off in Sue's new minivan — Trent's mom's middle finger waving in the cool Jacksonville breeze.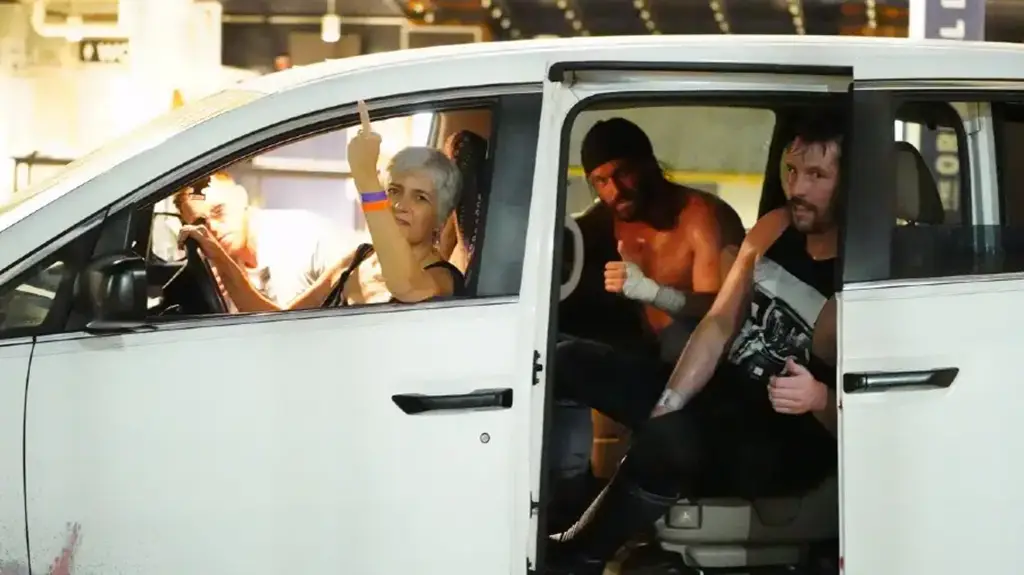 How much damage was done: I have to imagine Tony Khan called in some favors from a few Jacksonville-area used-car dealerships for this one. Real damage was done to at least one minivan as well as windshields, hoods, and doors of multiple vehicles throughout the lot. Also, it looks like a lot of these spots hurt like hell. At the very least Sue got a new minivan out of the deal.
Did we miss any of your favorite car-related wrestling moments? Let us know in the comments, and remember — wrestling is cool and also awesome and there's no reason to be embarrassed that you like it.