Earlier this week, Ford invited Acceleramota down to Brooklyn for an early look at a blacked-out special edition of the Ford F-150 Lightning Platinum trim. Naturally, it's called the 2024 Ford F-150 Lightning Platinum Black, and it offers little more over the regular Platinum model than a few edgier styling choices, including a matte black wrap, standard 22-inch black wheels, black badges, 10 black Bang & Olufsen speakers – you get the idea.
When deliveries start in early 2024, the Lightning Platinum Black will be first production truck with a matte black wrap in Ford's history. Special edition 'Blacked-out' trims of existing models are nothing new for car companies, or even trucks for that matter. Stellantis sells a 'Night Edition' Ram 1500, GM has 'Midnight' versions of both the Chevy Silverado and the GMC Sierra Denali, and there's even a 'Midnight Edition' Nissan Frontier.
2024 Ford F-150 Lightning Platinum vs Lightning Platinum Black
| | | |
| --- | --- | --- |
| Feature | 2024 Ford F-150 Lightning Platinum (w/ no additional options) | 2024 Ford F-150 Lightning Platinum Black |
| Exterior paint | Oxford White | Matte Black |
| Wheels | 20-inch polished aluminum | 22-inch polished aluminum |
| Badging | Platinum | Platinum Black |
| Interior | Light Slate Gray leather | Black Onyx leather |
| Other features | Panoramic sunroof, Bang & Olufsen 8-speaker audio system, 360-degree camera system, Panoramic sunroof, Bang & Olufsen audio system, 360-degree camera system | Exclusive Platinum Black interior accents, Bang & Olufsen 10-speaker audio system w/ subwoofer |
2024 Ford F-150 Lightning Platinum vs 2024 Ford F-150 Lightning Platinum Black
The overlap between well-to-do pickup truck drivers and goths, I imagine, is pretty small. Still, Ford believes enough exist to make 2,000 of 'em at $99,990 apiece – nearly six grand more than the Lightning Platinum without the brooding blackout accouterments. Not counting the base "Pro" model, which is "currently unavailable" on the Ford website and has been since before I launched Acceleramota. The average MSRP of an F-150 Lightning across trim levels is $79, 243 – nearly $30K more than that of the mid-size Ford Ranger pickup; the Lightning is $12,000 more than the gas-powered F-150 as well.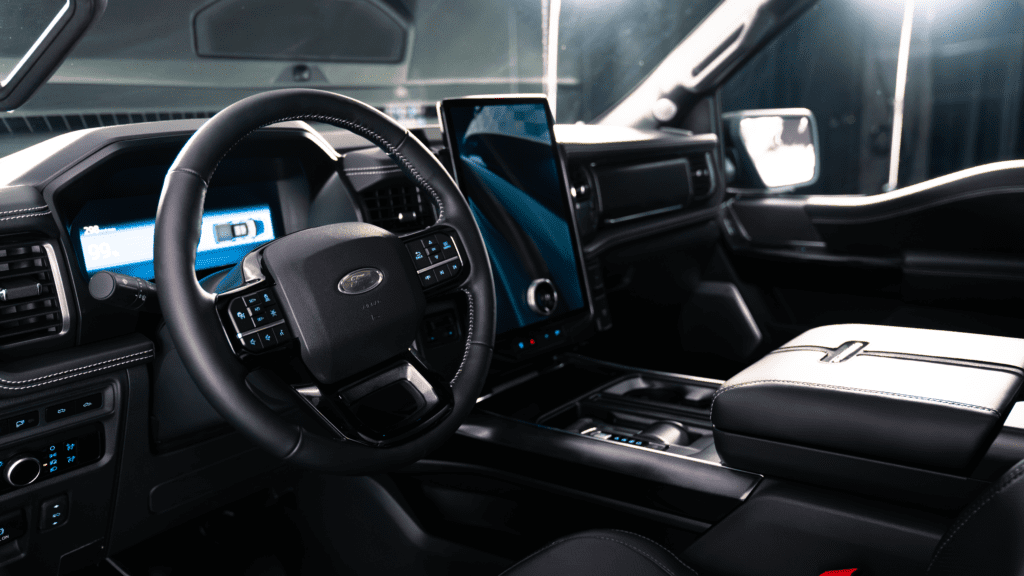 As our own Nathan Meyer reported in his must-read coverage of the 2024 Cadillac Lyriq, the average price of a new electric vehicle (roughly $67K) is much closer to that of a luxury car ($74K) than new vehicles overall ($48K). For The American Prospect last month, columnist Harold Meyerson argued, that the reason Ford's bleeding money on EVs is not because Americans aren't interested, but because car companies have strategically positioned EVs as a "premium" option.
"The big problem for EVs from a price standpoint is that the whole industry has decided that the only way to cater to American tastes is to make their EV fleet out of trucks and SUVs, eliminating the economical sedans that might be affordable."

Harold Meyerson, The American Prospect
Unlike the Lightning, the base model internal combustion engine (ICE) F-150 XL starts at $33,835. Not only will Ford dot com tell you where you can get one, but you can order your truck piecemeal, allowing you to choose your creature comforts – and forego the features you don't need. In the case of the F-150, up until 2023, the base model was about as barebones as you could get: seat adjustments, locks, and even windows all lacked electronic power inputs. (Yes, manual windows were only discontinued this year!) While it does have an infotainment system, the display was less prominent than that of higher trims.
Sure, I imagine most Americans want a vehicle with power windows and locks. But, believe me when I say that some don't. My grandfather, for example, literally lives on his farm. Where he lives, in the rural sprawl of the Eastern Shore, Maryland, you have to drive about half a mile down the street to make a phone call. Ostensibly, he is the target audience for a new pickup. Even the Lightning, which Ford describes as a "true, purpose-built work truck."
Yet, rather than shell out for inessential frills, my grandfather owns a current-generation base model F-150 with rear-wheel drive (RWD), and I think that's great! In fact, most workers you see on farms today are still rocking old Chevy C/Ks, F-150s, and Toyota Pickups from the 90s and early 2000s, back when they were small! While Ford's marketing will have you convinced the F-150 Lightning is built for the American working class, the real starting price tells a different story, and the new, even more prohibitively expensive Platinum Black raises the ceiling without lowering the floor. Putting aside for a moment Ford is a corporation that values high margins over affordability, this fun little side project is a waste of resources when lower-cost trims are still hard to find. Not to mention it makes Forcd seem out of touch with its intended base.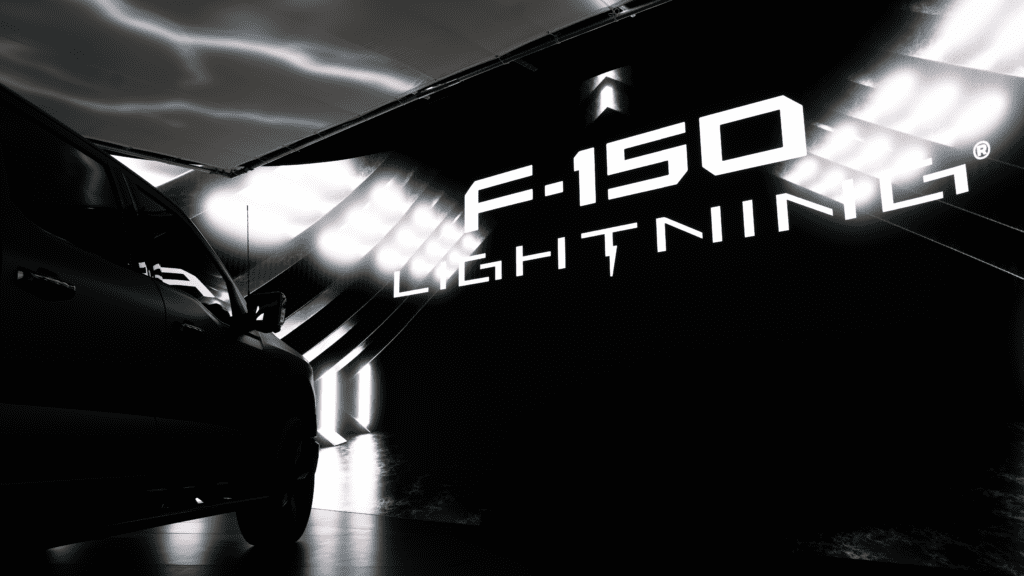 Naturally, the choice to luxury-wash EVs only intensifies the air of skepticism felt by half the U.S. population. Of course, as emission regulations tighten and states like California – if it were a country, the fifth largest economy in the world – pledge to ban gas-powered cars by 2035, affordable EVs aren't a matter of if but when. In the meantime, color-swapping an EV version of America's favorite truck that costs damn-near-$100K isn't the flex Ford thinks it is. If anything, publicity stunts like the Platinum Black (let's be honest, that's what this is) further sour the blue-collar ethos it claims to uphold.
Ford isn't the only, or even the worst, offender when it comes to the "luxification" of EVs. As with many trends in this segment, Tesla started it with the Model S and everyone else followed suit. But, knowing I could buy a slightly used Ferrari California for around the same price as the F-150 Lightning Platinum Black, I have two words of advice for the Ford executive looking down at this blog from their ivory tower: crank windows.