The Ford F-150 Lightning, known colloquially as the Ford Lightning, takes a traditional approach to electrification in that it's not trying to be an interstellar spaceship on wheels. This truck looks and performs like a truck. I'll be damned. The F-150 Lightning offers strong towing and payload numbers, a spacious and upscale interior, and a long electric range.
Though it has been on sale for a couple of model years, Ford still struggles to keep pace with demand, and the wait for a new truck extends to a year for some configurations. Still, if you do find a Lightning for sale, the pickup offers actual truck capability without the need for gas, and that's a compelling proposition for many buyers.
Ford Lightning price and specs
Ford has raised prices on the Lightning a few times since its inception, moving it from the sub-$40,000 starting price to almost $60,000 at the bottom end.
2023 Ford F-150 Lightning Pro
Price: $59,974
Range: 240 miles (standard), 320 miles (extended)
Horsepower: 462 hp (standard), 580 hp (extended)
Torque: 775 lb-ft
Curb weight: 6,015 lbs (standard), 6,361 lbs (extended)
0-60 time: 4.1 seconds (standard), 3.8s (extended)
2023 Ford F-150 Lightning XLT
Price: $63,474
Range: 240 miles (standard), 320 miles (extended)
Horsepower: 462 hp (standard), 580 hp (extended)
Torque: 775 lb-ft
Curb weight: 6,015 lbs (standard), 6,361 lbs (extended)
0-60 time: 4.1 seconds (standard), 3.8s (extended)
2023 Ford F-150 Lightning Lariat
Price: $75,974
Range: 240 miles (standard), 320 miles (extended)
Horsepower: 462 hp (standard), 580 hp (extended)
Torque: 775 lb-ft
Curb weight: 6,015 lbs (standard), 6,361 lbs (extended)
0-60 time: 4.1 seconds (standard), 3.8s (extended)
2023 Ford F-150 Lightning Platinum
Price: $98,074
Range: 320 miles
Horsepower: 580 hp
Torque: 775 lb-ft
Curb weight: 6,893 lbs
0-60 time: 4 seconds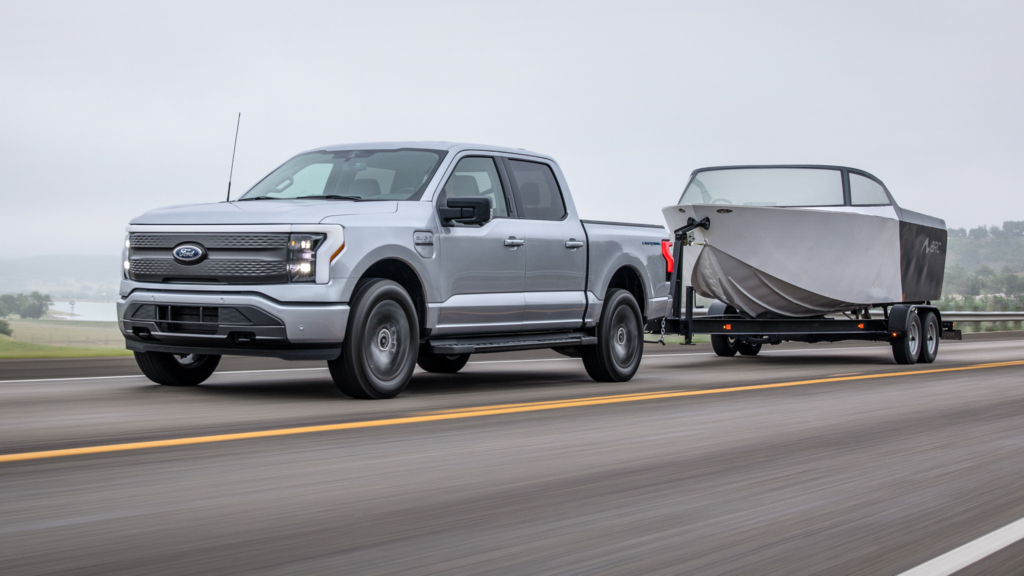 Ford options most Lightning trims with either a standard- or the pricier extended-range battery. Not only does the extended-range battery give you an extra 80 miles of juice, but it also adds nearly 120 horses, bringing the Lightning's official 0-60 time from 4.1 seconds to under 4.
Naturally, the Platinum comes standard with the extended-range battery. The tradeoff is more than 800 lbs of added weight. And sure, that can add a fraction of a second to your 0-60 time, but who's complaining about a 4-second pickup truck? Remember the Ram SRT-10? That thing had a Viper engine and just barely managed under 5. Besides, trucks are all about how much you can haul before you stall, which the Ford Lightning has in spades. With 775 lb-ft of torque gracing the lineup, it's rated for a towing capacity up to 10,000 pounds – although, if we're being real, you probably shouldn't go over 2,000.
Buyers can add towing packages, upgraded wheels, power side steps, and a myriad of interior upgrades. That said, the F-150 Lightning is expensive and has only gotten pricier as time has gone on. Part of that is due to inflation, but it's the opposite of the actions Ford took with its other mass-market EV, the Mustang Mach-E.
The F-150 Lightning currently competes against the Rivian R1T seemingly for the titles of Most Expensive and Hardest to Find. In the near future, the Ram 1500 Revolution, Chevrolet 1500 EV, and GMC Sierra EV will land, giving the Lightning a whole host of electric rivals. The Ram is more traditionally styled like the Ford, but the two GM EVs are futuristic in appearance. Pricing for all is expected to be close to the Ford's MSRP, so we're in for an expensive electric future in which we've subbed burning gas for burning cash.
Ford F-150 Lightning interior and tech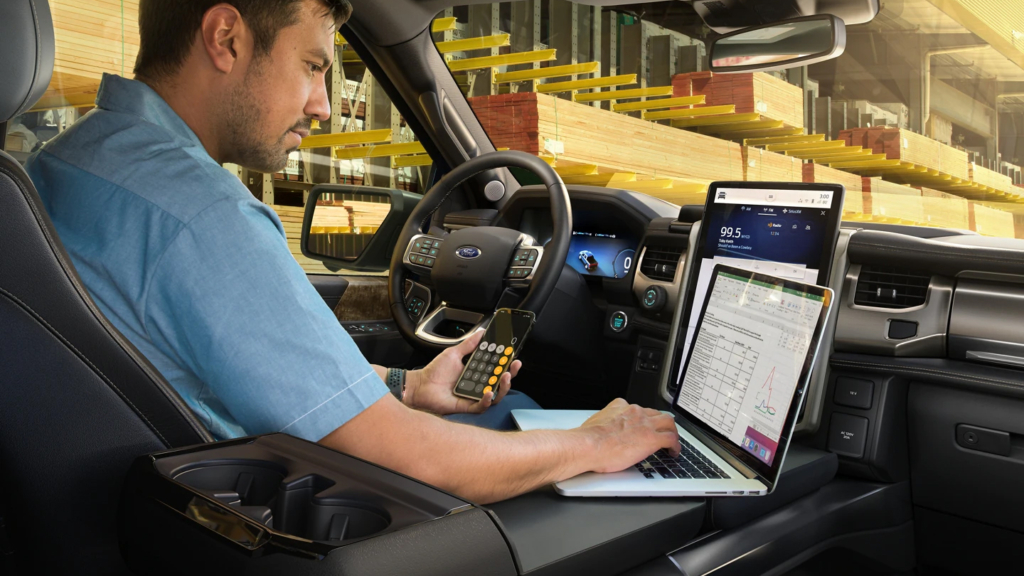 Just like its gas-powered brethren, Ford offers several upgrades and customization options for the F-150 Lightning. While the top Platinum trim brings all the goodies, including leather upholstery and a panoramic sunroof, lower trims can be outfitted with much of the high-end kit through packages and standalone options.
As with most modern vehicles, but especially the electric ones, the 2023 Ford F-150 Lightning follows the polarizing trend that is replacing physical HVAC controls with an oversized tablet. The 15.5-inch touchscreen display in the F-150 Lightning's center console runs the automaker's own Sync 4A software for all your truck specific needs. Thankfully, for everything else, wireless Apple CarPlay and Android Auto (not to be confused with Android Automotive) still remain.
Unlike GM, whose electric Silverado and Hummer trucks have taken to Android Automotive, Ford is sticking to the proprietary stuff, for better or worse. On one hand, because Sync 4A is built by Ford for Ford drivers, its interface is tailor-made to fit the F-150 Lightning. In the main control panel, for instance, the first selection you'll see highlighted is the onboard scales feature – as long as you have the tow technology package. This lets you check the weight of your payload to make sure you didn't overdo it on the supplies for your latest home improvement project.
Like the onboard scales utility, some of the more exciting tech is exclusive to certain packages or options. The 360-degree exterior zone lighting, ambient interior lighting, leather seats, and moonroof are all add-ons, as are the upgraded B&O speakers. Even the trailer brake controller is locked to the tow technology package. But no matter how it's configured, the Ford Lightning comes standard with a host of different drive modes, tons of hidden storage as well as a frunk, built-in navigation, and a stow-away shifter that converts your center console into an in-car workstation.
Ford electrified trucks: F-150 Lightning vs F-150 PowerBoost hybrid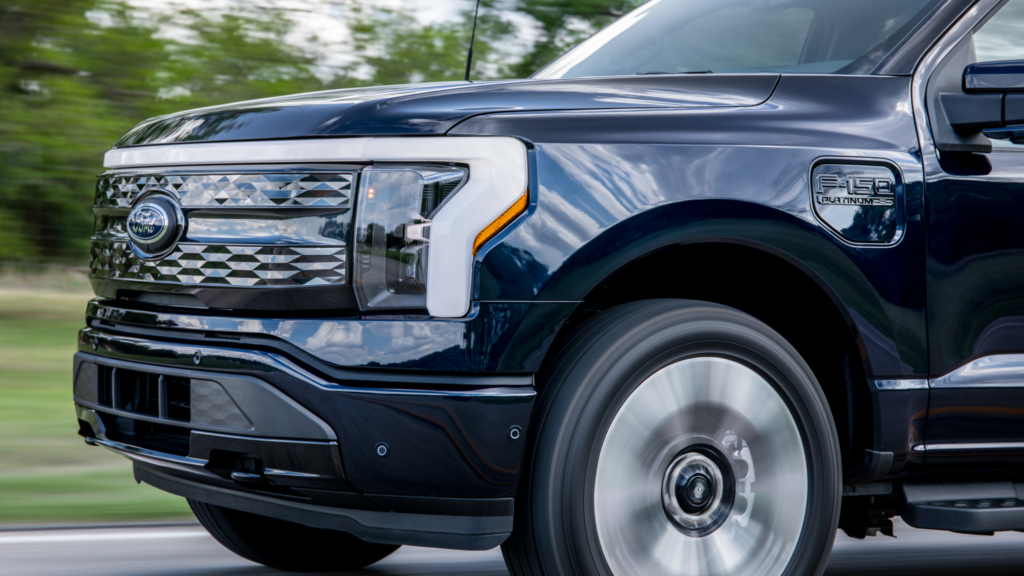 The Ford F-150 Lightning offers similar configurations and options to the standard F-150, including the PowerBoost hybrid truck. They both provide in-bed generators and traditional truck capabilities, but the similarities do not extend to their powertrains. The hybrid powertrain delivers 430 horsepower and 570 pound-feet of torque, giving it stout towing and hauling capabilities – but it still uses gas.
The Lightning offers up to 320 miles of range on a charge and can use DC fast charging to charge from 15 to 80 percent in around 40 minutes for the extended-range battery. The challenge with an electric truck is that doing any "truck stuff" reduces the range. Towing and hauling put more strain on the electric drivetrain and can zap range. Additionally, cold weather can drain the batteries faster, as using the heat and other accessories takes more power.
Pricing is another significant difference between the two trucks. The Lightning easily crests the $100,000 mark in its top configuration with options, while adding the hybrid powertrain to the standard F-150 drives the price upward by about $3,300. Of course, the hybrid requires gas purchases, and despite its improved fuel economy, it can be more expensive to operate. Charging costs money, but it can be cheaper than refueling. Some configurations of the Lightning are eligible for federal tax credits of up to $7,500, but some are too expensive to quality.
Ford Motor Company news
Ford is deep into its electrification strategy and has made progress on its Blue Oval City EV and battery production facility in Tennessee. In addition to the F-150 Lightning, the automaker sells the Mustang Mach-E and E-Transit EVs in the United States. Ford has partnered with Volkswagen and others to produce and sell unique EVs in other countries, but there's no indication that those models will make it to North America.
Ford has struggled with quality in recent years and has faced multiple recalls from all corners of its vehicle catalog. Consumers tend to rate EVs poorly for quality and satisfaction, so it's not just a Ford problem, but the company has spent a ton of time and money fixing quality issues that could have been resolved on the factory floor. CEO Jim Farley has acknowledged the problem and promised a plan to fix the quality issues, but Ford has work to do.