Perhaps lost in the bluster of Apple's WWDC 2023 keynote on June 5, 2023 are some key updates to iOS 17 that should be of particular interest to iPhone users who are seeking a more connected driving experience. While it's understandable that the $3499 Vision Pro AR/VR headset got all the headlines, these new features show that Apple sees a future where iOS is seamlessly integrated into your vehicle.
When iOS 17 is available later this year, Apple iPhone users will be able to:
Use SharePlay to play songs or add songs to shared playlists on an Apple CarPlay-enabled system.
Access real-time EV charger availability.
Download and access offline maps and directions in the Apple Maps app.
Let's take a closer look at these three updates and how Apple CarPlay compares to Android Automotive OS and Android Auto.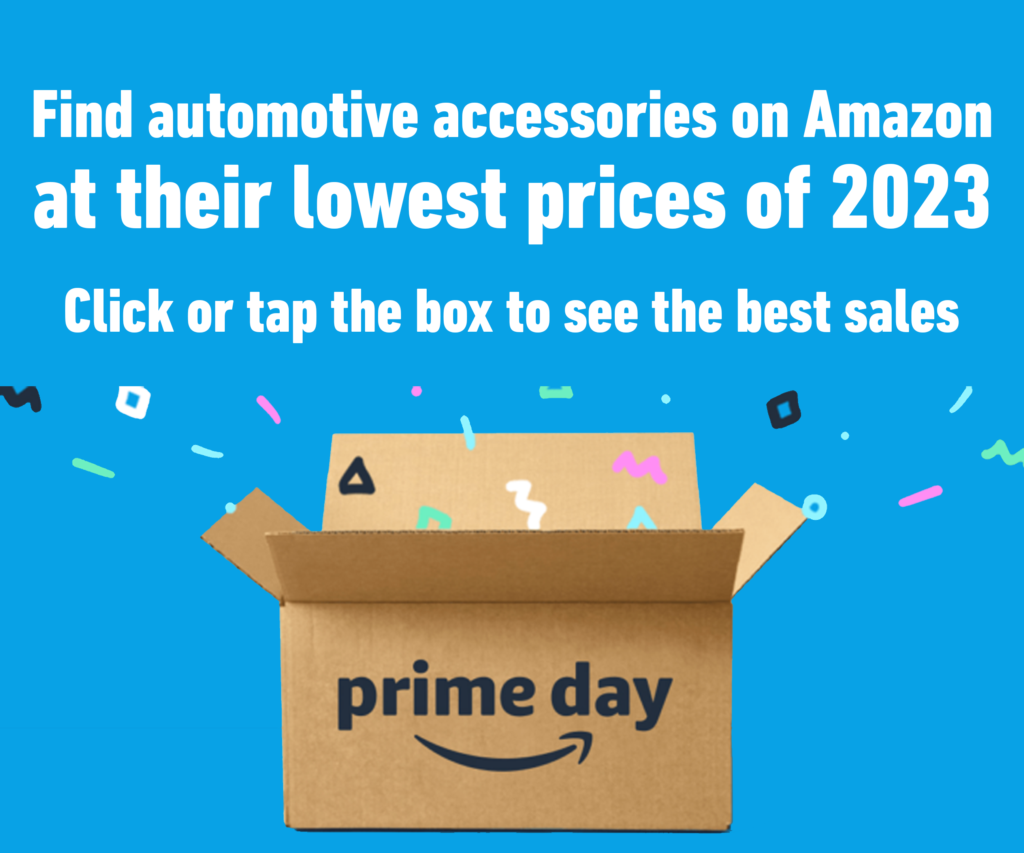 SharePlay makes the aux cable obsolete
We'll start with only one of these three features to get a big moment in the keynote. iOS 17 will include a feature called SharePlay that will allow iPhone users to play songs on CarPlay-enabled systems, even when they're not the one connected. The presentation touted SharePlay's road trip bona fides — no more arguing over who gets to steer the stereo next. Could this be the final nail in the aux cable's coffin?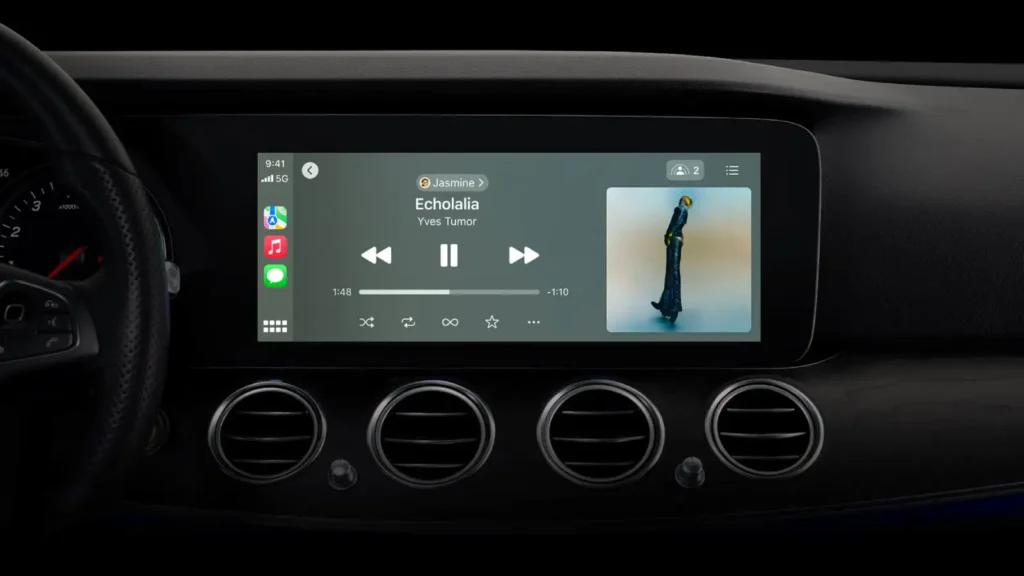 Bonus hipster points for featuring Echolalia by Yves Tumor in the demo.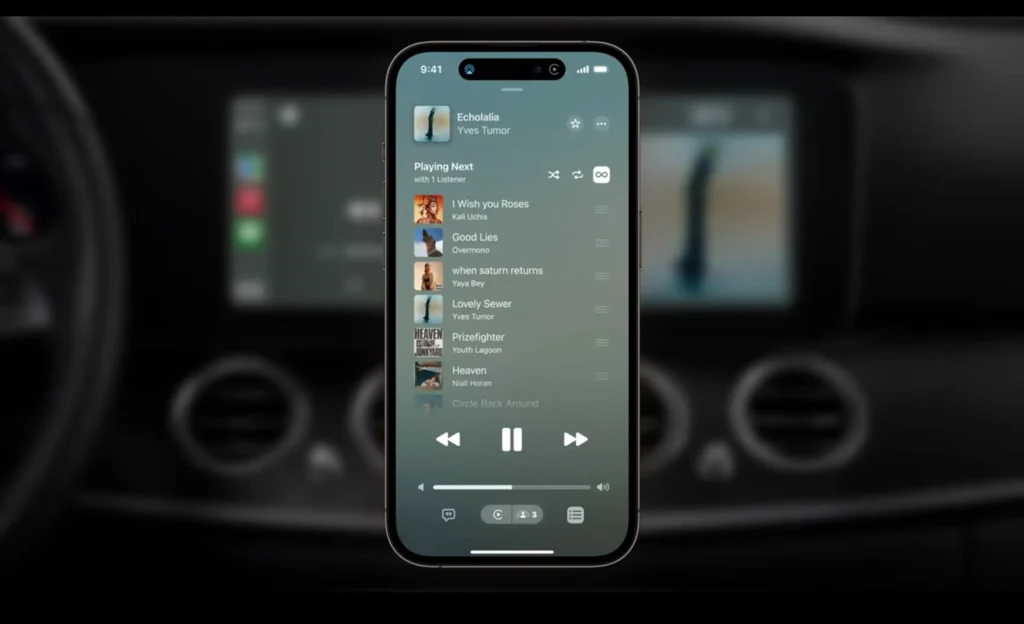 The demo goes on to show how multiple iPhone users can seamlessly add songs to a shared playlist, even if they don't have an Apple Music account. Very kind of the Apple team to let this semester's design interns pick the on-screen playlist.
All joking aside, this feature is quite cool and an absolute game-changer for anyone with CarPlay who hates having to pair another friend's phone with their car every time a new [squints] Youth Lagoon song comes out.
Where we're going, we don't need cell towers
In a blink-and-you'll-miss-it moment, Apple announced that with iOS 17, you can now download offline maps and directions. I'm going to be honest here, I thought this was already a feature of Apple Maps, but I guess not.
According to Apple's Press Release about upcoming iOS 17 app updates, simply select an area to download and you'll have full offline access to search for points of interest as well as driving, walking, transit, and biking directions.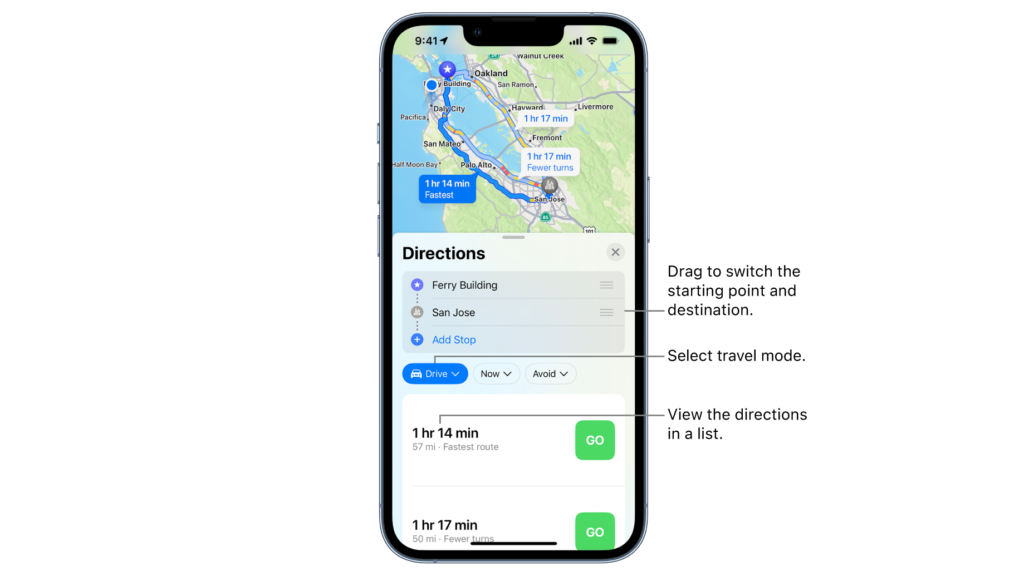 This update will be especially useful for anyone who camps, hikes, or is planning to road trip somewhere a little "off-grid" for a while (I'm looking at you, Cybertruck pre-orderers.)
Another "W" for EVs.
Sneaking into Apple's Press Release but not specifically mentioned during the WWDC 2023 keynote is an update to Maps' electric vehicle charger info layer.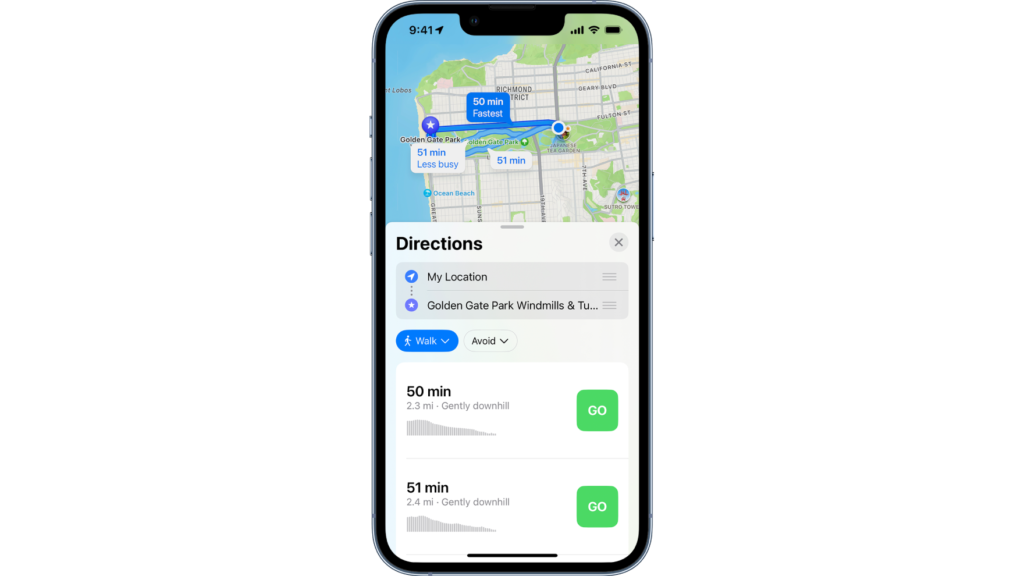 Credit where it's due: it's pretty funny to be showing the chargers on "Battery St." in San Francisco. The art team really went off for this presentation.
Although Apple Maps has included EV charger routing on select vehicles since it was announced at WWDC 2020, the iOS 17 build will feature enhanced, real-time information including charger availability filtered by plug type, preferred charging network, and more.
At launch, this feature will only be available on the two cars that support Apple Maps EV Routing: the Ford Mustang Mach-E and the Porsche Taycan, according to 9to5 Mac.
How does Apple CarPlay compare to Android Automotive OS or Android Auto?
As we mentioned last month, Google has two separate apps for vehicular computing, Android Automotive OS and Android Auto. Android Auto is a phone-based app that interfaces with your car's existing entertainment system. On the other hand, Android Automotive OS was (like Tesla's OS) built from the ground up for integration into vehicle dashboards and console screens.
In January 2022, Polestar showcased the Polestar 2's Android Automotive OS-based infotainment system, calling it the "world's first car with a built-in Android-powered operating system."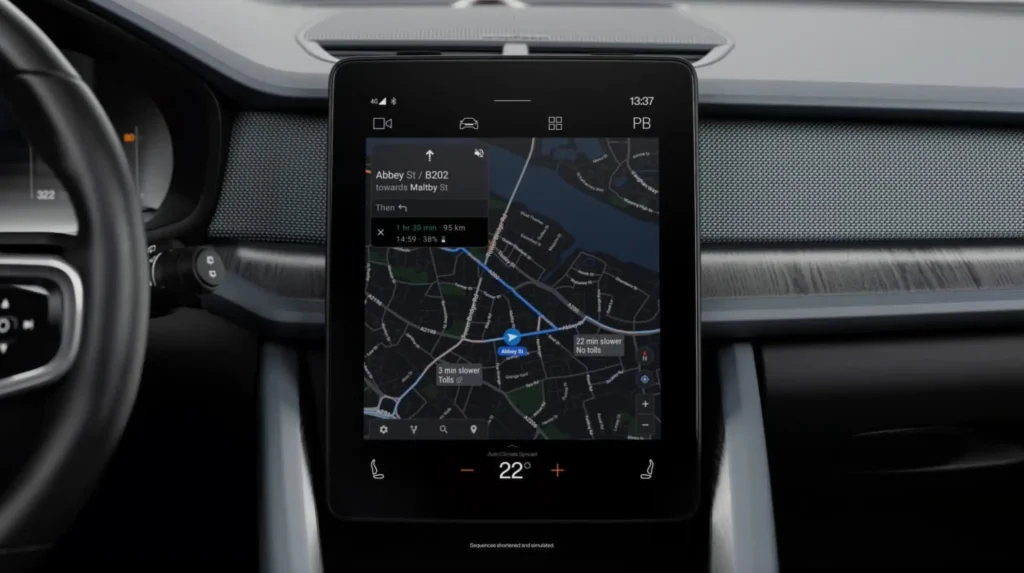 Earlier this year, GM announced that it will be phasing out CarPlay and Android Auto support in favor of a custom-built Android Automotive OS system, and more automakers are following suit.
As far as which is better, Google Android Automotive OS or Apple CarPlay, a lot of factors come into play. It depends heavily on which app ecosystem you rely on, according to a Lifewire piece that ran before these latest features were announced.
To put it quite simply, Apple iPhone users will find easier interplay and more functionality with CarPlay, while Android users may appreciate Android Automotive OS's offering.
To put it a little more specifically, per Lifewire:
Android Auto has greater support for third-party apps, but Apple CarPlay also has a wide selection with no important holes. Apple CarPlay also works with most Google apps, like Google Calendar and Google Maps, while the only Apple app you can use on Android Auto is Apple Music.

Lifewire
Surely, as Android Automotive OS becomes more ubiquitous, Google will be forced to make their apps play a little nicer with iOS, but only time will tell.
Overall, these developments are great news for anyone interested in a more connected driving experience. As our devices become more integrated with our vehicles, the days of fumbling for our phones to pick a song or distracted driving while re-routing a road trip will (hopefully) be over, or maybe we'll just find new and innovative ways to "look at phone."