A cool breeze and steady clouds rolled over LA to remind us that autumn weather was around the corner. Angeles Crest became the set of some derivative horror flic and dampened any enthusiasm to soak up the nonexistent rays in Malibu. I was in town sampling yet another press car, but nothing more. How uncharacteristic of me, as I always try to find other immersive things to do, other stories to tell. Might as well when in such a hub for culture, food, and driving. But this time around, nada. Already wished Porsche a happy 75th at The Petersen. Already visited the Lady of the Lake at The Mullin. Maybe one day, I'll hit the apexes at Willow, but not this weekend. What to do.
I wasn't about to be the airhead who sucks at planning so bad they couldn't find anything to do in LA on a weekend. But thankfully, a nifty little Instagram post pointed me towards a new garage in Gardena to spend my Saturday morning. A local group, Brekkie Car Club, was the crew putting on the show, but an outsider like me knew next to nothing of them. I expected a small parking lot meet like those I had been accustomed to and maybe a coffee stand.
I probably should've browsed their page and done my research before showing up with the lackadaisical attitude I initially had. Now I feel rude for making any assumptions.
Cool breeze, warm coffee, fiery cars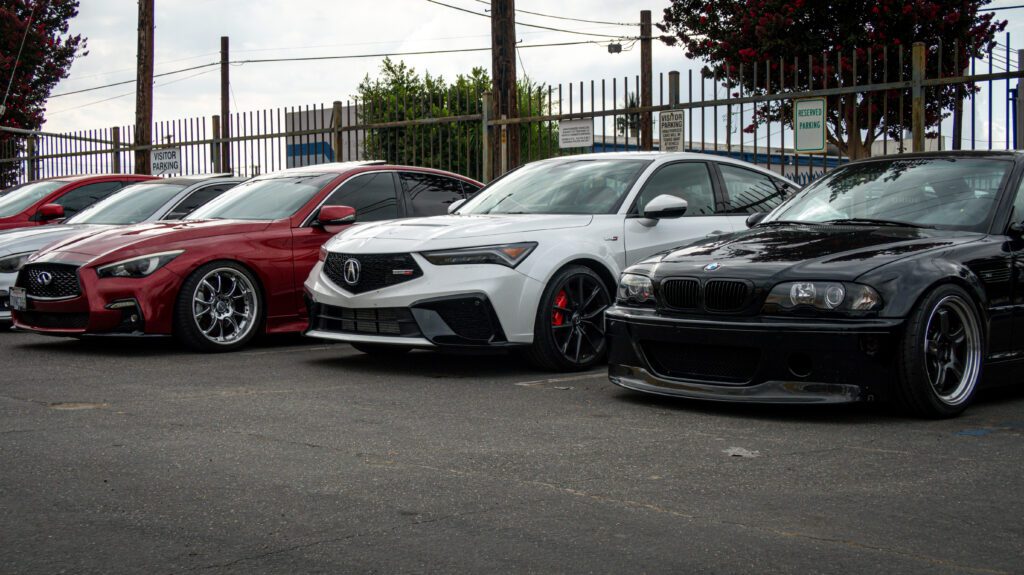 The alley was mostly full, so I parked the Acura Integra loaner in an overflow lot across the street with the other late attendees who had already begun spilling out of the entrance. The howls of Japanese straight-sixes and German flat-sixes clash as attendees come and go down the street. Even the cars spilling into the street and the overflow area were among the cleanest examples of tuner cars, even the ones that were clearly for show or casual street use. And this was before you entered into the actual show.
Humorously, being set in the alley of a parking facility in Gardena, it was definitely the largest Cars N' Coffee I've attended, longitudinally speaking. Cars stretched down seemingly a couple hundred feet of tarmac, lining the entrance to this newly-minted garage and culminating in a pocket of vendors and top-shelf cars.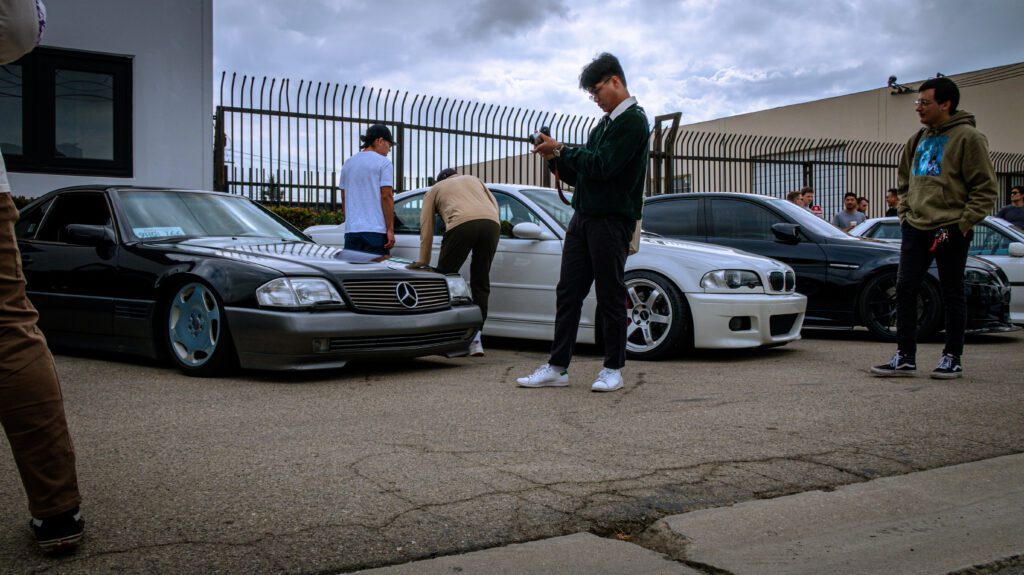 On display was among the broadest spread of diversity in American car culture, a gathering for many tastes with people from all walks of life. And no, this sort of event isn't exclusive to solely this region, but you don't see it in such droves in many other places. It's somewhat alien yet completely on-brand for this corner of the country. From home-brewed tuners to shop-built restomods. From sport compacts to supercars. There was plenty to behold. Peep at the slammed truck that I'm willing to bet is lower than the actual lowrider in attendance.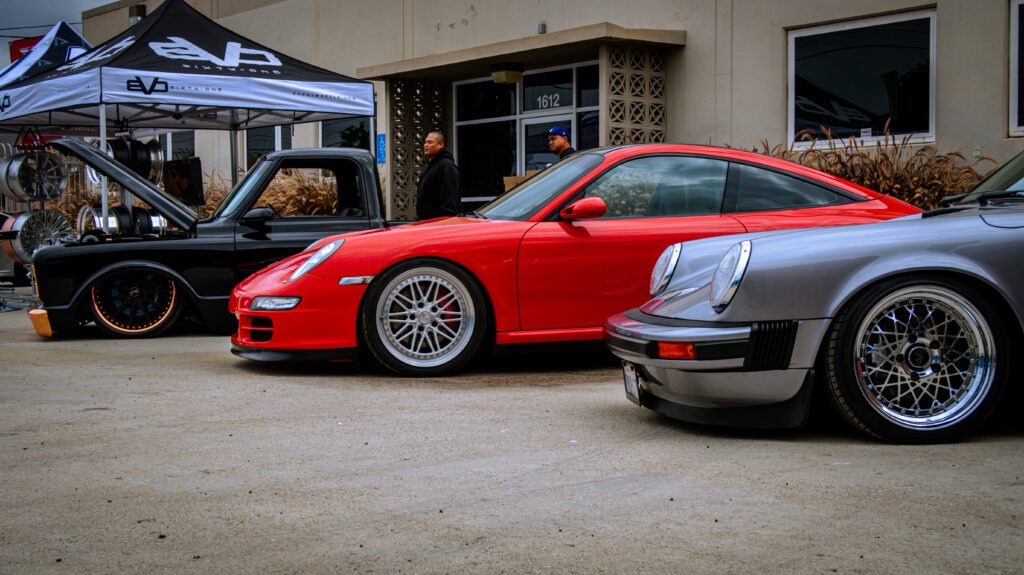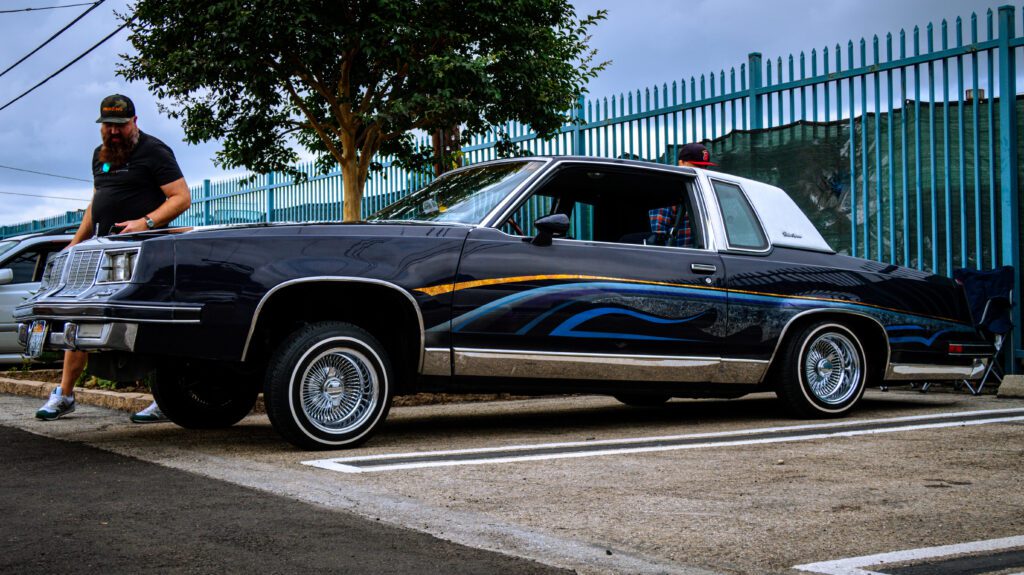 Growing up in Las Vegas, our car culture is but a scaled-down caricature of what lies 300 miles westward. It was a scene I knew but turned up to scale I rarely experienced back home, with a rainbow of personality and creativity to match. My home has some bang-on Cars N' Coffees. I will not deny them that. But it's not often I see a kei truck and kei van sitting pretty next to a 911 Carrera lowered on WORK wheels. Nor is there ever a Vorsteiner booth with Europe's finest rocking sets of circular artwork.
Seriously. Get a load of the rollers on the gray Urus. And the 991.1 GT3's bronze two-piece center-locks with the polished rim? It's like something out of a Speedhunters post.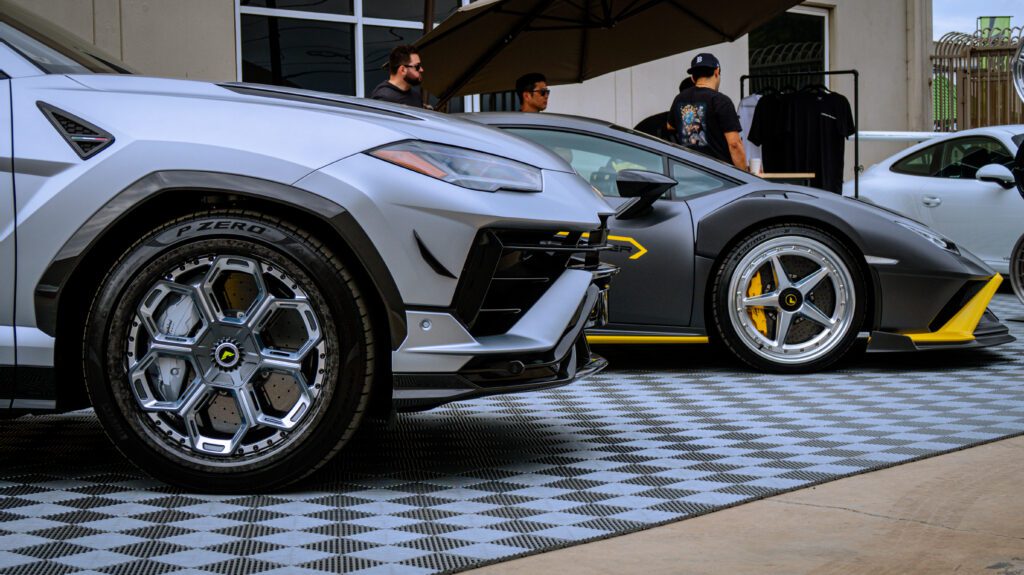 Typical in this day and age, you're never short on grayscale cars, but the blinding paintwork of vehicles from the Chevelle 454 SS to the pair of old and new BMW M2s do just enough to pierce through the otherwise dreary backdrop of clouds.
And did I mention the Fast & Furious Supra, complete with nitrous bottles and a fully dressed-up interior? No? Right. Nevermind then. Forget 'bout it, cuh (I had to).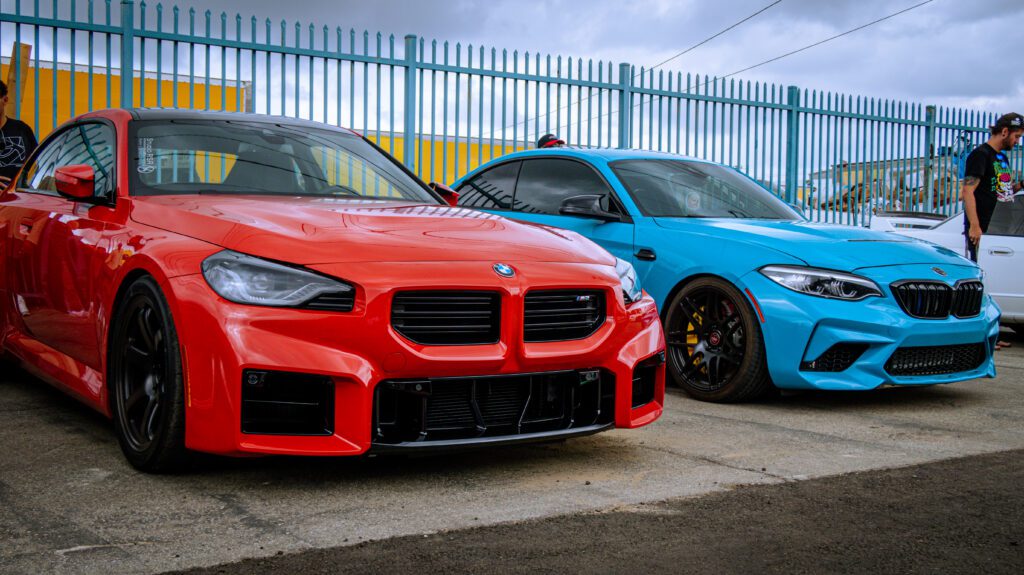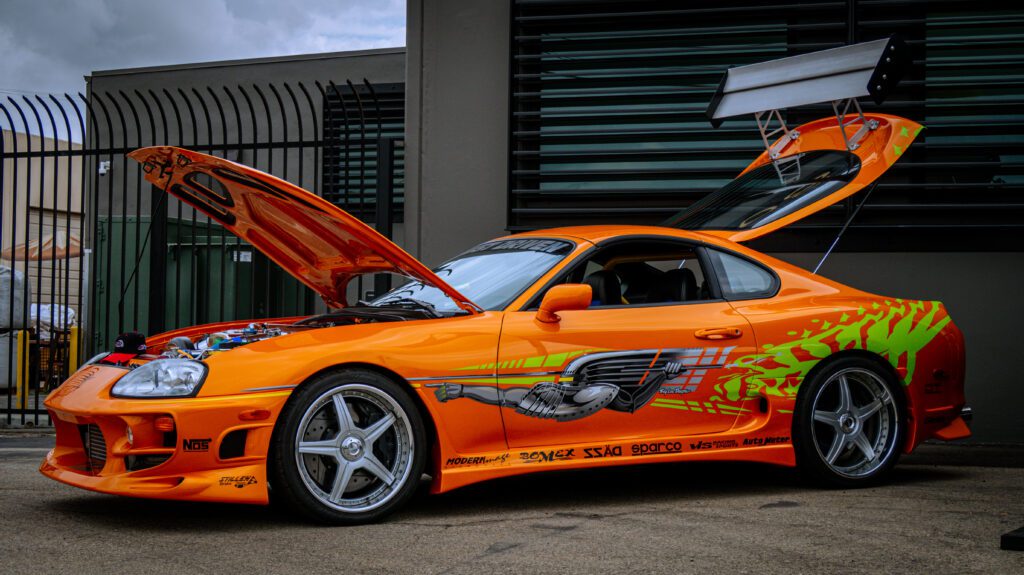 There was no shortage of heavy-hitting knockouts on display. In addition to Vorsteiner's Urus and Huracan STO demo cars and the armada of Skylines and 911s outside sat the illustrious, drool-worthy collector pieces inside the facility. Truly the stuff of dreams and living legends. Try the cleanest Mitsubishi Lancer Evolution X you'll ever see outside of a magazine cover from 2015. Or not one, but two Carrera GTs. Or if you're more into modern performance, there's no going wrong with a GT2 RS.
And it's not like everything in attendance was a minty-fresh collector's piece pulled from an RM Sotheby's auction ad. Some cars were textbook definitions of pristine. Others preferred patina. It was a healthy mix of cars made to look as if they were on the assembly line and ones made to tell the stories of their history. Every drive, every adventure, and every nick from probably following a dump truck too closely.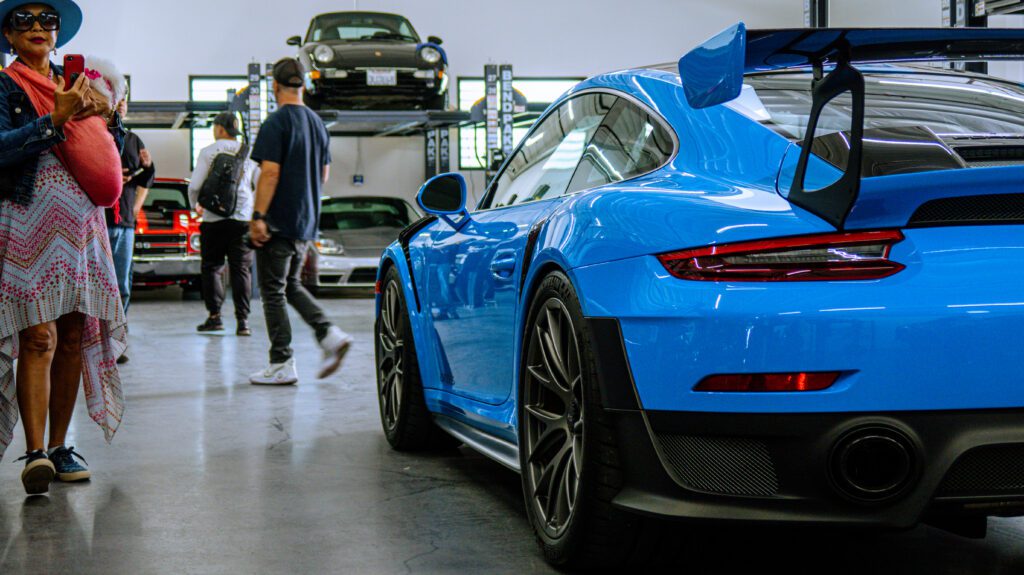 Perhaps my personal favorite was locked in a three-way tie between the Honda N600 rocking an interior adorned with stuffed toys and knitted seat covers, the Evasive Motorsports Honda S2000R restomod in all its carbon fiber and Championship White glory, or the Bugatti Type 35 continuation car by Pur Sang. But is it wrong to even mention the S2000R and the Pur Sang in the same breath, let alone park them within a couple dozen feet of each other? Or is that just the time we live in, where a Japanese sports car of the 2000s can transcend its original platform and stand on the same pedestal as something that belongs at Concours d'Elegance?
Or, here's a better question. Who cares?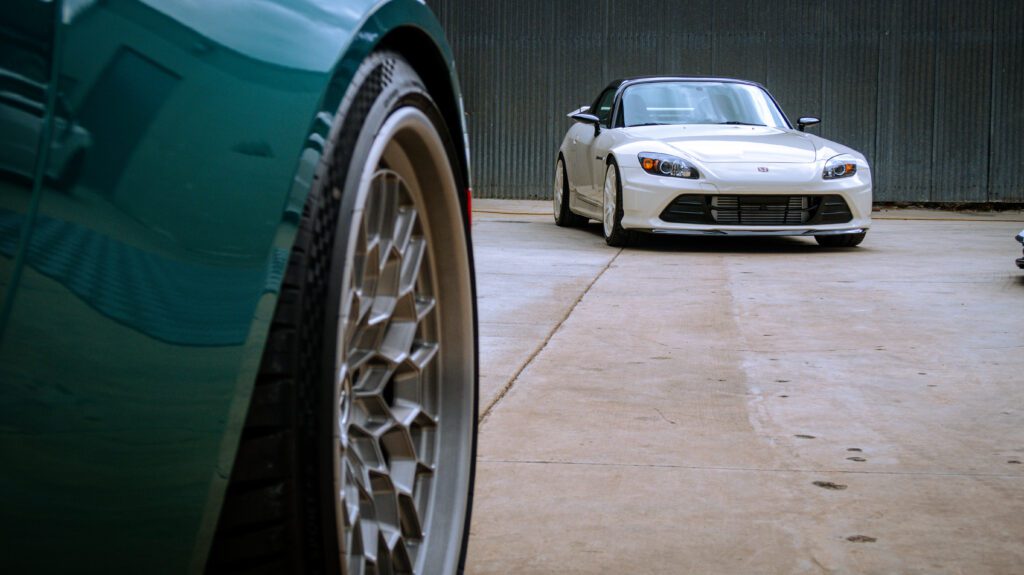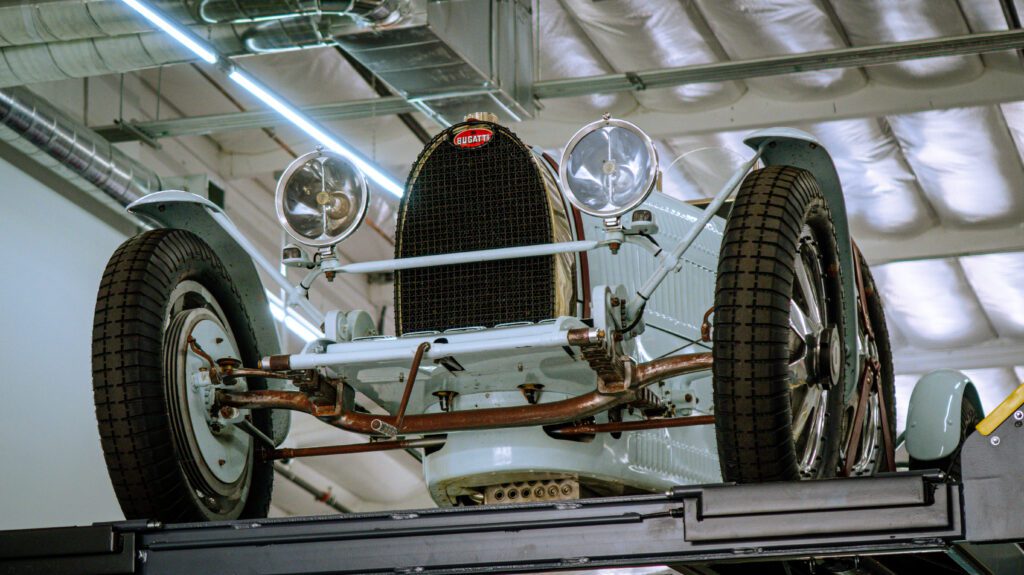 A melting pot of metal and memories
Prestige matters little when both vehicles exist as symbols of their creators' love and ingenuity. Here, they sit for a like-minded audience to gawk over every intricacy that makes them special, even if they're worlds apart. The co-existence of these cars in one space puts the intimidated or uninitiated at ease and encourages them to branch out of their wheelhouse to discover cars they wouldn't have otherwise discovered.
The same goes for every car here. A 911 GT2 RS shares the same square footage as an S14 240SX and an Evo X. Mustangs and Camaros intermingle with M cars and Supras. Because why the hell not? There is no segregation of the various cults like I often see with other events. There are no "Mustang people" or "Porsche people" here. They're just car people.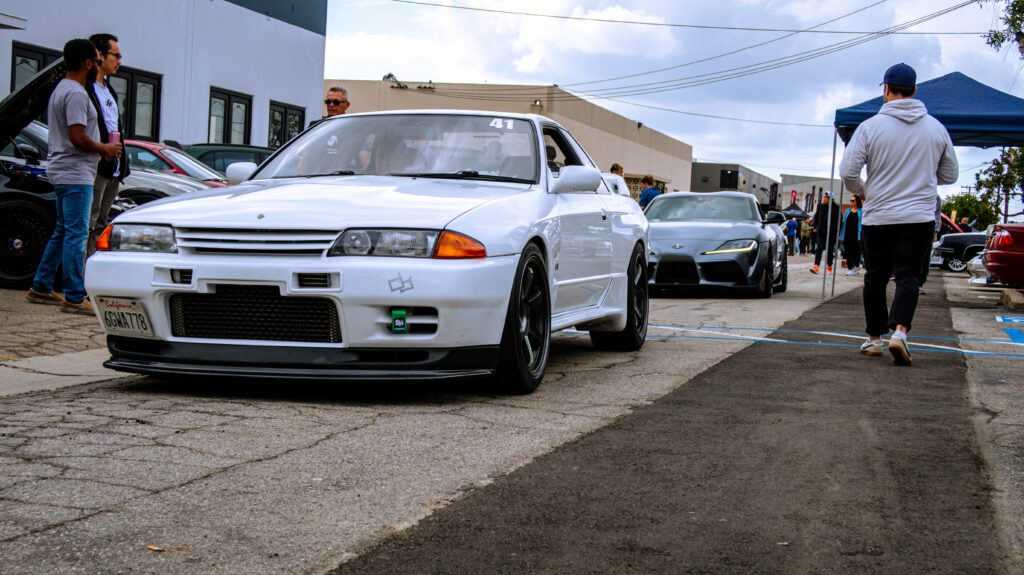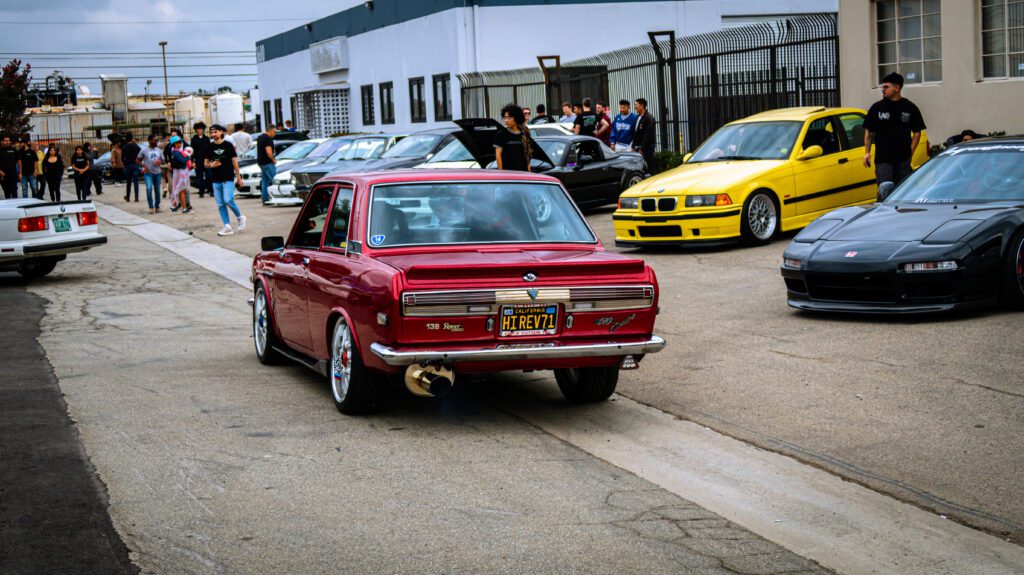 This level of variety in car culture and its people proves, when done right and not with the foolish delusion of chasing clout and outlaw stardom, that it's more than just an exercise in materialism and vanity. And it's this melting pot that makes for great memories and meeting new people.
But why on a cloudy day in some industrial park alleyway in Gardena? Surely, there was no one staging for quarter-mile drags in the hopes of appeasing triad bosses or winning pink slips to ten-second cars (bam, two references in one piece). Brekkie's show was more of a celebration than anything else. A celebration of diversity in car culture, as well as the grand opening of a new garage for these cars to potentially call home.
Celebrating a new home for our four-wheeled friends
Hell, that venue had to belong to someone, right? Right. So hats off to auto journalist and TheSmokingTire co-host, Matt Farah, who celebrates the opening and unveiling of the Westside Collector Car Storage South Bay location in collaboration with Brekkie Car Club. His 90-car garage presents itself as a hub for dedicated hobbyists to give their cars a home when they themselves can't, delivering a much-needed service to the local community seldom seen throughout the LA area and other densely populated metropolises.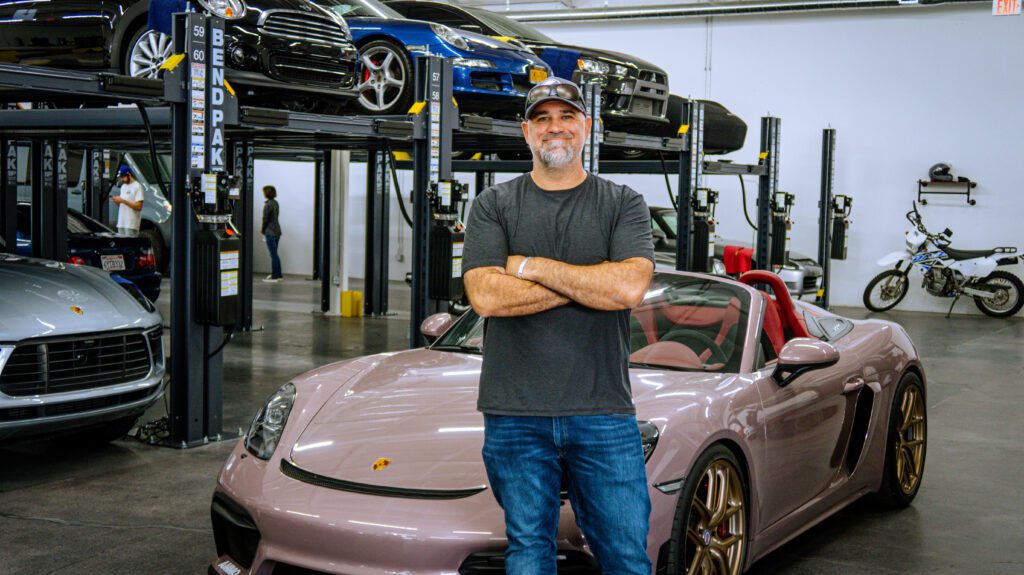 Tucked deep into this otherwise unassuming alley gives the location a lowkey vibe. If you didn't recognize the signage out front, it's almost speakeasy-like for cars. Its privacy and security are to be further bolstered by the later construction of a concrete wall, and that's only a fraction of future developments soon to follow. Being more sprawled out given its location, the WCCS South Bay facility will soon exceed the capacity of its original Playa Vista location, which made headlines upon its opening for its impossibly ingenious use of such a compact space. Adopting the second building adjacent to the now-opened garage will reportedly allow car capacity to inflate to 170, with room to spare for indoor and outdoor lounging, a conference room, a kitchen, and a dining area.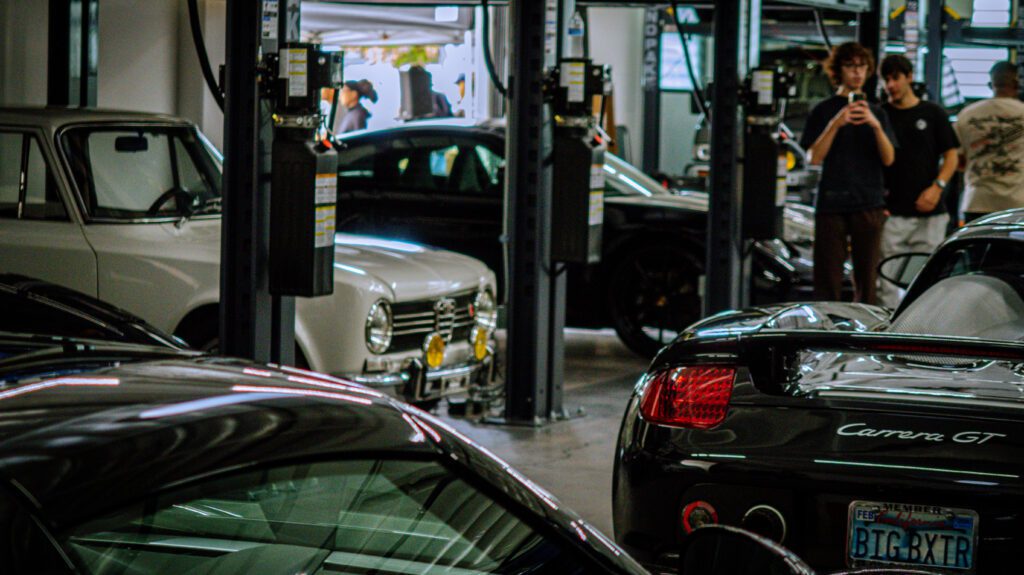 Get that. A kitchen. In the same place you'd park your weekend toy. To some, it may just look like a glorified parking structure. But the enthusiast in me, who probably watched too many movies and played way too many games, sees a lounge for car clubs, a hub for drivers' meetings on rallies, and your character's starting garage should they ever make a Test Drive: Unlimited game in California.
Excessive? In all the best ways. So think of it as a gift to the community, because as much as we love them, cars are a hassle in big cities. After all, the eclectic customers who will soon fill these bays surely deserve some treat for keeping our increasingly niche hobby alive with cars that are becoming more like museum-worthy exhibits with every passing year.
And I mean. Come on. It doesn't sound like a bad place for the valet to take their sweet time when they give you a place to kick it.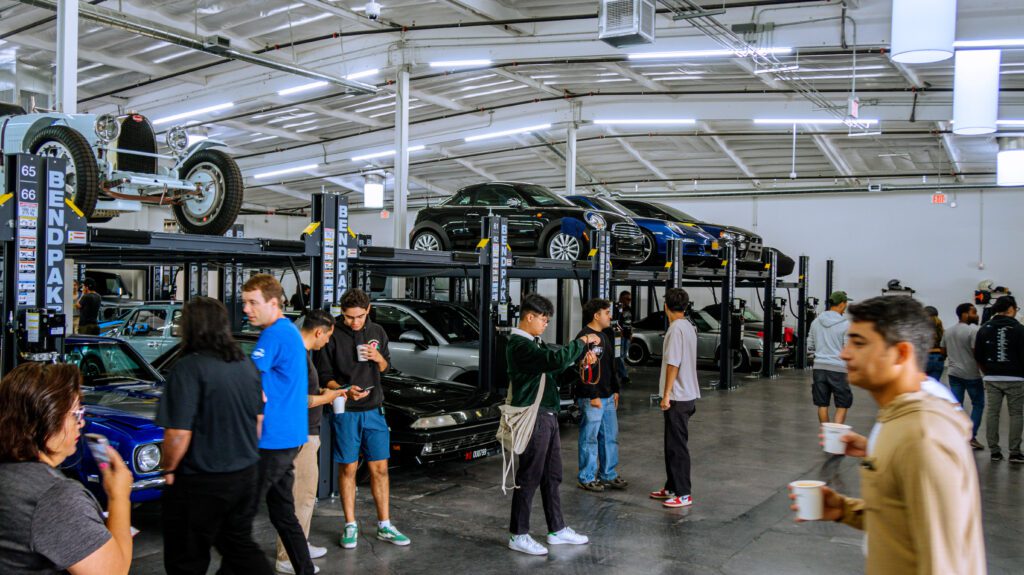 So yeah. I'm a fan of this idea and of gatherings like this. And you should be, too. People like Farah and his crew at WCCS make being octane-blooded in concrete jungles feel less like wedging your passion between a rock and a hard place. And it's lively, community-driven shows by groups like Brekkie Car Club that keep the flame burning for veteran hobbyists and hopefully light a flame in the hearts of the new and curious.
Not a bad assessment, huh? And to think all I wanted to do was kill a Saturday morning.