These EV startups aren't the only ones to have fun with the idea of an electric truck. Ram announced its electric pickup, the Ram 1500 REV, for release in late 2024, but the automaker had another trick up its sleeve. Using its new STLA body-on-frame electric platform, Ram employs a parts-bin 3.6-liter V6 engine only as a range extender, with the gas unit never delivering power to the wheels. The result is a truck with 663 horsepower and 615 pound-feet of torque that provides 14,000 pounds of towing and a range of almost 700 miles. Get that, nearly 700 miles from an EV! Though complex, the setup may be a smart move for Ram, as consumers aren't warming to EVs as quickly as automakers and the government had hoped.
The truck also brings advanced driver assistance systems not seen in Ram vehicles to date. It gets a Level 2-plus autonomous driver assist function that offers hands-off driving on highways and other approved roadways. It provides predictive speed control and driver monitoring and assists with autonomous parallel and perpendicular parking functions. Fairly standard affairs for a brand-new vehicle these days.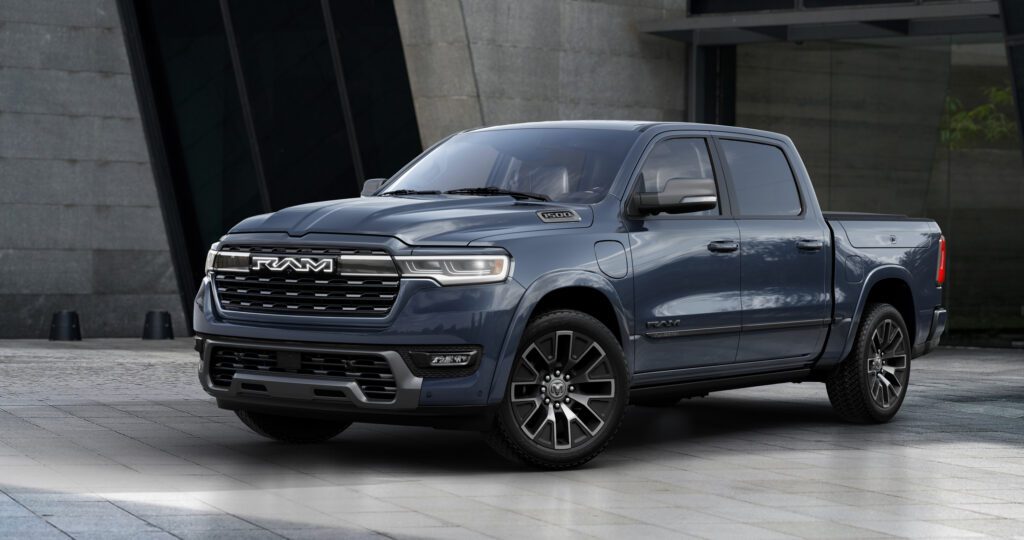 2025 Ram 1500 Ramcharger release date and details
The Ram 1500 Ramcharger's late 2024 release date means we don't have pricing or trim level details yet! So there's not much we can say, but we can take guesses based on Ram's existing pickup line. As with the current gas trucks, we'll see lower-level, work-ready Tradesman trims, followed by more luxurious and feature-rich mid-level Big Horn or Laramie trims. At the top end, the Limited variant will bring upscale leathers, genuine wood trim, and other features that make the truck a legitimate luxury ride. Ram trucks have long offered interiors that far outshine the competition, even from the most expensive Ford F-150 models, which bodes well for the Ramcharger's accommodations.
| | |
| --- | --- |
| Price: | TBA: $70,000 to $100,000 est. |
| Engine: | 3.6-liter V6 range extender |
| Electric motors: | 250 kW front, 238 kW rear |
| Battery capacity: | 92 kWh (gross capacity), 70.8 kWh (usable capacity) |
| Electric range: | 145 miles (EV only), 690 miles (w/ range extender) |
| Drivetrain: | dual-motor AWD |
| Power: | 663 horsepower |
| Torque: | 615 pound-feet |
| Weight: | TBA; >6,400 pounds |
| Towing: | 14,000 pound |
| Payload: | 2,625 pounds |
| Zero-to-60 mph: | TBA; 4.4 seconds est. |
| Fuel Capacity: | TBA; approx. 26 gallons |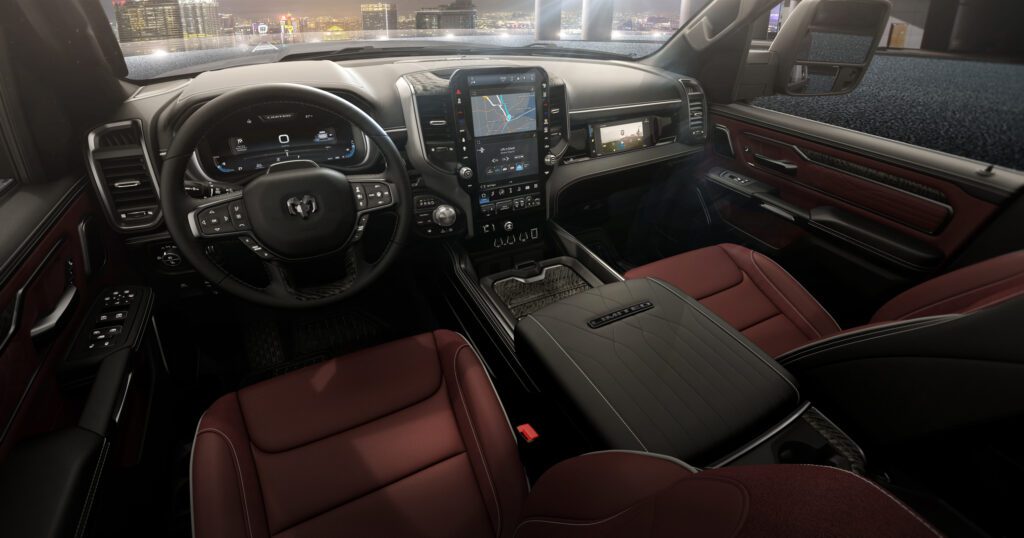 2025 Ram 1500 Ramcharger interior and tech
The Ramcharger will feature a premium interior focusing on textures, colors, and materials quality. Ram said it would use carbon fiber, metal, and leather to create a luxurious cabin with great space and tech. A 12-inch screen comes standard, and a 14.5-inch touchscreen and 12.3-inch digital gauge cluster are available, which run Ram's excellent Uconnect 5 infotainment system. The interface offers side-by-side app functionality, simple menu structures, and responsive navigation that make it less distracting to use while driving.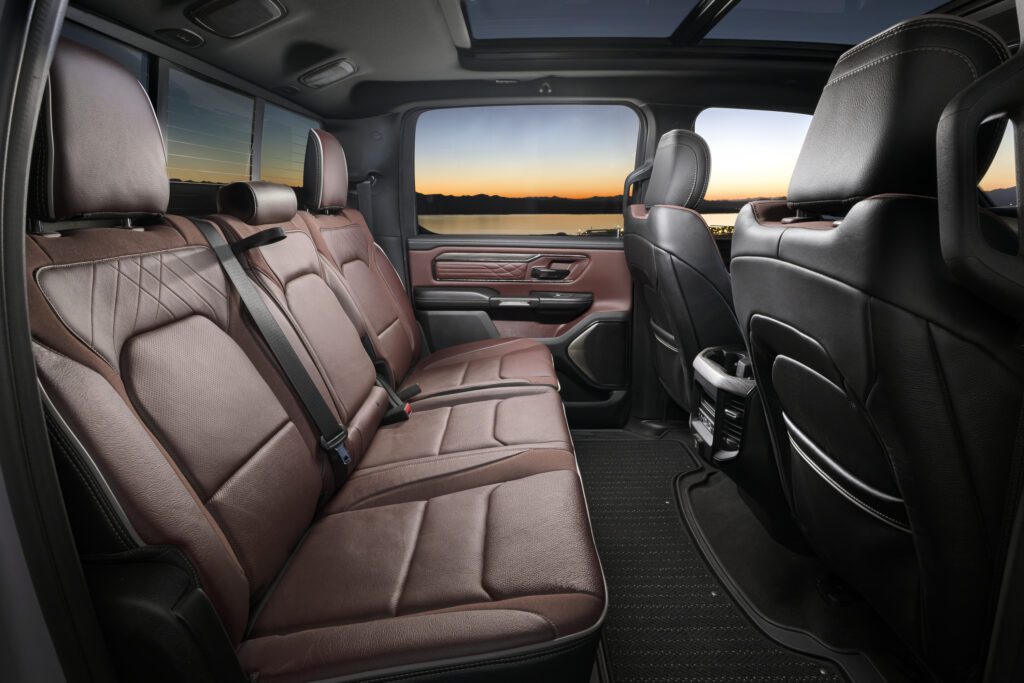 A 10.25-inch passenger screen, digital rearview mirror, a head-up display, and a Klipsch Reference Premiere audio system are available. Ram also redesigned the gear shifter with a new e-shifter unit, and the Ramcharger offers selectable regenerative braking settings.
A new range-topping Tungsten trim brings unique interior colors like Indigo and Sea Salt. It gets a suede headliner, heated and ventilated seats with quilted leather, massaging front seats, and more. The center console features a Tungsten badge with the truck's VIN, and the upgraded Klipsch stereo comes standard. It also brings a new dual-device wireless charging pad and metal pedals.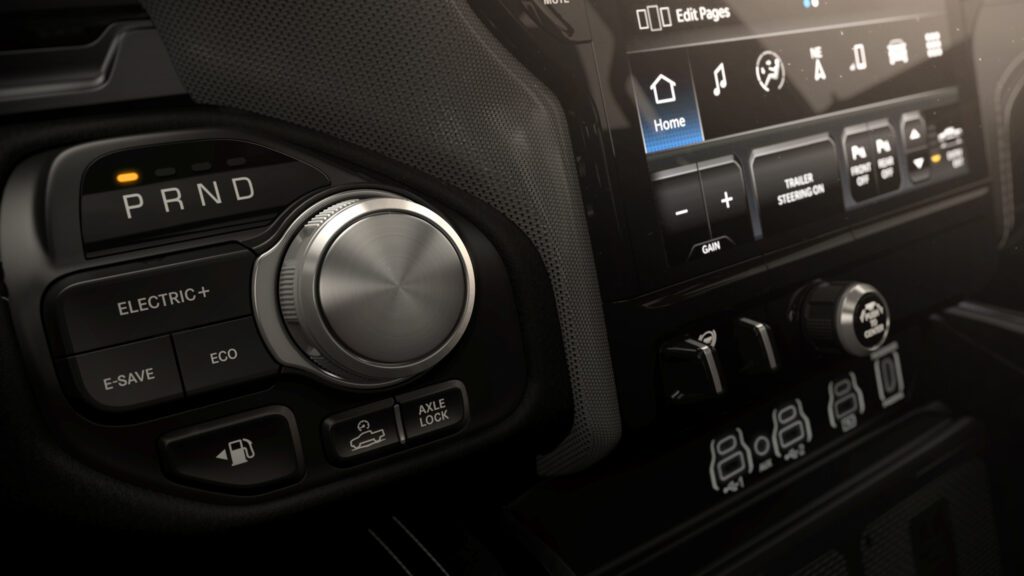 2025 Ram 1500 Ramcharger electric range and charging times
Ram promises a range of up to 690 miles from a liquid-cooled 92-kWh battery, a 130-kW onboard generator, and a 3.6-liter V6 engine whose only purpose in life is to charge the battery and extend the range. Think Fisker Karma, Chevrolet Volt, or BMW i3 Range Extender, but adapted to a big ol' hunk of American utilitarianism. The driver can choose to charge the battery or preserve battery life, and there is no mechanical path from the engine to the wheels. That said, the truck still needs to be charged and can add up to 50 miles of range in ten minutes using a 400V DC fast charger with speeds of up to 145 kW. 
2025 Ram 1500 Ramcharger engine and performance
Though the Ram's 3.6-liter Pentastar V6 does nothing to drive the wheels like it does to pretty much every other Stellantis vehicle, its electric drivetrain components are plenty. The 250kW front motor and 238kW rear unit, the latter of which can be paired with an optional locking rear differential, combine for a whopping 663 horsepower and 615 pound-feet of torque. That's good for a 4.4-second 0-60 mph time, a 14,000-pound tow rating, and a payload rating of 2,625 pounds.
Not a Rivian, no. But that's plenty fast enough and sure to put the pressure on some Charger and Challenger fanatics. The Ramcharger can also free-wheel its front axles under certain conditions to further enhance efficiency and range.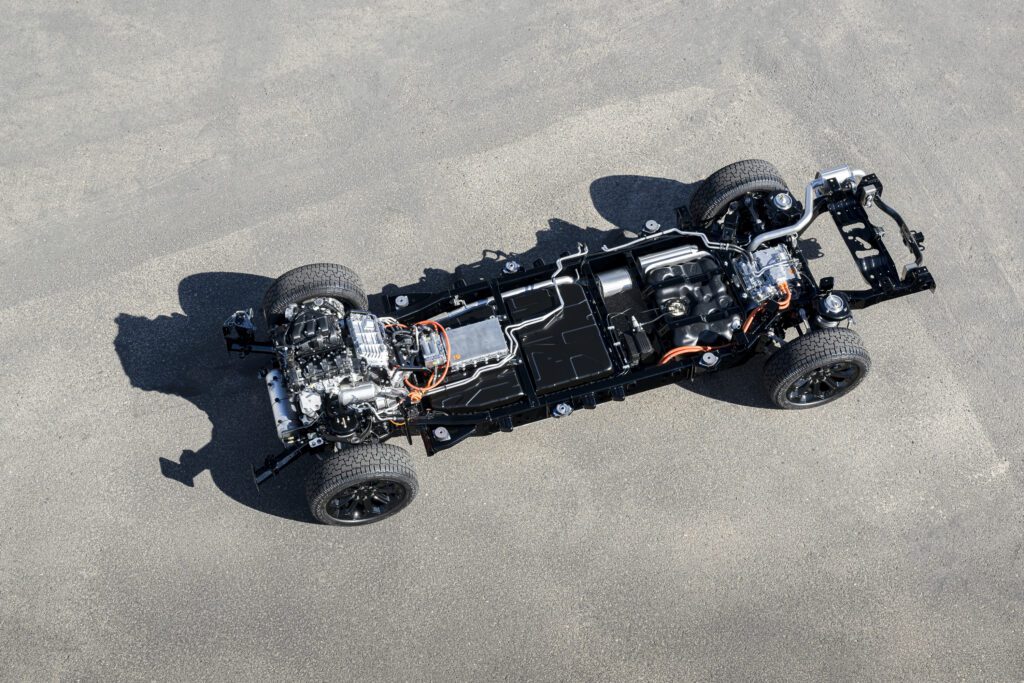 2025 Ram 1500 Ramcharger design
Ram's initial electric concept trucks featured wild, futuristic styling, but the automaker backed off the funkiness with the production models. That applies to both the Ram 1500 Ramcharger and the Ram 1500 REV, as both bear striking resemblances to the brand's current gas trucks. A crew cab body, short bed, and clean front-end styling define the Ramcharger, and it features novel lighting elements with an illuminated Ram logo in the closed grille. The charging port is located on the driver's side front fender, and Ram smoothed the exterior body lines for better aerodynamics. Ram also fits unique taillights for the Ramcharger with an LED lightbar across the tailgate.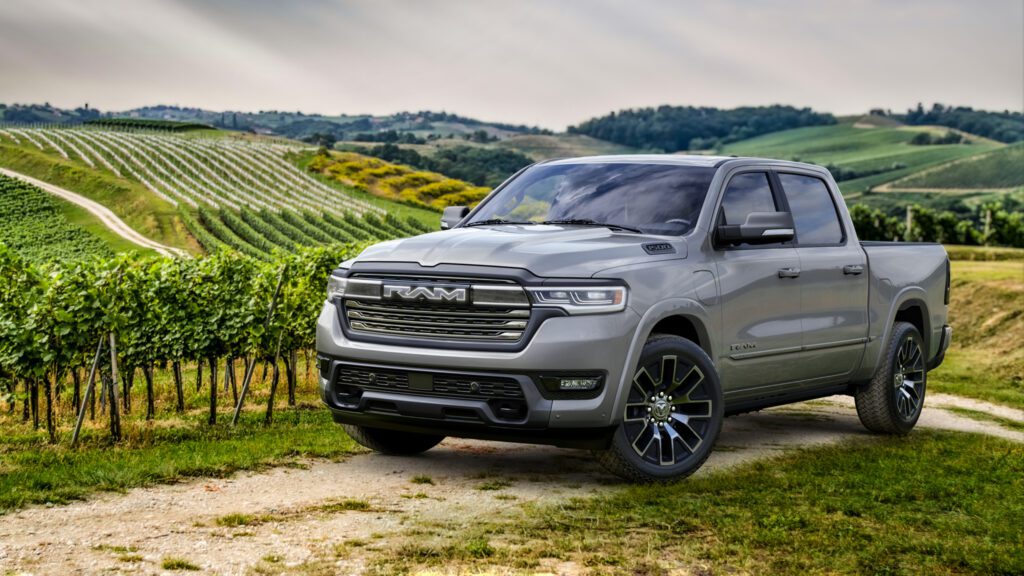 2025 Ram 1500 Ramcharger review to come
Ram trucks offer fantastic ride quality, solid capability, and modern styling. With Ram claiming standard multi-link rear suspension and four-corner air suspension, we expect much of the same dynamics and comfort from the new Ramcharger, albeit with the heft of a powerful electric drivetrain. The range-extender concept is one employed by BMW with the i3 years ago, but it's not yet been a mainstream feature in electric vehicles, with many automakers committing to either full EVs or more conventional hybrids or plug-ins. Ram created an exceedingly complex system to charge the batteries with a gas engine, so it will be interesting to see how the components work together and if the gas engine adds any meaningful amount of noise to the driving experience.
When it arrives, the Ramcharger will be the only electrified truck on sale with such a setup. The upcoming Chevrolet Silverado EV and GMC Sierra EV are pure electrics, like the Ford F-150 Lightning and Rivian R1T. While all those trucks offer impressive range estimates and great tech features, their specs fall short of the Ram's range and capability. Price may be the great equalizer here, as it's hard to imagine the Ramcharger coming cheap.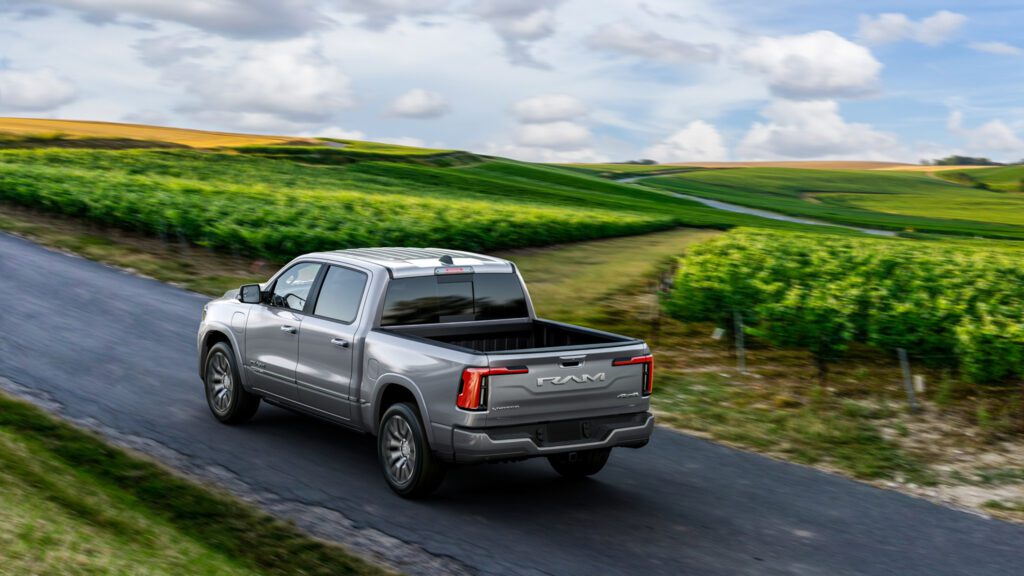 Additional FAQs
How much will the new Ramcharger cost?
We don't have solid figures yet, but a reasonable guess would be between $70,000 and $100,000 with available add-ons and options. That should place it within the same ballpark as the F-150 Lightning and Rivian R1T.
Does the Ramcharger use gas?
Yes, the Ramcharger uses gas to power a V6 range-extender engine, contributing to its incredible range. That said, the engine doesn't drive the wheels, so fuel usage will be interesting to observe.
Does towing impact EV range?
Yes, to a great degree. Towing a heavy load with an electric pickup can cut the range by 50 percent or more, depending on the temperature, road conditions, and driving style. It's important to plan adequate charging stops if you're looking at a longer towing trip.