Well, that was interesting. In case you missed it, early this morning, we East Coasters witnessed Carlos Sainz's car spark into oblivion after hitting an unsecured drain cover in the first free practice on a freshly constructed track. The Vegas Grand Prix could very well be a total disaster. With 3-day passes dropping to as low as $1,000 days before the race and frequent backlash and criticism from city locals, this experiment might have been a major miscalculation for Formula 1.
With free practice three later today/tomorrow morning, who knows what this race will have to offer? I certainly hope they figure out all the mishaps to keep drivers and fans safe. It might still be fantastic, but things at the moment do not look good. And people make fun of me for turning down the opportunity to go. Time might be on my side for this one.
With some hotel rates plummeting to 70% off what they were when the race was announced, inspiration was sparked. We decided to have some fun and give our readers a primer for this absolute debacle and spectacle. Here are a few Formula 1 drivers as iconic Vegas hotels.
"But Sheilah, what do they have in common?"
Honestly, a lot more than you'd think. This article practically wrote itself. Almost.
Lewis Hamilton / The Flamingo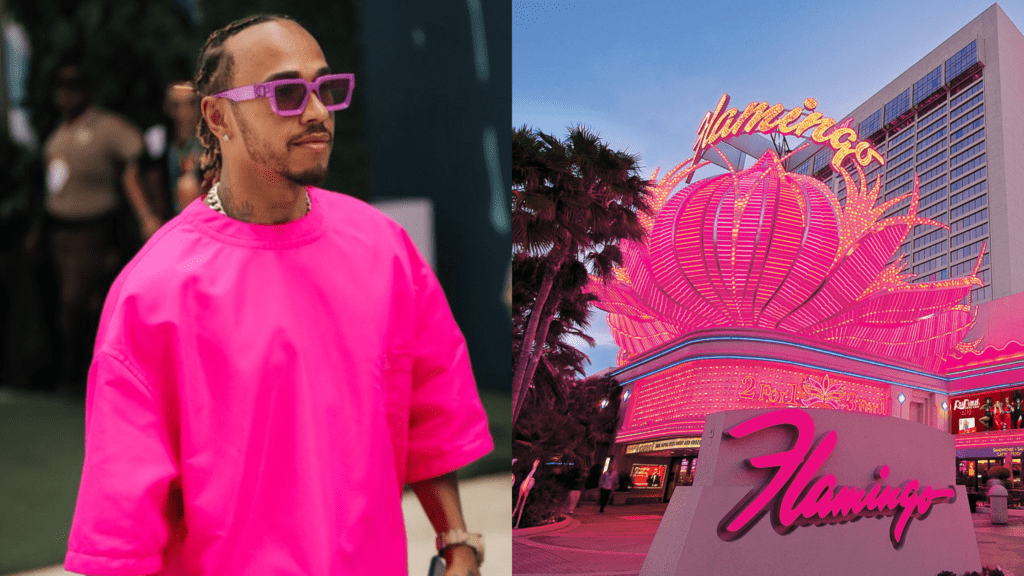 The Flamingo is the oldest operating casino still on the Strip, so this seemed an obvious place to start. As Gabe stated in our group chat, "Lewis is The Flamingo, because he's old, and I've heard of him." The overall vibe is just pink, and if any driver can pull off pink and pastels, it's Lewis. While the hotel has been updated and remodeled, the retro and classy feel remains. Lewis, being the second oldest driver on the grid, exudes the same energy. Lots of history, but still very much relevant and cherished. Plus, the gardens with all the exotic birds, wildlife, and pools are so zen. Tell me that's not Sir Lewis.
Pierre Gasly / The Cromwell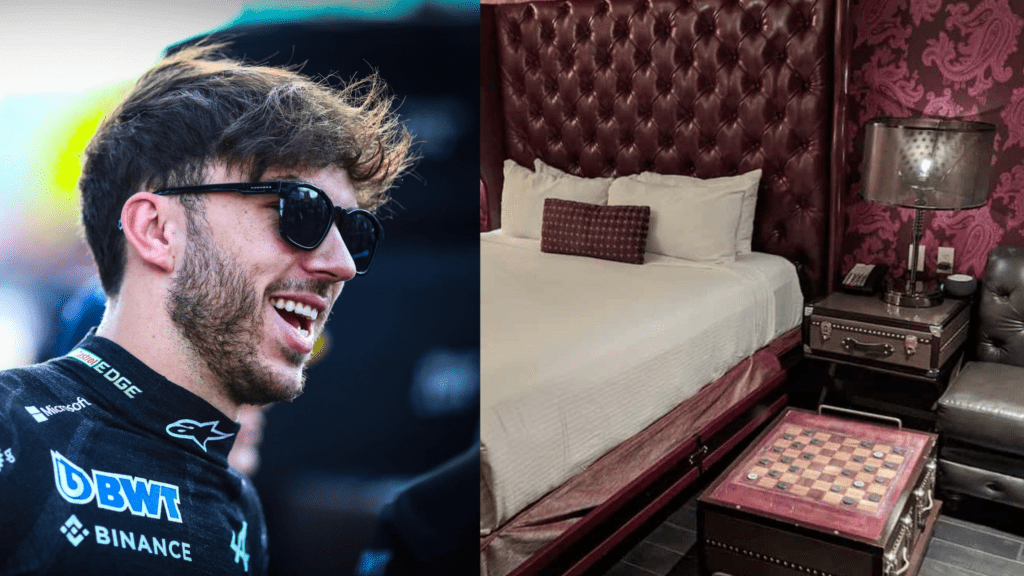 The Cromwell is newer but a bit weird. It's drenched in velvet to give the illusion of something much more sensuous than it is. It's also vaguely French-themed. This is 100% Pierre Gasly. He's always mere seconds away from a dick joke or raunchy frat boy comment. But we will give credit where it's due. Sometimes, they do land. The mirrors in the showers give off major sex party vibes. Of all the drivers, he seems the most likely to visit a strip club or brothel while here, it's Pierre. Overall, The Cromwell is trying so hard to be sultry and ultimately translating into something a little weird and off-putting.
Lando Norris / The Luxor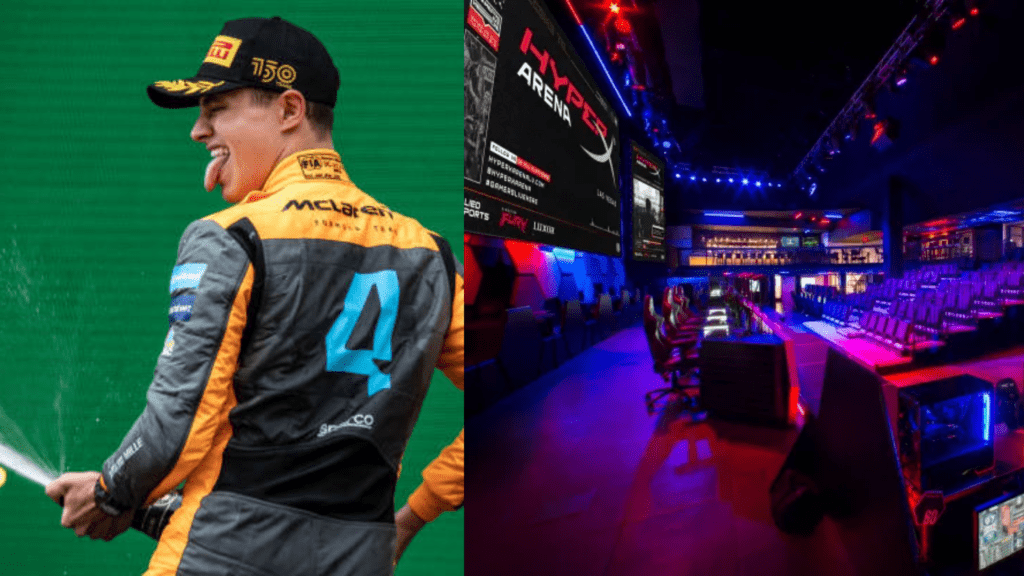 To the tune of Avril Lavigne: "He was a gamer boy…"
The Luxor is very recognizable, and we'd agree so is little Lando Norris. His quintessential curls, dashing smile, and papaya gear make him easy to spot. Both debuting in the 90s (early & late, respectively), each is a spectacle to behold. While on opposite ends of the size scale, they do have one very big thing in common: Esports. The Luxor is home to the HyperX Arena, the first permanent Esports venue on the Strip. The state-of-the-art gaming and broadcast center is available to both pros and amateurs who want to check out the 50-foot LED video wall.
And that's something we love about Lando too. With his Quadrant brand, he's brought gamers from all walks of life and levels together for exhilarating and wacky competitions. We want more and hope to see him in his bright orange race suit on the podium soon, even if it is virtual.
Logan Sargent / The Tropicana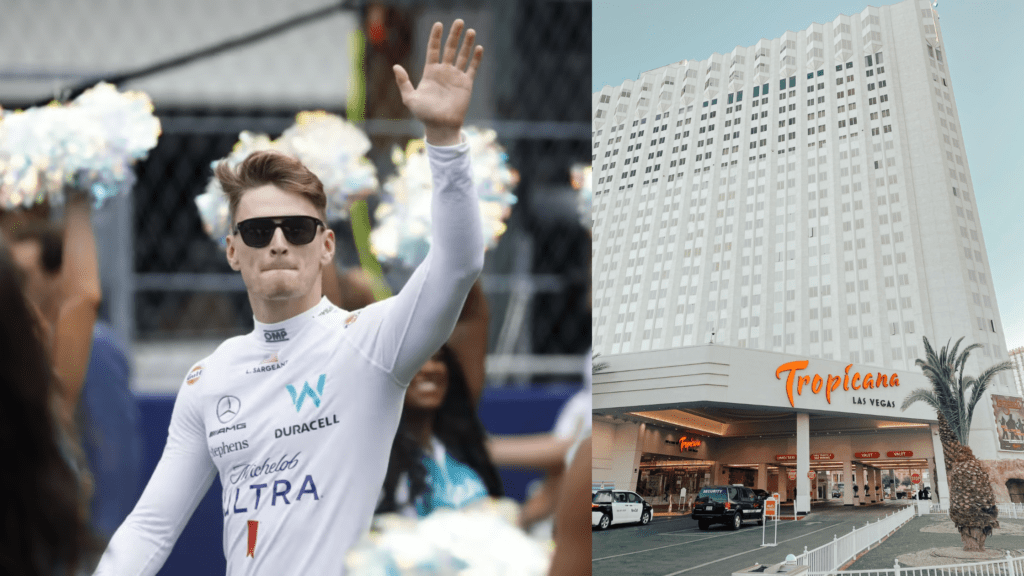 "Florida man drives car 200 mph on Vegas Strip."
The lone American and Miami boy himself, Logan Sargent, had to be the Tropicana. Everything in this hotel feels and looks like Miami. A bright and vibrant hotel, it feels more like a South Beach airport than a high-end casino. And that's ok. It's not trying to be anything other than a vintage touristy spot that is quite endearing. Just let it be Floridian and tropical.
Valtteri Bottas / The Excalibur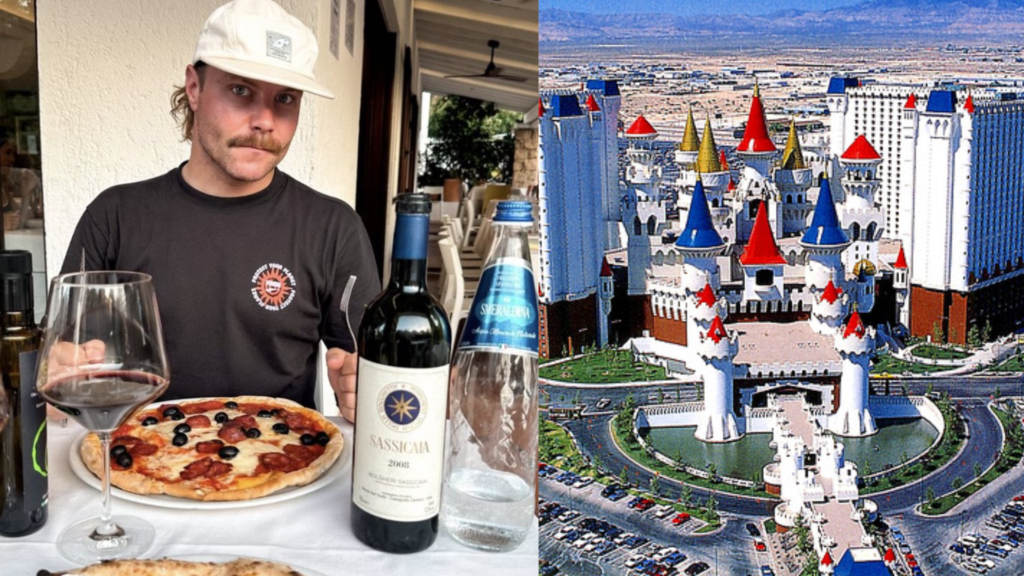 Valtteri Bottas is a legend and mythical. If that isn't The Excalibur, I'm not sure what is. From his knightly mullet to his stately mustache, Valtteri is a man who isn't afraid to be himself. Affectionally dubbed "Medieval Times on crack," The Excalibur is a treasure trove of entertainment. Outside of the main attraction of the Tournament of Kings, you also get Thunder From Down Under.
This is fitting in two ways. A) Bottas has always been joked as being the most Aussie non-Aussie on the grid. And B) If there is any driver most likely to get naked at the drop of a hat, it's him. He literally just made a calendar of his bearing his, well, his BottASS.
Fernando Alonso / The Sahara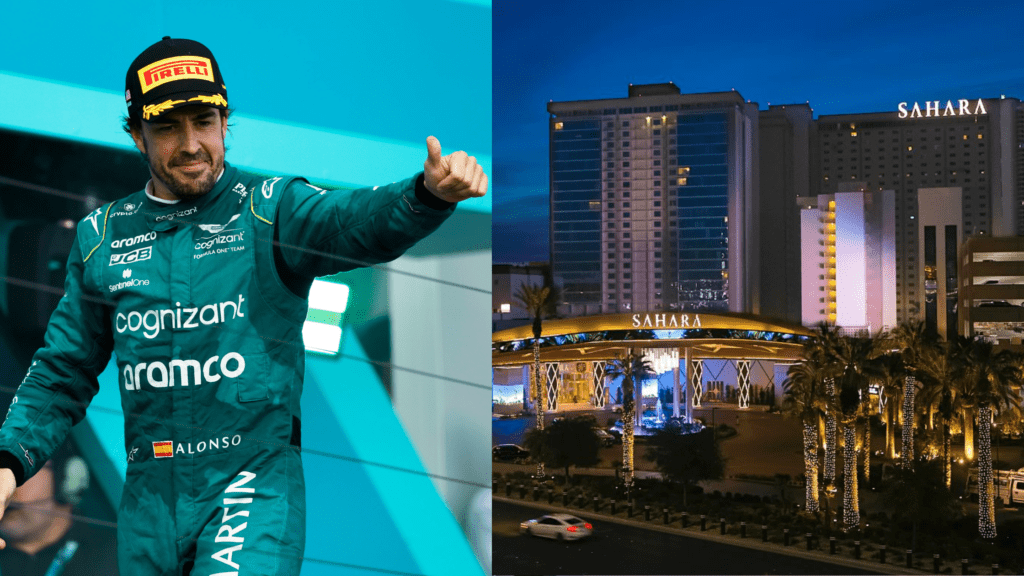 A Vegas mainstay, the Sahara is one of the oldest independently operated hotels on the Strip. With over 20 years in Formula 1, we'd argue Fernando is also a beloved classic. The Sahara is modern, even if its age shows in a few places. It's also a bit on the small size compared to the other hotels on the famous boulevard. But what it lacks in size, it more than makes up for in flash and allure. Spanish Celebrity Chef José Andrés has his Bazaar Meat restaurant here, which is full of wacky experimental meals and cocktails. All of which are very expensive but ultimately well worth the experience.
Lance Stroll / The Four Seasons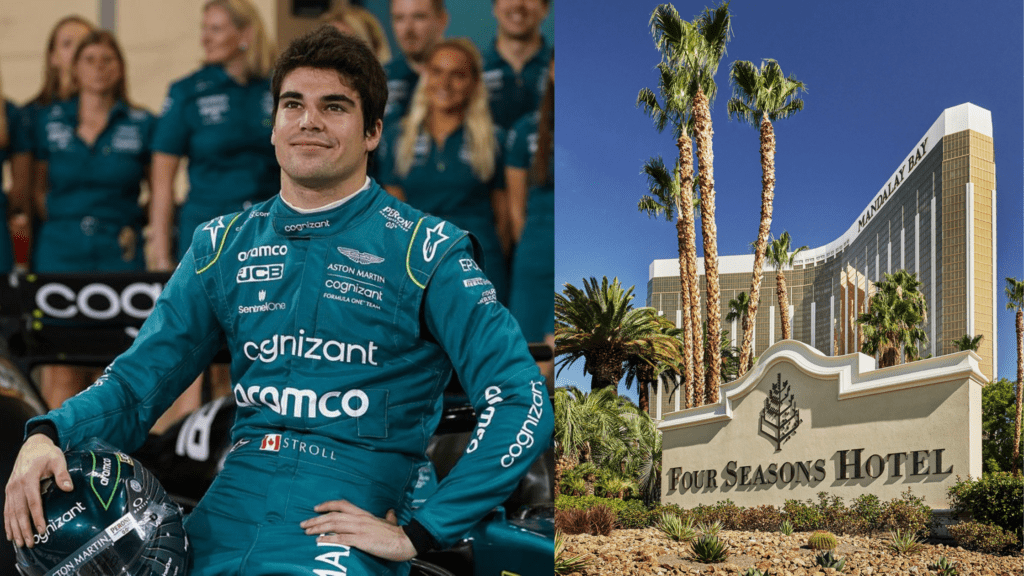 Nice, clean, and expensive. That's as Canadian and as Lance Stroll as it gets. A room can set you back $1,000 for a one-night stay. The Four Seasons is giving generic luxury, and sometimes so does Aston Martin. There is nothing very stylized or sensational about it, but it does smell like a refreshing spa.
George Russell / The Waldorf Astoria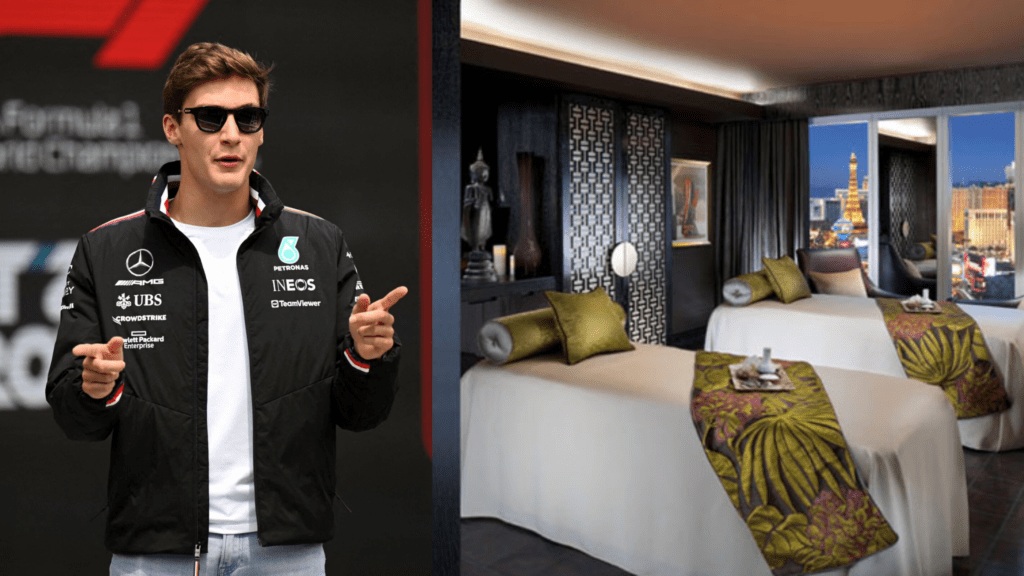 Posh. That's all you need to know. Sleek and chic. George Russell serves swanky if the memes made in his honor are any indication. One of the few hotels without a casino, it's meant to pull you off of the Strip and take your mind off the Vegas craziness. While the rooms aren't cheap, you do feel like you're living your best penthouse life, even in the lobby. The hallways feel upscale as well, with marble and stately fixtures. Tasteful, ritzy, and non-offensive.
Danny Ricciardo / The Venetian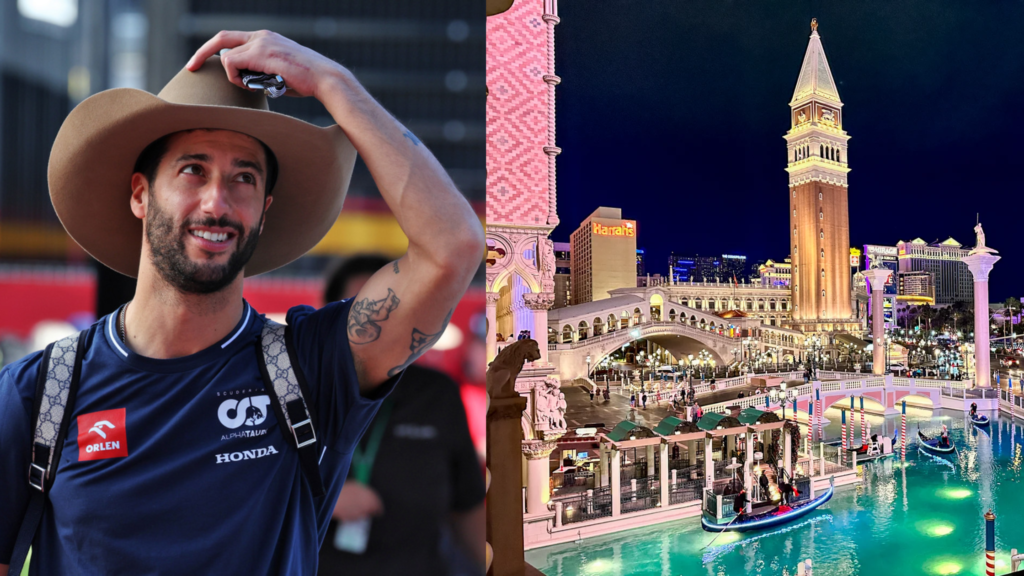 When I pitched this idea our Editor-in-Chief, Jeric Jaleco, chimed in with this, "Daniel Riccardo as the Venetian because it's nice, and I like it." And he's not wrong to make that connection. Everyone loves the Venetian, and it's a huge draw on the Strip for good reason. It's a little silly but pretty and kind of Italian. The last time I was here, I did, in fact, do a gondola ride, which is kind of goofy but overall a charming encounter. Sometimes, you just do things for the plot.
Sidenote: We hear the Bellagio got a "Shoey" Bar in honor of Danny Ricc, so we would like to formally make this our plea to make that a permanent establishment.
Team Haas / The Mirage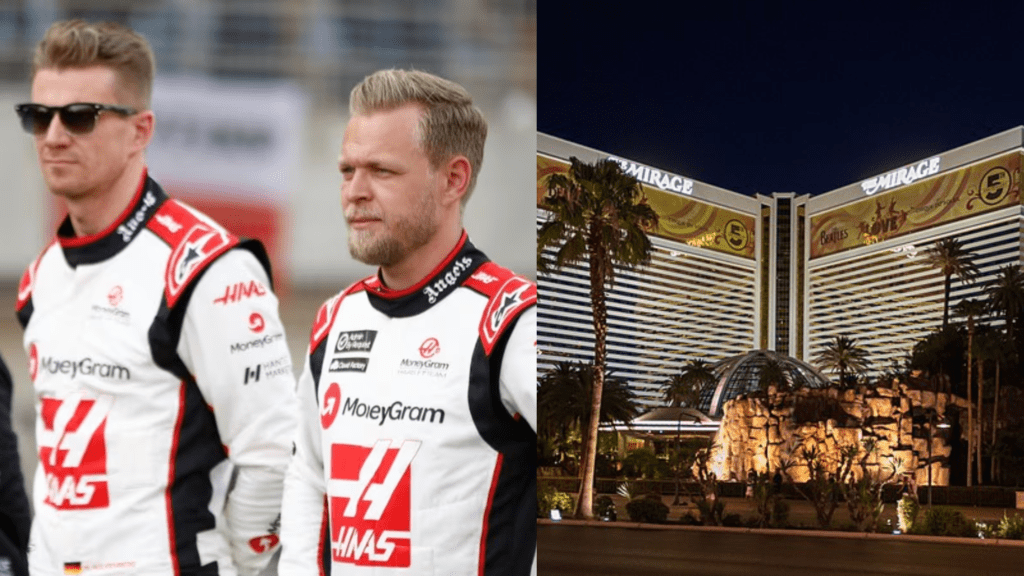 Haas is The Mirage for one very obvious reason. Me thinking Nico will ever end up on the podium is an illusion. No matter how many practices or qualifying sessions we are teased by both of these guys, we know it's all for not. It's not real. It was all a dream. It was a… Mirage.
If you are interested in catching the Vegas GP, it will be on Sunday at 1 a.m. (EST) on ESPN in North America and, as always, on F1TV.