Say what you want about Liberty Media's handling of the Formula 1 races in the US, but they kind of get it. I was at the Miami Grand Prix, and it was cringe as hell at times. Overall, though, incredibly fun. Something Liberty does very well is connecting with the right audience, even if there are missteps. Formula 1 is blessed with so many drivers with charismatic personalities that shine for the press.
Watching Danny Ricciardo command the late-night and podcast circuits with ease and charm for the Vegas Grand Prix is a dream for the Red Bull social and marketing teams. So how did NASCAR fumble the bag so spectacularly with the NYC media tour of their newest champion, Ryan Blaney? They literally had a playbook in front of them. They had exactly how F1 captured the hearts of America through a carefree Australian dripping in allure.
NASCAR crowns a new champion!
NASCAR couldn't have asked for a better champion to emerge as their season winner a week ago in Phoenix. Ryan Blaney is funny, young, personable, and pedigreed. He is a likable nerd who is a fan favorite and beloved in the garage. He is the ideal bridge between all fans. NASCAR is very much suffering from an identity crisis and has been for years. This year, it felt like the tide was changing.
The success of the inaugural Chicago race, having Formula 1 legends like Jenson Button and Kimi Räikkönen make track appearances, and mixing old traditions with new ideas, all had to have interests peaked. Full disclosure: I am a Trackhouse girlie. But watching owners like Pitbull come in and fully support drivers such as Ross Chastain, Daniel Suarez, and, come the next season, Shane van Gisbergen breathes life into this entire series. It gives you hope that this product can't just be good but great.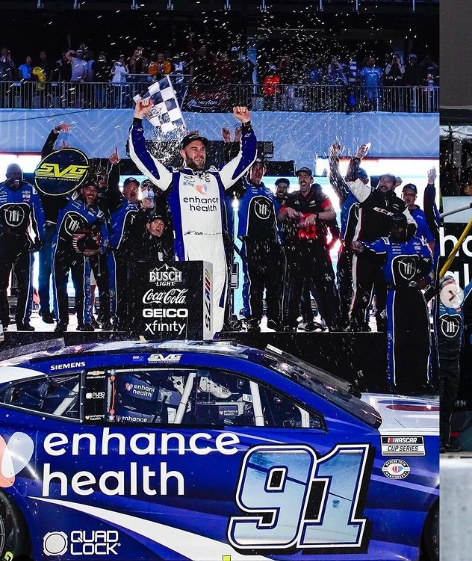 Growing up loving NASCAR, there was only ever a brief moment when it felt so vibrant. The country, as a whole, knew who Jeff Gordan and Dale Earnhardt were. Motorsports was cool and lucrative. Perhaps the untimely and tragic passing of Earnhardt halted the sport's growth. Perhaps. Then, Dale Earnhardt Jr. seemed poised to be the face of the brand and bring a younger audience in. The addition of an easy-on-the-eyes newcomer named Kasey Kane ticked female viewership up as well. But again, NASCAR just couldn't fully capitalize long term.
Now, in 2023, after a rather good season (please hold your feelings about the playoff structure), with a very marketable champion, the stars aligned for NASCAR, and they couldn't get it together. They fumbled on Ryan Blaney's New York City Championship unveiling.
Here's how.
1) Sending him to the Empire State Building.
Fine. Totally untestable, it is one of the most recognizable NYC landmarks. But for the love of whatever deity you believe, why was he in a blazer and dress pants? The man was still rocking his full playoff beard. And I get it to some degree. His girlfriend looked lovely as well. But if your sport is trying to target a new demographic, why not lean into what you are? I ask you, why was he not in his fire suit? The photo opportunity of him in his iconic yellow and black hoisting the trophy would be worth it alone. It's just good business to be displaying your team name and sponsors to a wider audience because we always have to be making money. Also, it just looks dope. Do you know how many 20-something-year-old guys I saw dressed as Ricky Bobby and Cal Naughton, Jr. on Halloween this year? That movie is almost 20 years old. That is your audience. This is who you should be appealing to.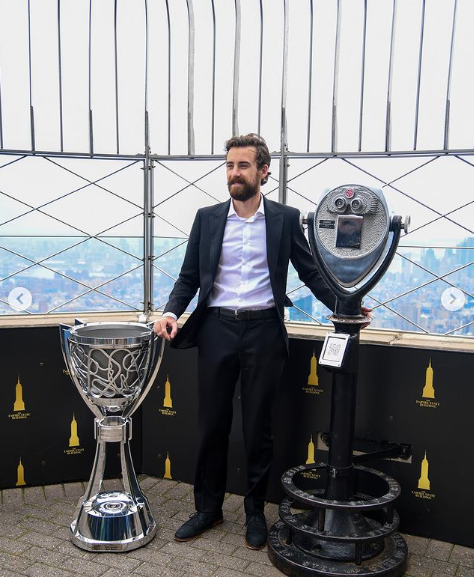 2) Every sports champion pays homage and makes the talk show/podcast rounds now.
Danny Ric goes on Jimmy Kimmel and slays. Hell, even Christian Horner was a fantastic guest for Dax Shepard. He's effervescent, lively, and dashing. Everyone falls in love or more in love. Ryan Blaney goes on (checks notes) Kelly and Mark. You know who watches Kelly and Mark? My mom, who ironically does know who Ryan Blaney is by way of his father. Why on earth would you put this man in front of an audience you are not aiming to convince to watch your sport? Ryan should've been in the Barstool office. He is absolutely the kind of guy who could vibe with Caleb and make a great viral video. Put this man in front of an engaged viewership that is under 50. He's not a nobody. There was no reason you couldn't get him in front of the right crowd. He drives for Team Penske, the family who literally owns almost all media news outlets. Do better.
3) No fun fan engagement.
Sure, they sent him to Times Square to stand there with the trophy and look at the Nasdaq building. Spectacular. Riveting. Insert sad face emoji. They so easily could have had the car and trophy downtown at the Seaport for photos and a meet and greet. Small things like this expand who could be interested in your sport. Formula 1 does popups and public events for their teams and drivers each race that are fun, fluffy, and inviting. It's such a low lift. It's the end of the season. Where is that car going after? What's the risk? None.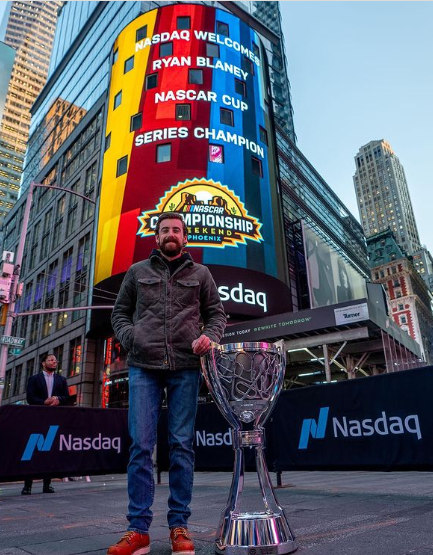 It's so disheartening to watch a sport I've loved for so long continually miss every opportunity to improve it and bring in new fans. I hope some of the F1 shine trickles down to NASCAR as it does for IndyCar. But if they continue with tactics like this, I have little to no hope. Regardless, I'll be there next season in a Melon Man shirt, cheering on Mr. Worldwide's team. At least he knows how to draw a crowd.