Plug-in hybrids make great transitional vehicles for people wanting to ditch gas without all of the potential hassles of living with an EV. They offer all-electric range and efficient hybrid operation when the battery power is exhausted, beautifully splitting the balance between green and serene urban commuting and gas-powered highway hauling. While they're a bit more expensive than traditional hybrid vehicles, their electric range means that many people can own one without needing to stop for gas until the occasional Disney trip or day-long errand run says they should. Heck, the site's founder even owns one!
That said, we've rounded up our favorite PHEVs for 2023 here. The models on this list offer great tech, upscale interiors, and solid performance. Care to take a look at the best plug-ins the market has to offer? Perfect. Then let's get rolling.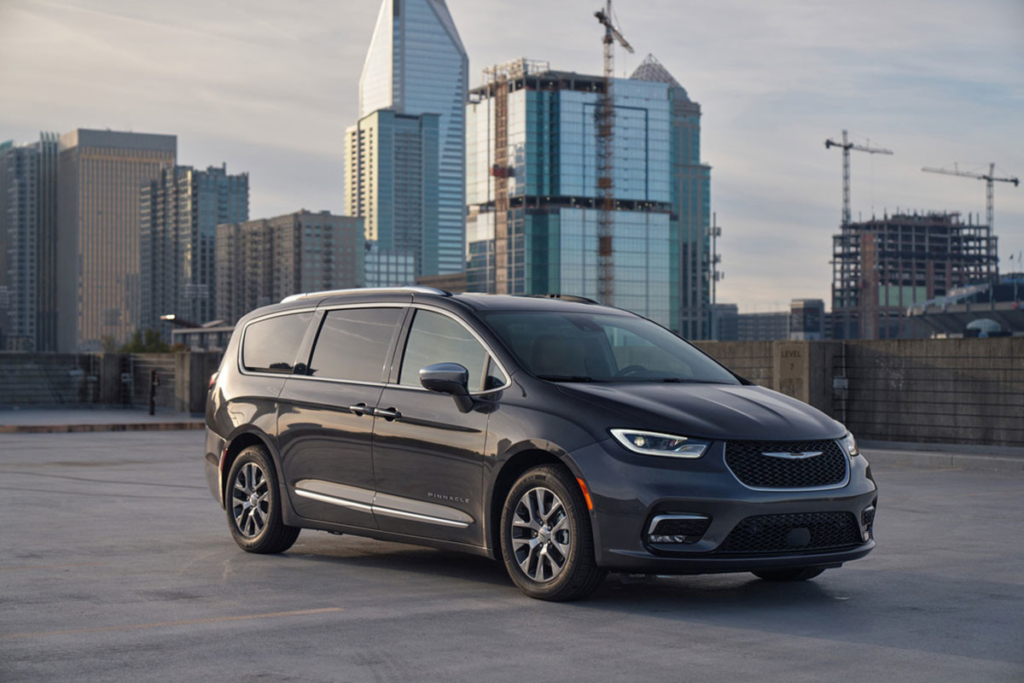 Starting price: $50,795
Horsepower: 260 hp
Torque: 262 lb-ft.
MPG combined: 30 MPG
MPGe combined: 82 MPGe
Battery capacity: 16 kWh
EV range: 32 miles
Laugh all you want at minivans, but the Chrysler Pacifica Hybrid is genuinely one for the books. Interestingly, it used to be the only hybrid van on the block, but that changed when Toyota introduced the latest Sienna. But Chrysler beats it out with plug-in functionality and a surprisingly stout 32-mile range estimate. On top of that, it returns 82 MPGe and up to 30 mpg with its gas powertrain. The Pacifica Hybrid also brings comfortable minivan handling and confident-but-numb steering.
Though aging, especially compared to its more recently updated rivals, the Pacifica Hybrid's interior offers fantastic comfort and solid space for people and gear. Leather upholstery and heated front seats come standard, and the second-row captain's chairs bring good padding and support. Chrysler uses Stellantis' Uconnect infotainment system, which is easily one of the most intuitive and easy-to-use interfaces on the market. Even if it's not the newest system to date, it rewards buyers with rapid touch response and a brainless-to-navigate layout that even our new editor-in-chief can attest to, having experienced many modern Stellantis/FCA vehicles. It runs flawlessly on the standard 10.1-inch touchscreen and brings wireless smartphone connectivity, Bluetooth, USB inputs, and six speakers.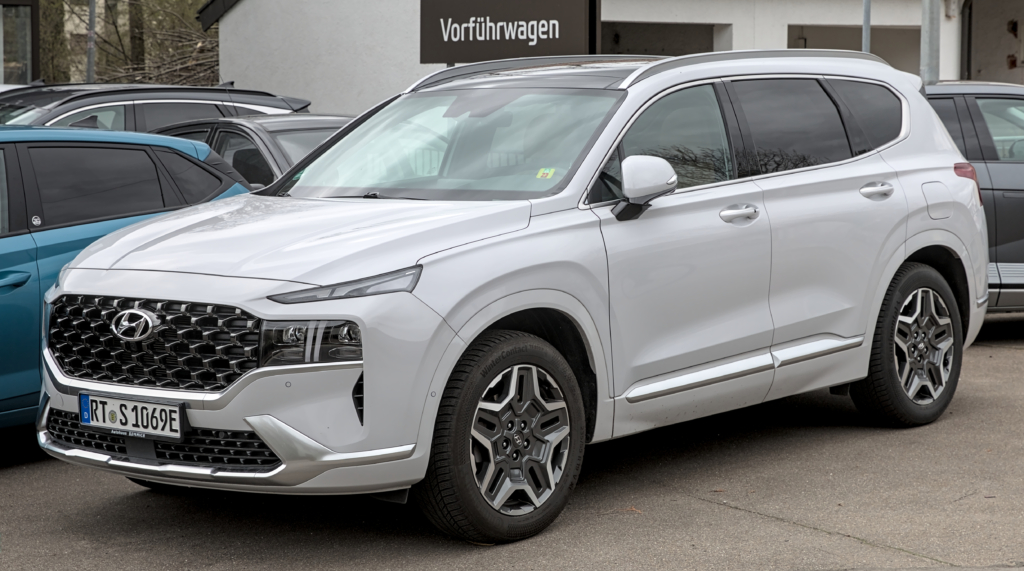 Starting price: $42,410
Horsepower: 261 hp
Torque: 258 lb-ft.
MPG combined: 33 MPG
MPGe combined: 76 MPGe
Battery capacity: 13.8 kWh
EV range: 31 miles
The Hyundai Santa Fe was an all-new model in 2021 and gained a frugal plug-in hybrid powertrain last year. While not a performance vehicle by any stretch of the imagination, the Santa Fe Hybrid offers brisk acceleration and reasonably athletic handling. At the same time, it maintains easy-going ride quality and offers a quiet cabin.
With the recent overhaul, Hyundai moved the Santa Fe in a more premium direction, giving it an upscale interior with excellent materials quality and handsome design. Hyundai's infotainment tech is less complicated than many other brands' systems, and it runs smoothly on the Santa Fe PHEV's standard 10.25-inch touchscreen. Other standard tech includes Apple CarPlay and Android Auto, Bluetooth, wireless charging, and HD radio.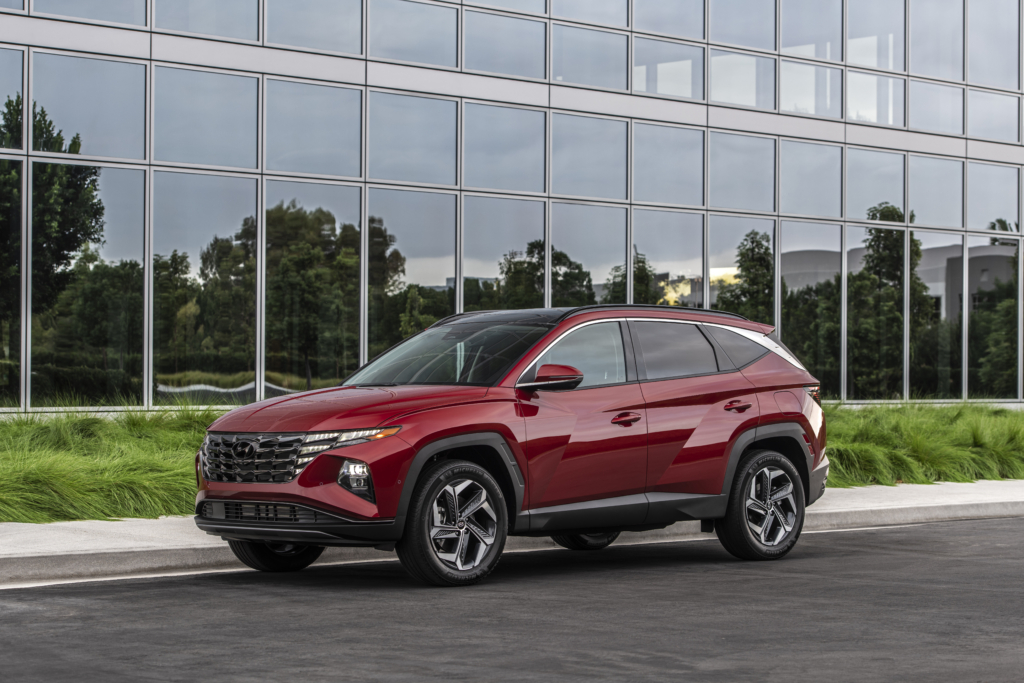 Starting Price: $37,500
Horsepower: 261 hp
Torque: 258 lb-ft.
MPG combined: 35 MPG
MPGe combined: 80 MPGe
Battery capacity: 13.8 kWh
Range: 33 miles
The Hyundai Tucson was recently overhauled, which brought sharp style, updated hybrid functionality, and better tech. This SUV offers a smooth ride, solid acceleration, and a refined hybrid system that smoothly hands off between gas and electric components. All-wheel drive comes standard, and Hyundai opted for a six-speed automatic over a CVT here, which significantly improves drivability. At the same time, the SUV returns up to 80 MPGe combined and 38 mpg in gas mode.
Regardless of trim, the Tucson offers a spacious, upscale interior with solid materials quality. There's good head and legroom in both rows of seats, and passengers in the front enjoy comfortable buckets with good padding and support. An 8-inch touchscreen comes standard, bringing wireless smartphone mirroring. Wireless charging, SiriusXM radio, Bluetooth, and dual-zone automatic climate controls are also standard.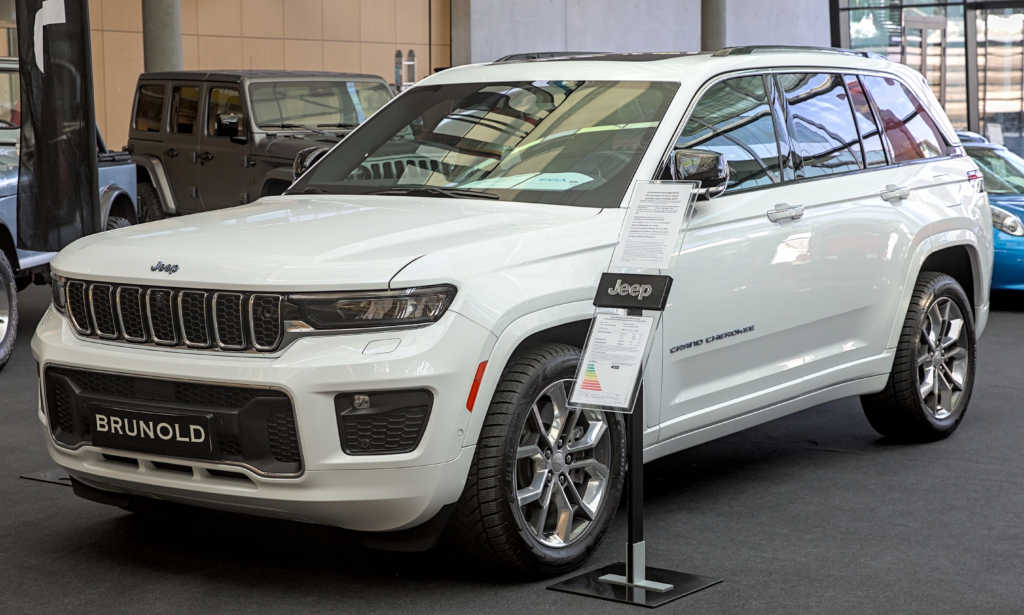 Starting Price: $60,360
Horsepower: 375 hp
Torque: 470 lb-ft.
MPG combined: 23 MPG
MPGe combined: 56 MPGe
Battery capacity: 17.3 kWh
Range: 26 miles
The Grand Cherokee 4xe was launched by Jeep following the success of the plug-in hybrid Wrangler. The SUV offers a decent all-electric range with energetic acceleration, though the transition between gas and electric powertrain elements can sometimes be awkward. Four-wheel drive is standard, and a smooth eight-speed automatic transmission helps the powertrain maintain smooth, quiet operation. And, okay, so it's not the most efficient of this gathering at only 23 mpg and 56 mpge combined, but it sure packs a healthy wallop of power and torque, great for off-the-line jumps and highway passes.
The Grand Cherokee offers comfortable seating for up to five people. Jeep offers a range of upscale features, including leather upholstery, heated and ventilated front seats, massaging seats, and a heated steering wheel. An 8.4-inch touchscreen comes standard, along with wireless Apple CarPlay and Android Auto, six speakers, and a 10.25-inch digital gauge cluster.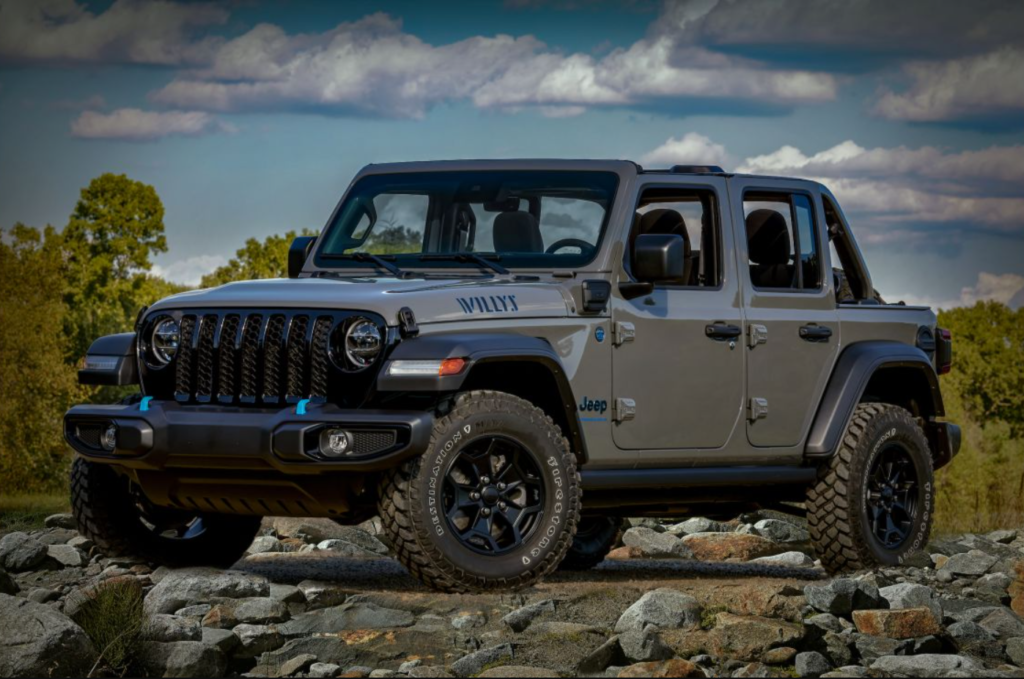 Price: $60,360
Horsepower: 375 hp
Torque: 470 lb-ft.
MPG combined: 20 MPG
MPGe combined: 49 MPGe
Battery capacity: 17.3 kWh
Range: 22 miles
Surprised that this made it? Come on, now. The Jeep Wrangler 4xe has become America's best-selling plug-in hybrid, and its powertrain delivers good acceleration with a reasonable all-electric range. However, like the Grand Cherokee, the Wrangler 4xe's powertrain sometimes stumbles in the handoff between the electric motors and gas components. The Wrangler can also be a handful to manage on the highway, as its off-road suspension makes it feel busy and sometimes unsettled at higher speeds.
It must be noted that while the Wrangler 4xe is the least efficient member of this club, it may as well be a Prius among standard Wranglers, eking out a healthy 20 mpg and 49 mpge combined. Hey, after all, it's still a big ol' Wrangler, sculpted by a wind tunnel if the wind tunnel was out of service. But try going to Moab in a Corolla Cross.
The new Wrangler is much more luxurious and plusher than its predecessors, but this is still a rugged off-road SUV we're talking about. Jeep did a good job at balancing materials quality throughout the Wrangler's cabin, as there's a mix of low-rent and upscale materials throughout. The SUV comes standard with a 7-inch touchscreen running Uconnect infotainment software. Apple CarPlay and Android Auto come standard, along with eight speakers and Bluetooth. Higher trim levels get a larger 8.4-inch screen and navigation.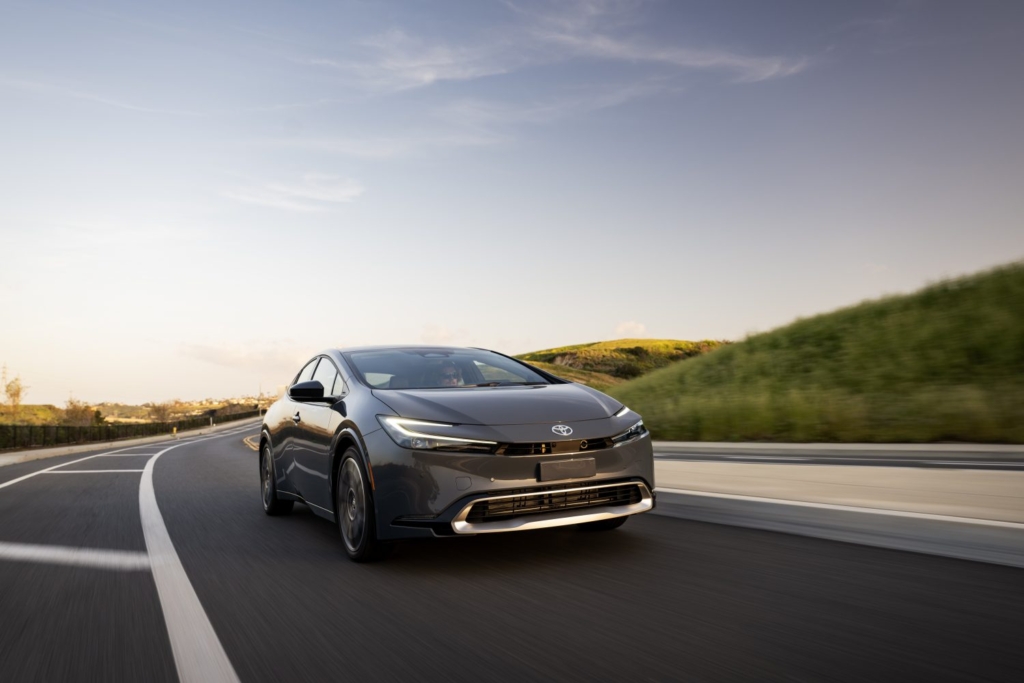 Price: $32,350
Horsepower: 220 hp
Torque: 139 lb-ft.
MPG combined: 48 to 52 MPG
MPGe combined: 114 to 127 MPGe
Battery capacity: 13.6 kWh
Range: 39 to 44 miles
Toyota redesigned the Prius and its Prime plug-in variant for 2023, giving it a striking appearance overhaul that made it surprisingly attractive from a design standpoint. It doesn't just look better, it's also more engaging to drive, with more power and far better acceleration than the previous generation.
The plug-in powertrain provides solid acceleration and refined operation, and there are up to 44 miles of all-electric range on tap in the most efficient models (it varies on the wheel/tire package). Regardless of trim level and tires, Prius fans are in for one of the most efficient plug-ins by a vast margin and one of the most improved generations of Prius, period. And no better is that reflected than its cabin.
The Prius Prime's interior feels more upscale and premium than in years past. Toyota implemented heavy updates to the infotainment system, making it easier to use and more intuitive. Front-seat space and comfort are both top-notch, but folks in the back seat may find a shortage of headroom because of the car's sloping roof. An 8-inch touchscreen comes standard, along with wireless Apple CarPlay and Android Auto, Bluetooth, and Amazon Alexa functionality.
Price: $58,495
Horsepower: 455 hp
Torque: 523 lb-ft.
MPG combined: 28 MPG
MPGe combined: 63 MPGe
Battery capacity: 18.8kWh
Range: 36 miles
The Volvo XC60 Recharge T8 PHEV blends Volvo's safety and luxury aesthetic with an advanced plug-in powertrain and great tech. The SUV delivers up to 36 miles of all-electric range, and acceleration isn't wimpy by any measure. At the same time, the XC60 maintains a comfortable ride, though it's not as athletic as some rivals. An eight-speed automatic transmission sends all that delicious, fiery power to all four wheels, and the stout powertrain operates smoothly in most situations.
Oh, did anyone mention this thing pushes 523 pound-feet? The Grand Cherokee 4xe sprints, but this is definitely a hard charger, with magazine-tested zero-to-60 runs in the low-four-second range and quarter-mile sprints in the high-twelves. For reference, that's Mustang GT territory. But you'd never know from a mere glance at its opulent innards.
Volvo's austere Scandinavian design gives the XC60 a calming, serene feel, and the materials are top-notch, no matter where you look. The front seats are supportive and generously padded, complementing a spacious back seating area that comfortably accommodates adults. Volvo moved to Google-based infotainment, which operates well on the 9-inch display. Apple CarPlay and Android Auto are standard.