As I drove the 2024 Alfa Romeo Tonale over the past couple of weeks, I finally understood America's infatuation with SUVs. I rode high on my steel throne, as my feet sat 6 inches from the ground and the tip of the brim on my cap hit the ceiling 5 feet in the air. My head was in the clouds, and no pothole in Queens was a match for my all-wheel drive (AWD) subcompact crossover. But unlike most vehicles in its class, the Alfa Romeo Tonale pops out like a peacock in a flock of pigeons.
In the last season of The Marvelous Mrs. Maisel, there's a scene where the Weissman family is sitting down at the table eating breakfast. Midge, reviewing color swatches for her new bathroom fixtures, decides she's going to buy a pink toilet. Her father, Abe, isn't having any of it though, insisting toilets should only ever be white. But Midge, being Midge, doesn't back down. Mildly annoyed, she quips, "A pink toilet is still a toilet, just a little more fun!"
Growing up as a kid in the early aughts, the master bathroom in our house had a pink toilet with a matching shower, tub, and double vanities. The half bathroom near the kitchen was furnished with a toilet and sink in dark green. Around the time we stopped drinking skim milk with dinner, colorful bathrooms went out of fashion I guess, seeing as all our stuff was replaced with the same stuff but in a more neutral white. Soon thereafter, it seemed the world had turned monochromatic and sterile.
Skip to section:
2024 Alfa Romeo Tonale design
🚦Get ready, set, full disclosure! Some of the links powering our posts contain affiliate links, which means we may earn a small commission if you decide to make a purchase, even if it's not from the page we linked. Affiliate links are not always an endorsement of the product. To really help us keep our headlights shining to make more content like this, subscribe to the Acceleramota newsletter.
As Frank Markus said for Motor Trend, the Alfa Romeo Tonale is "being pitched to women and millennials." Not the enthusiast type, but the "taking your kids to soccer practice" type. Its goal is to steal market share from the BMW X1 and Mercedes GLA-Class, and it may very well do that.
With every new BMW seemingly competing for the Most Repulsive Grille Award, its aversion to change works to Alfa's benefit. The self-serious marketing copy on its website might be slightly hyperbolic (see the graphic I made below for the Greatest Hits), but the Alfa Romeo Tonale is a better-looking SUV than just about every other crossover on the market, not that it's an especially high bar considering every car looks the same now.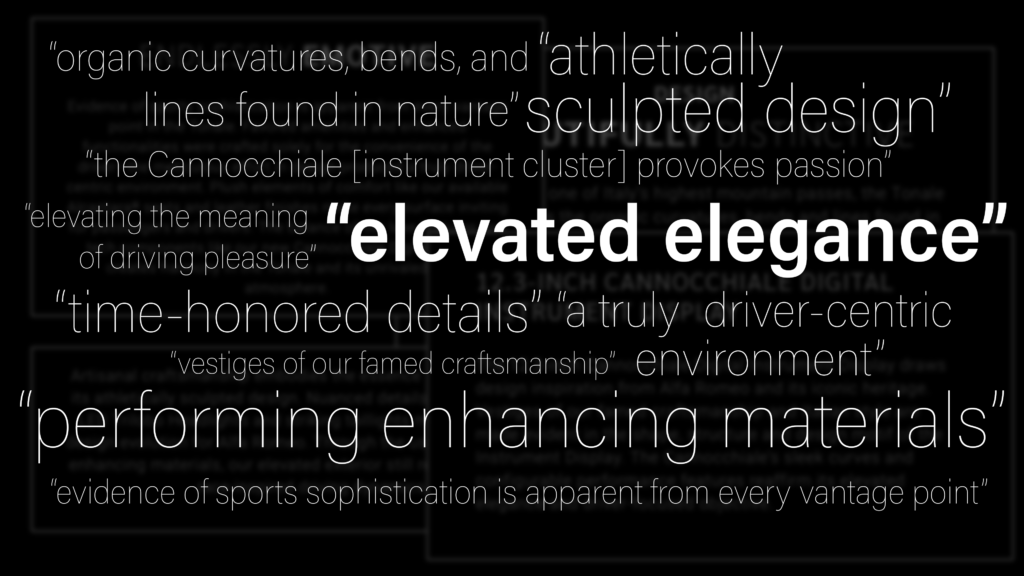 The tasteful V-shaped Scudetto (Italian for "little shield") grille is unwavering, practically identical to the one on the 8C Competizione that brought Alfa back to the States in 2008. The appearance will differ slightly from trim to trim. It's gloss black on our Veloce, whereas the midrange Ti sparkles silver, and the Sprint's grille is a more subdued black than the Veloce's, outlined in a more economical plastic material. As Top Gear said in its review of the U.K.-spec Alfa Romeo Tonale, the "elegant shield grille makes you wonder why rivals are making such a horlicks of their increasingly pugnacious frontal styling." How very British of them.
The only substantial change to the front end from the Alfa models before it is the Marelli 12-zone adaptive headlight system. Rather than burning the retinas out from the skull of the driver in front of you, each zone responds independently to your outside driving conditions. When you're cruising through town at low speeds, for instance, it reduces power consumption as well as glare by only utilizing the necessary lighting zones for optimal visibility. It kinda reminds me of how OLED TVs work, in a sense.
Don't hold your breath for a Quadrifoglio like the Giulia and Stelvio before it, though. Because it's PHEV (plug-in hybrid)-only in the United States, I doubt we'll see a Tonale with a Ferrari-derived engine, as is the Alfa CEO. (Sorry, losers, no four-leaf clover this time!)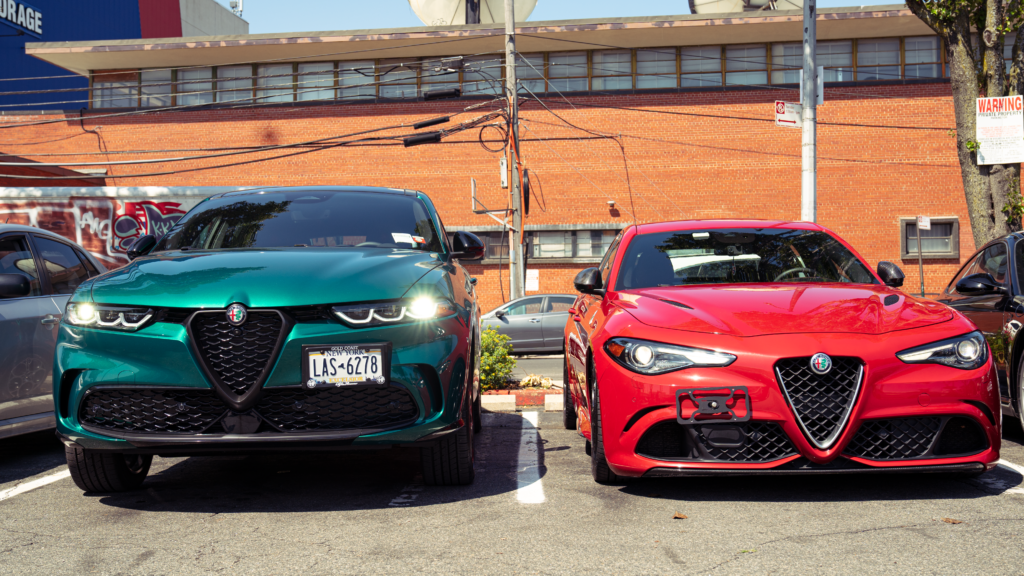 More so than previous Alfa Romeo models, the 2024 Tonale won't let you forget where its assembly plant is based. Three Italian flags brazenly appear throughout – two on the side mirrors and one prominently displayed below the gear shift. Perhaps it's to distract you from the DNA it shares with red-blooded American muscle cars and 4x4s, thanks to its absorption into Stellantis, which also owns Jeep, Ram, Chrysler, and Dodge. Because found on the driver's side window, brake calipers, and even in the engine bay are the obligatory Official Mopar® stamps of approval.
2024 Alfa Romeo Tonale colors
Parked on the street, I was sitting in the car one morning queueing up music on CarPlay when I saw a teacher walk by chaperoning a group of young elementary school kids. "Wow, look at that car. What color is that?" she asked one student.
The child, who could not care less, ignored her question.
"Green, right! Emerald green. Can you say emerald?" The student did not respond.
More recently, I nearly pulverized a pedestrian as he was crossing the street while the traffic light was green. I slowed down, of course, so he could cross. He, too, complimented the car. It seems no matter who you are or how you drive, the Alfa Romeo Tonale will stop people in their tracks, pausing for a moment to stare in awe. Not because it's an Alfa – New York has plenty of Giulias and Stelvios in black and white and gray. But because it's green… excuse me, verde fangio.
It isn't subtle either, calling to mind the shade Aston Martin uses for its Formula 1 cars and has since made its way to production vehicles including the DBX 707 SUV and the new DB12.
Alfa knew what it was doing when it exclusively showcased the green Tonale in just about all of its marketing. Because the green Tonale comes at a $2,000 premium. But even if you, like me, believe an eye-catching color is well worth the added cost, it's no longer available to order from the Alfa Romeo site as of this writing. Instead, you'll have to check in with a local dealer and see if they have any in stock.
Otherwise, you can be boring and get yours in Alfa White without spending another dime – or shell out a little more for a lot more visual appeal. Whatever you do, just don't buy gray or Stellantis will dunk you in a vat of orange paint.
Exterior paint colors
Alfa White (white): $0
Alfa Rosso (red): $500
Alfa Black (black): $500
Grigio Ascari Metallic (gray): $660
Misano Blue Metallic: $2,200
2024 Alfa Romeo Tonale price
Like most cars, the Alfa Romeo Tonale's price isn't one-size-fits-all. It comes in three different trim levels, each with its own packages and options. While it starts at $42,995, chances are slim you'll find a vanilla Sprint model with no additional toppings sitting on the lot of the Maserati dealership near you (where most Alfa Romeos are sold). And, even if you do, there's a $1,595 destination charge on top of the base price regardless of which configuration you choose.
Trim levels (before taxes and fees)
Sprint: $42,995
Ti: $44,995
Veloce: $47,495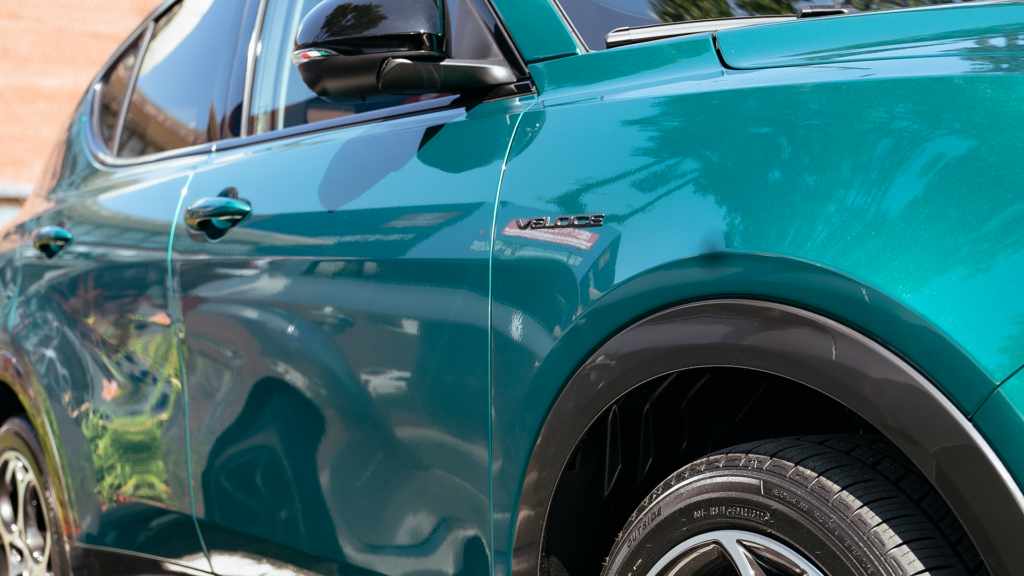 With that in mind, I do recommend leasing a Tonale as opposed to financing, for a number of reasons. The first is that while the list of cars you can buy that qualify for the EV tax credit is getting smaller and smaller, it's still the wild west for lessees. That's one of the main reasons you may have noticed a sudden influx of lease deals, even in our own coverage. As long it can be driven using the electric powertrain by itself, at least some of the time, any leased car is eligible for the full $7,500.
In theory, leasing a V8-powered BMW XM could net you the credit, but the mild-hybrid Toyota Prius will not. (I haven't tried it, but if you do, please report back to me). Ironic considering the XM gets an estimated 13 mpg in the city while the Prius can achieve upwards of 50 mpg. All because the BMW XM is a PHEV, which can travel a whole 30 miles on battery alone, and surely Americans will only use the gas engine as a backup in that ungodly gas guzzler.
Unfortunately, leasing a vehicle means the dealer still holds the title, so the tax credit goes straight to them. Gold Coast Maserati was kind enough to pass the savings on to us, lowering our monthly payment. That won't always be the case, of course, so make sure you ask your salesperson about the tax credit before signing any paperwork. Remember, walking out is the best negotiation tactic when visiting any car dealership.
2024 Alfa Romeo Tonale interior and tech
The interior of any Alfa Romeo is going to be divisive, and the Tonale is no exception. Starting with the high notes, the heated seats and heated leather steering wheel come standard, as do eight-way adjustable front seats, a 12.3-inch LCD instrument cluster display, a 10.25-inch center touch display, a built-in universal garage door opener, and wireless phone charging.
In making the most of its subcompact frame, Alfa literally outdid itself with the Tonale's interior. Despite its smaller dimensions on the outside, the Tonale beats the Stelvio when it comes to legroom in both the front and rear cabins. Of course, the Tonale falls short on headroom in comparison to its mid-sized sibling, but only by less than an inch in the back and just under 2 inches in the front. And while it lacks the cargo space of the Stelvio with the back seats down, the Tonale has 4.4 cubic-feet more storage when the seats are up. Yet, despite offering less space, the Stelvio is taller, wider, and longer than the Tonale, making the 2.0L Stelvio's place in the market all the more confusing.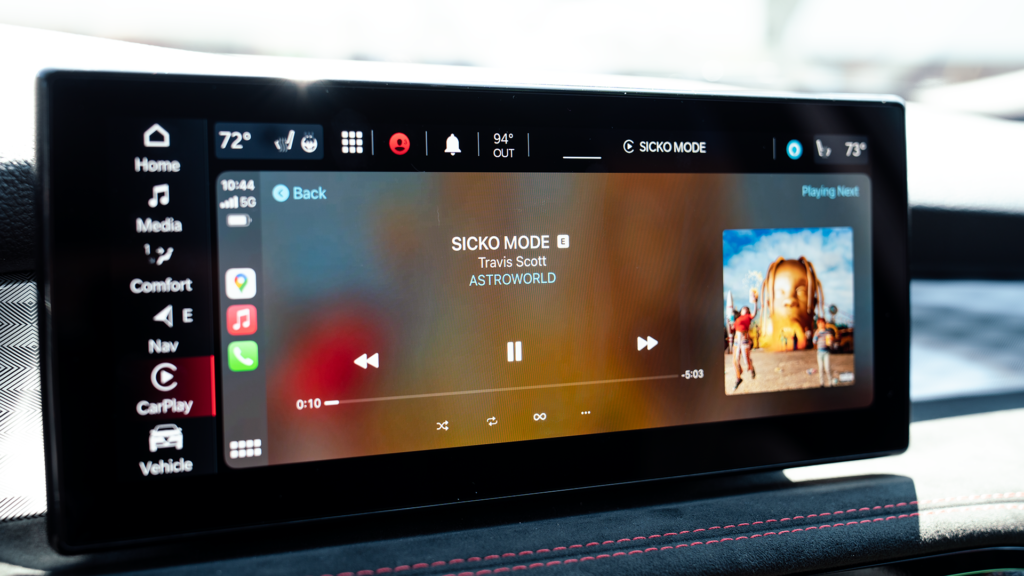 In addition to the standard interior and tech trappings, the 2024 Alfa Romeo Tonale has a handful of premium options, but keep your expectations in check, especially if you go for the base trim.
For an extra $1,200, you can add a power moonroof with a matching black shade you can open or close using electronic overhead switches. We outfitted ours with the moonroof, and apart from getting it in a strong color, it's the only other must-have on the list. Not that it's a particularly special sunroof. Alfa calls it "semi-panoramic," which I guess is semi-true. The shade can retract fully, but the moonroof itself stops about halfway. So while your rear-seat passengers can see the sky above them, they won't be able to recreate this scene. For safety reasons, that's for the best.
Speaking of safety, an optional $1,895 Active Assist package introduces a few more bells and whistles to reduce the chance of collision. The active driving assist system enables Level 2 autonomous driving, employing an array of sensors to accelerate and brake for you while maintaining your lane position in keeping with the traffic flow. Not self-driving, but certainly more robust than old-school cruise control. On top of the auto-dimming rear-view mirror inside the car, the Active Assist package also dims the side mirrors, an unfortunate necessity given the increasingly blinding headlights on newer cars.
While we did get the full suite of Active Assist features with our Tonale, in retrospect, it was mostly overkill. The main reason we wanted it was for the parking assist features. Living in NYC, as you can imagine, we have to pull into a lot of tight spaces, whether it's on the street or in a garage. Sometimes those spaces are so tight we give up halfway through to find another spot. Even if we can pull off the tricky maneuver, the cost-benefit analysis we do in our heads advises us against it.
Again, using tiny cameras all around your car to create a 360-degree map of its exterior, the surround-view system eliminates the guesswork. And holy shit does it let you know when you're too close to something! The incessant beeping drives me to madness, but it's better than driving me to the body shop. Unless you do a lot of city parking, you can probably skip Active Assist. The standard features will be more than enough for most drivers.
Tech, safety & infotainment
Uconnect 5 navigation w/ 10.25-inch touch display
12.3-inch full TFT LCD color display
6-speaker audio
Universal garage door opener
Wireless charging pad
Alfa DNA drive mode system
Automatic e-brake
Blind spot and cross-path detection
Driver attention alert
Enhanced adaptive cruise control
Forward-collision warning + full stop
Intelligent Speed Assist (ISA)
Lane-keep assist
LED daytime running headlights
Front and rear park assist
ParkView backup camera
Passive speed-limiting device
Remote start
Tire pressure monitoring display
Traffic sign recognition
Comfort
Sport cloth heated seats
Heated leather sport steering wheel
Door panel bottle holders
Consoles and storage
Console with armrest
Overhead console
Sun visors with illuminated vanity mirror
Climate control
AC w/ dual-zone temperature control
Rear air vents
PTC heater
Windows and locks
Power front and rear windows with 1-touch up/down
Interior mirrors
Auto-dimming rear-view mirror
Floor mats
Front floor mats
Interior design
Black headliner
MPH primary speedometer
Vinyl door trim panel
Vinyl instrument panel
Packages
High-performance driving: $1,500

Features: paddle shifters, aluminum pedals, Brembo brakes w/ Alfa Romeo script

Active assist advanced: $2,000

Features: intelligent speed control, traffic sign recognition, 360-degree camera, front, ParkSense park assist

Premium interior: $1,500

Features: leather-trimmed interior, ventilated front seats

Premium interior & sound: $2,500

Features: leather-trimmed interior, ventilated front seats, 12-speaker Harmon Kardon premium sound system
Interior options
Sport cloth seat with biscotto stitching: standard
Perforated black leather seat: $1,500 or $2,500 (depends on package)
2024 Alfa Rome Tonale design, performance and powertrain
Alright, here we go. The moment all you spec-heads have been waiting for. Lift the curtain and cue the drumroll, please! Commanding 285 horsepower (hp) and 350 lb-ft of torque, Alfa claims the Tonale can accelerate from 0-60 mph in 6 seconds with both the gas engine and electric motors turned on. I haven't timed it, but that sounds about right, anecdotally speaking. Apart from the AMG version of the Mercedes GLA, the Tonale really does pack the best performance in its class. It might weigh 4,150 pounds at the curb, but in 2023 where everything is built like a tank, that's less than some sedans.
Powering the rear wheels are two electric motors making 44 and 121 hp as well as 39 and 184 lb-ft of torque for a combined 165 hp and 223 lb-ft of torque with the engine off. Located under the front hood is a 1.3-liter turbocharged inline-4-cylinder Fiat FireFly-based internal combustion engine (ICE). Originally introduced in the South American market for the regional Fiat Uno, the FireFly was engineered to scale across a range of Stellantis (formerly Fiat-Chrysler) vehicles. You'll find naturally aspirated versions of it in the Fiat 500 and Fiat Panda while the turbo variant is used in the Jeep Compass and Jeep Renegade, albeit without the electrified bits, at least in the U.S.
On battery power alone, you can drive for 31 miles without recharging. Plugging it into a Level 2 charger will get you a full charge in about 2 hours and 30 minutes. However, by default, the Alfa Romeo Tonale won't charge in full swing without adjusting the charge speed on the infotainment first. On the default setting, it takes about 5 and 30 minutes to reach a full charge. Still faster than the 8 hours it takes to fully charge the 15.5-kWh battery using the included 120-volt Level 1 cable.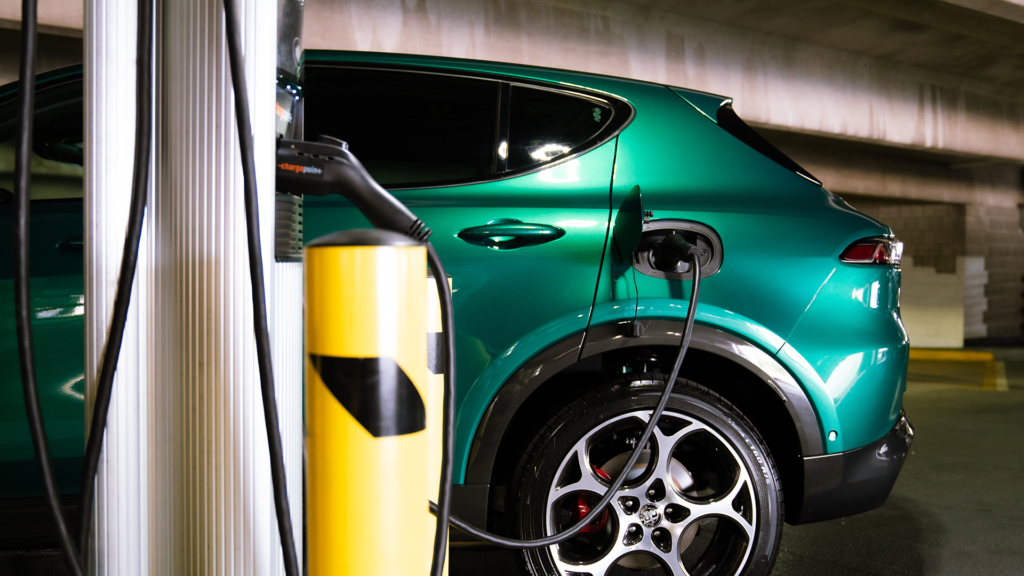 If you're in the city, good luck finding a charger that isn't blocked by an ICE or a Tesla taking up two spots. If you own a house, suck it up and get a Level 2 charger installed. Fortunately, it being a PHEV means the 2024 Alfa Romeo Tonale never really needs to be plugged in, unless you plan to drive full-time on battery power alone. The DNA drive mode system you'll find in all modern Alfas lets you toggle between three modes. As far as the Tonale is concerned, Dynamic (D) means the engine and electric motors are on all the time, Natural (N) relies primarily on the electric motors but fires up the engine when the extra power is needed, and Advanced Efficiency (A) runs purely on electric until it runs out of juice.
Driving the Alfa Romeo Tonale in Dynamic Mode will recharge the battery relatively fast. For every mile I drove, I gained one mile back in electric range. Regardless of the mode, you'll always recoup some power thanks to the Tonale's regenerative braking capabilities. That's good news considering the dealer forgot to charge ours until we arrived to pick it up. As a result, my wife had to putter from Long Island to Manhattan on gas alone.
Folks, let me tell you. This is a fun car. Not just fun for a mom car. It handles like an Alfa, which is to say it handles like a BMW or any other German car, only quirkier. I would argue it's even more fun to drive in EV mode because, without the gas engine powering the front wheels, it's effectively a rear-wheel drive (RWD) sportback. Although you're losing horsepower, you can corner like you're in your favorite racing game. The driving dynamics are astonishingly similar to that of my Giulia Quadrifoglio, and yes, you can disable traction control in any of the three drive modes.
But… BUT – and let me preface this by saying, the Veloce model's dual sport exhaust note is phenomenal for a 4-cylinder hybrid (I had to double-check to make sure the sound wasn't playing through the speaker). BUT! When the battery dies down, the excitement dies with it. The Alfa Romeo Tonale running on gas alone sounds like a marathoner gasping at the final mile, desperate for electrolytic replenishment. The dedicated gas-only mode called e-Drive, Alfa-speak for "Grandpa Mode," turns the Tonale into a front-wheel drive (FWD) boat making 180 hp and 199 lb-ft of torque. If you derive any enjoyment from driving, I suggest you never turn it on.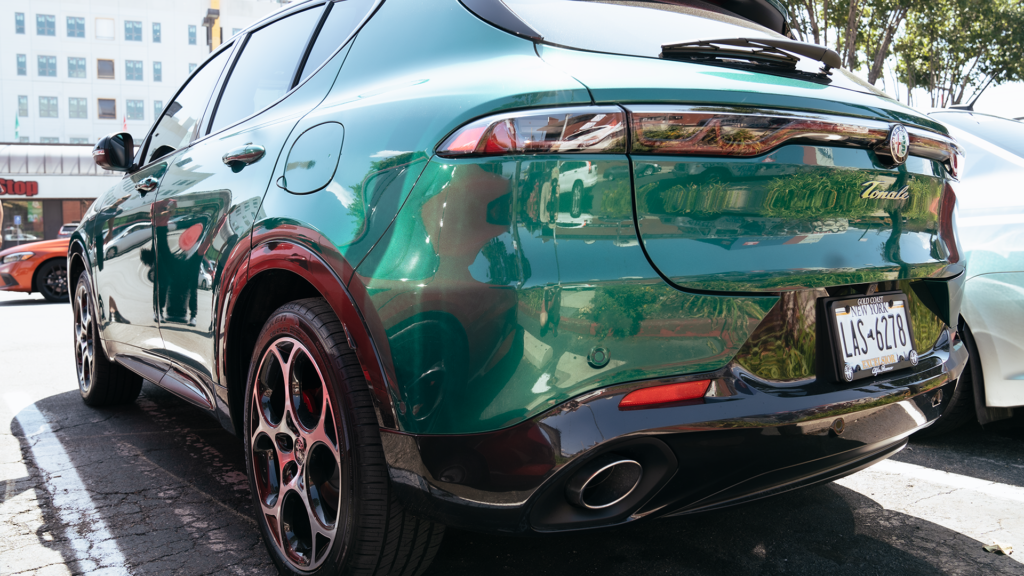 2024 Alfa Romeo Tonale vs 2024 Dodge Hornet
Oh, you thought I wouldn't bring it up, as if it's the insect who shall not be named?
Believe me, I am well aware the Dodge Hornet sits on the same Jeep Compass platform as the Alfa Romeo Tonale. That they share the same powertrain. And before you say anything, I know it costs nearly $10K less to start. However! Let's set the record straight. The Alfa Romeo Tonale is not an up-badged Dodge Hornet. The Hornet is a down-badged Tonale. This isn't a cheap shot at Dodge – Alfa employees have that covered.
In all earnest, they're two different cars, particularly at the base level where the pricing is at its most disparate. In fact, the $32,330 Dodge Hornet GT isn't even a hybrid. It's a 2.0L 4-cylinder turbo making 268 hp and 295 lb-ft of torque. That's 6% less horsepower and 15% less torque than the Alfa Romeo Tonale Sprint. Premium features that come standard on the Tonale, like the heated steering wheel and seats, 18-inch wheels, as well as remote start are optional, so tacking them on the Hornet hikes up the price.
The Dodge equivalent of the $42,995 base model Tonale is the $42,530 Hornet R/T. Buying "American" saves you a whole $465. Congratulations, treat yourself to something nice for Prime Day.