Volkswagen released the eighth-generation Golf GTI and Golf R in the United States in 2022, and both got interesting anniversary models for 2023. I grabbed a 2023 Volkswagen Golf R 20th Anniversary from a local dealer at a fair price and have spent the last two months putting it through its paces. The car is far from perfect, but its mix of interior space, all-wheel drive performance, and supreme hot-hatch cargo capacity put it over the top for me.
That said, I would've picked up a GR Corolla for the right price. The Golf R is brutally quick and offers impressive performance tech, but it's not as raw or entertaining to drive as the Corolla or the new Civic Type R. It's better at hauling my kids and dog, but is it a better all-around car? Let's get rolling and discover all the reasons why I think (hope) I made the right call.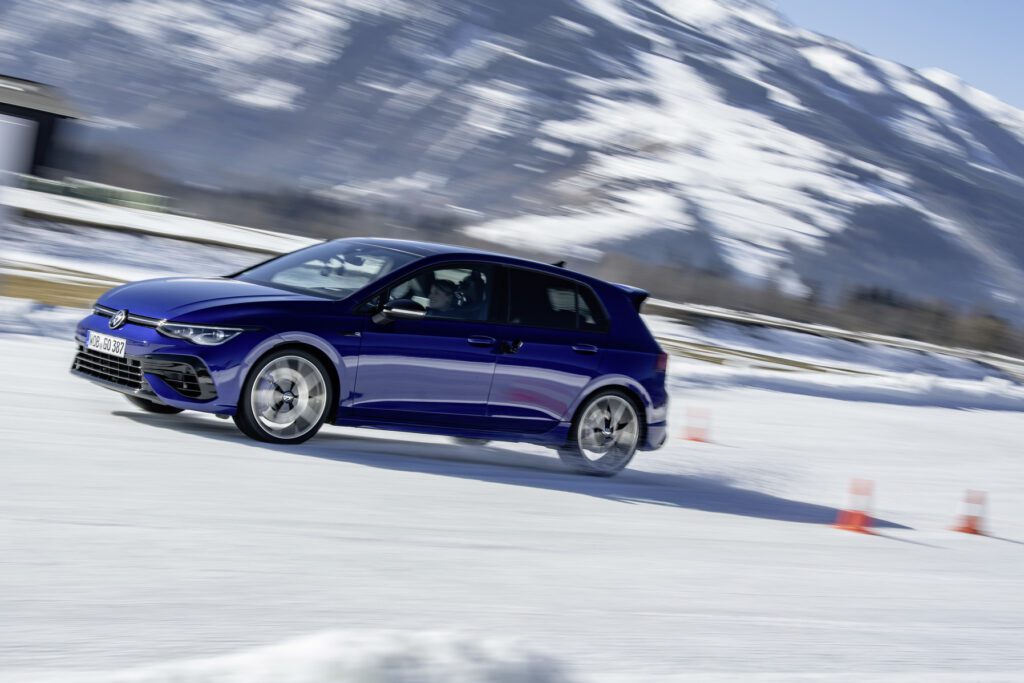 2023 Volkswagen Golf R price and trim levels
The Volkswagen Golf R starts at $44,740 and is on sale now. It comes in two trim levels – base and 20th Anniversary – but the latter is just an appearance change for the car. Though the R is offered in other body styles globally, America gets a hatch only, but it gets all the goodies without added-cost options. In this review, we tested the 2023 Golf R 20th Anniversary.
Available trim levels:
Base: $44,740
20th Anniversary: $45,390
Exterior paint colors
Lapiz Blue Metallic
Deep Black Pearl
Pure White White
Interior colors
Titan black w/ blue stitching
Interior options
VW offers no interior options
Packages
VW offers no packages or upgrades other than accessories
They're keeping it real simple over there at Wolfsburg, I see.
For reference, the Civic Type R is roughly on par at $44,890, while its tuxedo-clad sibling, the Integra Type-S, goes for $51,995. The GR Corolla starts far lower at $35,900, and the Hyundai Elantra N, which is a teeny smidge behind this pack in terms of speed but has similar tech and features, stickers for $32,900.
2023 Volkswagen Golf R interior and tech
While VW offers plaid cloth or leather in the GTI, the Golf R gets leather in both models. The 20th Anniversary adds carbon fiber trim to the dash and a blue "R" logo to the steering wheel but is otherwise identical, other than the fact that buyers pay more to delete the sunroof. Some have complained that the eighth-gen Golf R and GTI feel cheaper inside than their predecessors, which is largely accurate. There are more hard plastics and fewer physical controls than before, and that's a hard pill to swallow at almost $50,000.
Interior space
Front seat legroom: 41.2 inches
Rear seat legroom: 35 inches
Front seat headroom: 38.5 inches
Rear seat headroom: 38.1 inches
Cargo space with back seats up: 19.9 cubic feet
Cargo space with back seats down: 34.5 cubic feet
Dimensions
Length: 168.9 inches
Width: 70.4 inches
Height: 57.7 inches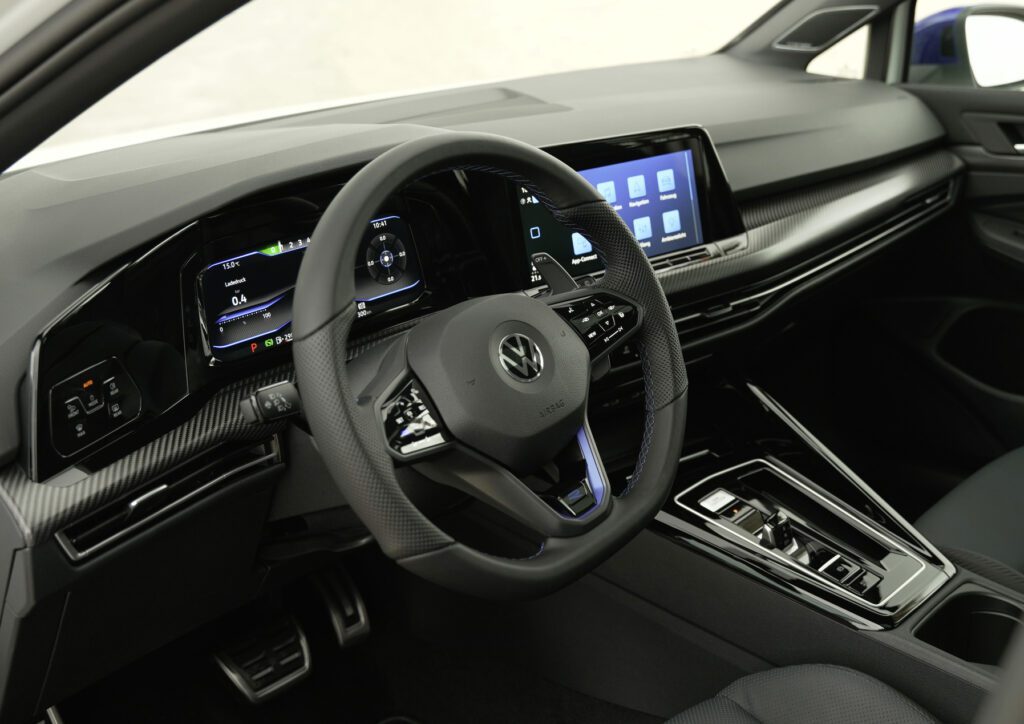 2023 Volkswagen Golf R engine and performance
The 2023 Golf R relies on VW's workhorse EA888 four-cylinder engine, now in its fourth generation. The turbocharged 2.0-liter mill makes 315 horsepower and 295 pound-feet of torque and sends it to all four wheels through a seven-speed DSG transmission. The car comes standard with a six-speed manual, but they're harder to find and are down 15 pound-feet of torque on the DSG. I've been able to get close to Car and Driver's tested zero-to-60 mph time of 3.9 seconds, but the quickest times involve perfect conditions that I rarely have here in Maine.
In the handling department, Volkswagen improved the Golf R's suspension and chassis, and the car comes standard with adaptive dampers. Large 14.1-inch front rotors bring everything to a stop and the car's torque vectoring shifts torque between the wheels that need it the most.
The Golf R also includes several drive modes, such as "Race," "Special," and "Drift." Even so, having a Drift mode is only really useful if the car actually drifts while using it. That's not the case here, as the Golf R feels extremely reluctant to break traction in the so-called drifting mode.
2023 Volkswagen Golf R design
Where some hot hatches opt to shout their performance from the rooftops, the Golf R is a more subtle affair. There are no loud scoops on the hood or massive spoilers other than one prominent wing on the rear hatch. I'd prefer a sunroof, but many have knocked VW's for being leaky and loud, so perhaps I dodged a bullet with the 20th Anniversary's slicktop design. The car rides on 19-inch wheels clad in summer rubber, and though the wheel design is the same, the 20th Anniversary's are painted black. The only other indications that it's different from a GTI or standard Golf are the R logos on the quarter panels and rear hatch.
The interior design is pleasing to the eye, but there are simply too many touch controls. I've adjusted to them after weeks of use, but they could be jarring for someone coming out of a more analog car. The front seats are deep, sporty, and supportive and offer prominent bolstering for secure seating during rowdy driving. Back-seat passengers enjoy more legroom than the Toyota GR Corolla, and the R has more cargo space than a Porsche Macan. Go figure.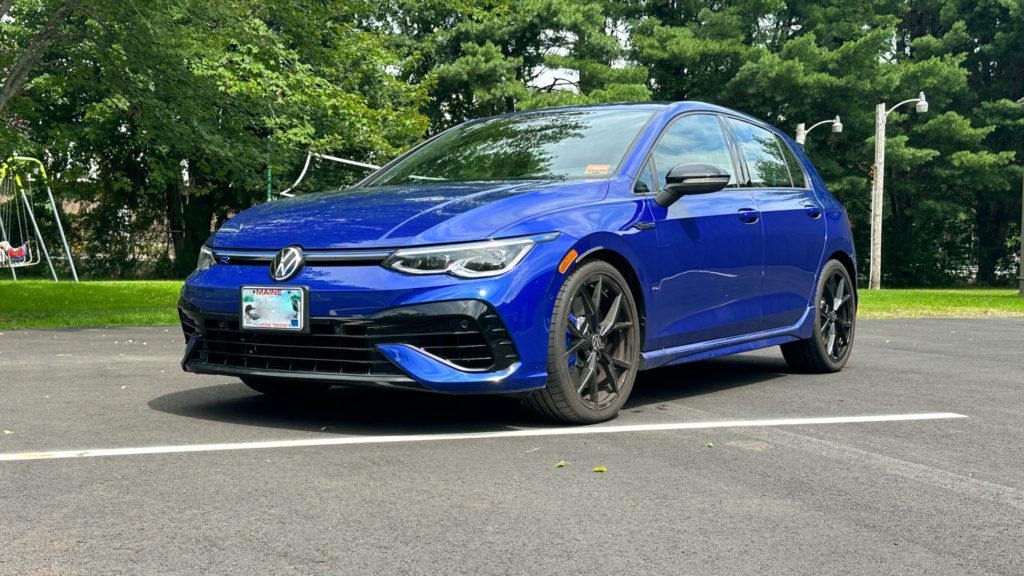 2023 Volkswagen Golf R future
The Golf GTI and R are only two years old at this point, and despite VW's EV saber-rattling, they'll likely stick around with gas for at least a few more years. The cars are expected to get a facelift in 2025 or 2026 that brings more physical controls and other updates, but the Golf probably won't shift to an all-electric, or even a hybrid design for that matter, in the next couple of years. That said, VW has long said that the GTI name would make the jump to electrification at some point, so it's only a matter of time before we see an electrified hatchback on American soil.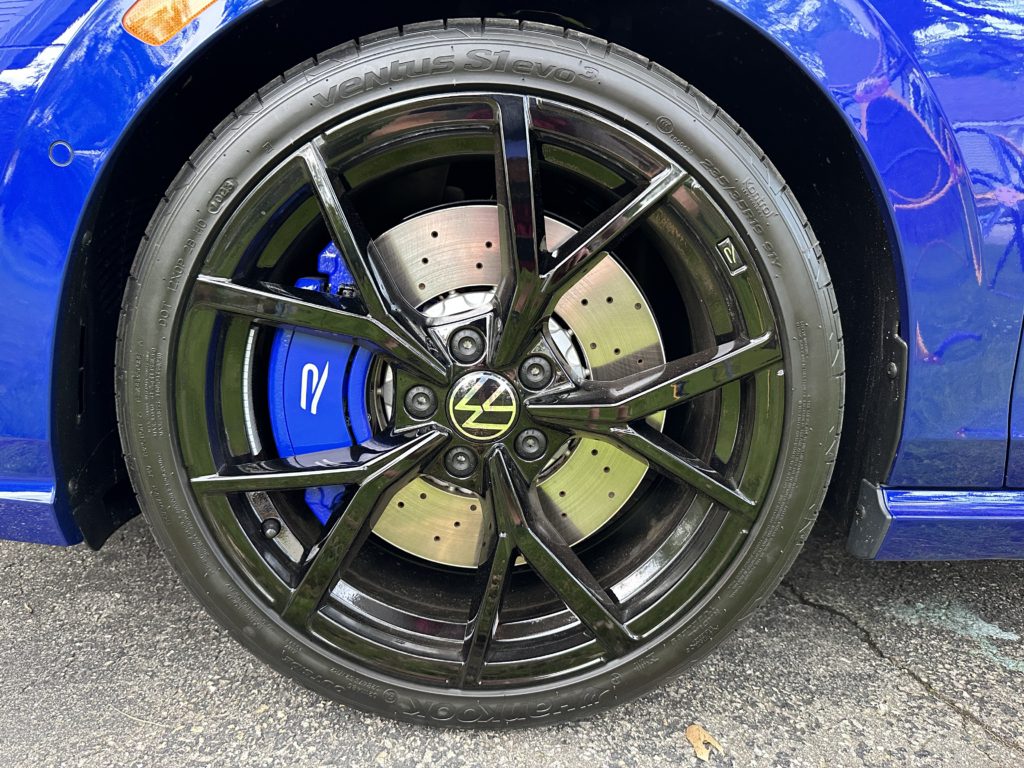 Additional FAQs
Is the Golf R worth the premium over a Golf GTI?
In my case, the answer was yes. The GTI (I owned a new one for over a year) fizzles out at a point, and that's where the R shines the most. This is true with acceleration and overall grip, as the R's trick all-wheel drive system helps it claw out of trouble much more confidently.
Is a Golf R expensive to maintain?
Maintaining a Golf R is more expensive than driving something like a VW Jetta or Camry. Still, it's not as tearjerking as trying to keep up with maintenance on a Porsche or more exotic car like a Lamborghini or Ferrari.
Which Audi has the same powertrain as the Golf R?
The Audi S3 sedan has the same turbo-four and all-wheel drive system as the Golf R, all wrapped up in a sedan body instead of a hatch.
Is the Golf R faster than the GTI?
The Golf R has 75 more horsepower, and its all-wheel drive system helps put that power to the ground much more efficiently than the front-wheel drive GTI.