The automotive phenomenon known as Radwood SoCal returns for another meetup celebrating retro cars and culture from the 1980s and '90s. Many of the enthusiasts passionate about all things beige and boxy, turbo'd and neon, might have loved the long-overlooked misfits that find a home at Radwood. But since the first iteration way back in 2017, the collectible car market's upward swing in values attracted enough attention that Hagerty, the insurance company turned lifestyle brand, decided to spend big money and bring Radwood under its overarching umbrella.
Somehow, the timing never worked out for me to actually visit a Rad gathering previously, so I drove down to the Port of Los Angeles that played host to this year's event, very curious to see how the enthusiast community might embrace a by-now established event under relatively recent corporate governance. But I also looked forward to partaking in the so-called "Rad Rally" afterward led by former Porsche driver Patrick Long, since the joys of park-and-show meets tend to fade in comparison to actually driving—and watching others drive—what I've always called some of the coolest cars on the road.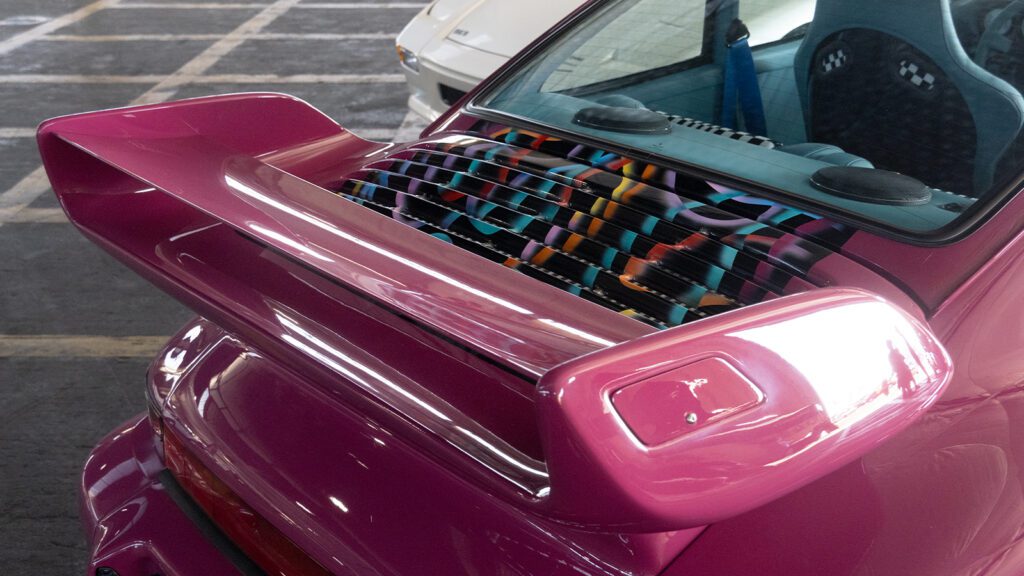 Wake up for load-in
My Radwood started early, with a cruise down to Long Beach in my Mitsubishi Pajero Evolution, as the sun just started brightening. There was only a short wait to show credentials, mostly for a couple of toy haulers loaded to the brim with immaculate Benzes by CMS Motorsports and Restoration, and I pointed the PajEvo into a nice spot at the back of the "Royalty" section. Through roll-up doors, I heard the port canals splashing occasionally on pillars holding up the docks—at least when the burbling exhaust echoing throughout the building began to tone down.
The large parking lots surrounding the Royalty warehouse opened up for standard-ticket show cars half an hour later. Bright contrasting light glinted off the angular forms of Toyota Tacomas, crested the rolled fenders of a handful of BMW 3-Series, and glared off the stainless body panels of a cozy-looking DeLorean. All the while, drivers got out to fist-bump friends decked out in the brightest outfits anyone could get their hands on.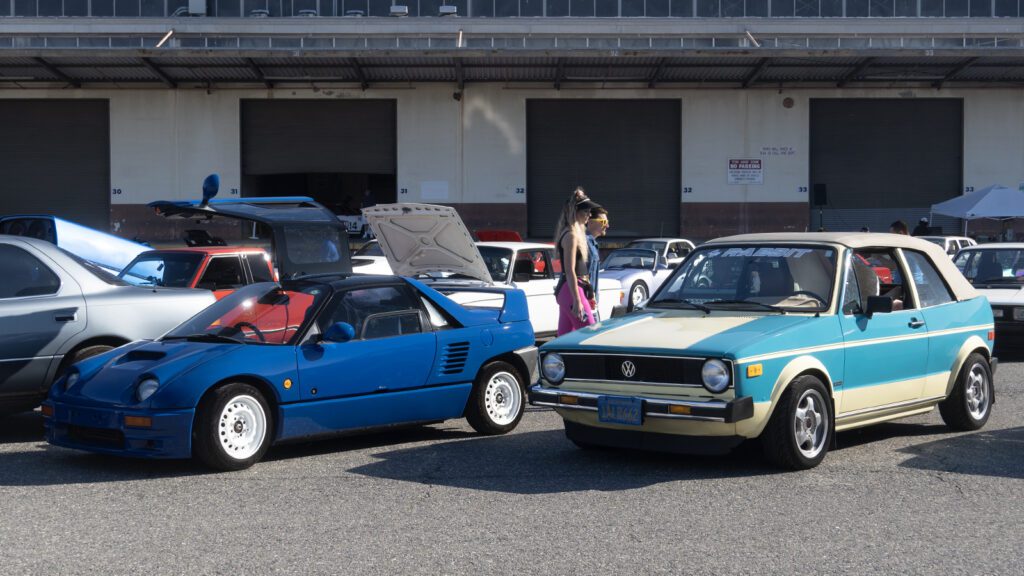 The homologation specials
I parked the Evo at the very far end of the show, where organizers waving flags assured me it would best attract spectators through to the rear of the massive building. A friend in his Escort Cosworth parked nose-to-nose, just below hilariously accurate tagging that read "You're on thin ice" in a messy scrawled font. Two homologation specials to round out the Radtasticness, without a doubt, the two best cars in attendance (in my entirely unbiased opinion).
Figuring I might find a few other homologation specials to test my '80s and '90s nerdiness, I started wandering—the true art form of any automotive journalist. The first car that popped out from the crowd ended up being a 1981 Toyota Starlet, obviously refinished in bright blue, a BEAMS 3S-GE motor bedecked with independent throttle bodies nestled into the engine bay and fun custom mirrors matching a shift knob, all built by Mr Grip. The little hatch puts down 200 horsepower to the rear wheels and weighs only 1,800 pounds, making the nickname Starlet Johansson about as apropos as possible. Even if not a true homologation special, the Starlet stood out for me after I saw a stripped and caged example racing in the Olympus Rally early this year.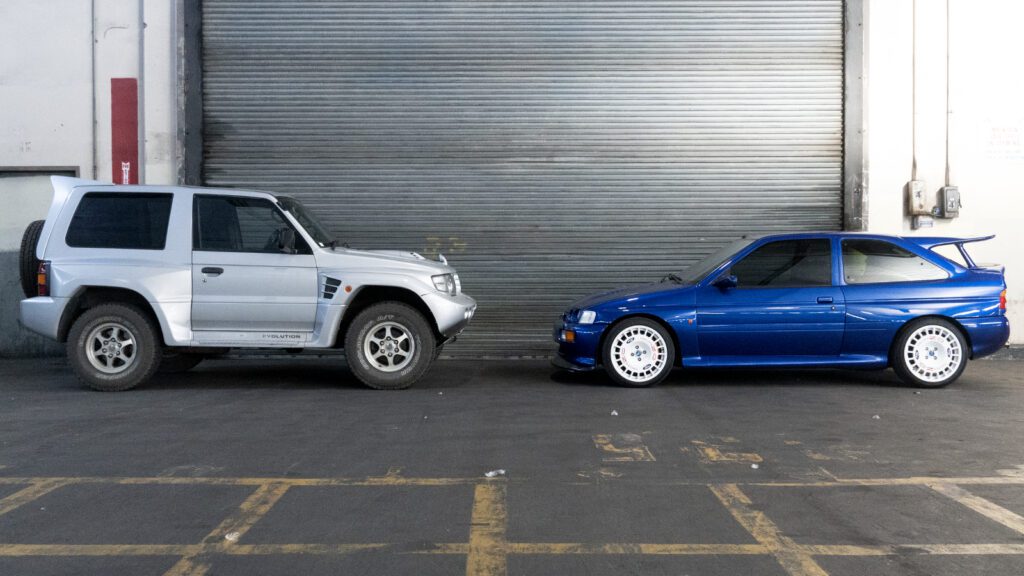 By the time I meandered outside, where the harsh sun had created dark shadows that made my holographic eyeball sunglasses almost blindfolds, the lines for food trucks had already looked far too long. I figured I might swing by for coffee and maybe a donut after the rush died down.
Guess again! I chatted with a few friends, checked in with Hagerty reps, and kept strolling. But when the general public gates opened at 10:15 am, the prospect of brunch started to fade. Good thing I always bring snacks.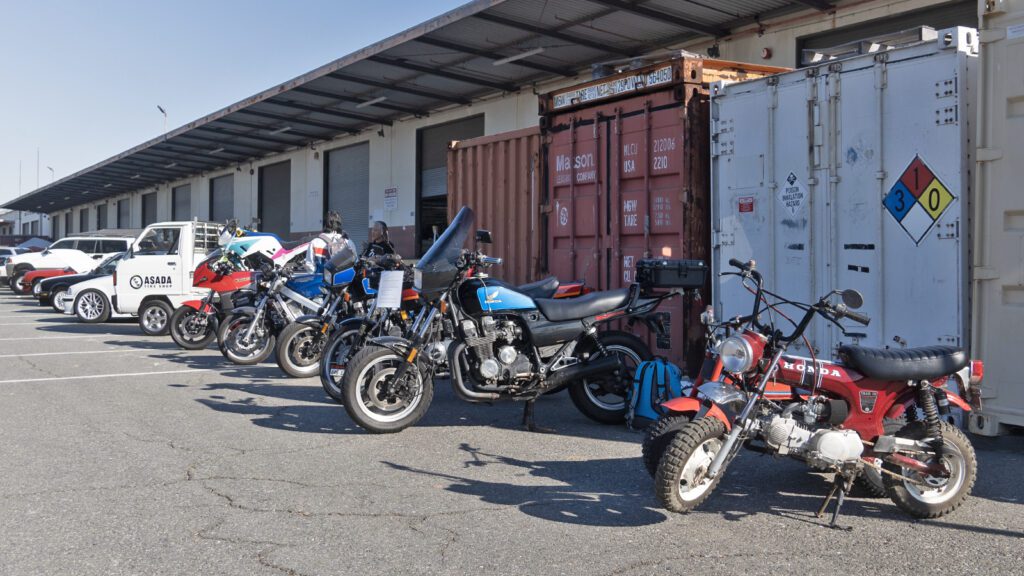 Rounding a corner built out of shipping containers—again, about as apropos as possible for the scene—I stumbled onto a row of motorcycles. Having recently gotten my M1 endorsement, I stopped to take a closer look at these primitive pieces of rolling stock while remembering advice from many riding friends to always buy old cars and new bikes. Point taken, as proven by ratty exposed hosing, nearly hidden carburetors, kick-starts, and minimalist gauges galore. Sign me up for fuel injection and electronic starter motors, I thought. Then again… How about a 1976 Honda CB750K cafe racer? Not quite officially Rad, but I guess rules are meant to be broken.
Back inside the warehouse to shoot the growing crowds from elevation, I bumped into a "Baja Monkey" motorcycle build looking absolutely sick, brah, with a titanium exhaust and full suspension bolted onto the tiny frame. Right next to a scooter finished in art deco graphics over two-tone white. Totally on board, without a doubt.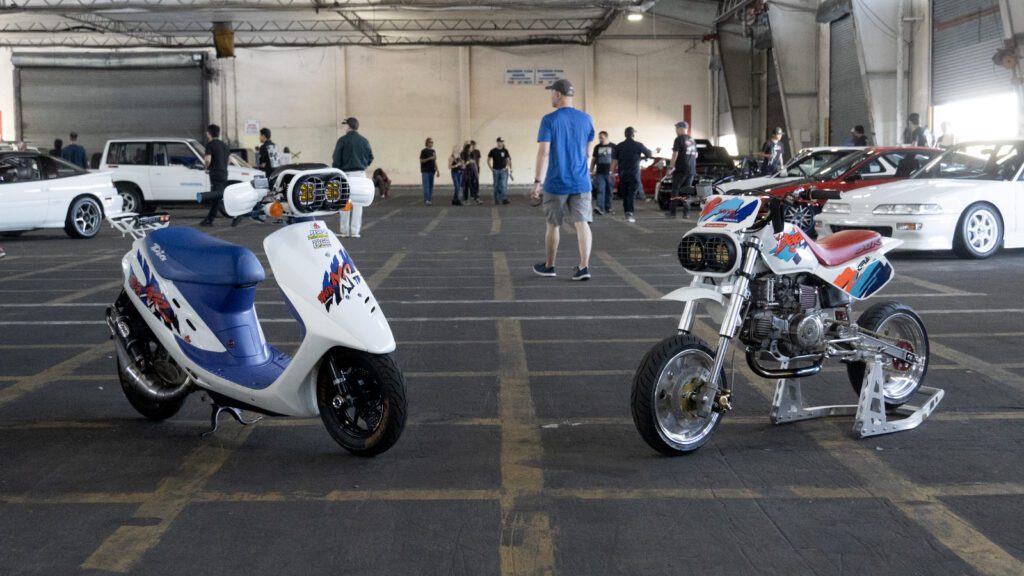 Another Pajero Evo joined the throng by now, in matching silver but with yellow mudflaps held up by straps to prevent problems in the sand, also known as quintessential Dakar style. And a Galant VR-4 with an absolutely awful white respray and hilarious roof rack also caught my eye. Okay, fine, I'll stop talking about Mitsubishis. I also saw a sweet, bright red Dodge Conquest… Wait, nevermind.
Staying on target
Even if snapping pics made up most of my official "job" at Radwood, I also got an offer from Hagerty to take a Maserati Shamal out for a spin. Yes sir, where do I sign? Sure enough, right at the entrance awaited a slightly darker-black Shamal than I imagined, with tinted windows and what looked like OEM five-spoke three-piece wheels. I feared the prospect of no air conditioning in the increasingly hot sunlight, so I figured I'd better get the hard work out of the way early. Either that or I just wanted to drive an absolute 1990s-style icon.
Inside, the Shamal sports plush leather seats closer to a lazy boy than most sports car seats, with an upwardly canted steering wheel that I couldn't figure out how to move for the life of me. Eh, all good. Since the A/C worked, my feet reached the clutch pedal just fine. My head never got close to the ceiling. Less educated spectators probably thought they passed a Biturbo, but guess again suckers! The Shamal rocked a twin-turbo V8 all the way back in 1990! Throw in a Gandini exterior clearly reminiscent of Countaches, Panteras, and maybe a few Alfas. Now add a real roll bar integrated into the roof, a gated shifter for the six-speed shared with BMW's 850CSi, and adaptive suspension from Koni.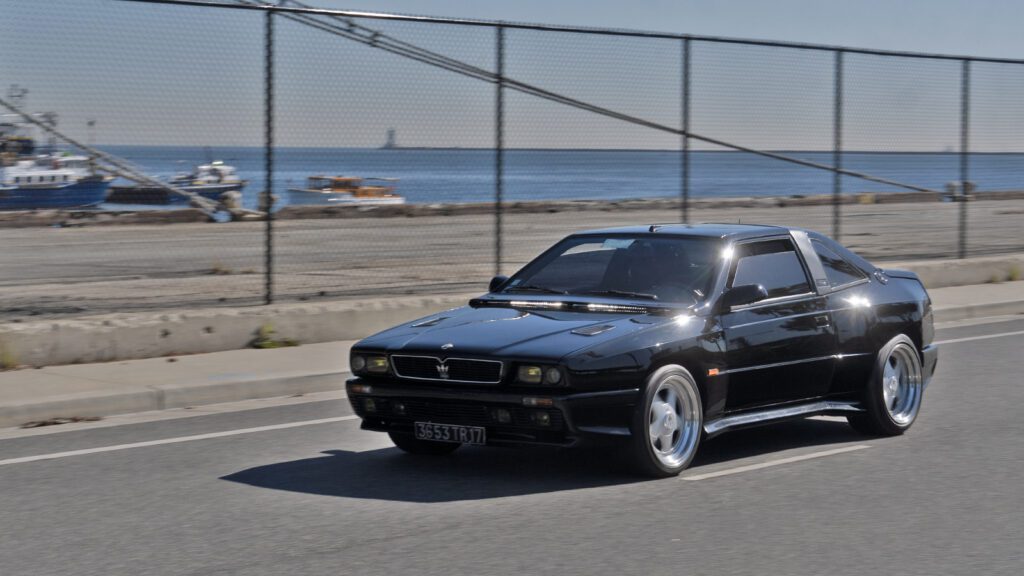 Let me tell you, the little thing rips. I wanted to let the engine get warm before throwing in too much boost, but the turbos started spooling up around 2,500 RPM, and by 3,000, I heard all kinds of good noises, rollicking forward on a surprisingly tight chassis as the shove began pushing me back into those soft seats. With a punch of the pleasingly firm clutch pedal, slap the shifter over through another gate and give the throttle more goose.
On a couple of tighter turns, I even felt (or imagined I felt) the suspension working to keep this moderately light grand tourer, with a lower-than-expected curb weight of just 3,184 pounds, planted and confident. Maybe the heavy steering contributed to the sensation, but then I unwound and creeped up higher toward redline with the engine temps rising. Such a good thing, this Shamal. And apparently, despite a production total of only 369, it's somewhat affordable, according to my Hagerty guy. Or at least affordable for millionaires. Not so much compared to most of the other good stuff at Radwood.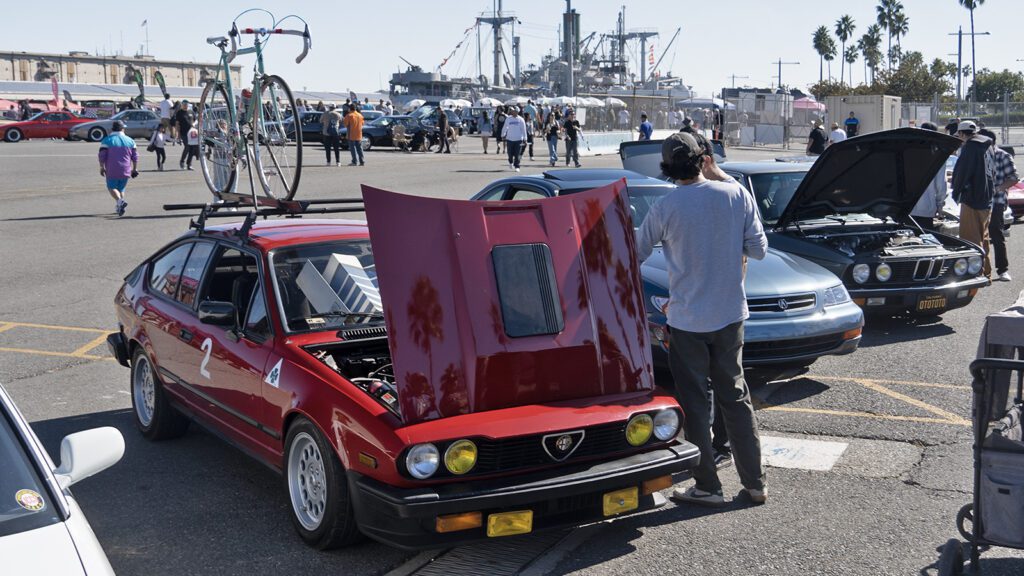 Back to the Radwood show at hand
All good things must pass, including the 1990s turning into a horrid new millennium and my brief time with the Maserati Shamal. But I needed to get back to Radwood ASAP and find some snacks before I got hangry. By now, the sun just baked the parking lot, and almost everybody had made the wise choice to huddle inside the Royalty warehouse. On the second pass, I spotted some fun Porsches, a perfectly specced E34 BMW M5, and the undeniable king of the show that I had somehow missed the first time around.
Yes, you guessed it. An Isuzu Impulse RS. You know the one with Handling by Lotus? That turbo-four, manual trans, and all-wheel drive pocket rocket with cloth seats, hilarious gauges, and space shuttle-era switchgear? I'll admit that maybe only seven people I spoke with shared my excitement about the little Impulse, but I knew all about this car because I follow the owner, Paul Kramer of AutoKennel, religiously on Instagram. Talk about serious royalty.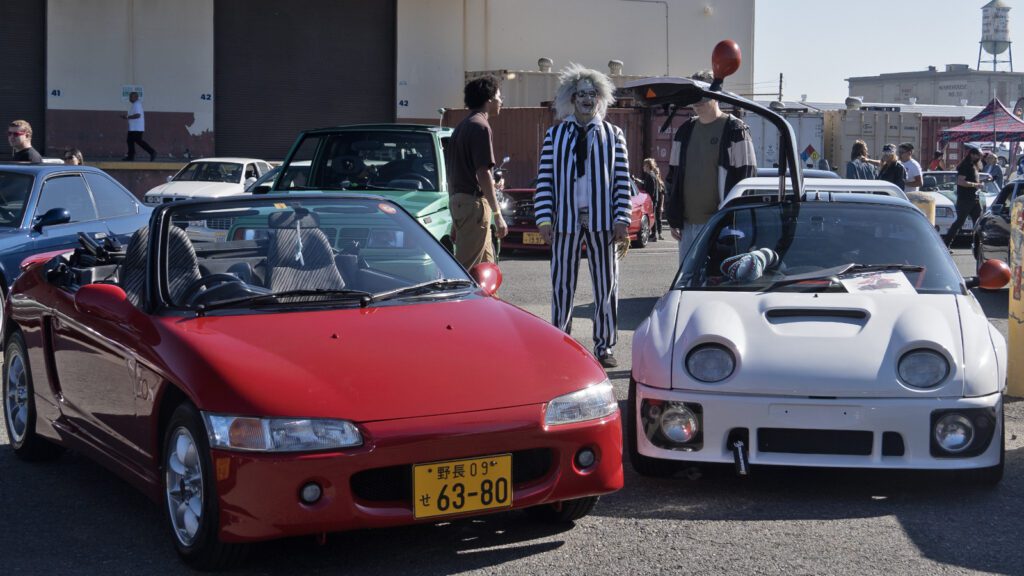 Then I dipped back outside to brave the scorching heat once more to check on the food truck lines, but another lap seemed important. Beetlejuice chilled next to his matching Autozam AZ-1, the Toyota tax on display with some built four-wheelers and BMWs from proud piles to concours perfection in the same line. Nothing's more 1980s or 90s than a sunburn and Pit Vipers, I figured, but the setting began to make even more sense to me all of a sudden. After all, most of the imports here probably passed through the Port of LA on their journey to the United States from Japan, Europe, or beyond.
Accessorize, accesorize, accesorize!
One of the fun sides of car collecting that Radwood emphasizes, if most concours d'elegances scorn, is the glories of accessorizing with pure '80s and '90s trash. Car phones here, cassette tapes there, and a period-perfect Air Jordan jacket. One guy even towed in a boat complete with ancient water skis, a BMX bike, the de rigeuer boombox, and beach chairs. So lit, so fun! But awards from other car shows also dotted the crowd, along with original window stickers, explanations of rarity (read: documented Radness), and even a lei or two.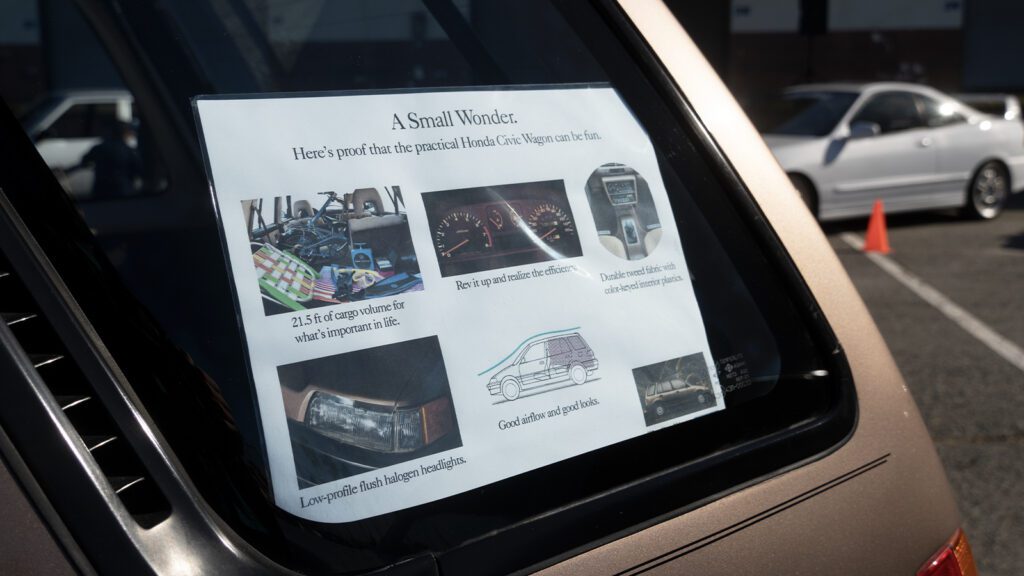 Despite my clear inclinations to award the PajEvo (mine or my friend's, honestly) as Raddest in Show, or at least the Impulse RS, the official panel of judges semi-officiously handed out a series of trophies at the end of the day that entirely overlooked my personal preferences and predilections. Heresy! The top award was a one-of-12 Rinspeed Porsche "969" finished in crispy white metallic. At the very least, a Renault 5 Turbo 1 that I spent some serious time lusting over took Raddest Import. And luckily for me, the Renault ended up on the Rad Rally as well.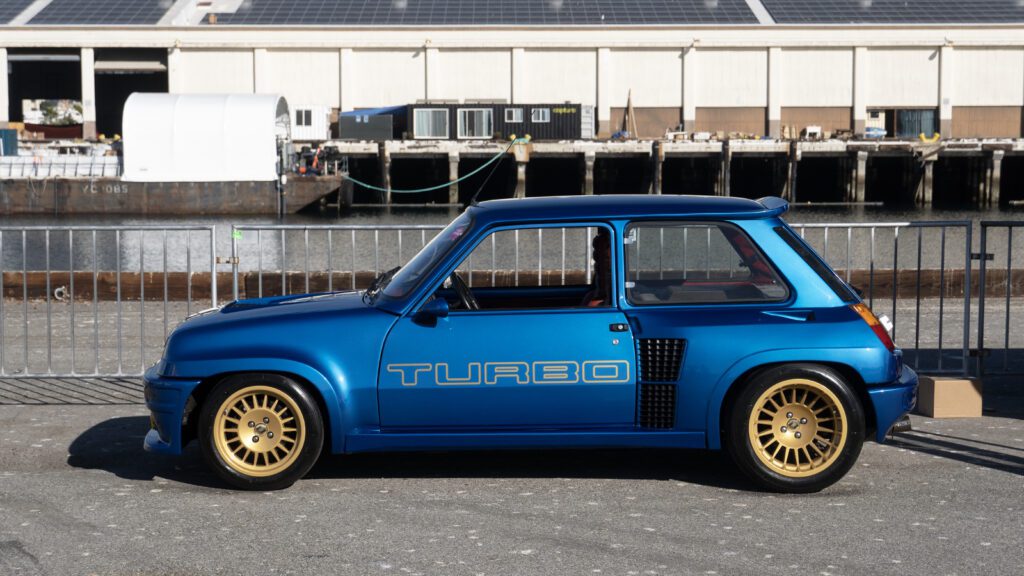 The Rad Rally itself
By 3:30 pm, I felt baked, parched, hungry, and ornery. My PajEvo needed gas before any real rally might begin, so I tried to beg off early, but alas, to no avail. What else to do but chat up Patrick Long, former Porsche factory racer, current brand ambassador, real-life Hot Wheels car builder, and one of the brains behind the air-cooled Porsche gathering, Luftgekühlt? I figured Long might look forward to doing some actual driving just as much as I, a matching duo of jaded (read: spoiled) automotive aficionados such as ourselves. His own impressions sounded slightly cheerier—maybe he'd had lunch.
"I love the part of load-out because everybody's had a great day, they're stoked, they've made new connections," Long told me, "You get to hear the cars, you get to smell the cars. That is fun."
And what might the heretofore mysterious Rad Rally have in store for us, Mister Long?
"I don't know what tonight's gonna hold," he admitted mysteriously. "It'll be fun when we get on the 110 and head north. Maybe we'll go over Palos Verdes."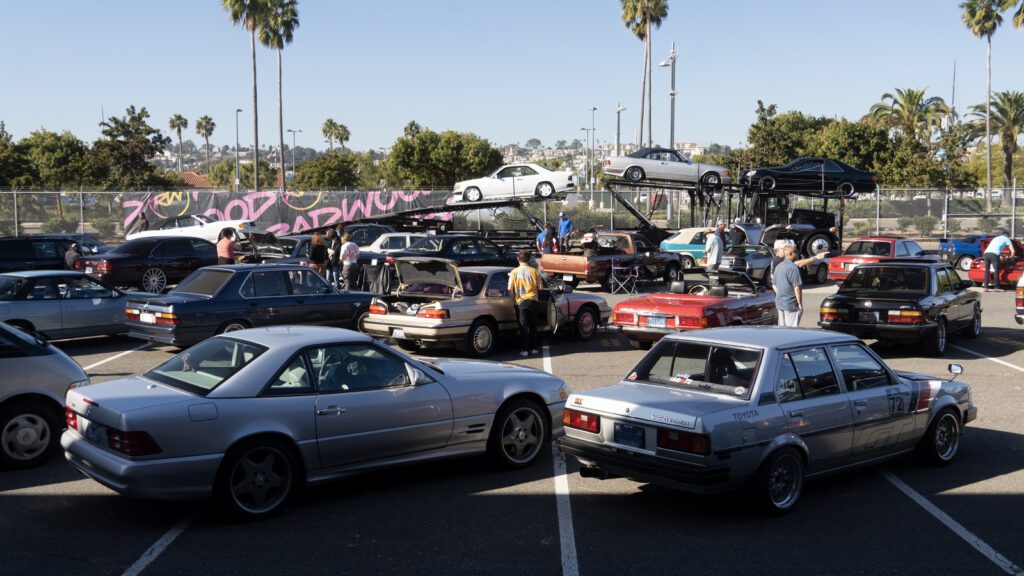 In a baffling turn of events, the eventual route ended up starting in Santa Monica, akin to the Lamborghini Bull Run Rally I had just attended. So first, every Rad Rally participant needed to battle 45 minutes of holiday traffic to meet at a coffee shop where, more bafflingly, we were not given time to grab coffee. On a tight schedule to catch some sunset shots in Malibu, we regrouped and jumped on the 10 West, then hit gobs of PCH traffic that split the group almost immediately. By the time we turned up Las Flores Canyon, I waited about seven minutes for everyone else to catch up (home-field advantage matters, it turns out) and then followed three Porsches and the Cossie in my body-on-frame homologation race car, er, truck.
Sound like a showdown is coming? Not so much, since a minivan with photographers harnessed into the trunk led the pack. We wound our way up Las Flores and up past the summit onto Piuma, where the last rays of sunlight provided a picturesque backdrop for oodles more, you guessed it, photo ops. Once the stars began to poke through that violet sky, we turned on our headlights before ripping back down to the PCH in just about the seven minutes of real driving I experienced that day. Long had warned me: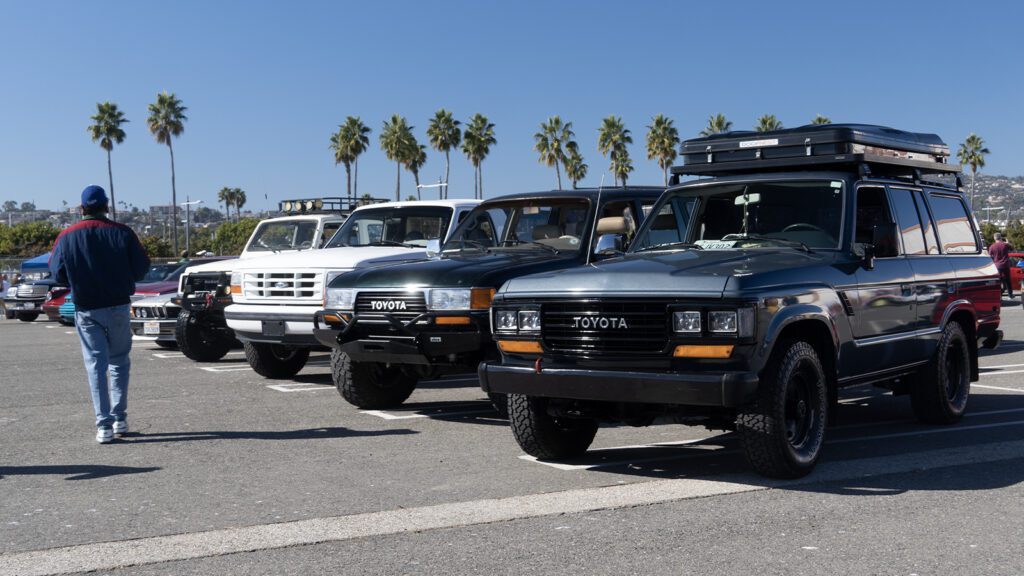 "I never push that hard in the canyons. Rule number one is to stay within your lane and not cross a yellow. So I'll push as hard as it lets me to that point, keeping an eye on gauges and rattlesnakes crossing the road."
But he snuck out of the overlook well ahead of me, so I enjoyed a chance to chase the pro down. Of course, in his "Dirtmeister" 944 on Pirelli Scorpion knobbies, he stood no chance against the sheer might of the winningest Dakar race vehicle of all time, itself on oversized Yokohama knobbies and with an absolute amateur behind the wheel. Suffice it to say, the Cossie and Renault simply couldn't keep up, which I once again attribute to homefield advantage.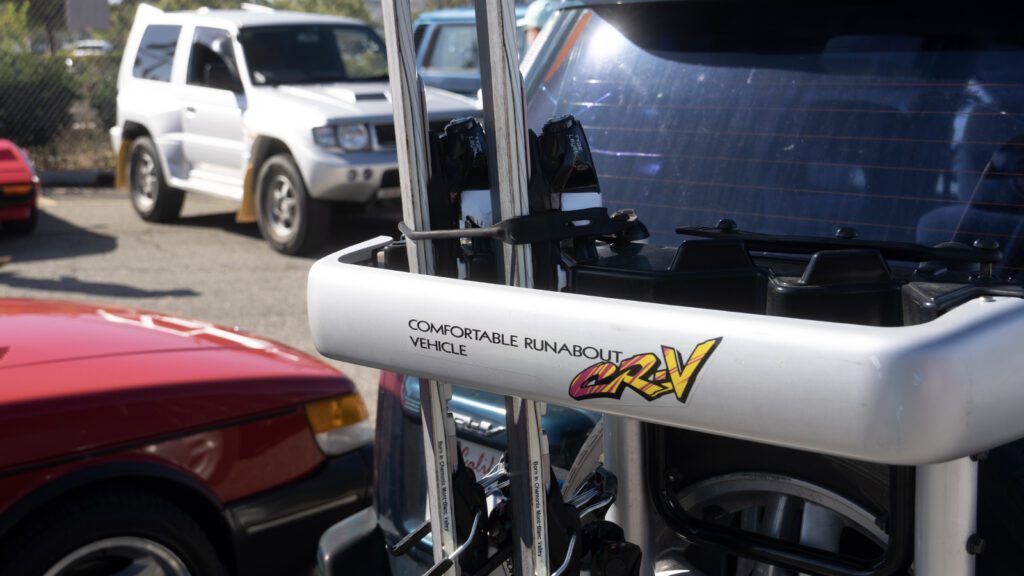 The sun sets over Radwood SoCal
Back in stop-and-go traffic on the PCH, I let the Renault slip in front of me to appreciate those squared-off haunches and the growling exhaust note, but the wait also gave me a chance to reminisce on my first Radwood experience. Call it my first Raddening. It's hard to go wrong visiting with friends and checking out my favorite era of cars—guess that makes me a millennial with disposable income (guess again, to all my aspiring journalists out there). The setting and scene came out perfectly, with the cars and culture of the era on full display.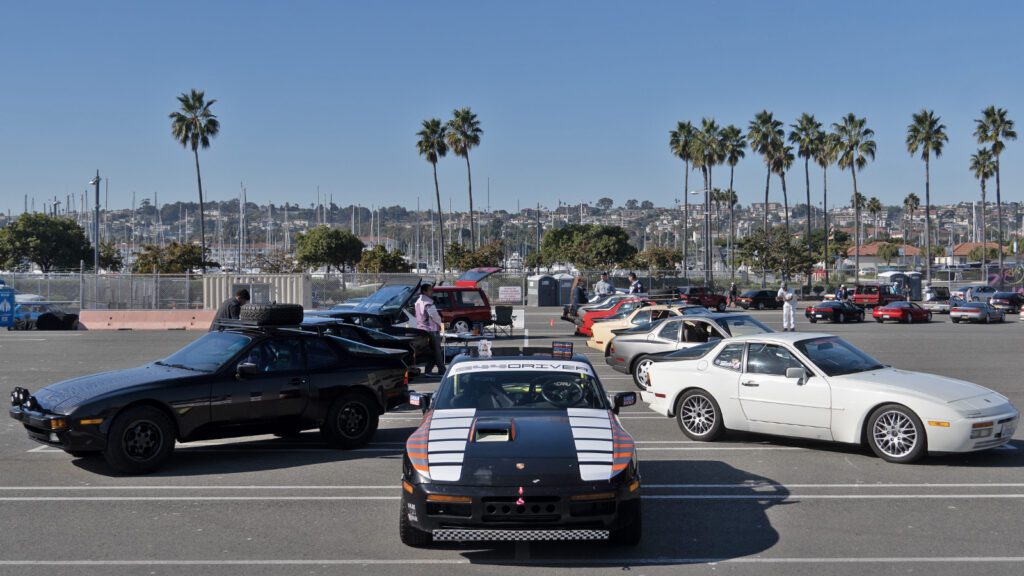 Radwood undoubtedly takes the dubious fun of average Cars and Coffees, Concours judgings, and any other park-and-show meets to the next level. I definitely enjoyed the day, and with just a bit more planning for foodstuff and more avoidance of traffic on the rally, all would truly be Rad in the world once more.