The U.S. electric pickup truck market is the latest automotive gold rush, and Fisker – whose Ocean SUV has only reached 22 customers so far – wants in. But even with a sharp focus on sustainability (similar to the Polestar 4), practical power, and the world's biggest cupholder, the Fisker Alaska EV pickup has its work cut out for it.
Seriously, the competition is fierce. The 2024 Chevy Silverado EV is around the corner and the Ford F-150 Lightning and Rivian R1T are just waiting for another unworthy rival to overshadow. Then again, judging by its exterior styling in the high-quality renderings Fisker provided to Acceleramota, the Fisker Alaska wants to be more Huracan Sterrato than Silverado.
Don't be fooled by its exotic appearance, though. The Fisker Alaska is being manufactured from the in the U.S. of A. There's still a chance to beat Tesla to the punch. After all, the Fisker Alaska has reached the same number of customers as the long-delayed Cybertruck.
What's even better than all that though? Everything about it was built in the U.S. of A. The Fisker Alaska will be built right in the country of its namesake. Fisker is also committed to producing this one at scale, so you won't have to wait three years to buy it, allegedly.
2025 Fisker Alaska price and specs
Pricing for the 2025 Fisker Alaska starts at $45,400 before tax incentives. The real kicker here is that you get large pickup storage in a mid-size truck.
Price: $45,400
Battery capacity: 75 kWh and 113 kWh
Electric range: 230 to 340 miles
0-60 speed: 3.9–7.2 seconds (depending on trim)
HP: horsepower and other performance metrics TBA
2025 Fisker Alaska interior and tech
The Fisker Alaska appears to be full of character, inside and out. Suede inserts with noir leather give it hunting-trip-with-dad vibes. A big cowboy hat holder on the roof in the rear is stunning and brave, and the flat rear glass not only improves rear visibility, but it also helps the cabin feel roomier. This cozy lounge feel carries over to the front with wood inserts, a giant center screen, and soft-touch surfaces.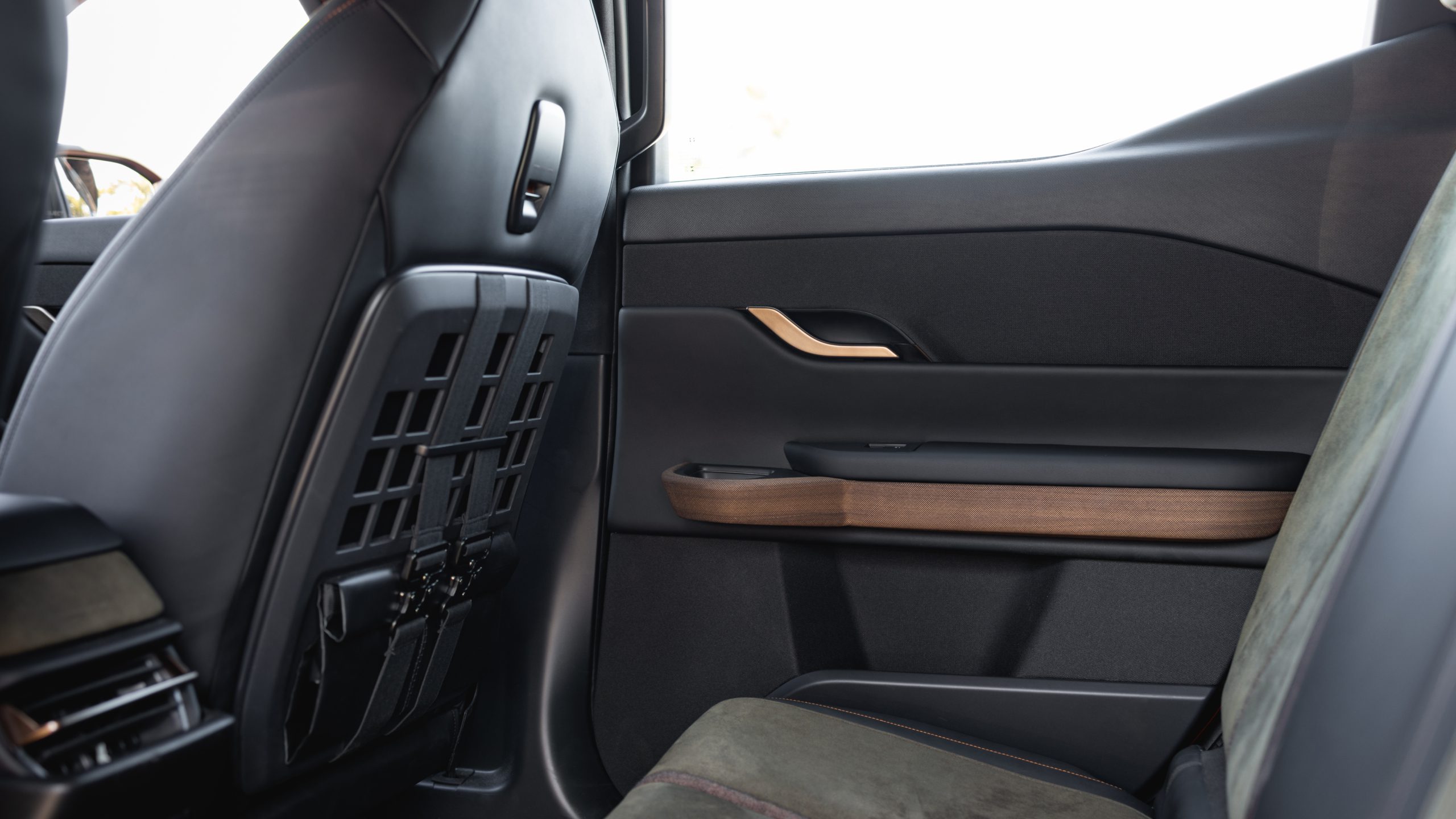 The longest bed in its class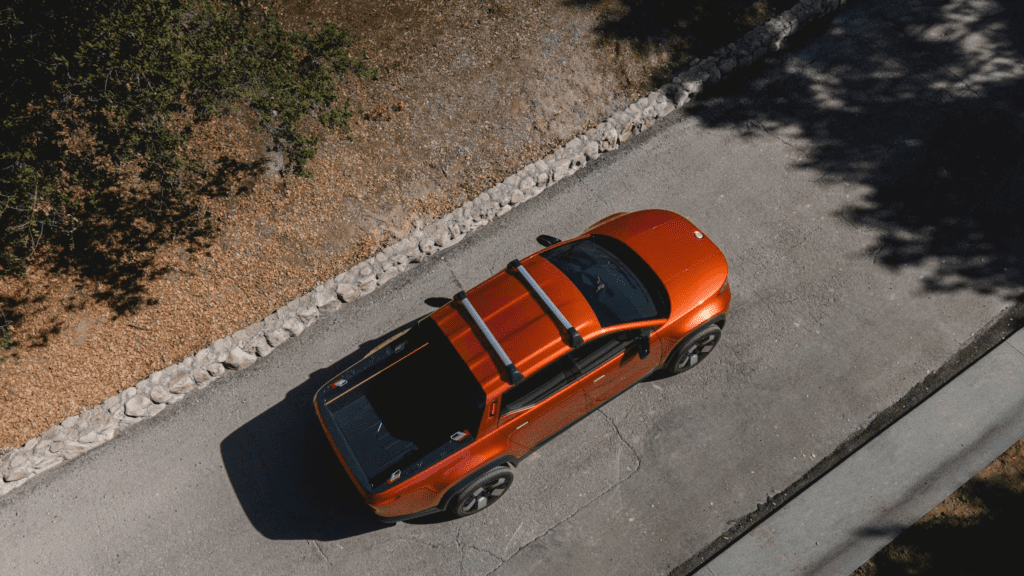 What would you do with a 9.2-foot truck bed? That's what you'll get when the powered liftgate is down on the 2025 Fisker Alaska. The rear wall and window come down in what Fisker calls the "Houdini door," allowing the whole rear cabin space to be used for larger items. If you're a camper, this means more sleeping space, and for surfers, a lot more room for your buds and boards.
The world's biggest cupholder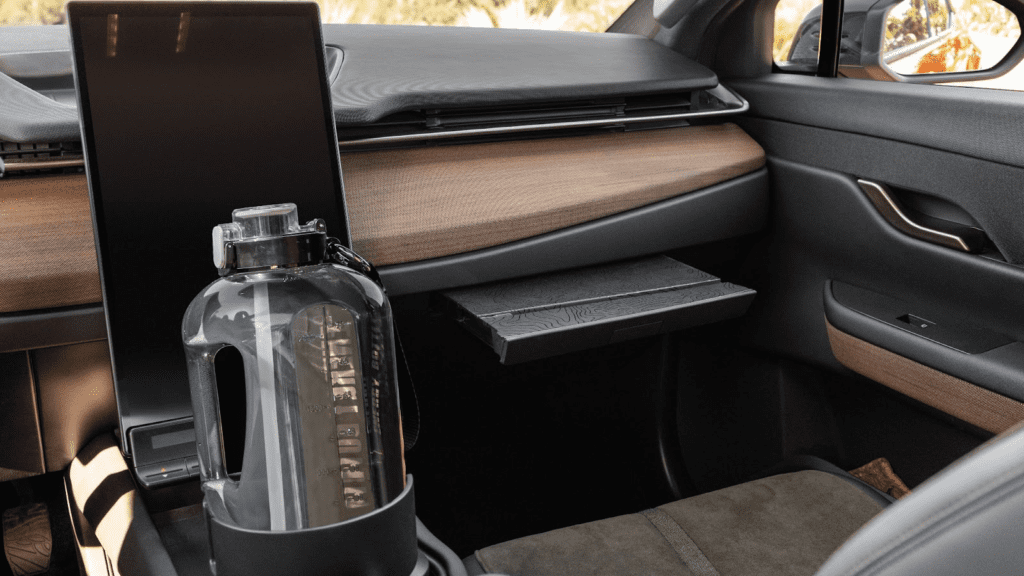 Americans like BIG things. BIG Gulps, BIG trucks, and even BIGGER hospital bills. So a massive cup holder is a no-brainer. The largest Mcdonald's cup is 32 ounces. Venturing even further into soft drink heaven, the Team Gulp from 7-Eleven is 128 oz. Henrik Fisker drank from what looked to be a 128-ounce water bottle. That said, this mega cupholder can be removed if you want to use smaller cups, like a chud.
Practical storage
Fisker looks to be taking a page out of the Rivian handbook when it comes to cargo space. The Alaska has cockpit storage for work gloves, a large center armrest for flashlights and pens, and a passenger tray with a tablet holder. If the mega cupholder is any indication, plenty of optional accessories and Fisker-themed doo-dads will be sold alongside the Alaska.
2025 Fisker Alaska range and charging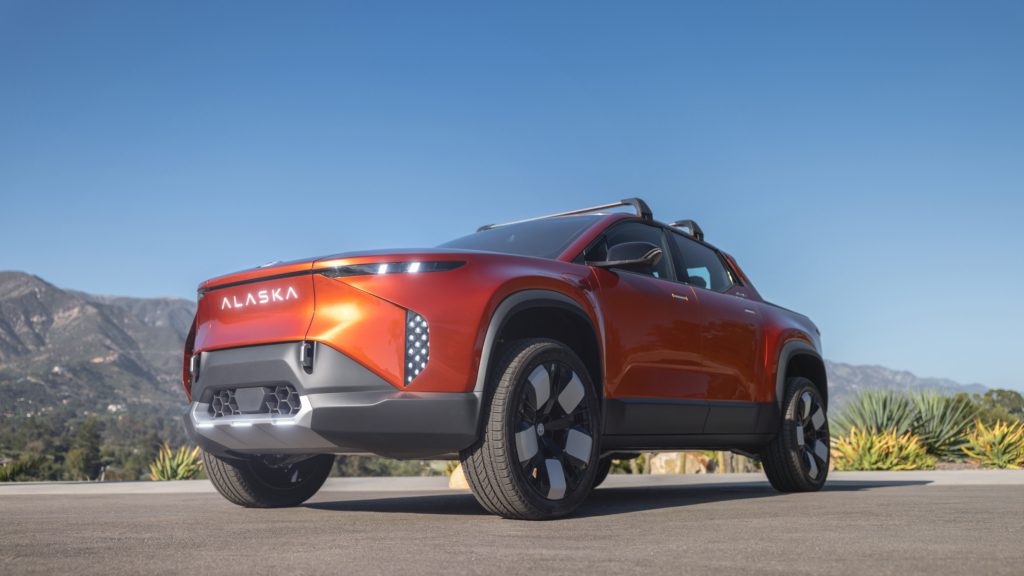 Data on the charging capabilities of the Fisker Alaska has yet to be announced. For some reference, you can look at our EV explainer to get an idea of what you can realistically expect based on present standards.
Fisker is currently partnering with CATL to supply its Ocean SUV batteries. We expect similar usage of the NMC cells for the lower spec Alaska and the LiFePO4 cells for the top trim. CATL are world-leaders in EV battery tech and works with most of the top EV makers.
The Fisker Alaska will be manufactured in the U.S.
Details are scarce, but Fisker says it will manufacture U.S. models of the Alaska domestically in its home country. Magna Steyr will partner with Fisker to produce Euro-spec models. The Alaska is being produced alongside the Pear, its other electric SUV, at its refurbished Lordstown, Ohio plant.