In an effort to attract more PC gamers to performance cars and vice versa, Mercedes-AMG has announced a long-term partnership with MSI, starting with a 16-inch gaming laptop.
The Stealth 16 Mercedes-AMG Motorsport comes in a stunning "selenite" gray with the Mercedes-MSG branding on the lid. The capital G "Gamer" aesthetic already looks like a racecar (look no further than gamer chairs) so MSI joining forces with a luxury car brand for a new gaming laptop seems like a no-brainer.
"For us, luxury gaming is more. It's not just playing the games", said Eric Kuo, MSI's VP of Global Sales and Marketing. "When the users open up the lids of MSI laptops, it's the start of a luxury journey. They will be amazed by the superior build quality and elegant design, which is luxurious aesthetic."
Christoph Sagemueller, Head of Mercedes-AMG Motorsport, goes on to say, "It was crucial for us to find a partner who shares our values and ambition. MSI, a leading brand in the technology and gaming industry, proved to be the perfect fit. They demonstrate a strong commitment to innovation and a passion for high-performance products."
These are all very kind words, but let's take a look at what this collaboration is actually under the hood of this collaboration.
Packing serious horsepower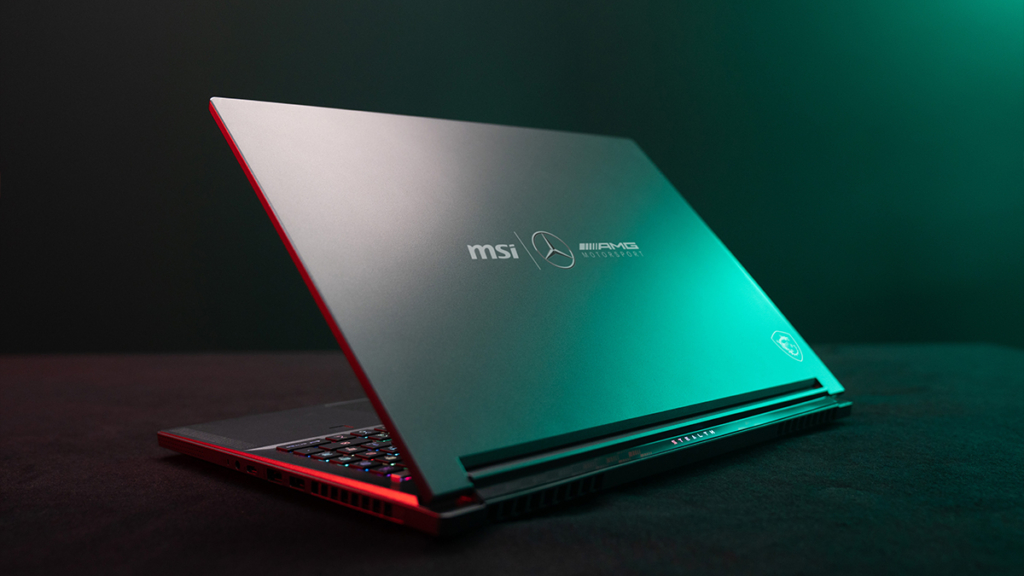 The Stealth 16 Mercedes-AMG Motorsport, according to a press release sent to Acceleramota, is packing the latest 13th Gen Intel Core i9 processor along with the Nvidia GeForce RTX 40 series laptop GPUs – going up to the 4070. That'll get you plenty of power you need to play games like Forza Horizon 5 in all its beauty. You can even upgrade to a 4K OLED panel to really make those colors and details pop. Pre-configured RAM and storage were not mentioned, but we do know it supports up to 64GB of DDR5-5200 and features two NVMe Gen 4 SSD slots.
The Stealth 16 Mercedes-AMG Motorsport comes bundled with a special-branded mouse, mousepad, USB drive, and pouch for the collaboration of the two brands. Best of all, however, is the power button labeled "Start Engine," modeled after an actual push-button ignition found in modern performance cars.
So how much and when can I get it?
MSI hasn't announced pricing or availability just yet, but based on the specs and branding, you can expect this to be a luxury gamer laptop in a similar vein to the Mercedes-AMG automotive brand. In the meantime, you can purchase the existing MSI Stealth 16 from Best Buy.