Let's preface this by saying: No, this is not a news beat. No, this is not a grand compilation of every little reveal and every hunk of metal on display at the LA Auto Show. Take this as a more personal and me-engaging-the-audience-type feature where I, editor-in-chief and supreme (assistant) overlord to the site, and Gabe, founder and supreme supreme overlord, share our top cars from this year's gathering.
Whether it be a new release, a kinda-sorta new car that may be making its first in-person appearance, or perhaps something that's not new at all, these are our personal standouts in attendance that truly scratched my automotive itch. And hopefully, it scratches yours, too.
Ahem. And, if you'd like, please feel free to check out coverage of cars from this year's auto show on our TikTok and Instagram.
Skip to car:
Gabe: 2025 Lucid Gravity
In a market already saturated with three-row luxury SUVs, a lesser-known brand introducing its own would surely have its work cut out for it. Lucid Motors is a prime example. In the third quarter of 2023, Lucid lost $430,000 for every car it sold, according to InsideEVs. Four hundred and thirty thousand dollars.
By no means is that indicative of Lucid's standards, though, as its first EV – the Lucid Air – was met by reviewers with mostly positive marks. Everyone I've known who's driven a Lucid Air came away a fan as well. In fact, when we offered test drives at one of our car and coffee meets in New York earlier this year, one of the most stubborn anti-EV people I know came away a fan. The premium interiors, consistent build quality, and aversion to oversimplification-for-the-sake-of-it distinguishes Lucid from its main competitor, Tesla, with which it shares common DNA.
Judging by its roughly identical $80,000 starting price, the Lucid Gravity is poised to compete with Tesla's Model X – you know, the midsize family SUV with the dancing falcon wing doors. But unlike the Model X, the Gravity brings more cargo space, the option of a third row, and an estimated 440 miles of range, nearly 100 miles more than that of the Model X. For some reason it also has 880 horsepower, because in competing with the alarmingly quick Hummer EV, it's not an electric SUV if it can't push 0-60 in 3.5 seconds. The only obvious downside is that, at least according to our new best friend, it does have more than one button for the center stack, and the luxe woodgrain finish is an acquired taste, allegedly.
Jeric: 2025 Lotus Eletre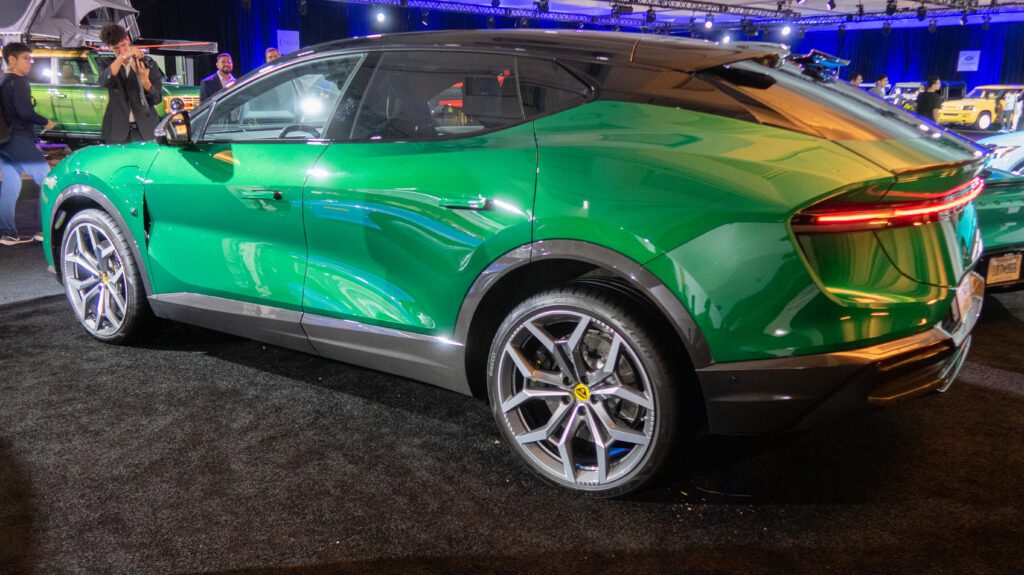 Did anyone forget about this thing? I surely did, even after much press and controversy that one of the most legendary sports and race car manufacturers is now making (gasp) an electric SUV! What has the world come to? But the Lotus Eletre certainly makes a compelling case for itself that should help give it the Cayenne complex it needs for Lotus to keep building Emiras.
How does 603 to 905 horsepower and 310 to 373 miles of range from its 112-kWh battery and dual-motor all-wheel drive setup sound? Overkill? Sure, but a Lotus must perform, and if it can't simplify and add lightness, then power is one way to sweeten the deal. Interior is wonderfully posh. The rear cargo area is cavernous. The exterior styling is interesting, although seeing it in person does it far more justice than any photo. Designed in the UK, engineered in Germany, and assembled by Geely in China, the Eletre also signals a remarkable international effort for the hallowed English brand. And while its occupation as an electric SUV for eclectic rich folks may sour some peoples' opinions, its strides to be a financial success could be what the brand needs to send its last wave of gas sports cars out with a bang instead of a whisper.
Jeric: Honda Prelude Concept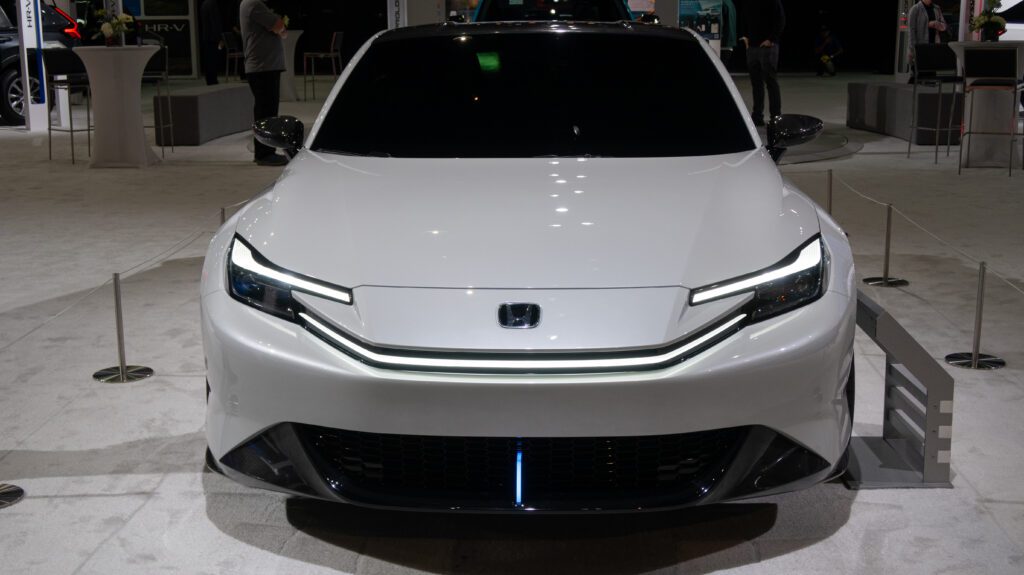 The legend returns! Except, not really, because this is a Honda Prelude, and the Acura Legend is still dead as a doorknob. Unless you count the Acura RLX as its successor? Anyway, the Honda Prelude returns rocking a swagtastic new look evocative of the Honda Insight face meets Honda Accord tail affixed to a last-gen Honda Civic Coupe body. And for the first time in years, Honda may actually have another spunky, fast two-door sports coupe in their fleet since the S2000. No, Si owners, I said fast.
Being a concept, we know next to nothing about the forthcoming Prelude or if it's even coming. But This model seems fairly production-ready, aside from eye-catching carbon accents and a carbon roof that'd definitely launch its price tag into oblivion. But the upscale wheel design wrapped in Continental SportContact 6 tires sheathing Brembo brakes and the familiar Civic Coupe profile scream production-ready. Perhaps most importantly, despite much speculation that it could be an EV, the new Prelude Concept is actually slated to be a hybrid. If I were to place my bets, the base variants might likely use the Accord hybrid or an electrified Civic Si motor, but top-shelf models could use an electrified variant of the K20 turbo-four from the Civic Type R and Integra Type S, probably pushing between 350 to 400 horsepower.
Just a guess. A fanboy can dream.
Jeric: 2025 Toyota Camry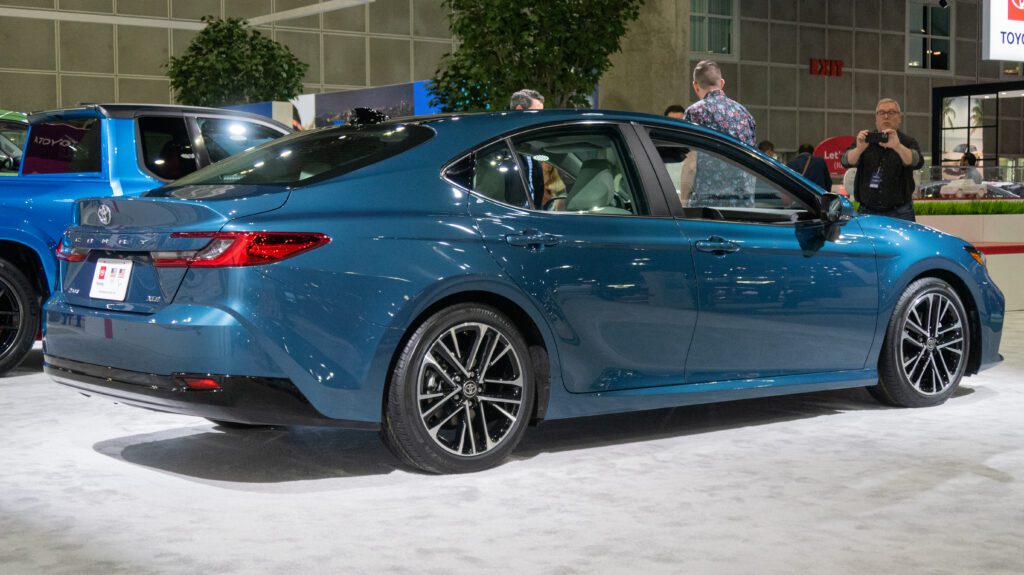 10 years ago, the Toyota Camry was plain as can be. Even in its day, the top-shelf SE or XLE trims did little to incite lust in those it drove by. It was a fine car, and it did its intended job great! But so does white bread. However, the new 2025 Toyota Camry is a Camry masquerading as a Lexus, and it's got the goods to match. Never thought I'd ever say this about a front-drive, hybrid family sedan, but I am hot and bothered. And you will be, too, after a few pictures.
Look at it! I said look at it, you! Does that not scream upscale? The long, sleek bodywork combined with that statement of a grille, Prius-like headlights, and some fairly attractive wheel designs make for one heck of a looker, especially in the sportier SE and XSE forms. The interior remains simple yet usable, resembling an evolution of the previous-gen Camry but tweaked to better suit Toyota's current design language of wide, high-mounted touchscreens and expansive, button-centric center consoles. Specs? Pretty darn good. And that's the best you can say about a Camry. A hybrid powertrain pushing 225 horsepower and available all-wheel drive (which bumps power to 232), sure to match the old car's 44 to 50-plus mpg, is a compelling buy.
Jeric & Gabe: 2024 Acura ZDX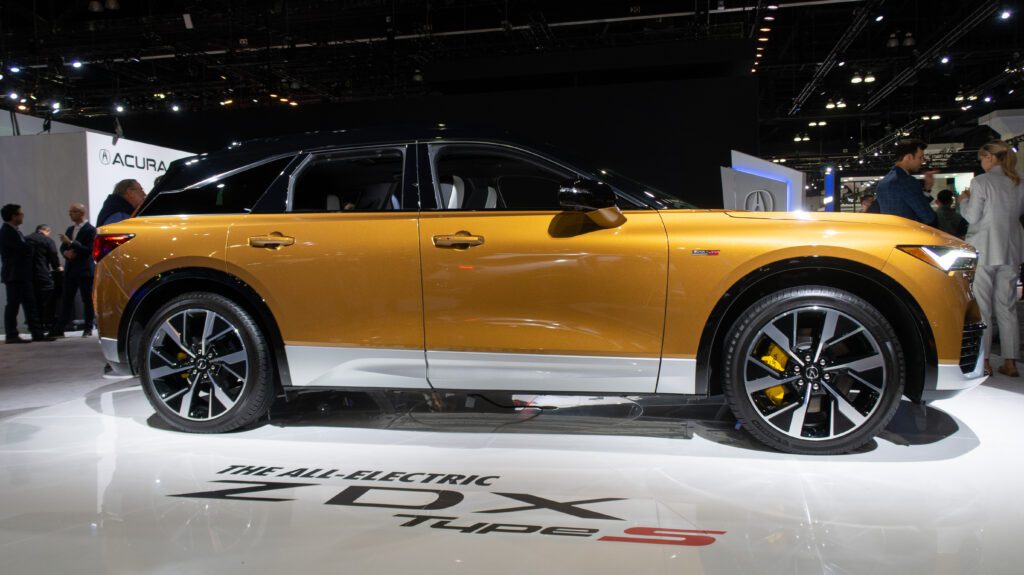 Born from the unlikely partnership between GM and Acura, the new-generation 2024 Acura ZDX ditches its forbearer's heinous Star Wars cargo freighter looks for a sleek, concept-car-like caricature of the Acura MDX SUV. Wide, low, and unapologetically bold without offending those with working eyeballs. This is actually quite the attractive centerpiece of Acura's booth. And most interesting of all, it's a full EV riding on GM's Ultium platform, the same platform underpinning the Blazer EV and Silverado EV.
Much like the Prelude, not much is known about the nitty-gritty details of the ZDX, but Acura insists we should expect a starting price somewhere between $60,000 and $70,000 and a maximum range of up to 325 miles. Not bad! That lines it up with the upper echelon of the Blazer EV's estimated range. Being marketed as a sporty and athletic Whole Foods hauler, the ZDX will launch with the sporty A-Spec and the SPORTY Type S models, with the latter aiming for over 500 horsepower, a 288-mile range, and sub-five-second zero-to-sixty. And if the ZDX can make good on blending Acura styling and luxury inside and out with GM's handy EV know-how, Acura should be poised to have a real knockout winner on their hands.
Gabe: 2024 Chevrolet Corvette E-Ray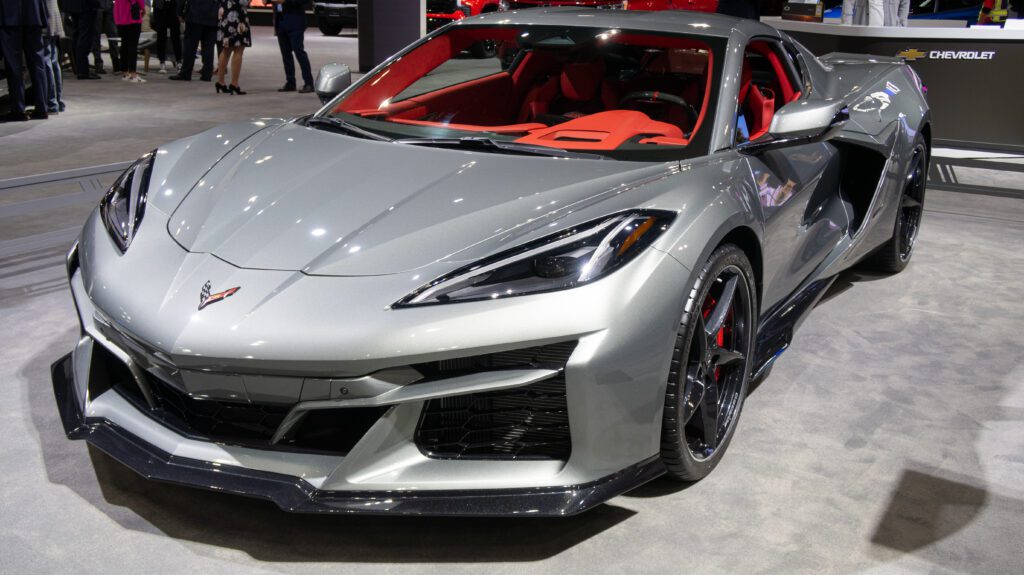 As I mentioned in our video preview at the LA Auto Show, with the Corvette E-Ray, Chevy hopes to prove that hybrids aren't all about going green. In fact, the E-Ray lays claim to the same fuel economy as the standard C8 Stingray at 24 MPG highway and 19 MPG combined. Instead, the E-Ray has more in common with a McLaren Artura than a Prius XLE. That's to say, the tiny 1.9 kWh lithium-ion battery in the transmission tunnel is there to bolster the performance of its already potent 6.2-liter V8. Of course, pairing hefty battery tech with a big block motor does increase its curb weight by a little over 300 pounds, but how much does that matter when you can zip from 0-60 in 2.5 seconds? After all, the E-Ray is the quickest Corvette in the American sports car's rich history.
But the distinctions between the E-Ray and the Stingray don't stop there, because on top of being the first hybrid Corvette, it's also the first all-wheel-drive model. Don't worry, it's still rear-biased, and if you're skeptical, Chevy's built-in E-Ray companion app shows its homework with real-time performance data – including a diagram laying out the power distribution between the front and rear wheels. While it sounds like an automotive tech nerd's playground, this Corvette isn't just for wonks and weekenders; it's a grand tourer, lending itself to longer road trips and grocery-getting as much as it does track days.
Jeric: 2024 Subaru BRZ tS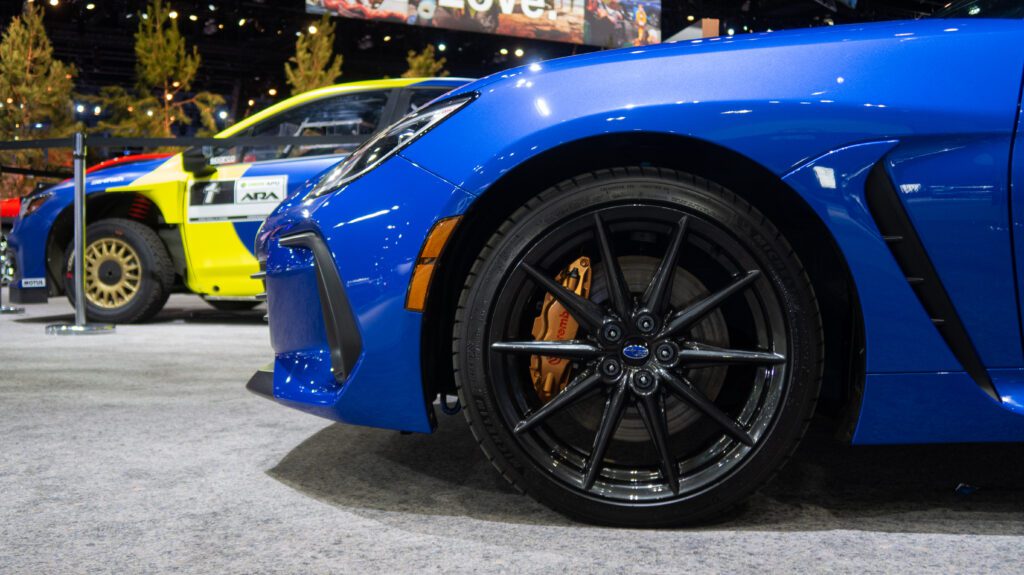 No, this is not news. But here this favorite of mine is in the flesh, so I'm gonna thrust it down your throat anyway. Behold! The Subaru BRZ tS. It's like a regular BRZ. But tS. And by that, Subaru means "Tuned by STI." And by that, they really mean they stole the black wheels off the Toyota GR86, threw on some Hitachi dampers, added a sweet set of Brembo brakes, and called it a day. Really, the 2024 BRZ receives the mildest of updates as it enters the new model year, but they're still noteworthy enough on a car this basic to be worth sharing!
For 2024, the BRZ receives a tS trim, which, like the previous gen's tS, functions as a comprehensive performance package sans that car's goofy wing. Beyond the new brakes and dampers, the tS is built upon the BRZ Limited, which throws in luxury goods like suede and leather interior upholstery, heated seats, and an upgraded stereo, as well as an 18-inch wheel package wrapped in Michelin Pilot Sport 4 summer rubber, which is perhaps the most transformative performance upgrade on any BRZ, turning this diminutive sports car into a genuine Porsche Cayman fighter. Additionally, for 2024, EyeSight is now standard on all models, including manual transmission cars, which does increase the price by a couple of grand, pushing the BRZ in the low-$30,000 range. A tS will run you about $36,000, which is still a hell of a bargain compared to literally anything else on the market today, assuming you can snag one without that dastardly markup.
Jeric & Gabe: 2025 Hyundai Ioniq 5 N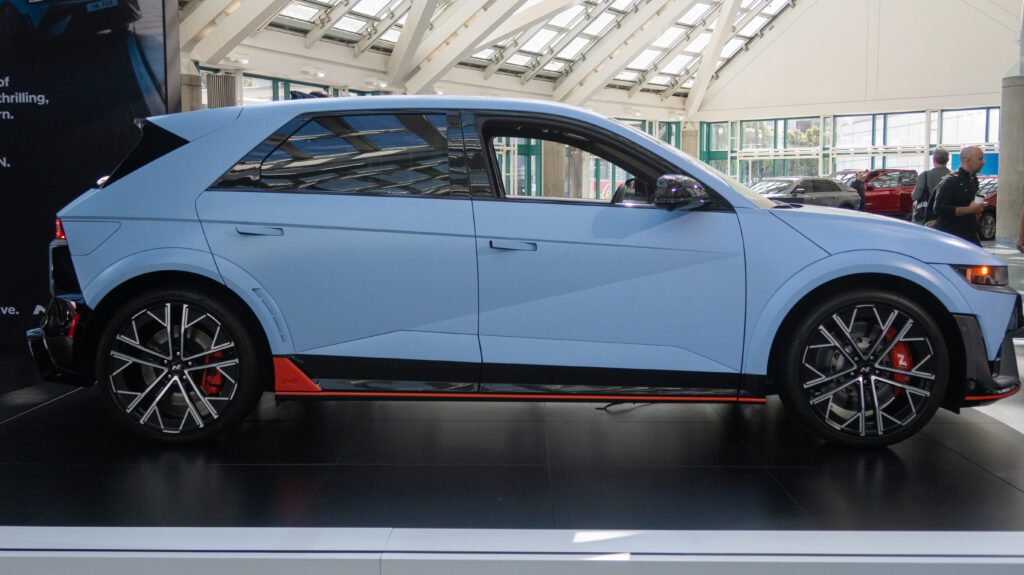 The surprise hit from Korea strikes another tally of its bucket list and enters the high-performance EV fray. After much coverage and polarizing the press, the Hyundai Ioniq 5 N arrives on American shores to grace us with its matte blue goodness, and it's here to prove that fast EVs don't have to be mere straight-line missiles. They can soul, too. Or at least as much soul as you can pump into something that ditches pistons and gas for battery cells and electrons.
The Ioniq 5 N remains in its early launch phase, without much information besides what was available at its debut. That means nothing much has changed from its claims of 641 horsepower from an 84-kWh battery with 350-kW fast charging. But no complaints there! We still expect its aggressive e-LSD, Drift N Optimizer, and N e-Shift's simulated 8-speed manual shift mode to make it to our shores, as we do for the changeable fake exhaust noises that can imitate fake revs from a jet fighter, the Gran Turismo Vision concept, or a traditional gas engine. Gimmicky? Absolutely. Necessary? No, not at all. But at least someone out there is having fun with EV tech and is trying to bridge the gap between gassers and electric cars with something that can parody the best attributes of both worlds. Being based on an already well-received vehicle like the regular Ioniq 5 doesn't hurt, either.
Jeric: 2024 Ford Mustang Mach-E Rally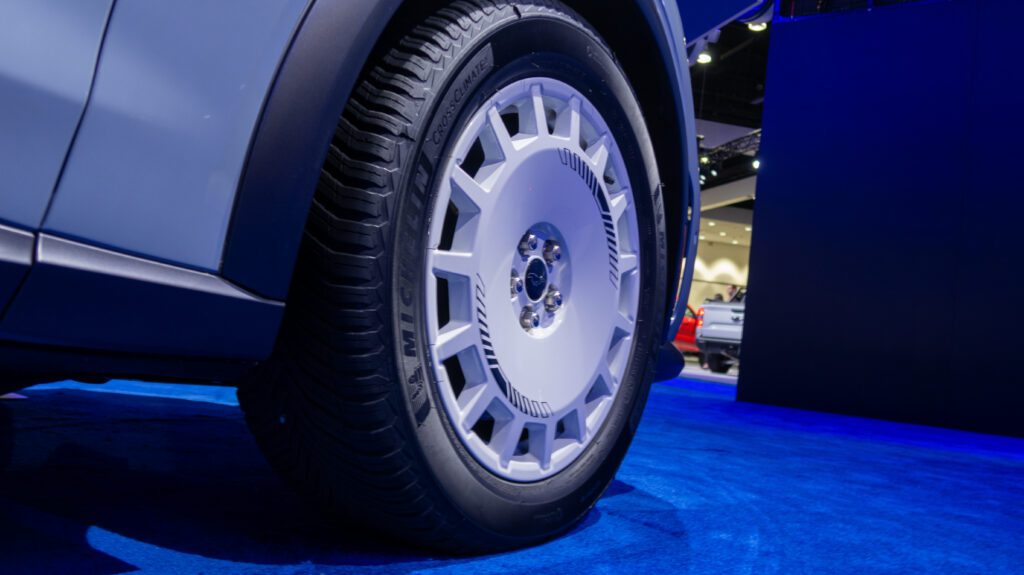 If Ken Block we here, I can totally see him sliding through the woods with his family in tow in one of these. The Ford Mustang Mach-E Rally is very real and is very much coming to dealers near you for the next model year. Because what says environmentalism and family-friendly more than something that gently nudges you to take that dirt fire road at triple-digit speeds while blasting "Kickstart My Heart?"
Based on the already formidable and definitely quick-enough Mach-E GT, the Mach-E Rally skews its priorities towards off-road hooliganism. New are 19-inch wheels stolen from the nearest ARA race and shod in skinnier Michelin CrossClimate2 all-seasons sporting a nice, meaty sidewall for all the potholes you're going to smash on the Wal-Mart Rally. The fog lights, underbody protection, black plastic fender moldings, Focus RS-style rear hatch wing, and a hyper-aggressive RallySport drive mode add some extra WRC flair. The ride height has been jacked up by 20 millimeters and still utilizes the GT's Magneride shocks but retuned for more off-road shenanigans, and the dual-motor powertrain still zaps out 480 horsepower and 650 pound-feet of torque. Its range is a still-okay-ish 250 miles, but I don't expect many people to match that given its intended purpose.
Jeric: Nissan Z Nismo & GT-R Nismo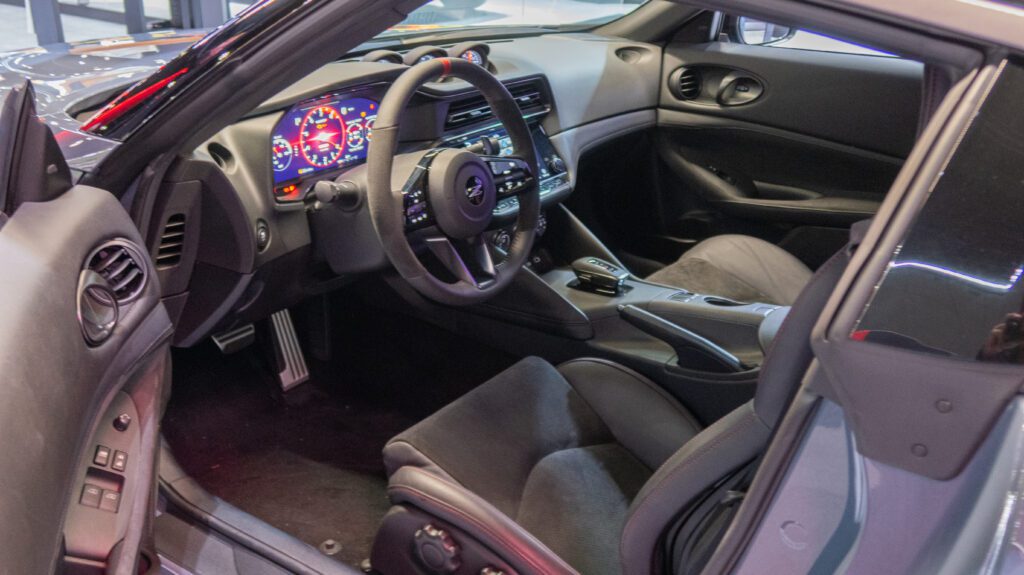 Ah, yes. Even at a quintillion years old in car years, the Z and GT-R manage to tickle my fancy, now with matching gray-black-and-red paint jobs to boot! The new Nissan Z launched onto the scene with a lukewarm reception, with praise for its modernization and a newfound sense of speed but criticism for the softened edge it bears in order to expand its appeal. The Nissan GT-R is as big, tech-laden, and video-gamey as ever. Both are fine driver's cars, but fanatics asking for more will find prayers answered in their respective Nismo track variants.
The Z Nismo, already making rounds in media drives, impressed journos with real, genuine connectedness, inspiring confidence to attack curves on or off-track with a heavily revised suspension, RAYS wheels rocking the GT-R's ultra-sticky Dunlop tires whose full name I refuse to type out, and a wicked body kit that vaguely reminds me of JDM Fairlady Z G-nose. The VR30 twin-turbo V6 has been massaged to 420 (aye, lmao) horsepower, yet the move to keep it nine-speed-only sparked much ire for what's to be a purist track Z. Ye ole GT-R Nismo adapts much of the same formula to the geriatric R35 platform, with a new swan neck wing, 600 horsepower from its 3.8-liter VR38 V6, similar RAYS wheels and sticky Dunlops, and a drop-dead gorgeous suite of carbon goodies, from the ground effects to the hood. Also new for 2024 are faster-spooling turbos from the GT-R GT3 race car and a front LSD. Old and possibly overpriced? I guess, but don't tell me you can't look at it and giggle with excitement even a little bit.
Jeric & Gabe: Aston Martin Cygnet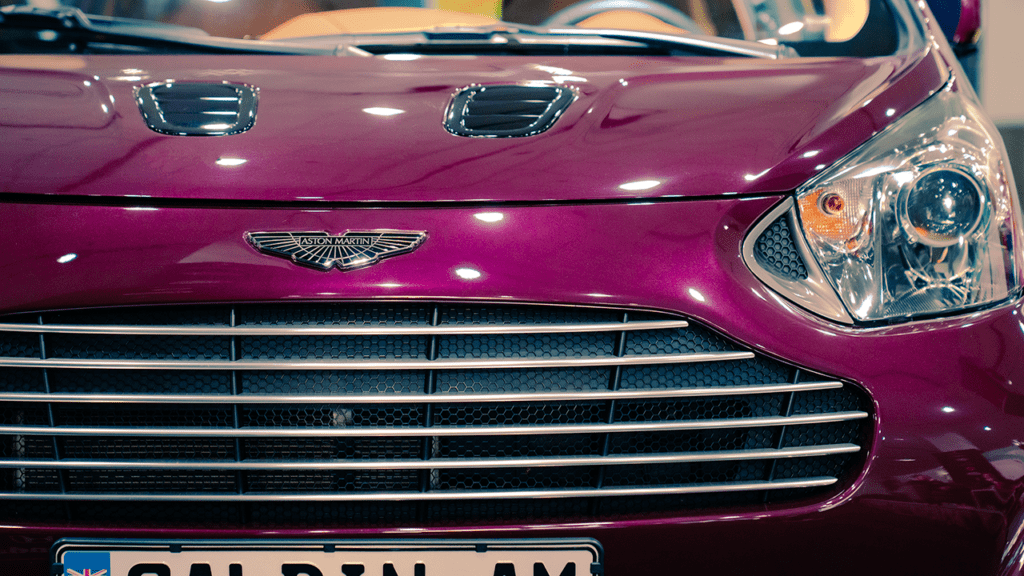 It's hard to talk about the Alfa Romeo Tonale without mentioning the Dodge Hornet in the same breath. It's impossible to talk about the Aston Martin Cygnet without bringing up the Scion iQ. Love it or hate it, the Cygnet is one of the most notorious examples of badge engineering from a major automaker. So notorious, in fact, that it's recently cemented its place in car culture as a not-so-guilty pleasure for the irony-poisoned enthusiast.
When the Aston Martin Cygnet first debuted in the U.K. in 2011, it came with a starting price of £30,995 – the equivalent of $49,595 in the States. For anyone familiar with Aston Martin as a prestigious luxury brand, that probably doesn't sound like a lot. But what if I told you that the Aston Martin Cygnet was just a cheap Toyota city car in disguise? Well, sort of. It might've featured luxurious interior trappings like bespoke leather upholstery, wood trim, and in some configurations, a shitload of carbon fiber.
Any mechanical differences between the Cygnet and the iQ were negligible. Both had 1.3-liter four-bangers, continuously variable transmissions (CVTs), and front-wheel-drive. Yet, for whatever reason, its presence at the LA Auto Show was magnetizing. Jeric and I stumbled into Alanis King of Doug Demuro's Cars & Bids fame, who happened to be fawning over the Cygnet from the inside. It wasn't long before we joined in. This little number in particular comes courtesy of Galpin Auto Sports as part of its Hall of Customs exhibit.