Once upon a time in early-1980s Japan, Honda Motor Company sold a tiny gasoline-powered scooter as a factory add-on to the Honda Today and City hatchbacks. Dubbed the Motocompo, the tiny scooter featured an air-cooled, two-stroke single-cylinder and handlebars designed to fold into a square body, and in folded form, specifically snug into the City's trunk.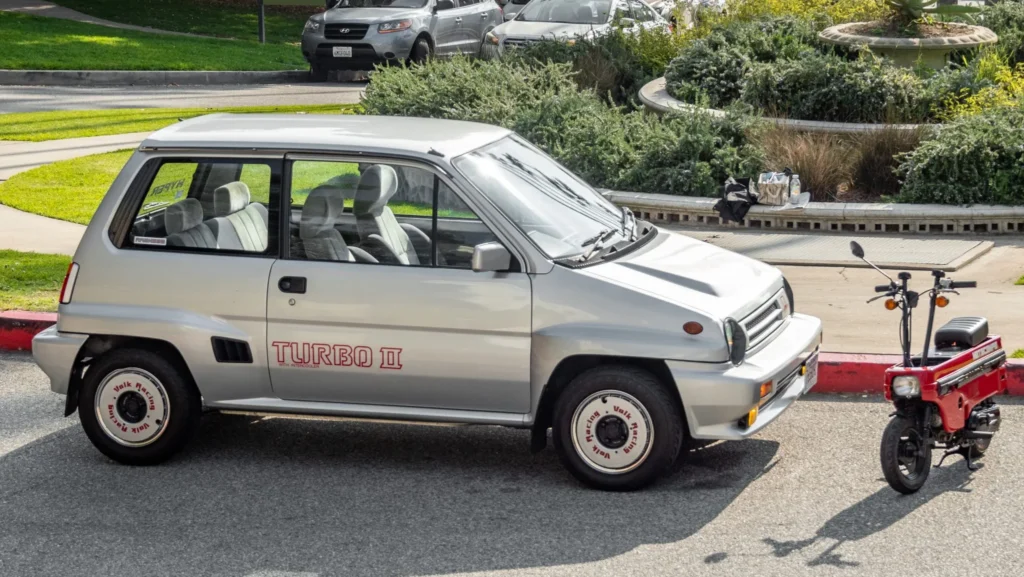 The point was to offer last-mile transportation around crowded city centers where parking, even then, presented challenges. Honda sold 53,369 Motocompos over three years, many of which collectors in the United States now prize as fun, vintage toys. But then, earlier this year and seemingly out of nowhere, Honda announced a successor to the Motocompo that doubled down on efficient design with a lightweight electric powertrain that cut the original's overall weight in half. Finished in flat white with even better packaging, the appropriately named "Motocompacto" now weighs only 41.3 pounds, offers up to 12 miles of electric range, and costs just $995.
Honda held media rides for the Motocompacto in late October, and the very next week, my friend picked up two from Airport Marina Honda in West Los Angeles—amazingly, with zero wait time and no markup. As soon as he unboxed and charged the little scooters, I jetted over to test out their power and range for last-mile commuting, plus, of course, the fun factor of what I immediately thought might be quite possibly the best EV of the year.
Skip to section: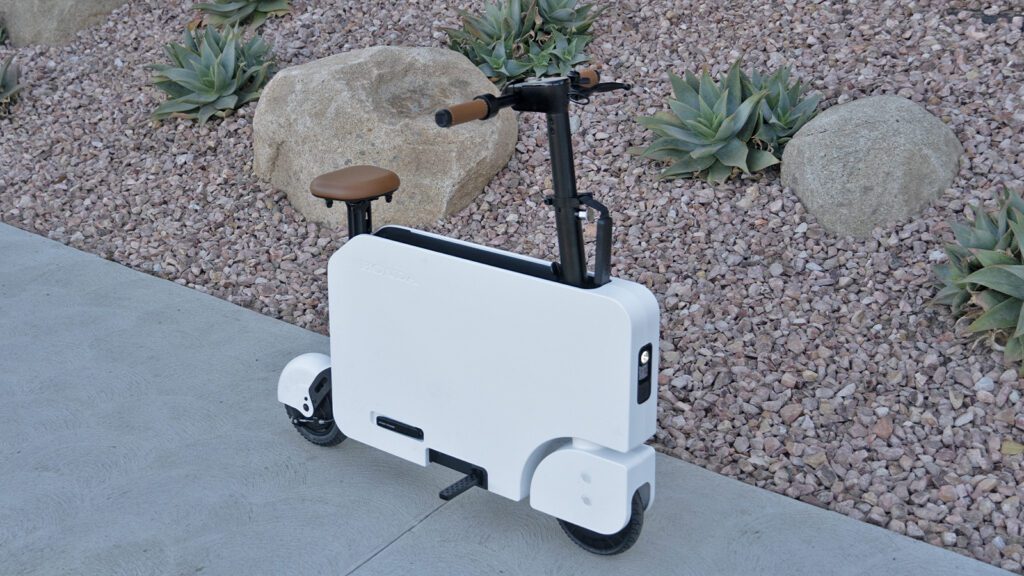 🚦Get ready, set, full disclosure! Some of the links powering our posts contain affiliate links, which means we may earn a small commission if you decide to make a purchase, even if it's not from the page we linked. Affiliate links are not always an endorsement of the product. To really help us keep our headlights shining to make more content like this, subscribe to the Acceleramota newsletter.
Price and specs
| | |
| --- | --- |
| Base price: | $995 + tax |
| As-tested price: | $995 + tax |
| Weight: | 41.3 pounds |
| Power: | 250 watts, 0.33 horsepower (peak of 490 watts, 0.66 horsepower) |
| Torque: | 11.8 pound-feet |
| Drivetrain: | front-wheel drive |
| Top speed (claimed): | 15 mph |
| Top speed (observed): | 23 mph |
| Zero-to-15 mph: | 7 seconds |
| Zero-to-60 mph: | No. |
| ¼-mile: | >1 minute |
| Range: | 12 miles |
| Battery capacity: | 6.8 amp-hours |
| Full charge: | 3.5 hours (claimed) |
Exterior design
Where the Motocompo's diminutive size still needed to house an internal combustion engine, the Motocompacto's electric battery and motor afforded Honda much more creativity in the design process. The result looks somewhat akin to a large briefcase from the Disney-Pixar movie Wall-E, and when folded measures just 3.7 inches wide, 29.2 inches long, and 21.1 inches tall. Compare those numbers to the Motocompaco, which measures 9.4 inches wide, 46.7 inches long, and 21.3 inches tall when all folded up.
At half the weight, stowing the new Motocompacto in the back of a tiny hatchback becomes infinitely easier—and no gasoline or oil to worry about spilling, either. Part of the impressive design comes down to how Honda packaged the wheels, seat, and handlebars to fold inside the tiny white rectangle. Each Motocompacto arrived fully folded, and learning the process to get ready to ride does, admittedly, take a minute.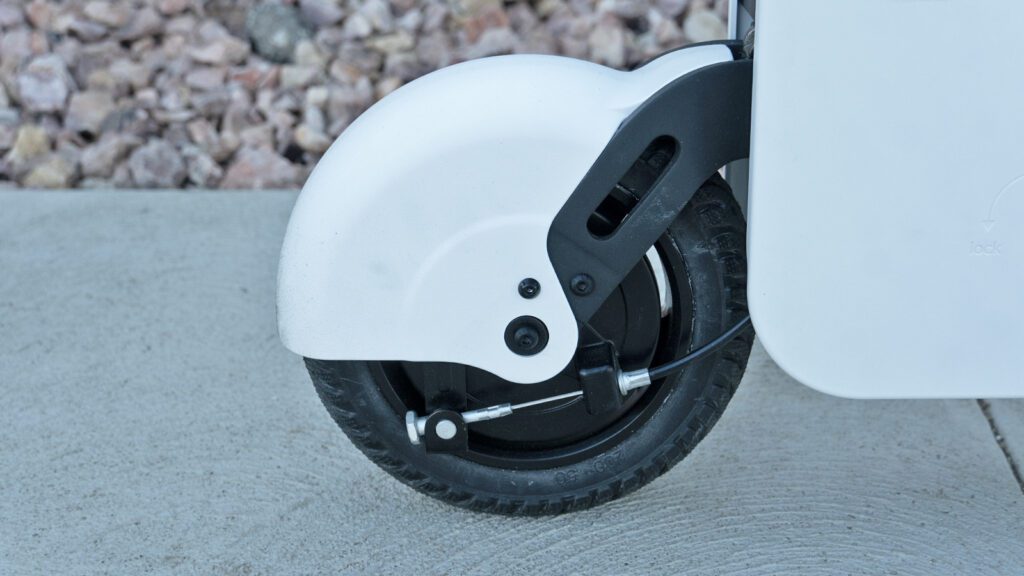 Start out by folding up the handlebars, then rotating the bars on the tube until a locking clip can secure them upright. Next, hold the bars and lock in the tube at the base. From here, reach down into the briefcase and pull out the seat, straighten the seat tube and lock it into place, then push a button to slide down into a clasping sleeve. Then, pull and twist out a handle on the right side that releases the rear wheel rearward, then lock it into place. Spin out the two foot pegs and flip down the world's cutest kickstand before double-checking your work. I practiced unfolding and folding the Motocompacto twice, and the process felt simple enough.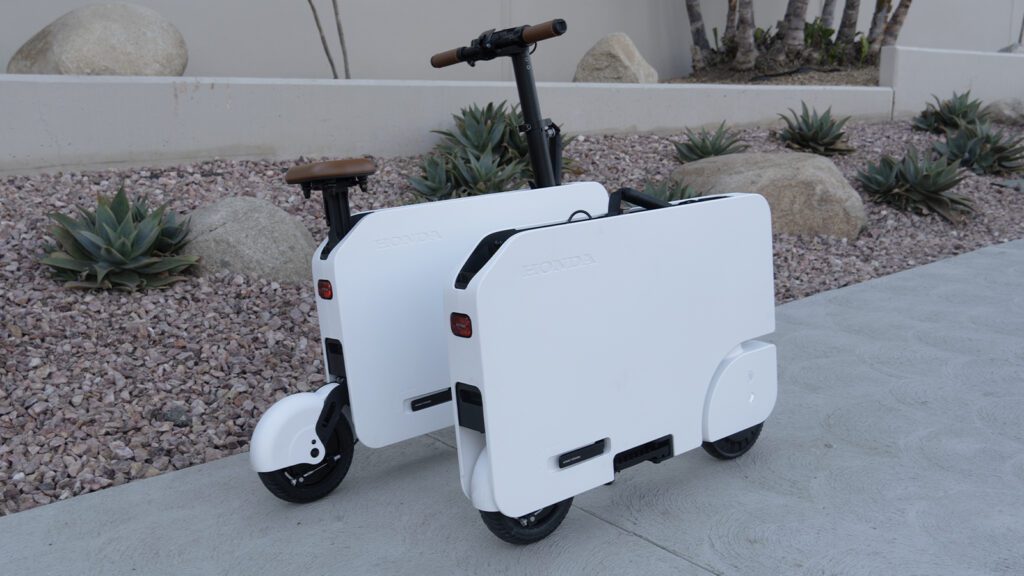 What's hot?
– Nobody saw the Motocompo's successor coming
– Crisp design, compact engineering
– Light enough to lift into the trunk, no problemo
– It's a suitcase scooter!
Pricing breakdown
Honda and Acura dealers sell the Motocompacto for $995 plus tax, available only online via a dedicated website. Given the popularity on socials as soon as Honda revealed early imagery, plus supply chain issues still plaguing the automotive industry, a lack of wait lists and lead times surprised me when my friend picked up his two scooters with ease. (Whether that means $995 still sounds too high for a folding electric scooter remains a serious question.)
Motocompacto tech
The Motocompacto uses only one simple button for powering up, selecting between two ride modes, and powering down. The first mode, "Go Far," prioritizes range and requires a kickoff to start rolling with the thumb throttle lever. The second mode, "Go Fast," allows for pulling away with only throttle—an estimated range difference of one mile makes Go Fast the easy and obvious choice, though we all know that when it comes to EVs, that last mile can make all the difference in terms of range anxiety. And trust me, you'll want top speed immediately!
I tried using the throttle without the rear wheel extended, and the Motocompacto is smart enough to prevent such shenanigans. Otherwise, the rest of the scooter's data feeds to an impressive and intuitive smartphone app that displays the state of charge, location, lithium-ion battery temperature, and health, and offers the ability to lock the wheel (presumably to prevent theft, though the whole point of being able to carry the scooter like a briefcase makes this feature a bit silly).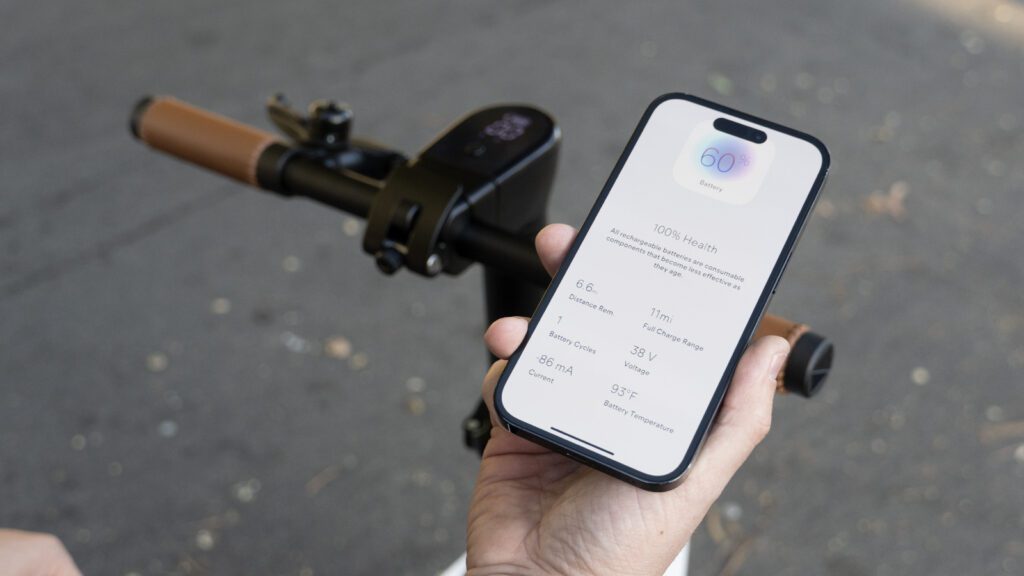 Riding around town on the Motocompacto
After folding out the handlebars, seat, and rear wheel, the time quickly came to go for a ride around town. How far would we get before having to turn home? And how fast would we get there? Well, I can report that 15 miles per hour is not particularly fast compared to bicycles, e-bikes, and motorcycles. Smiles per hour, though, reach a maximum immediately. This little thing is fun! And everybody walking, driving, or riding by can't help themselves either.
In terms of real speed, rider weight makes a big difference—Honda claims a maximum rider weight of 265 pounds, but my scooter accelerated noticeably slower, hauling me at 170 pounds versus my friend at 150 pounds. The 250 W motor (capable of a peak 490 W or just under 0.66 horsepower) powers the front wheel, too, which makes any additional heft while going uphill an even bigger struggle.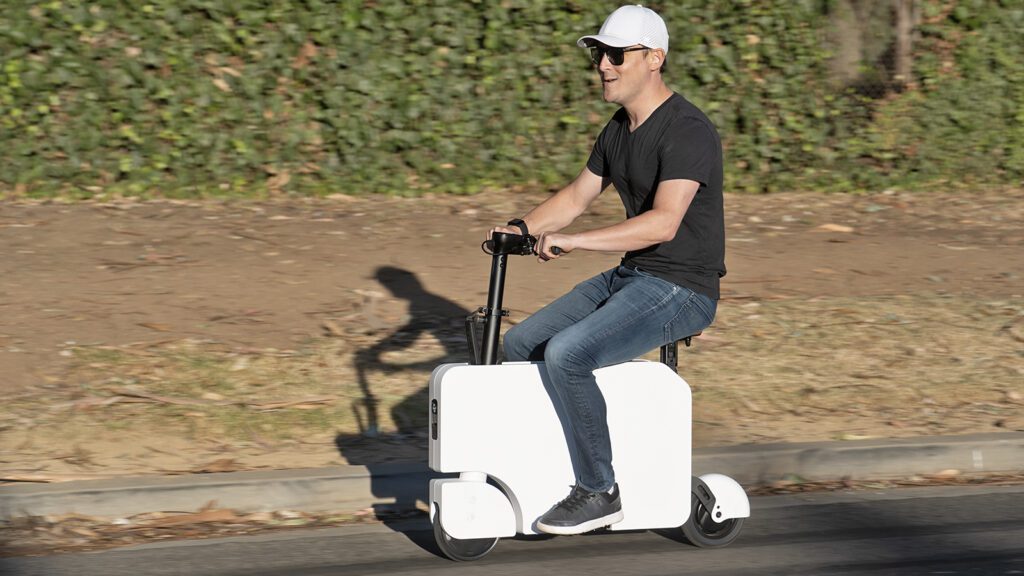 Downhill, though, I gained the advantage and saw 23 miles per hour on the digital screen as I hunched over in a full tuck to minimize my aero drag. Because we're racing, obviously. And on the Motocompacto, with tiny handlebars and a reverse-facing stem, 23 miles an hour feels very fast indeed. Rather than steering with my hands or leaning, I began simply wiggling my hips to turn and swerve. Eventually, I found a flow and wondered how the Motocompacto might perform really racing around a little coned-off course.
Honda's decision to use solid rubber tires rather than tubed or tubeless tires explains at least partially why 23 miles per hour feels so fast. Every bump reverberates through the white plastic straight to the handlebars and seat. And the concept of grip flies right out the window. Simply leaning back or putting a foot down makes front-wheel burnouts easy. The single cable-operated rear brake also produces quick slides when yanked hard enough—luckily, a handlebar-mounted bell should alert any pedestrians, cars, or other riders while coming in hot.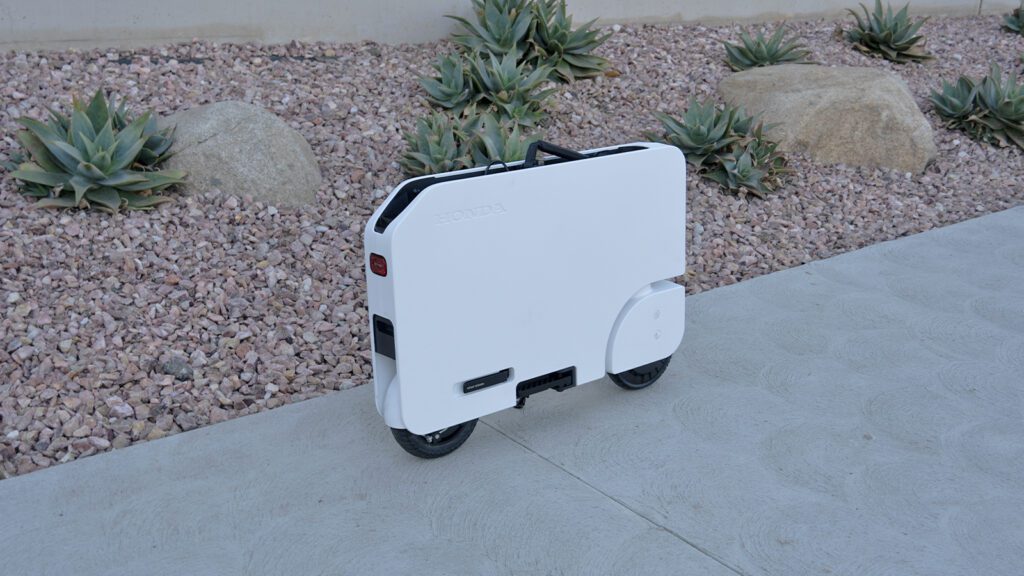 What's not?
– Build quality not quite up to Honda's high historical standards
– Zero suspension, solid tires
– Still kind of expensive for a toy
Functional Last-Mile Transportation or Fun Little Toy?
The original Motocompo's function as a form of last-mile transportation thoroughly shines through in the Motocompacto's design and engineering. Imagine parking more than a few blocks from work in busy Tokyo or Los Angeles, then pulling out a little scooter that takes up minimal trunk space, unfolding it quickly, and zipping along into the office. No more getting sweaty riding a bike, no Uber apps or dead batteries on rideshare scooters, and nothing to leave on the neighbor's lawn or blocking someone's garage door every… single… damned night in a row. I'm not mad. You're mad.
For that purpose, the Motocompacto actually outshines its predecessor—no gas fumes, no whining two-stroke engine, and it can fully charge up at work on any standard 110-volt outlet in only 3.5 hours. And that's when using all 12 miles of range rather than just a few blocks going here and there!
If anything, I suspect that softer tires would go a long way towards making the Motocompacto feel more solidly built, just to reduce rattling while rolling down the road. But other little build quality issues cropped up, too. That flimsy pull-and-twist rear wheel release lever scraped and scratched one of my friend's Motocompactos on the first few uses, and dirty shoes left marks on the folding picnic table-esque white plastic pretty quickly.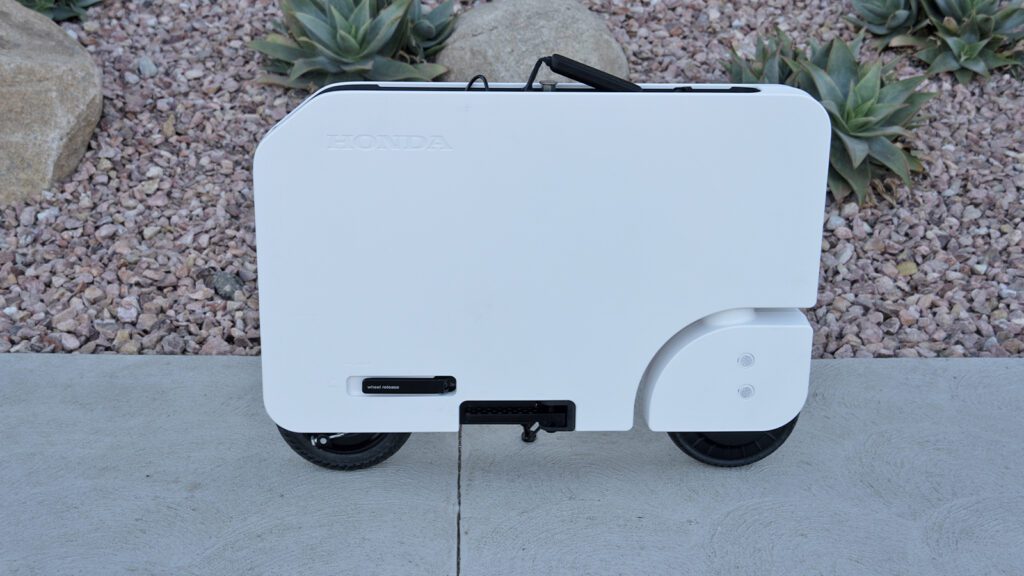 But throw in the style points, even if I wish it came with red graphics and Honda Performance Development decals, and this scooter starts to blur the line between a last-mile solution and a fun toy. All the better for Honda moving units, but at around a grand, many consumers may still find the Motocompacto something of a steep proposition for either use case. The e-bike industry keeps following Moore's Law, as well—batteries and motors getting more powerful and cheaper simultaneously—but most still cost far more than a Motocompacto.
And no e-bike or scooter folds up quite as well, without a doubt. Maybe the biggest bummer? Honda still won't sell the adorable E electric hatchback here in the States to perfectly match the Motocompacto in purpose and style. Instead, selling the Motocompacto as a separate unit, rather than a Honda Civic or CR-V add-on as with the original City and Today, leaves an obvious gap in the marketing plan. Come on, Honda, commit to the perfect combo for city-slickin' EV owners here in the USA! Then, a Motocompacto at $995 would definitely make for a hell of a deal.