Black Friday weekend 2023 is here, which is always a fun excuse to stuff the trunk of your car, truck, or SUV with all the Amazon automotive essentials you've put off buying long enough.
When do the Black Friday and Cyber Monday deals start?
Shoppers can find opportunities to save across TVs, smartphones, home goods, and yes, even automotive products. This season, Black Friday falls on November 24 with Cyber Monday coming up on November 27. And guess what? That's right now, folks. Stay tuned on this page as we update this page with all of the best Amazon automotive accessory deals. We've gather up some current deals worth your while as well as just all-around great accessories any driver would be happy to have in their car.
Be sure to check out the other Black Friday and Cyber Monday roundups we've prepared to help your save money kitting out your vehicle.
In the days leading up to the event, watch this space for ongoing sales where you can still save a ton, and be sure to bookmark Deals on Wheels for the best daily car deals online, all year round.
Car care & tools
If you have a vehicle with 4WD, you might be looking forward to spending some time driving on the beach once it warms up again – maybe get a little fishing in. Of course, you'll need to let some air out of your tires if you don't want to get yourself stuck. When driving on sand, it's best to lower the air pressure to between 20 to 25 PSI and then brought back up to between 32 to 35 PSI once headed back onto the road. Just keep this portable air compressor in the back of your car so you're always ready to hit the beach.
Flushing out old brake fluid or engine oil, this is the kit you need. Easy to operate as just one person, you simply attach a pump to the open bleeder screw and pull old fluid and air out of the braking system. It'll flow into a container that's included with the vacuum bleeder kit. And its all on sale for Black Friday.
For the car enthusiast in your life that likes to keep their vehicle in tip-top shape. This bundle includes an assortment of car wash supplies including wet wax, wheel cleaner, attachments for a garden hose, and more — all from the best of the best to do it, Chemical Guys.
Chemical Guys is also running its own Black Friday promotion on its website. No code needed and you'll get 25% off any order.
This pack is designed for repairing damaged or stripped internal threads and creating a stronger internal thread for a wide range of automotive and plumbing applications.
It's always handy to have a tire gauge in your car — especially during the colder months. Tire pressure can decrease about 1 PSI for every 10 degrees the temperature drops as the air condenses. Keep an eye on your tires through the winter with this.
This tire pressure gauge is a bit more fancy. It plugs into your cigarette lighter and pairs wirelessly with four external cap sensors that go on each of your tires. The display will then give you live feedback for both the pressure and the temperature for all of your tires.
Upholstery brush set carpet brush car | 10% off
This two-pack comes with a nylon brush and a soft horse hair brush for detailing your car. Keep your upholstery, mats, and wheels in tip-top shape.
This pack comes with 39 different pieces — each flexible and durable — to help keep your dashboard and more look brand, spankin' new.
Returning to your car with a dent in your bumper because some moron tried to fit their Suburban-sized SUV in a Miata-sized parking spot is downright infuriating. But without knowing who did it, there's not much you can do about it besides suck it up and file an insurance claim or ignore it and move on.
With a dash cam, however, you could review the footage and report the license plate so they're held liable for the damage. There you go, a dash cam pays for itself after one incident, and the VanTrue N2 is one of the best-reviewed models you'll find. Just make sure you account for cable management. I use these clips to keep wires out of my way when I'm cruising around in the Alfa Romeo.
With this, you'll never again feel helpless on the side of the road with a dead car battery. Instead, you can give yourself a jump, thanks to the multi-voltage charger under the hood of this must-have for all drivers. We can't count how many times we've had to use ours at NYCars & Coffee to help out random drivers.
A whole slew of options for jump starters from Gooloo are part of the Black Friday sales event. You can snag one for as low as $30.
Jump start your car when your in trouble or even use the battery bank to charge your smartphone, tablet, or other mobile devices.
No streaking or smearing—just an all-in-on ceramic coating spray to keep your car clean and polished for long-lasting protection.
Amazon has an extensive assortment of car care products, be them this odd cleaning gel that, while it looks weird, actually does work like a charm. As does this best-selling portable vacuum. It comes with a variety of detailing attachments to keep the inside of your vehicle as pristine as the day you drove it off the lot.
Allow yourself to have ample light when working under the hood. This Milwaukee cordless flood light is compatible with all Milwaukee 18V M18 Li-ion batteries and can even has built-in USB-A and USB-C ports to charge your devices.
Seriously. It's cheap and easy to do yourself. What are you waiting for? Fix your windshield.
The first rule of driving on the beach is to deflate your tires. The second rule is don't forget to fill them back up when you're done wrestling those sandy dunes.
Make sure you have everything you need when you hit the road. This pack has a first aid kit, jumper cables, tow strap, LED flashlight, rain coat, safety vest, and more. You know, A bunch of things you hope you'll never need, but you'll be glad to have it when you do.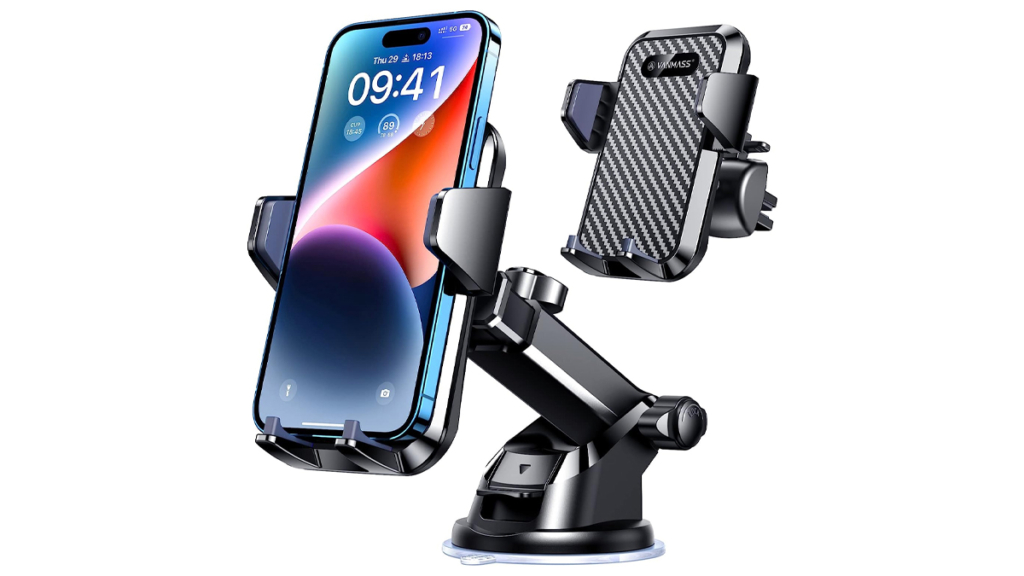 Not every driver is lucky enough to have a large display screen in the center of their dashboard for GPS and music. That doesn't matter though because you can just use your phone for all of that. Just be safe and use a car phone mount. I don't want to see any more drivers looking down at their laps while going 80.
A lot of cars have built-in USB ports, but a lot of the time they'll struggle to keep your phone even at the percentage its already at. This charger has two USB-C ports and uses Power Delivery to achieve super fast charging with almost any mobile device.
Super Liner floor mats for Tesla Model 3 | 43% off
Keep the floors of your vehicle clean with the help of these all-weather cargo liners — designed for use with the Tesla Model 3.
Congrats on the new baby! I just hope you're keeping care of your backseats in the car. These seat protectors lay on top of the seat underneath your child's car seat to keep them shielded from damage and stains. And it comes with two!
Us dog owners love to take our dog on the road, but let's be mindful whenever we're picking up our human friends. This seat protector will shield your back seat from scratches, scuff, mud, and, most importantly, shedding. No more hair everywhere.
When Aiden Pearce hacks your infotainment system, rendering it useless, a car compass comes in clutch. At least you'll know you're not driving in the wrong direction.
Give yourself that extra bit of assurance by locking your steering wheel in place when you park.
Cars get messy. It's only natural. Sometimes, that Starbuck cup ends up on the passenger side floor. Maybe you tossed that used napkin over your shoulder to the backseat. Stay on top of your mess with this handy hanging garbage bag. It's waterproof and has a removable liner. You passengers will appreciate it.
No need to set up your tent in the dumb dirt. Camp like a champ with a 6′ truck tent that builds around the bed of your pickup. It sleeps two people comfortably , has two mesh windows, and is super easy to set up. It's also both waterproof and windproof.
There's no such thing as too much storage. This roof carrier cargo bag is a must-have for any camp outing or road trip for families. The material is both waterproof and tearproof and it's easy to strap in. You'll be able to hold between four and six suitcases inside.
If you've just switched to an EV to take advantage of the major tax credit, be sure to checkout our write-up on different EV chargers to find which one is right for your vehicle and home.
It's getting to that time to take the boat out of the water for the season. Keep your trailer in place with these chock blocks this Black Friday.