When Tesla CEO and walking Dunning-Kruger case study Elon Musk announced the Cybertruck in November 2019, he likely hoped to see headlines praising the electric pickup truck's (then) sub $40,000 price tag and impressive range predictions. Unfortunately for Musk, that particular unveiling is remembered best for a stunning bit of visual metaphor – Elon himself chucking a rock at the prototype and shattering its side window.
The Tesla Cybertruck and its tall tales of controversy
In a way, this moment has been indicative of everything we've seen from the Cybertruck thus far. Elon makes a bold claim about the vehicle and how it will change the world of cars and driving forever, and then we see it in action. The results are less than impressive. For instance, despite the Cybertruck's much-touted all-wheel-drive and adaptive suspension, the past year has been rotten with videos of the electric pickup truck failing at even basic tasks.
Granted, these are pre-production models, so they're meant to be tested out, but this clip doesn't exactly support the "self-leveling capabilities [that] adapt to any occasion and assist with every job" claim from Tesla's site. And it's not just "bad faith leakers" – just over a month ago, a video of a Cybertruck struggling to get up a section of an off-road test was shared enthusiastically by a member of Telsa's team.
Despite more than two years of delays, Tesla will be delivering the first ten production models of the Cybertruck at a shareholders-only event on November 30, 2023, at the Gigafactory in Austin, TX. Fortunately for the rest of us, Tesla will be live-streaming the shindig, and we'll update this article if anything newsworthy comes out of it.
I already poked quite a bit of fun at the Cybertruck in my "Upcoming Tesla electric vehicles" article a few weeks back, so I'm going to attempt to keep this one fairly buttoned up. Cybertruck enthusiasts are clearly going through it (they recently took r/cybertruck private to prevent harassment), so why kick them when they're down? I mean, these guys are out here paying $75 a bottle for "Tesla Cyberbeer."
Keep reading for a deep dive into everything we know about the Tesla Cybertruck, what to expect for price and electric range, and most importantly: can you shoot it with a Tommy Gun?
2024 Tesla Cybertruck price and trim options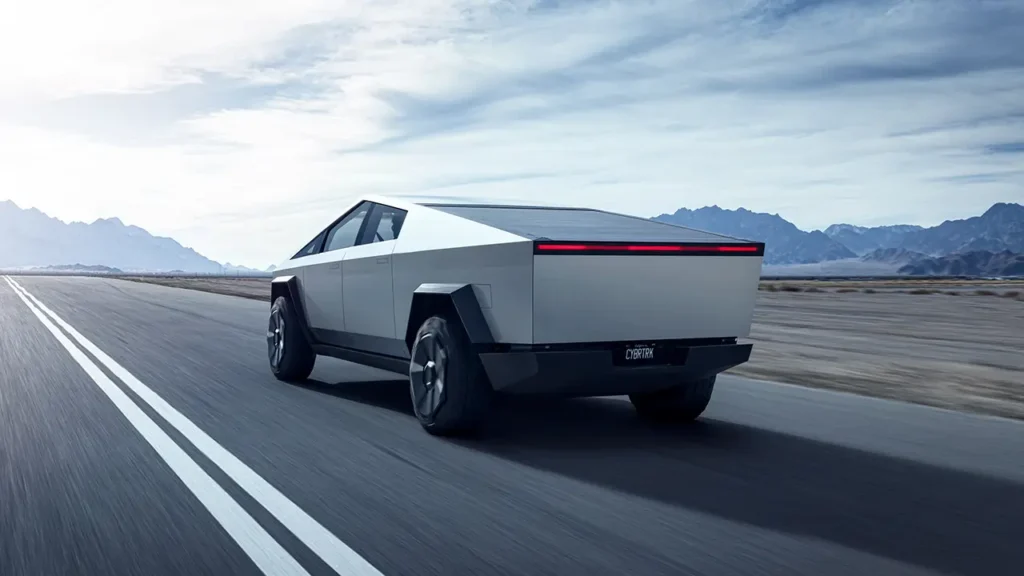 What perfect timing for this to drop, as Tesla has just recently announced fresh deets on its upcoming door stop on wheels.
When it was first announced, the Cybertruck turned heads with its miniscule starting price. The single-motor version would have an MSRP of $39,990 with the double motor at $49,990 and the triple motor at $59,990. That would've put the "budget" trim in the same class as a fully loaded Toyota Prius. So that was a no-go.
Current pricing as per Tesla's recent announcements are as follows. The base rear-drive variant will start at $60,990, the dual-motor all-wheel drive at $79,990, and the flagship high-performance "CyberBeast" at $99,990. Wowza, that's a fat leap.
Let's take a look at how the 2024 Tesla Cybertruck's trim options match up:
2024 Tesla Cybertruck Rear-Wheel Drive
Starting price: $60,990
EPA-estimated range: 250 miles
2024 Tesla Cybertruck All-Wheel Drive
Starting price: $79,990
EPA-estimated range: 340 miles (470 with extender)
2024 Tesla Cybertruck CyberBeast
Starting price: $99,990
EPA-estimated range: 320 miles (440 with extender)
As far as the Cybertruck's exterior goes, there's only one factory-available option: stainless steel. That said, someone out there is driving around in a matte black edition, so maybe some more customization is in the offing.
One big question people have been asking about the Cybertruck is "Can you shoot it with a Tommy Gun?" You may be surprised to learn that apparently, yes, you can shoot a Tesla Cybertruck with a Tommy Gun. While this official-seeming Tesla account claims to be "confirming" that the electric pickup truck is (apparently) bulletproof, we'd like to take a moment to say that you should not shoot a Tesla Cybetruck with a Tommy Gun.
That said, if Newsradio star and "guy who liked Dana White so much that he became him" Joe Rogan is in your neighborhood, you can invite him over to shoot arrows at your Tesla Cybertruck. Honestly, this might be worth doing, at least you know the drugs will be good.
In fairness to the Tesla Cybertruck, there is a good chance these claims will hold up if the electric pickup truck is truly made with the same stainless steel as SpaceX uses. This is because 3mm of 301 stainless steel should be good enough to stop or at least seriously impede most 9mm handguns (but not rifles, which would explain why Musk opted for the Tommy Gun instead.) Either way, don't shoot your Tesla Cybertruck with a gun.
2024 Tesla Cybertruck interior and tech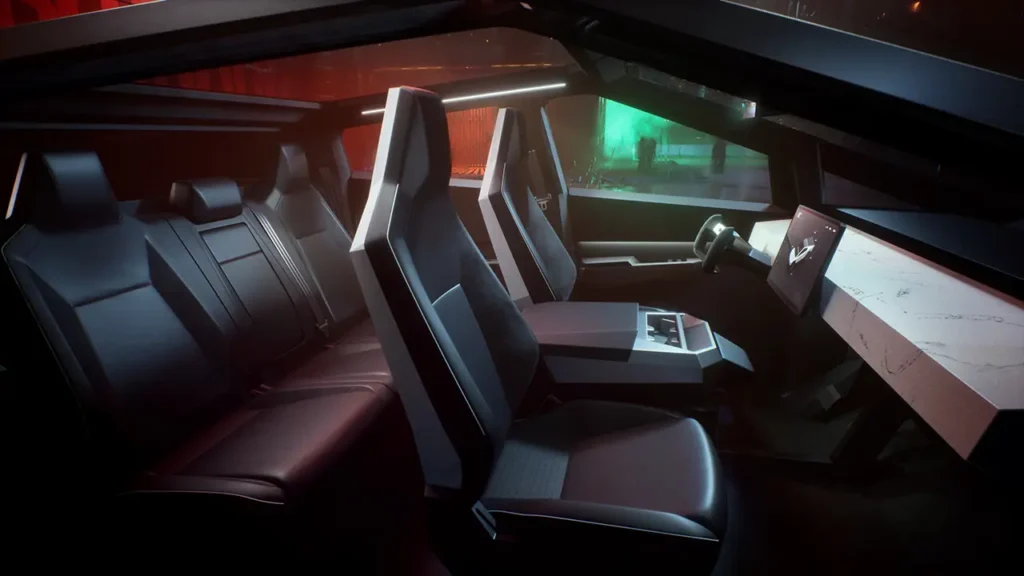 While much has been written about the Tesla Cybertruck's "Blade Runner-inspired" exterior, we've been granted relatively few views of what's going on inside. It's safe to assume that it'll be cavernous, with room to fit six adults comfortably, but early renders raise more questions than answers. What's going on with the racing-style steering wheel? Why does it look like the dashboard is carved from marble even though it's made of a composite material? Hopefully, we'll have more answers after the delivery event.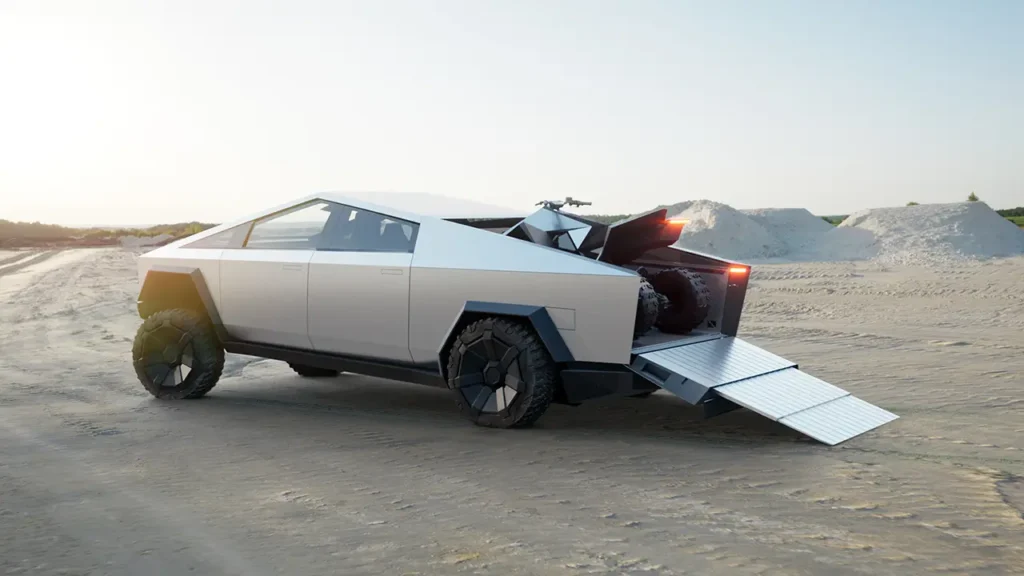 The Tesla Cybertruck's cargo bed is also referred to as "the vault" because of its nearly seamless look when fully closed. In official photos, it appears as though the electric pickup truck's cargo bed can comfortably hold an ATV, but leaked images of pre-production models seem to refute that.
2024 Tesla Cybertruck dimensions:
Cargo: 120.9 cu. ft.
Overall length: 223.7 in
Overall width: 95 in
Overall height: 70.5 in
Weight: 6,843 pounds
Also noteworthy is the Cybertruck's "frunk" or "front trunk" which let's be honest is cute as heck.
2024 Tesla Cybertruck tech features:
Dashboard entertainment console
2024 Tesla Cybertruck electric range and charging times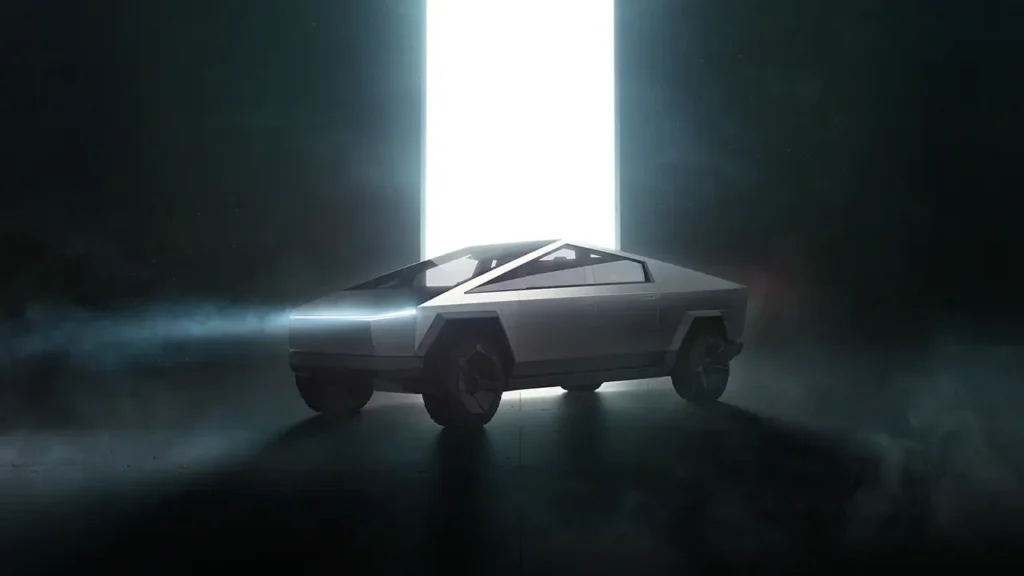 All the little nitty gritty charging details are yet to be revealed, but we thankfully have a small handful from Tesla's most recent round of fresh information. Expect the Cybertruck to charge at a max rate of 250 kW, with the ability to replenish 128 miles of range within 15 minutes.
Range is appreciably generous for such a hulking brick. Rear-drive base models are expected to reach a reasonable 250 miles, with all-wheel drives hitting 340 miles, and CyberBeasts hitting 320 miles. Interestingly, Tesla notes how the use of an unspecified range extender can stretch the all-wheel drive to a lofty 470 miles and the CyberBeast to 440 miles. What this range extender is and how it operates is yet to be disclosed, but we expect Tesla's often optimistic range estimates to be tricky to match in real-world conditions.
2024 Tesla Cybertruck motor and performance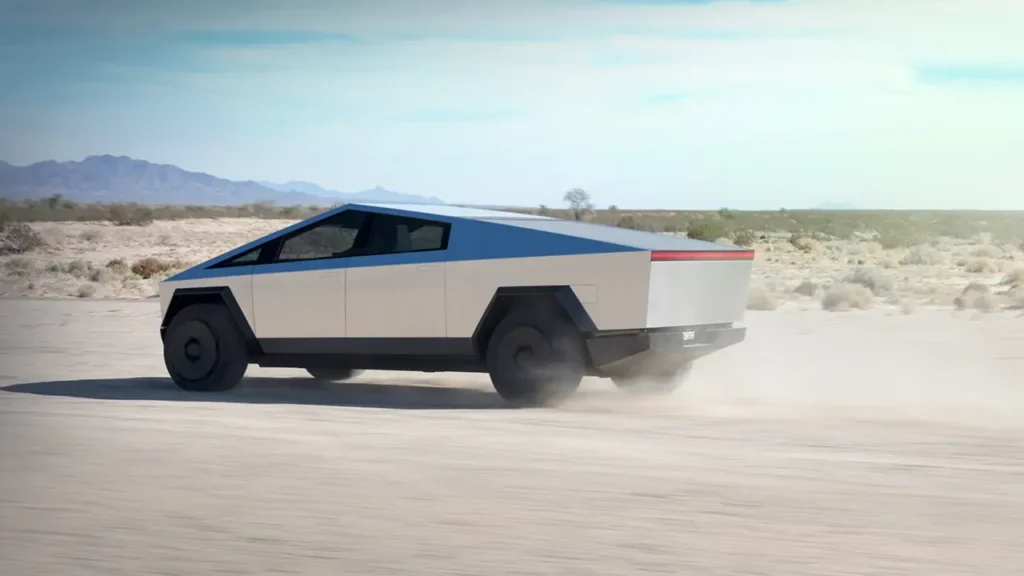 At the initial 2019 Tesla Cybertruck announcement, Elon Musk claimed that the tri-motor edition of the Cybertruck would boast the same specs as the Tesla Plaid X. This means the Tesla Cybertruck could have max speeds of around 149 mph and a 0-60 of 2.5 seconds, but we should keep in mind that the electric pickup's curb weight is considerably beefier than the sedan.
What we can say now are the estimated towing capacities for the Cybertruck trims. Rear-drive variants can pull a max load of 7,500 pounds, while all-wheel and CyberBeast trims can yoink up to 11,000 pounds of stuff wherever they please.
2024 Tesla Cybertruck design features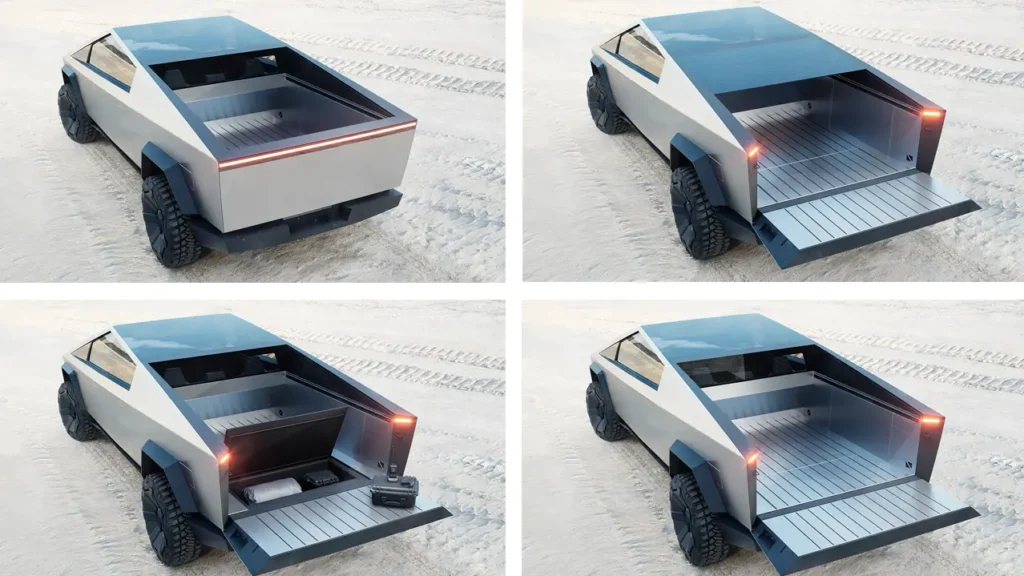 From initial reports, one of the truly standout features. of the 2024 Tesla Cybertruck is its panoramic glass sunroof and retractable cargo bed cover. While it seems like Tesla abandoned its plans to use the cargo bed cover as a solar panel for additional range and charging, the glass roof is a nice continuation of Tesla's other electric vehicles. It's not clear at this time if Tesla will be releasing a convertible or retractable-roof edition.
2024 Tesla Cybertruck review round-up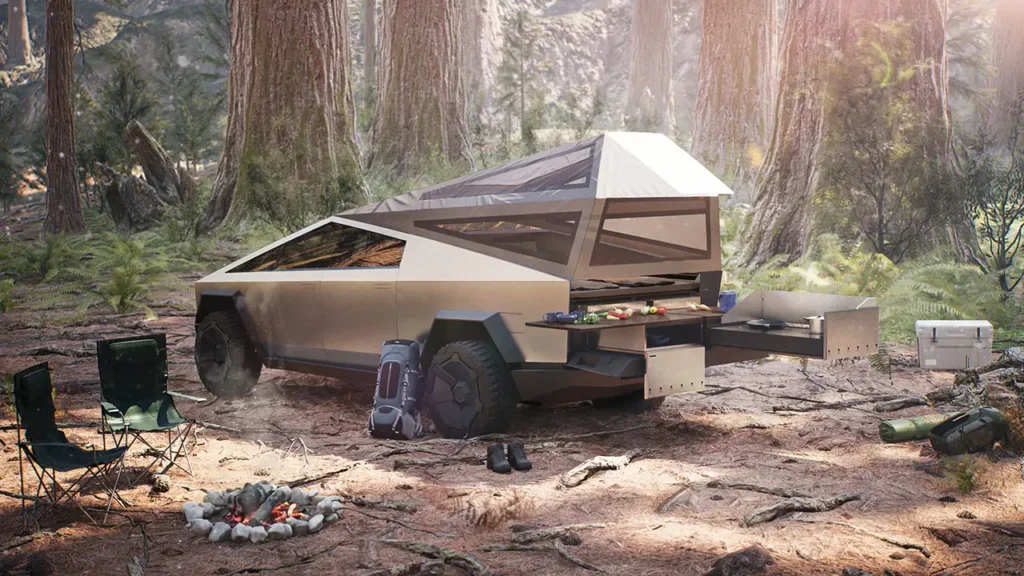 Sadly, I couldn't score an invite to the November 30, 2023, Cybertruck event, but in the meanwhile, here are some early takes on the Tesla Cybertruck we've found from across "cyberspace."
Automotive vlogger Joel Franco got an up-close-and-personal look at the exterior of a Tesla Cybertruck in Miami recently and reported that the showroom model seems to have resolved many of the issues with the pre-production trucks. We have to admit, it does look pretty slick.
Aside from these peeks at the showroom models, unbiased reviews are difficult to come by, but it seemed relevant to share this piece of intel from a Tesla insider:
Short kings rejoice! An elite new hiding place for Hide-and-Seek has appeared.
FAQs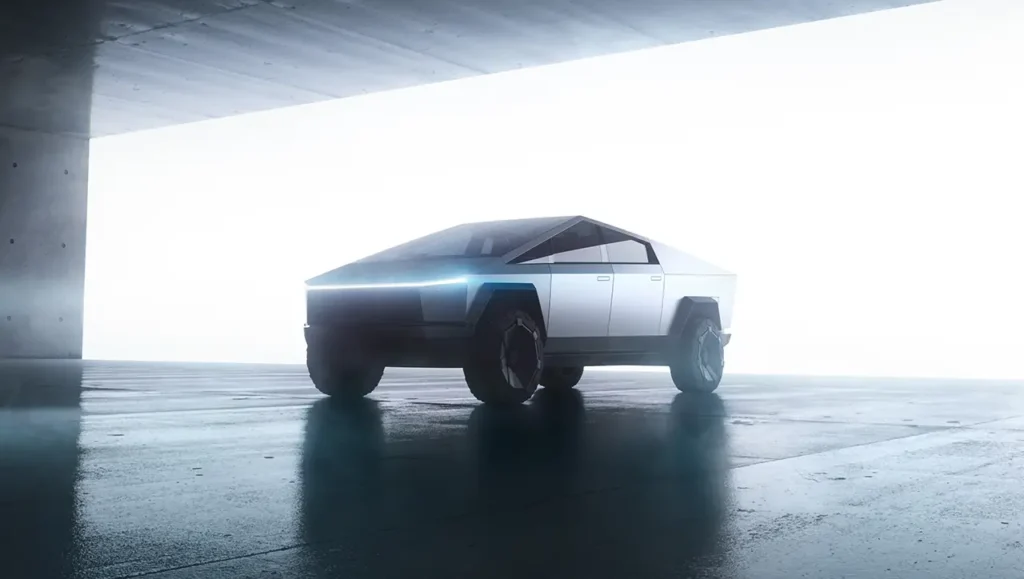 When will the 2024 Tesla Cybertruck be released?
The first 10 production models of the 2024 Tesla Cybertruck are set to be delivered at an event on November 30, 2023, at the Gigafactory in Austin, TX. It is not known at the time of publication when the remainder of the pre-orders will be fulfilled.
What will the electric range be for the 2024 Tesla Cybertruck?
The 2024 Tesla Cybertruck will be available in three trim levels, a rear-drive base model with 250 miles of range, a dual-motor version with a 340-mile range, and a tri-motor CyberBeast performance version with a 320-mile range. In recent press releases, Tesla announced an unspecified range extender, which should juice the dual-motor middle trim up to 470 miles and the CyberBeast to 440 miles.
What will the price be for the 2024 Tesla Cybertruck?
Although initial announcements claimed the starting price for the Tesla Cybertruck would be $39,990, it's looking like the electric pickup truck will end up costing a good amount more. The base rear-drive variant will have an MSRP of around $60,990, with the next-step-up all-wheel drive trim ringing in at $79,990 and the tri-motor CyberBeast flagship Cybertruck starting at $99,990. So no. Not cheap. Not at all.
Can you shoot the 2024 Tesla Cybertruck with a Tommy Gun or arrows?
Yes! Apparently, because the 2024 Tesla Cybertruck boasts 3mm of 301 stainless steel, it should be able to absorb a bullet from a 9mm handgun. According to Musk, it can also handle being broadsided with a Tommy Gun. Online reports (also from Musk) seem to support the idea that the Tesla Cybertruck can even handle being shot with an arrow by Joe Rogan.